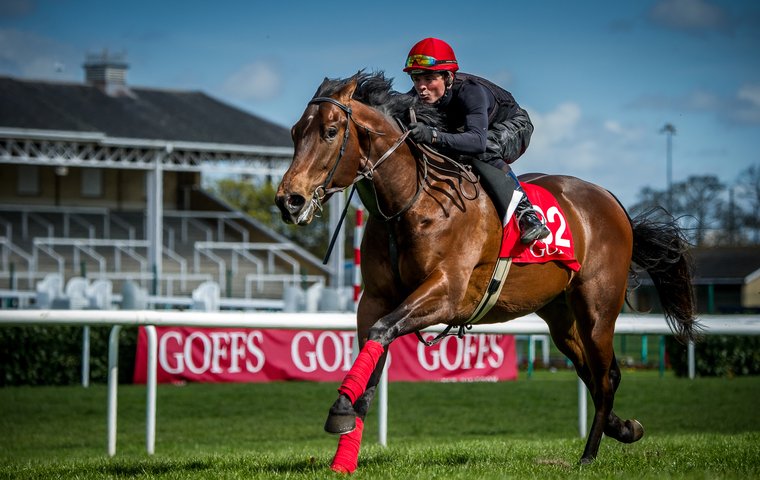 The European breeze-up sale season gets underway in three weeks, and the first port of call for buyers seeking a quick return with a race-ready 2-year-old will be Britain.

The possibility of a no-deal Brexit still hangs like a threatening cloud on Britain's horizon, but with an extension to the Article 50 deadline a general 1/6 shot, it looks increasingly likely that the country's breeze-up sales will now come and go without any significant change to legislation on the movement of bloodstock, or any dramatic deviation in sterling value.
Nevertheless, the British economy remains in a precarious state. For the international buyer, this can be seen as a real opportunity, as the weakness of sterling continues to mean that there is significant value to be found at Britain's sales.
In particular, the growing importance and value placed upon the U.S. turf race program – the New York Racing Association's new $5.25m Turf Triple Series for 3-year-olds representing its most recent endorsement of the turf – makes it an obvious time for American buyers to be looking to the European breeze-up market for fresh stock.
Certainly, any buyer looking for a precocious 2-year-old to aim at Royal Ascot's juvenile contests in the short-term and then campaign Stateside in the long term has never stood such a good shot at both financial gains and enjoyment on the global stage.
It was Goffs UK's Breeze-Up Sale that provided the most 2-year-old winners of any European breeze-up last year, with 58 individual graduates hitting the board on 78 occasions.
Granted, its catalogue was bigger than that of its counterparts (182 offered), but it was notable that the percentage of offered horses that went on to become 2-year-old winners (32 percent) was right up there with the very best recorded for the sale in spite of the increase in quantity.
This increase in quantity was only temporary, however, and this year the Doncaster management team have joined the other European sales companies in tightening up breeze-up numbers and the quality on offer, with 160 horses due to go through the Doncaster ring.
Buyers heading to this year's renewal on April 24-25 can be optimistic of impressive statistics once again, and in anticipation we preview five eye-catching lots.
Lot 4 – GLENEAGLES colt ex ONE CHANCE
There will be star quality on offer right from the off at Doncaster, as a colt by Gleneagles out of One Chance enters the ring as Lot 4.
There was strong demand for Gleneagles' first crop at the European yearling sales last year – his colt out of Lady Éclair, consigned by Newsells Park Stud, memorably broke the record at Goffs UK's Premier Yearling Sale when fetching £380,000 – and there are plenty of bloodstock experts who believe the three-time G1-winning miler and G1-winning 2-year-old will end 2019 as champion first season sire.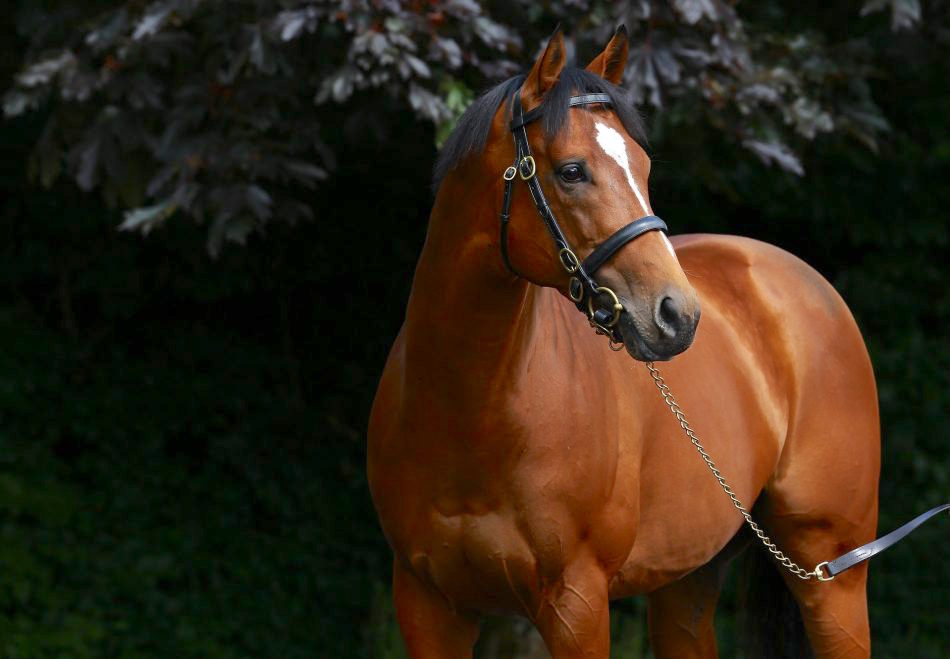 Lot 4 is the first foal out of One Chance, who gave trainer Tim Pitt and then-owner Tom Burridge their day in the sun at Royal Ascot in 2013 when finishing third to subsequent dual G1 winner Rizeena in the G2 Queen Mary Stakes.
"The Gleneagles is a handy, strong colt," says Roger Marley, who consigns his breeze-up horses with John Cullinan under their collaborative Church Farm & Horse Park Stud banner. "Physically he's a very correct. We thought because of his size he'd be best off at Doncaster. He's showing all the right signs at the moment."
When asked about the colt's temperament, Marley adds, "He's cheeky, with a tough, good attitude."
Having forked out €70,000 at the yearling sales last September, Marley has recently welcomed the colt back to his Yorkshire operation for the final stages of his breeze-up preparation after three months at Cullinan's in Ireland.
"We'll start building them up around now and then quicken them up around six weeks before their intended sale. We do all the work here at home with the girls that work with me, and then we take them into Malton twice before they go to the sales to make sure they've seen something a little bit different."
Marley is hopeful that buyers will recognise the quality of the Church Farm & Horse Park Stud's draft after a stellar 2018. He points out, "We had a big number of 2-year-old winners from our breeze-up draft last year, 19 in total."
Lot 17 – ZOFFANY colt ex RAVISH
The first crop of five-time 2-year-old winner Zoffany made a big splash in 2015 when landing three of Royal Ascot's juvenile contests. A couple of quieter seasons followed for the sire before he returned with a bang in 2018 courtesy of seven juvenile stakes winners that included G3 Albany Stakes winner Main Edition.
Indeed, there is plenty of optimism around currently for the stallion. Only last week, Hubie De Burgh told the TDN, "Zoffany started off so well, and then he got a much higher grade of mare and the produce of those are just coming onto the track now. There's every reason to think he could bounce back and get a whole bunch of Group winners and the next thing he's back up on top again."
Doncaster's breeze-up catalogue this year boasts two of his offspring, and any prospective buyers from across the Pond may find their eyes drawn to the first of the pair, Lot 17, as there is a particularly strong presence of U.S. black type on the colt's page.
The half-sister, Off Limits, began her career with David Wachman in Ireland, before being sold to U.S. interests, for whom she won the G1 Matriarch Stakes in 2017 on the back of two G3 contests.
Late last year she returned to Britain, where she was sold for 1.2million guineas to James Wigan's London Thoroughbred Services on behalf of Pennsylvania-based Erdenheim Farm at the Tattersalls December Mares Sale.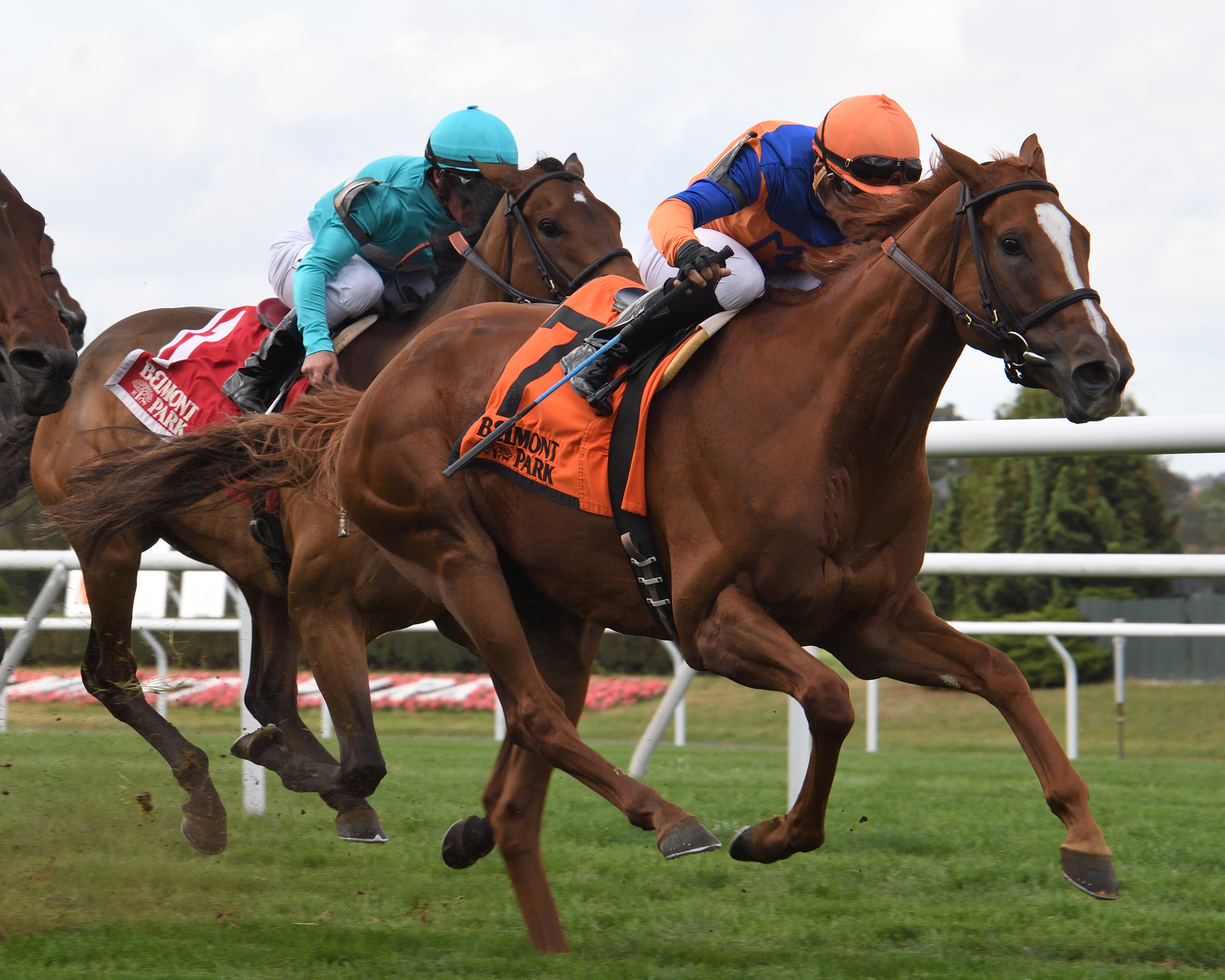 If we look further back on the page, we see that the third dam, Highest Regard, has produced a string of black-type winners in America, including G1 American Derby champion and Kentucky Derby third Awe Inspiring.
Lot 79 – KINGMAN colt ex AMARILLO STARLIGHT
On the bare face of it, Lot 79 looks to have it all: his physical is as eye-catching as his page, and his sire is one of the most exciting recent additions to Britain's stallion ranks.
A Kingman colt out of unraced dam Amarillo Starlight, he was purchased for £62,000 at Doncaster's Premier Yearling Sale by Johnny McKeever in partnership with Brendan Holland, whose Grove Stud is preparing the horse for the breeze-up.
His page is awash with black type, the dam hailing from a particularly high-achieving family. The third dam, Cocotte, herself a listed winner and G3-placed, produced 1996 Breeders' Cup Turf winner Pilsudski, as well as Baraka, the granddam of three-time Prix de l'Arc de Triomphe runner-up and dual G1 winner Youmzain.
Yet it was not just the pedigree that caught Holland's eye at the yearling sale. He explains, "He was a good physical, very like the sire. Not an extremely big walking horse, but he had length at the same time. He was a very eye-catching horse."
On the topic of his preparation for Doncaster, Holland adds, "It's coming pretty easy to him at the moment, he'll start breezing this week and so I'll know more as regards his ability in the next few weeks, but at the moment it looks like he can run for sure."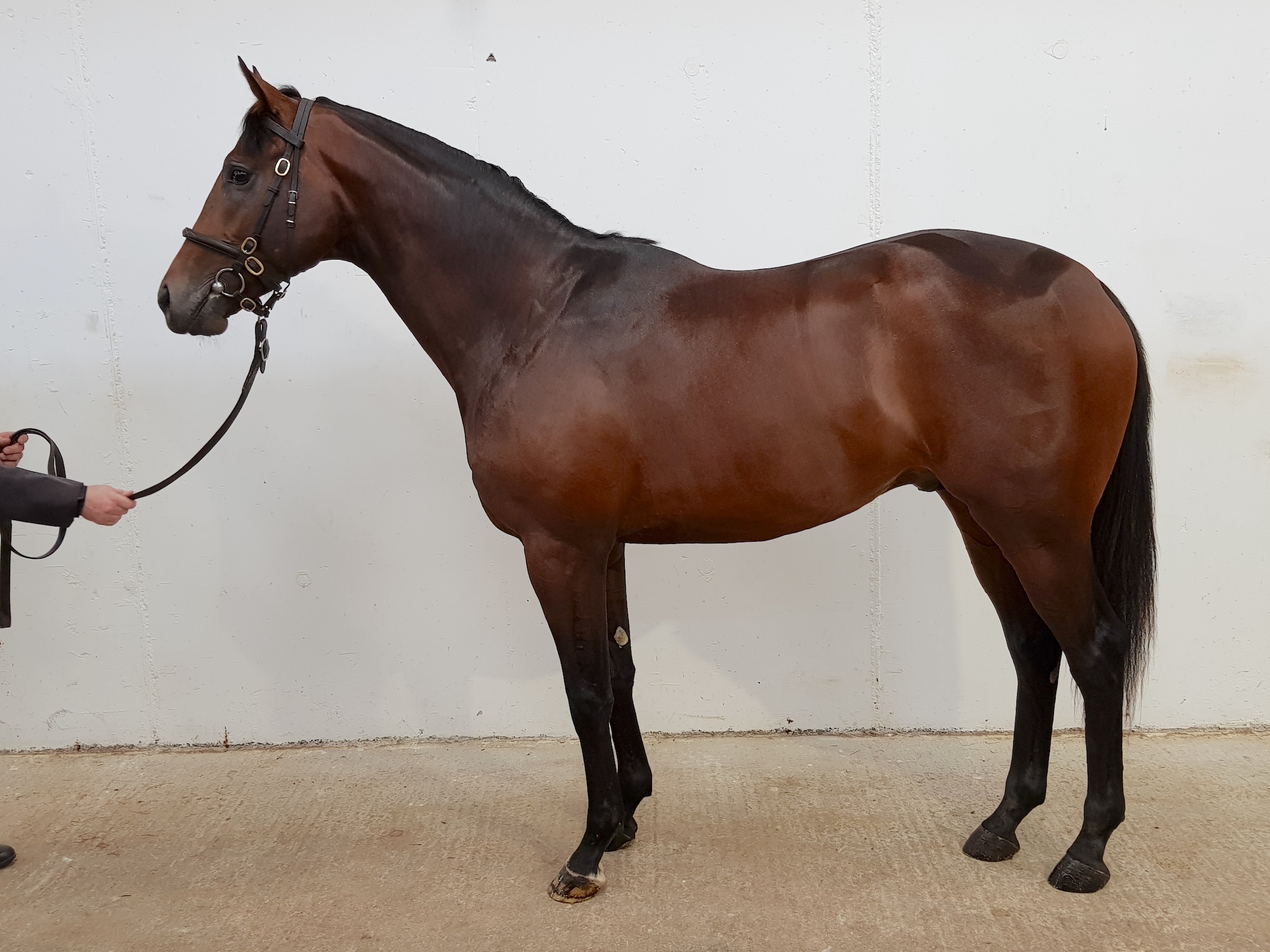 Interest in the colt will surely be palpable for the fact he is by Kingman, who made a particularly good impression last year when supplying 24 first-crop winners at an impressive rate of 40 percent. The Juddmonte sire goes into his first classic season armed with six juvenile stakes winners, the most prolific of those being Calyx and Persian King.
"This is the first of Kingman's that I've prepped and he's been a pleasure to have around," says Holland, reflecting on the sire's progeny. "He's extremely willing with a very good mind."
Kingman has one other of his progeny in the sale, Lot 127, a half-sister to G3 winner Queen's Best, the dam of 2017 Breeders' Cup Filly & Mare Turf winner Queen's Trust.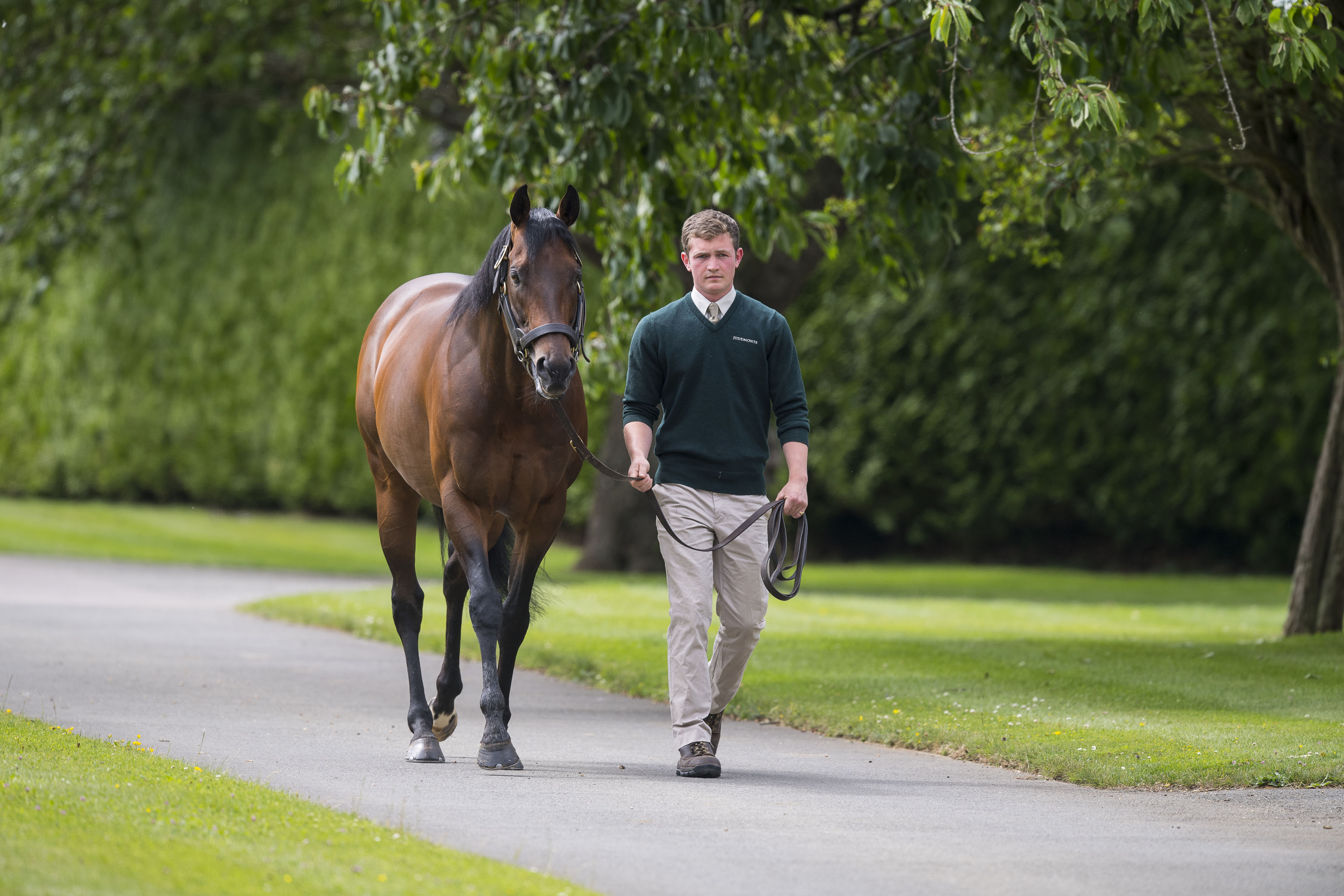 Speaking generally about the breeze-up sales, Holland explains how he is keen to support Goffs UK in what is a competitive market: "I have confidence in the Goffs UK management team. You've got to express your confidence by supporting with better horses, and I just thought this was potentially a nice horse to send to them."
He adds, "I would be very surprised if the international market doesn't sit up and take a view that there could be value at the breeze-up sales this year."
Lot 115 – KODIAC filly ex GOOD CLODORA
Lot 115 has some big boots to fill in the context of Goffs UK's Breeze-Up Sale as the full-sister to 2016 joint sale topper Ardad.
Ardad was described by his trainer John Gosden as, "A bundle of speed, phenomenal speed. A real Royal Ascot 2-year-old." Indeed, he was lightening quick over the five-furlong Listed Windsor Castle Stakes at the Royal meeting, clocking a time quicker than Profitable in the G1 King's Stand Stakes on the same afternoon, and subsequently winning over the same distance at Doncaster in the G2 Flying Childers Stakes.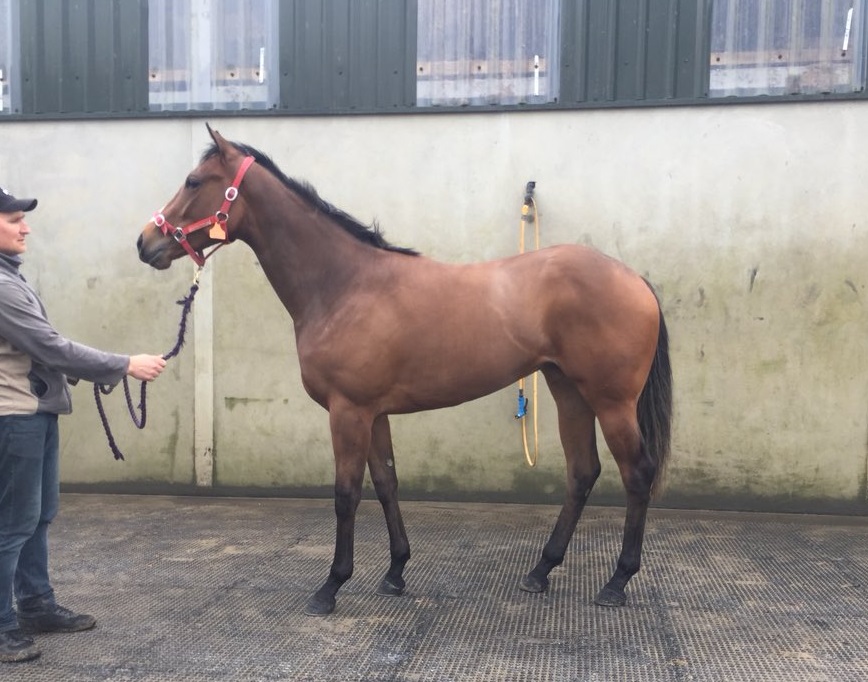 He now stands for £6,500 at Overbury Stud in Gloucestershire and has his first foals on the ground. It will be of little surprise to see them make an impression at the breeze-up sales from 2021 onwards, given the market's respect for Kodiac breezers.
The 2-year-old full-sister bound for Doncaster this year will be the third of the dam's offspring to go through the sale. The year after Ardad was sold for £170,000, the Society Rock half-sister Armum was knocked down for £70,000.
A smart bit of business was done on the back of this purchase by then owner and trainer Jamie Osborne, who took the filly to the Goffs London Sale after a smart win on her second start and pocketed a tidy £250,000.
Lot 160 – EXCEED AND EXCEL colt ex NIDHAAL
Powerstown Stud will consign the very last horse in this year's sale, Lot 160, on behalf of Jamie Railton, who purchased the Exceed And Excel colt out of the listed-winning Shadwell mare Nidhaal for 210,000gns as a foal.
It was both the pedigree and the physical that caught Railton's eye on that occasion, and it would be no surprise to see the sale close on a high with this lot, who is reported to be progressing very nicely.
"Tom [Whitehead] doesn't usually get carried away, but he seems to be pretty sweet on this one. If you're looking for an Ascot 2-year-old, he has the profile for that," Railton commented.
Indeed, his full-brother, Burwaaz, was a smart and precocious 2-year-old who just missed out on the places in the 2011 G2 Norfolk Stakes at the Royal meeting.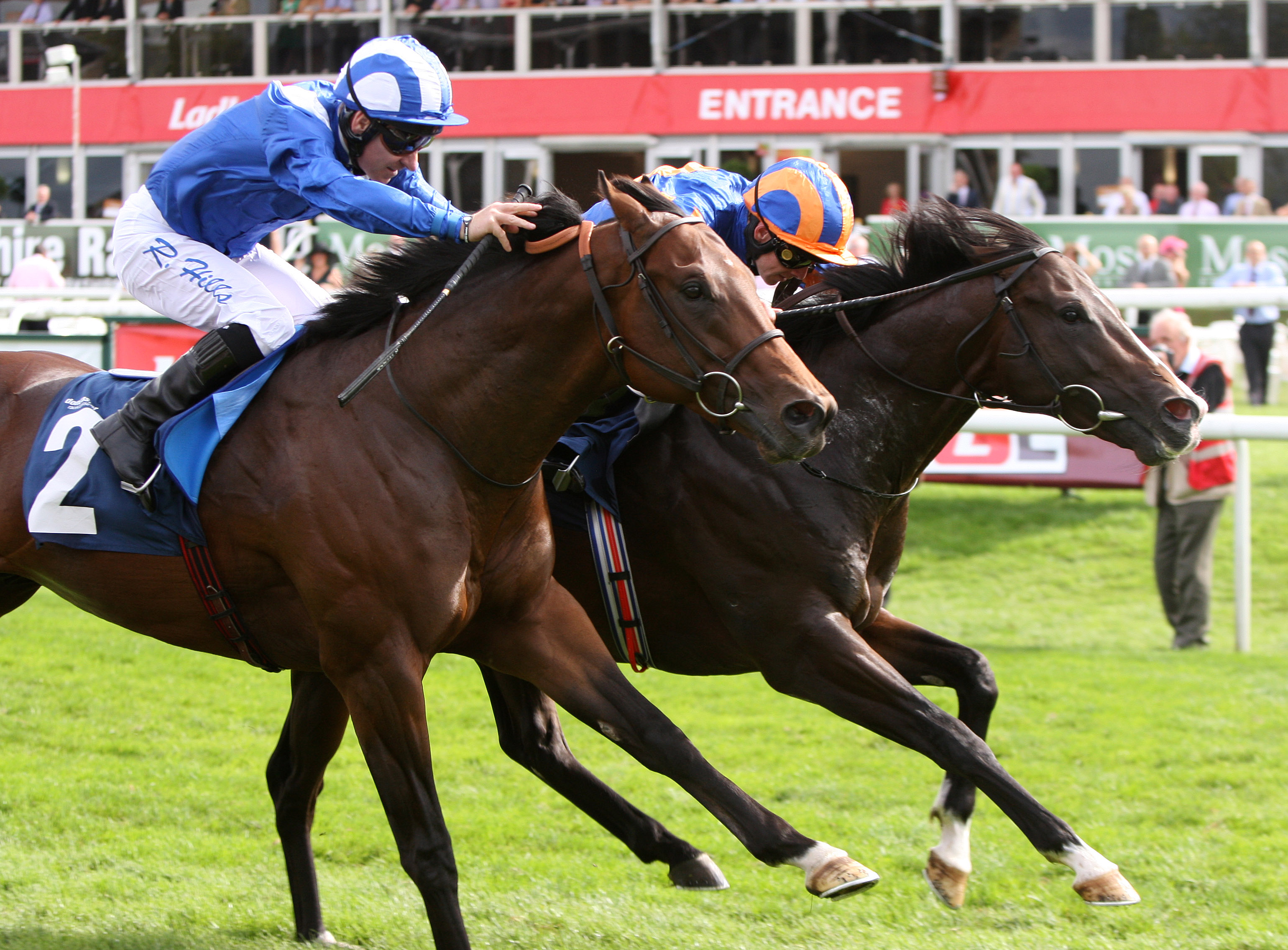 He was there or thereabouts for the remainder of his juvenile season, finishing a narrow runner-up in the G2 Flying Childers Stakes, a performance that earned him a rating of 109 ahead of his final 2-year-old start in the G1 Middle Park Stakes.
"We've sent him to Donny hoping that he will be one of the best horses there," says Railton confidently.