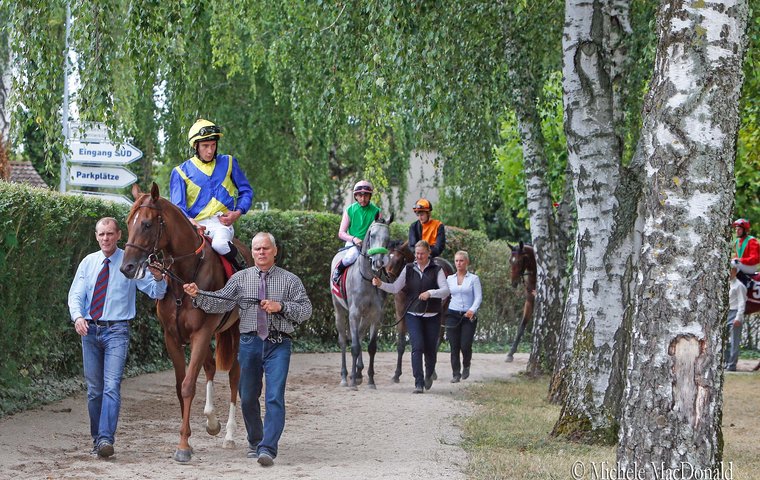 In an unrelenting display of class, stamina and durability, German-bred Thoroughbreds have stormed through the world's most glamorous races.

From the resolute Paolini and his determined dead-heat victory in the Dubai Duty Free during a globe-circling campaign of 22 consecutive G1 races in eight countries, their ranks have swelled to encompass the 2016 and 2014 Melbourne Cup winners Almandin and Protectionist, respectively; Prix de l'Arc de Triomphe heroine Danedream, and Breeders' Cup Turf victor Shirocco.
Contributing further lustrous feats have been Manduro, who repelled English and Irish Derby winners in the Prince of Wales's Stakes en route to the crown as the world's highest-ranked racehorse of his era; Prix du Jockey Club conqueror Intello; Prix Ganay champion Pastorius; California G1 winner Sabiango, and French and Australian G1 winner Seville.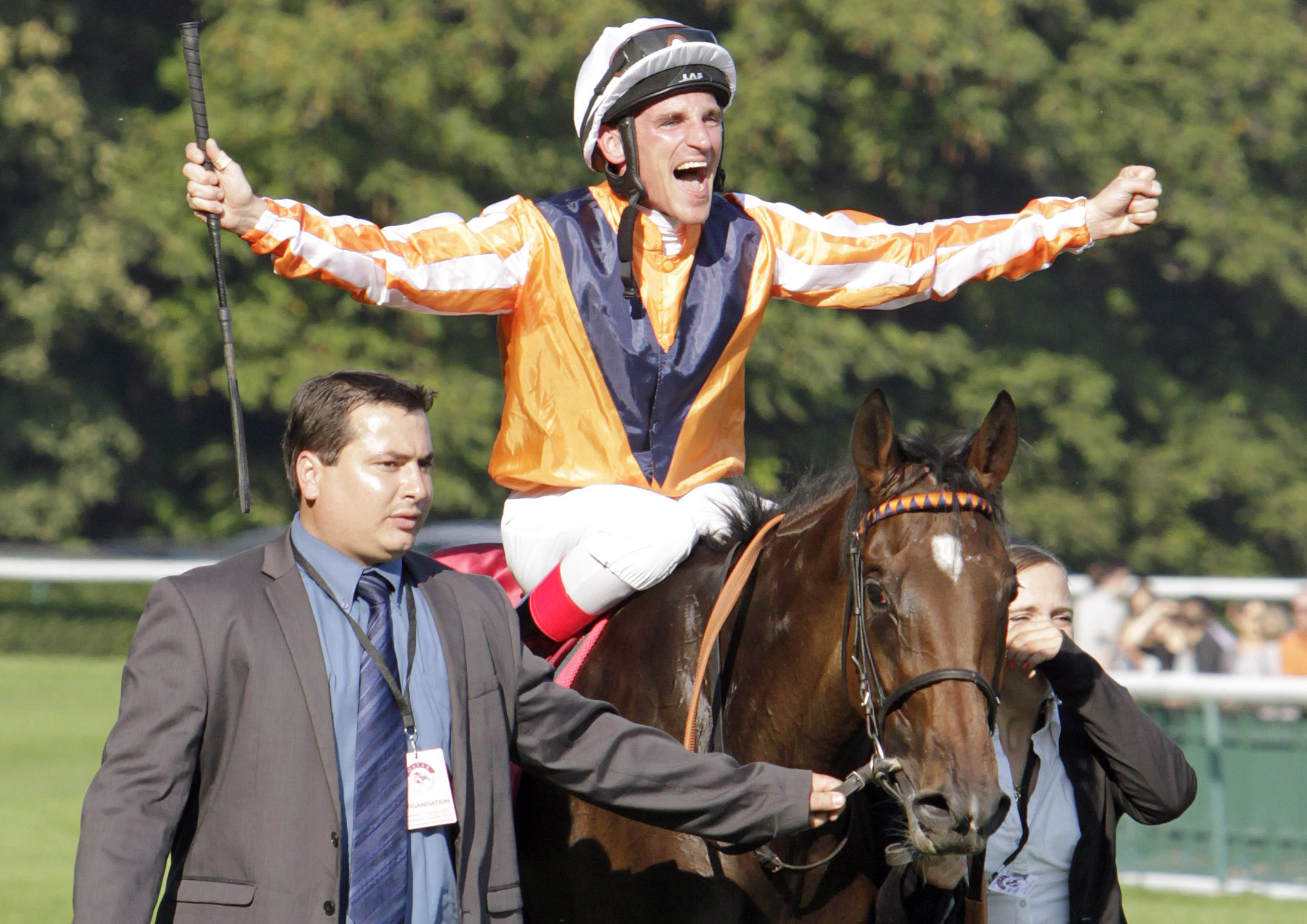 Further embellishing their global gravitas was Dalicia, a group stakes performer who whose first foal, Animal Kingdom, glided across all surfaces and captured the Kentucky Derby and the Dubai World Cup. Another mare, Moonlady, a classic winner in her own right, delivered Eishin Flash, winner of the Tokyo Yushun (Japanese Derby) with a devastating turn of foot.
Undeniably, German-bred racehorses — alongside others trained in Germany, such as record-smashing King George VI and Queen Elizabeth winner Novellist — have made a big mark on the sport in recent years through elite competition around the world.
The horses Germans want to breed
What makes their accomplishments most remarkable is that they have emerged from a country that produces no more than about 850 foals a year, and one in which racing has had to battle to preserve its position in a landscape where sports betting and soccer are pre-eminent.
While much of the rest of the world puts priority on speed, shorter races and precocity, German breeders and owners prefer to focus on producing Thoroughbreds that will prevail over longer tests and are sound enough to remain competitive for years. In large measure, that is the reason for their success.
"The Germans concentrate on one thing, basically — staying races," observed Daniel Krüger, manager of the German Owners and Breeders Association (Besitzervereinigung) and a key executive for both German Thoroughbred Marketing and Gestut Fahrhof, the breeder of many top runners, including Sabiango and Arlington Million winner Silvano, who went on to be a champion sire in South Africa.
"From seven Group 1 races in Germany, there are five over 12 furlongs; the German Oaks is over 11 furlongs and there is only one over 10 furlongs," noted Krüger, who also has been associated with American-based Team Valor International.
"So, that shows where our attention goes: to the classic, staying horse. And that is what Germans want to breed. We also give them time as 2-year-olds — we don't push them or run them too soon — and those are the main reasons I would say Germany is so successful.
Sticking with traditions
"If you talk to people at the sales sometimes, they want to buy to buy a Royal Ascot 2-year-old winner, but basically their dream is to win the King George and the Derby, or the Kentucky Derby. It's not about five furlongs. At the end of the day, they want to win the Kentucky Derby and the Breeders' Cup Classic," Krüger continued. "That's why breeders like the Aga Khan, Juddmonte and the Germans do well in this industry, because they have a niche — they have a staying horse that can go the distance."
While German breeders generally stick firmly with traditions, including what Krüger described as their grandparents' resolve to ban any use of drugs and restrict from breeding premiums the offspring of any stallion that raced on medication, German racing executives have had to seek innovative ways to keep pace with challenging economics.
Andreas Jacobs, who owns Gestut Fahrhof as well as Newsells Park Stud in Britain and Maine Chance Farms in South Africa, and who has been involved in a number of entrepreneurial and investment enterprises, stepped in at the helm of Germany's elite racecourse, Baden-Baden in Iffezheim, about six years ago. Through roles as vice chairman of the German Jockey Club, vice chairman of Besitzervereinigung and non-executive director of German Tote, Jacobs is the most high-profile leader as German racing moves forward.
Jacobs' intent for Baden-Baden — which is home to a pair of Breeders' Cup 'Win and You're In' races during the racecourse's "Great Week" in early September, which also features the country's premier yearling sale, conducted by Baden-Badener Auktionsgesellschaft (BBAG) — is simply stated yet also tremendous in reach.
Old word charm
"Our goal is to make Iffezheim a racecourse that can be mentioned in one breath with Longchamp or Ascot," according to a statement on the track's website from Jacobs, who serves as one of 48 members of Breeders' Cup Ltd who elect that organization's board of directors.
Baden-Baden already conducts a colorfully unique soiree that certainly helps define its own elegant status. International racing and social dignitaries come together at the pinnacle of Great Week to walk a red carpet to the Grand Prix Ball at the Kurhaus, a white-columned resort built in the 1820s, and celebrate the sport with dinner and dancing to a full orchestra on the evening prior to Iffezheim's marquee event, the €250,000 Grosser Preis von Baden.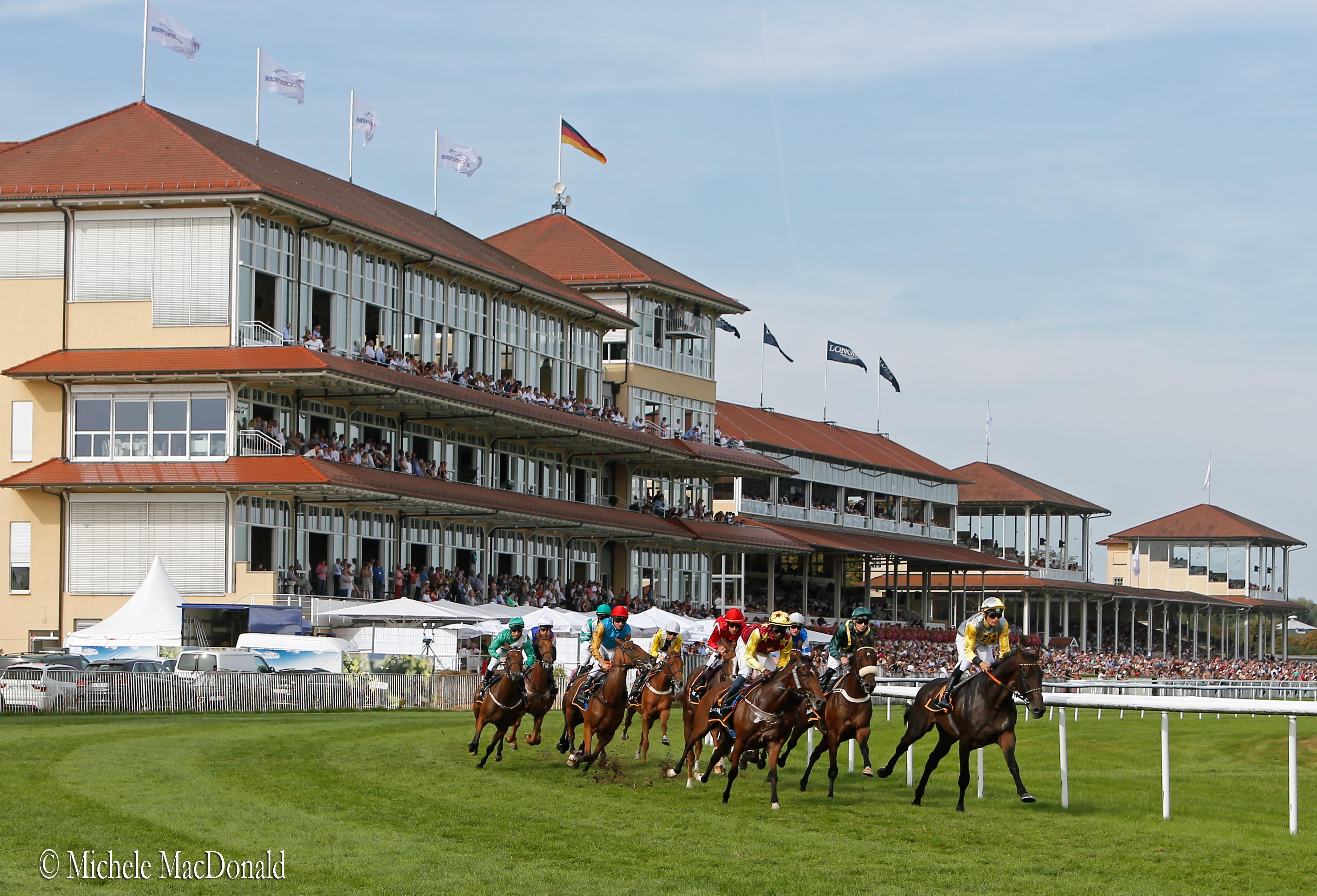 Just like the area in which it is located, a corner of the Black Forest nestled close to the border with France and the town of Strasbourg, the racecourse exudes a slightly 'old world' charm and elegance in its verdant setting. It also is a lively place where children have an expansive playground in which to romp or enjoy pony rides, where racegoers may bring their dogs to mingle near horses circling the parade ring, and where runners exiting the track brush shoulders with the crowd on their way to be unsaddled.
Beyond this colorful and pastoral scene, Jacobs is pushing toward the future and a financial standing that can grow to be as sound as the German racehorses.
With technology playing a big role in the recent trend of betting revenue going outside the country through bookmakers and thus away from racing, Jacobs said the Jockey Club decided to invest in Germany's largest online bookmaking business, RaceBets, several years ago. Now RaceBets, which advertises widely around Iffezheim and offers customers the chance to bet on horse racing in 40 countries and over 250,000 races annually, is channeling some profits back to German racing from its base in Malta.
Coordinated pari-mutuel offering
Jacobs also played a role in what potentially is a much bigger initiative: a joint venture with France's Pari Mutuel Urbain betting company, which is Europe's largest pari-mutuel operator and third in the world, with annual bets on racing of about €9 billion.
"For the long-term future, my hope is with our partnership with PMU — we sold 51 percent of German Tote, now called WettStar (BetStar), to PMU. We hope that PMU will invest in the country, build an infrastructure with retail and online betting, merge the French and German racing into one coordinated offering so that we become part of a PMU Central European offer with one pool, with one race program," Jacobs said in an interview at Iffezheim.
Such a larger, combined pool, along with the PMU's extensive distribution network for a combined German and French racing program, theoretically would stimulate more betting and generate more income for racing.
Jacobs also has engineered changes at the Iffezheim track, with more planned under a progressively-purposed 20-year operational contract.
"The 20-year plan includes investments in the track, so we put a new irrigation system in. We intend also to widen the track. We also will invest in infrastructure, (including) the gastronomy. Higher quality, broader quality on the cheaper level, but also on the top level. It's all about entertainment; it's all about better infrastructure for the visitors and guests," Jacobs said of the blueprint, which is a collaboration with local officials.
"This has been financed by the city of Baden-Baden, the region around Baden-Baden and ourselves, so there is unity between the political bodies and ourselves to move on and give it a 20-year perspective," he said.
Just not good enough
"We also have increased prize money by over 10 percent on average. The average prize money per race is around €24,000, which is absolutely top in Germany and also top class in Europe. We also increased the status of a few races from Group 3 to Group 2, so the quality of the races, the rating, has increased. So this is investment in infrastructure but also in the quality of the sport."
In this era of intense competition for leisure and betting money, racing must offer patrons more than just continuing to do what the sport has always done, Jacobs maintained.
"I think racing today is very much catered to the betting environment. We open the gates, every half an hour there is a race, then everybody goes home. And I think that's just not good enough. Most people just don't understand and wonder why we are not doing other entertainment," he said.
Racing can learn from the example of other sporting events, including those in the horse domain, such as the World Equestrian Festival held annually in Aachen, Germany, which draws about 360,000 people. Aachen offers popular shopping opportunities to those seeking equipment and gift items as well as many dining choices, he noted.
For now, no additional racing is planned for Iffezheim, which is one of 10 major racetracks in the nation listed by German Thoroughbred Marketing, along with Berlin/Hoppegarten, Dortmund, Cologne, Hannover, Munich, Hamburg, Frankfurt am Main, Krefeld and Dusseldorf.
Other income streams
A total of 44 group stakes feature on the German racing calendar this year, with that program beginning in mid-April and extending into November, according to the International Federation of Horseracing Authorities. Only a dozen racing days are conducted in Iffezheim, making Baden-Baden truly one of the world's most boutique racing centers — but also one that must seek other income streams to secure profitability.
"For 348 days, there is nothing much here. There are shows for flowers, one for trucks and machinery for farming. But then we talk about 340 days where there is no business done, and I think there can be more — there could be more to build an income," said Krüger.
Overall, racing in Germany "is staying more or less on the same level (with race days) and the prize money is more or less stable" Kruger continued. "What we lost in the last 15 years, going back to the year 2000, is the turnover in betting because of the offshore companies that do the gambling on the Isle of Man or Gibraltar and some other places, and that's missing for racing. Turnover decreased from €120 million to €30 million. You can see how the racecourses, which earned money from betting turnover, have to earn money from different, other businesses, like sponsorship, like entrance tickets and so on and so on.
"It's a great chance as well for racecourses," he said of the opportunity to create innovative solutions for additional revenue. "Racecourses have been very passive."
But the horses that perform on those racecourses and on premier programs around the world have been just the opposite of passive. The deeds of Danedream, Protectionist, Novellist, Almandin and the others have propelled upward the bloodstock of Germany, as evidenced by the BBAG sale during Baden-Baden's Great Week.
Legacy of Monsun
When the one-day auction ended, 185 yearlings had been sold for a total of €8,426,500, up 31 percent compared to the previous year's results. Buyers included such globally known names as Markus Jooste of South Africa (joint 11th ranked owner in the world), who buys under the banner of Mayfair Speculators, the Niarchos family, the Hong Kong Jockey Club and Australian Bloodstock.
A filly by Sea The Stars bred in Ireland by Germany's Gestut Ebbesloh topped the sale on a bid of €500,000 from Jooste and his agents, Peter and Ross Doyle, who signed for eight yearlings, including a €110,000 Siyouni filly, which they bought in partnership with Jacobs' Fahrhof.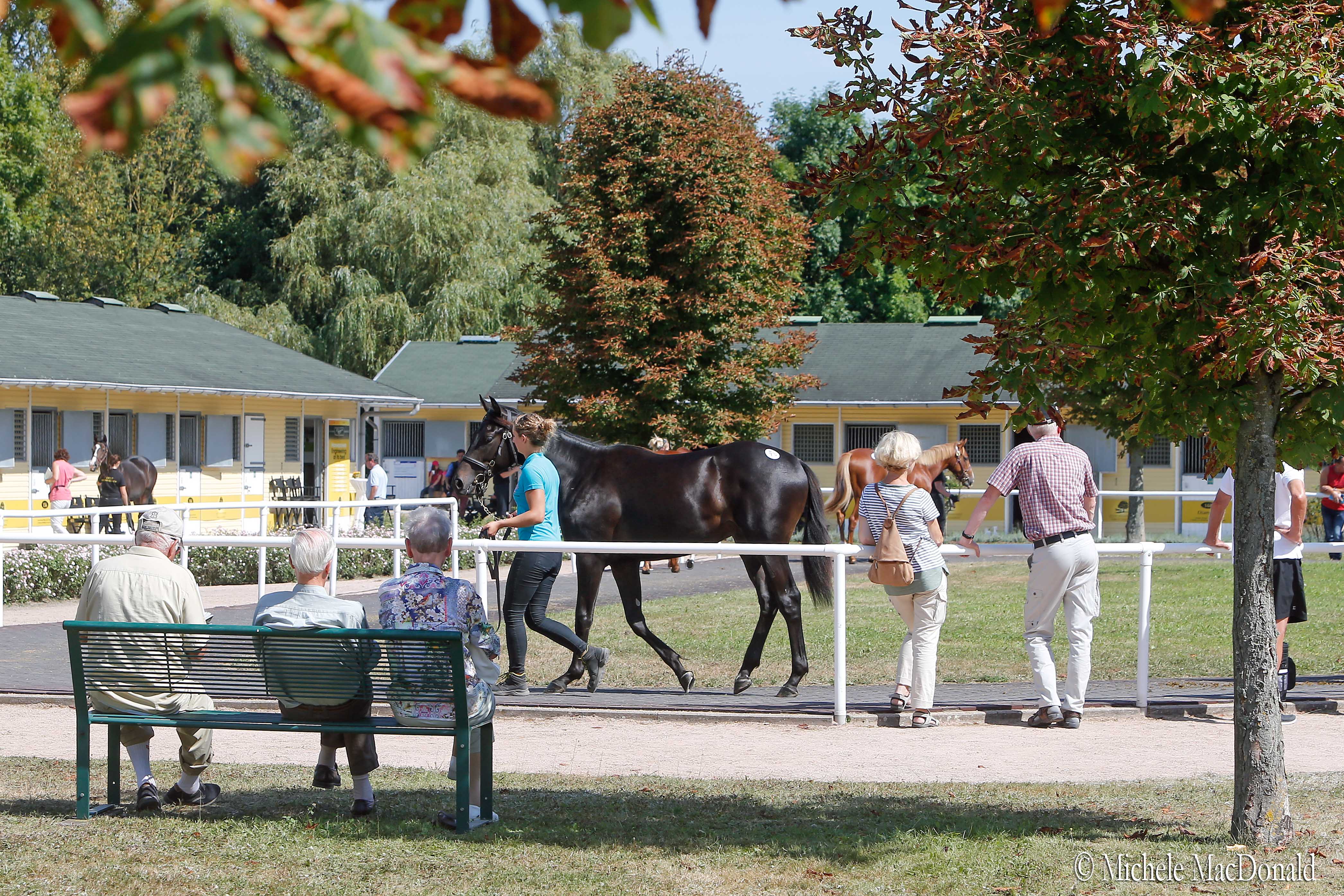 Fahrhof also joined with the Niarchos family's Flaxman Holdings in buying two colts by first-crop stallion Maxios, a multiple G1 winner in France carrying the Niarchos silks who now stands at Fahrhof.
Maxios, who led all the roughly 60 stallions standing in Germany this year by covering 110 mares, will try to carry on the legacy of his late sire, Monsun (the world's 11th-ranked stallion onTRC Global Rankings), who was responsible for much of the rise of German racehorses through his internationally accomplished G1 performers Manduro, Novellist, Protectionist, Shirocco, Silasol, Stacelita, Almandin and 2013 Melbourne Cup winner Fiorente (bred in Ireland).
"There is an international syndicate of English breeders, Irish breeders, and all the major German breeders and ourselves," said Flaxman racing manager Alan Cooper of those who have invested in Maxios's stud career.
Germany's leading sire
Known for his quick acceleration and serene temperament, Maxios boasts a pedigree of the highest class, being a half brother to Prix de l'Arc de Triomphe winner Bago and a grandson of French champion Coup de Genie, dam of another champion in Denebola and a half sister to influential sire Machiavellian. His fifth dam is Natalma, globally pre-eminent as the producer of Northern Dancer.
Among established sires, Soldier Hollow (world-ranked 25), a multiple G1 winner by In The Wings from the female family of Nureyev and who ruled as Germany's Horse of the Year in 2004, currently leads all others in Germany by progeny earnings. The resident of Gestut Park Wiedingen in northern Germany also topped BBAG sale sires by aggregate, with 23 yearlings sold for a total of €1.5 million.
In the TRC Global Rankings, he is top among stallions who have most of their runners in Germany
Leading runners by Soldier Hollow include Australian G1 winner Our Ivanhowe, who while in Germany won the Grosser Preis von Baden; the aforementioned Prix Ganay and Deutsches Derby victor Pastorius, who, like Maxios, has his first crop of yearlings this year and stands at Fahrhof, and this year's Henkel-Preis der Diana (German Oaks) winner Serienholde.
So, even though German breeding and racing remains surprisingly small in numbers, the burgeoning quality that has emerged around the world is being honed to yield more glory in the years to come.
With about 525 active breeders in Germany, and most of those having only a few horses, the national emphasis continues to be, as it has been for over a century, raising solid, sound horses that can run over classic distances.
Land of the owner-breeder
"Seventy-five percent of our breeders in Germany have only one or two mares. That means they put a lot of hard work, patience and passion into breeding — into the nomination, into the stallion selection, into the mare, into raising the foal," Krüger said.
"A lot of Germans, even if they try to be commercial from their head, in their hearts, they are still owner-breeders. If they don't sell, they keep the horse and they send it to their traditional trainer."
Their insistence on this kind of personal involvement, as well as not pushing juveniles to race early or often, is part of their secret.
"That's why their horses are so good, long term," Krüger said.
"Germany has a very small population of horses," Jacobs said, pointing out the significance in the nation's racing of long-standing stud farms that have been dedicated to developing female families for generations.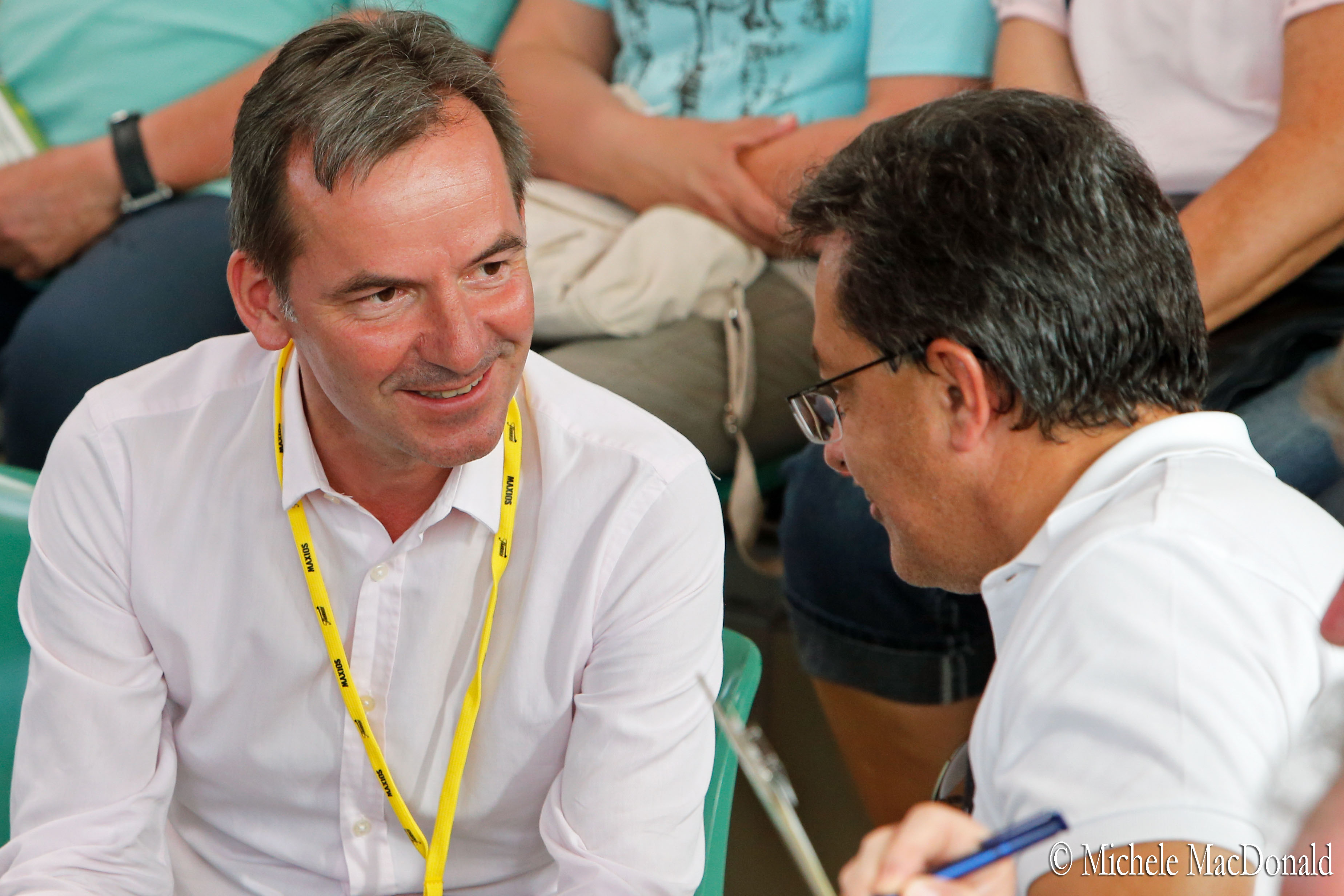 "We are an owner-breeder country, we are not a commercial country. We've become a bit more commercial, but essentially the strength is coming from the owner-breeders. There are families like those at the Schlenderhan stud — they have families where they have 20 generations of breeding, which is hugely impressive," Jacobs said.
Gestut Schlenderhan was founded in 1869 and has been in the Oppenheim family ever since. The farm not only stood Monsun but bred Allegretta, dam of Urban Sea and King's Best, and granddam of Galileo and Sea The Stars; the farm also bred the newest Melbourne Cup winner, Almandin, a gelding whose best performance in Germany was a G2 victory.
Similarly, Jacobs and his family's Gestut Fahrhof — albeit with a shorter history, having been founded in 1965 — have produced a bevy of landmark horses, including three-time Horse of the Year and four-time leading sire Acatenango and his six-time leading sire, Surumu, as well as Horse of the Year Lomitas, sire of Danedream.
"And so the quality comes from the owner-breeders — that's the backbone (of German racing)," Jacobs said. "These big studs will always be there. They have been there 150 years and there is no reason they shouldn't be there in the next 150 years."