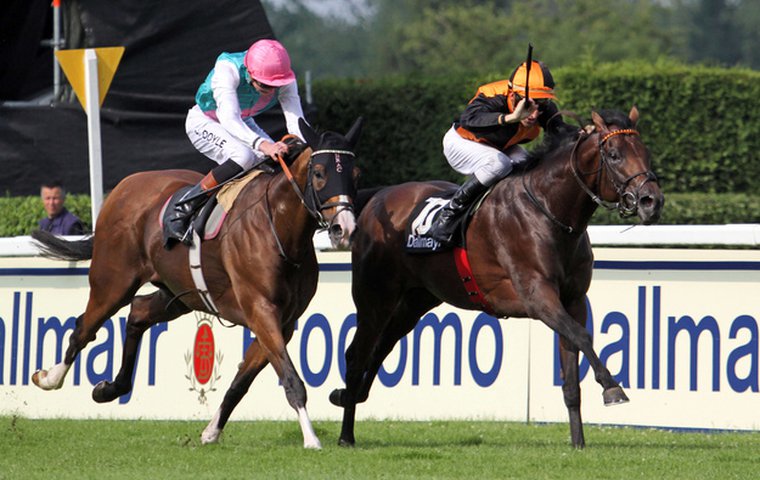 Quality bloodstock is often ignored – despite impressive results on the racetrack - as continental Europe struggles to market itself to the big spenders from English-speaking racing nations. International bloodstock journalist Jocelyn de Moubray puts forth some theories on why.

Ask a European bloodstock professional which yearling sale produces the best racehorses and the reply is more than likely to reflect the country where they are based. The only possible answer based on statistics would be: that depends.
Some years it is the Tattersalls October Book 1 and 2 sales, but then sometimes it is instead the Arqana sales at Deauville in August and October, or Goffs in Ireland.
Yet, in fact, more often than not in terms of percentages, the best place to buy G1 winners as yearlings is the BBAG September sale at Baden-Baden in Germany.
Looking at this year's 3-year-old crop, sold as yearlings in 2012, the best sale by some way in terms of percentages is Baden-Baden, where there were three G1 winners from only 247 yearlings offered. Feodora won the G1 Preis der Diana, Lucky Lion was second in the G1 Deutches Derby and beat Noble Mission to win the G1 Grosser Dallmayr-Preis at Munich in July, and Sirius won the G1 Grosser Preis von Berlin in August.
The sale came within a nose of a fourth G1 winner when Lacy just failed to get past Final Score in the G1 Premio Lydia Tesio in Italy at the end of October.
In comparison, at Deauville in August, there were two G1 winners (Ectot and Prince Gibraltar) from 440 offered; at Arqana's October sale, there four from 478 (The Grey Gatsby, Vorda, Avenir Certain, and Charm Spirit); at Tattersalls October Book 1, four from 514 (Australia, Night of Thunder, Sea The Moon, and Surdiman); at the Tattersalls October Book 2, four from 936 (Chriselliam, Astaire, Rizeena, and Kingston Hill).
There has been no G1 winner from the 2012 Goffs Orby sale, but Toast of New York, sold privately there for €60,000 ($95,300), was close to landing one of the biggest G1s of them all when he was beaten just a nose in the Breeders' Cup Classic.
This year's 2-year-old G1 winners come from a different and just as varied number of yearling sales. Charming Thought from Tattersalls October 1; Dick Whittington and Together Forever from Goffs Orby; Tiggy Wiggy and Vert de Grece from Doncaster in August; The Wow Signal from Tattersalls Ireland; Belardo from Deauville in August.
This is all as could only be expected, as few would deny that there are very obviously stallions, broodmares, and breeders capable of producing international class horses in each of Europe's four major breeding countries, ranked, in order of births per year, Ireland, Britain, France, and Germany.
The statistics only begin to be interesting once a comparison is made of the average prices at these sales. In 2012, the average price at Deauville in October was £25,000 ($39,700) and at Baden-Baden in September £29,000 ($46,200), respectively 680 percent and 590 percent less than the £170,000 ($270,000) achieved at Book 1 of the Tattersalls October Yearling Sale, and 160 percent and 140 percent less than the £41,000 ($65,100) average reached during Book 2 of that sale. The Deauville August average of £79,000 ($125,400) was 215 percent lower than Book 1 of the Tattersalls October Yearling Sale.
If you look at the results of the different yearling sales on the racecourse and the average prices realized, two questions leap from the page. Why are some of the major buyers of yearlings not even represented at sales like the BBAG September sale and Deauville in October? And, more interestingly, why are German- and French-bred horses so undervalued in the international yearling market?
The racing and breeding world is an overwhelmingly Anglophone one. German and French horses are undervalued because, above all else, those buyers who don't speak German and French are poorly informed about racing and breeding in Germany and France.
The problem is further complicated by the fact that, for different reasons, even those who do speak German and or French are poorly informed by international standards. British and Irish racing and breeding are actively promoted internationally by bookmakers, independent racing channels, and publications, including both the Racing Post and Timeform, which have a huge database of ratings for all horses who have run in Britain and Ireland.
None of this exists in either Germany (the market is too small), or in France, where the pari-mutuel monopoly does not encourage independent sources of information.
Ratings may appear to be a trivial cause, but in the modern world, where such figures are available instantly on every buyer's smartphone, they have become a very significant influence on bloodstock values.
Anyone who doubts this should go to the Tattersalls Horses in Training sale at Newmarket, where the prices are largely determined by what such publications say about the horses on offer and the ratings given to them. Not only are these ratings and informed commentaries not available in any French publication, but those in the English language ones are rarely flattering to horses who have raced outside England and Ireland.
Look at almost any French-trained winner of a major race in England and you will find that its rating improved by pounds on the ferry across the English Channel.
Timeform and Raceform are well established brands with decades of experience. In France, there is no equivalent and even the ratings mindset is almost completely absent.
Official ratings are no alternative as both Germany and France are trapped in Pattern-race obsession where it is impossible to be given an official rating the equivalent of a Timeform/Raceform 100 without running in a Group or Listed race. Top-class horses are not supposed to run in handicaps. The horses that sell for hundreds of thousands of guineas at horses-in-training sales in Britain or Ireland have often never run in a Pattern race, but they all have ratings over 100.
Racing and breeding on continental Europe is still struggling to market itself successfully to potential customers in Britain and Ireland, and their clients from further afield. It is a question of language, of the history, culture, and politics of racing in different countries, but above all in the internet age, it is a question of information and instant availability of pictures, odds, ratings, pedigrees, and everything else buyers take for granted - in English, of course.
France Galop has long been more concerned with protecting its pari-mutuel monopoly than with the image of French racing in Britain and Ireland. The monopoly itself and the money it generates doesn't encourage an international perspective either. There are far more foreign-trained runners in France, for instance, than French-trained runners abroad.
However, until the information gap is bridged, French horses and horses who race in exclusively in France will continue to be undervalued in the international market.
----------
Jocelyn de Moubray is a bloodstock consultant based in France and author of The Thoroughbred Business (publisher Hamish Hamilton Ltd.).