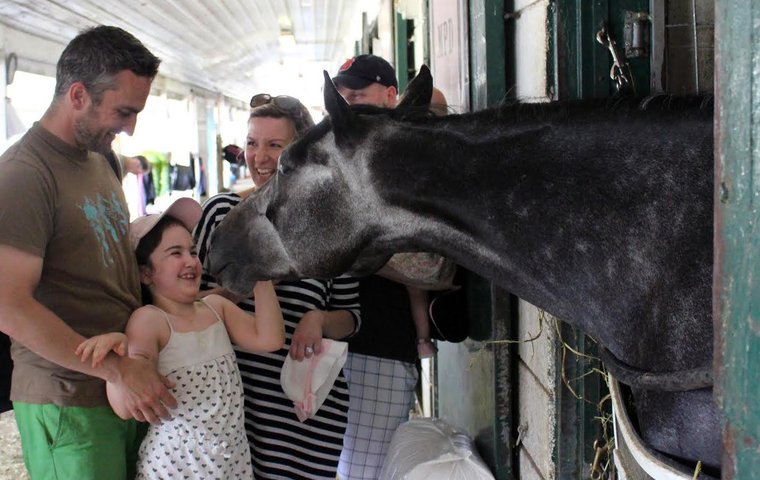 While stakes winners get the accolades in racing, the lower-level runners are the ones keeping the sport alive on a daily basis. They can be just as beloved as their more famous counterparts, as is the case with the Woodbine Racecourse-based Bear's Pearl.

The diminutive gray developed an international following thanks to a social media presence and the generosity of her connections, who endlessly shared her with tour groups and fans. Despite her gentle nature, Bear's Pearl earned $404,605 the hard way, running almost exclusively in claiming races.
No-one loved her more than Joseph De Paulo, son of leading Woodbine trainer Mike De Paulo and his wife and assistant trainer, Josie.
"When Pearl shipped in as a 2-year-old, I was in Florida," Joseph recalled. Although now he is an assistant trainer as well, he was grooming at the time. "Shortly after I returned home, I had an empty stall and needed another horse, while her groom had a horse shipping in. One of the riders told him to give her up to me because she was so small. Within two days I told her former groom he would never get her back and I thanked that rider everyday. I fell in love with her instantly."
Although small in frame – she only reached 15.1 hands (or 61 inches at the withers) when full grown – Bear's Pearl was born to be rugged.
Bred under the banner of Danny Dion's Bear Stables in Alberta, Bear's Pearl is by Seeking The Dia out of the Unbridled's Song mare Flame Song. The royally-bred Seeking The Dia, by Storm Cat out of the standout G1 winner Seeking The Pearl, made 30 starts and was a multiple G2 winner in Japan. Flame Song, a winner while racing primarily at Monmouth and Gulfstream Park, made 20 starts. Another of her foals, Bear's Song, has made 40 starts to date.
Little horse, big heart
"Although she was very small and kind of fat at the time, I still loved her," Joseph said. "Everyone who had any kind of interaction with her loved her."
Just a few months after arriving in the barn, Bear's Pearl made her debut in a $32,000 maiden claiming event on June 8, 2012. She broke towards the rear of the field, rallied four wide, and fought gamely to the wire to win by three-quarters of a length.
"She was a big price," Joseph said, "but I knew she was so smart and fast that I had a good feeling she would win. I was proud of all her wins, but the first win was special. Everyone doubted her because of her size, but they didn't know she was actually a big horse if you judged her by the size of her heart."
The connection between the man and the horse grew deeper daily.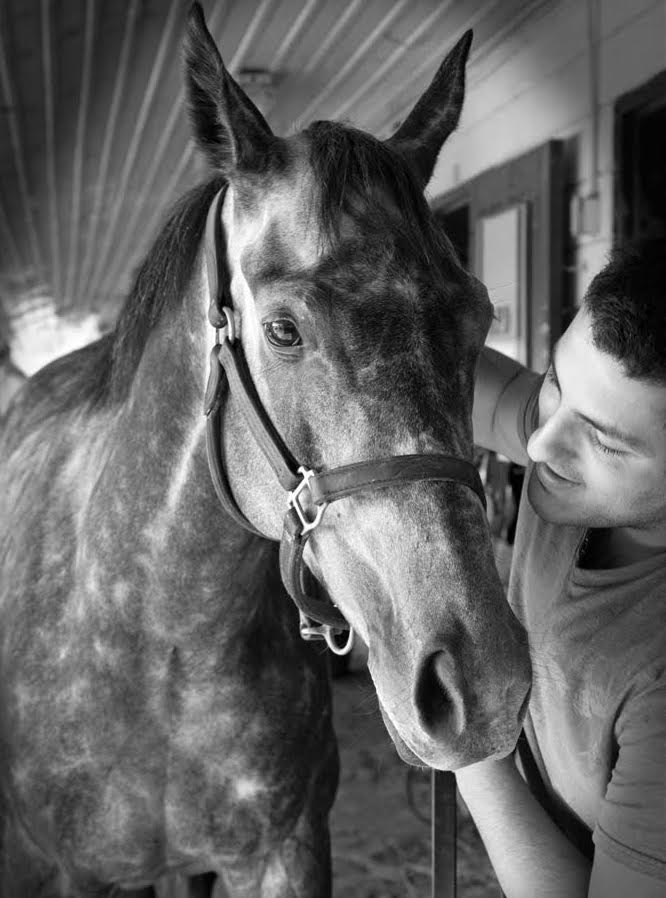 Joseph recalled, "One day Pearl was feeling so good that she was jumping around the stall and accidentally kicked me. You could tell how bad she felt; for the rest of the day she kept rubbing up to me and nuzzling me. She sulked all day long. My mom always joked that I didn't need a girlfriend because Pearl was my girlfriend."
Bear's Pearl tried stakes company in her second start, finishing fourth of ten runners in the $150,800 Shady Well Stakes. The gray outran bettors' expectations that day, enhancing the superfecta payouts with her 52-1 odds.
She returned to claiming company for the rest of the summer, winning for $32,000 and running second twice, before finishing her season with a fifth-place effort in the $150,000 Fanreluche Stakes. She would not try true stakes company again in her career.
A change of rider
Bear's Pearl made seven starts in 2013, winning twice, and struggled into 2014. After finishing seventh in an $8,000 claimer, regular jockey Justin Stein jumped off and admitted to trainer Mike De Paulo that he thought the mare's career was over. Joseph concurred.
"We had dropped her really low, and Joey was so worried every time she ran for a tag," Mike said. "That was his girl, and they had a bond. He was afraid she would get claimed. One night the jockey thought she was done, but that particular night the track was heavy from rain and horses were winning off the pace, but he sent her to the lead. I think she kind of wanted to be near the lead, but not necessarily on the lead. If you sent her, that was the worst thing you could do. We changed the jockey instead."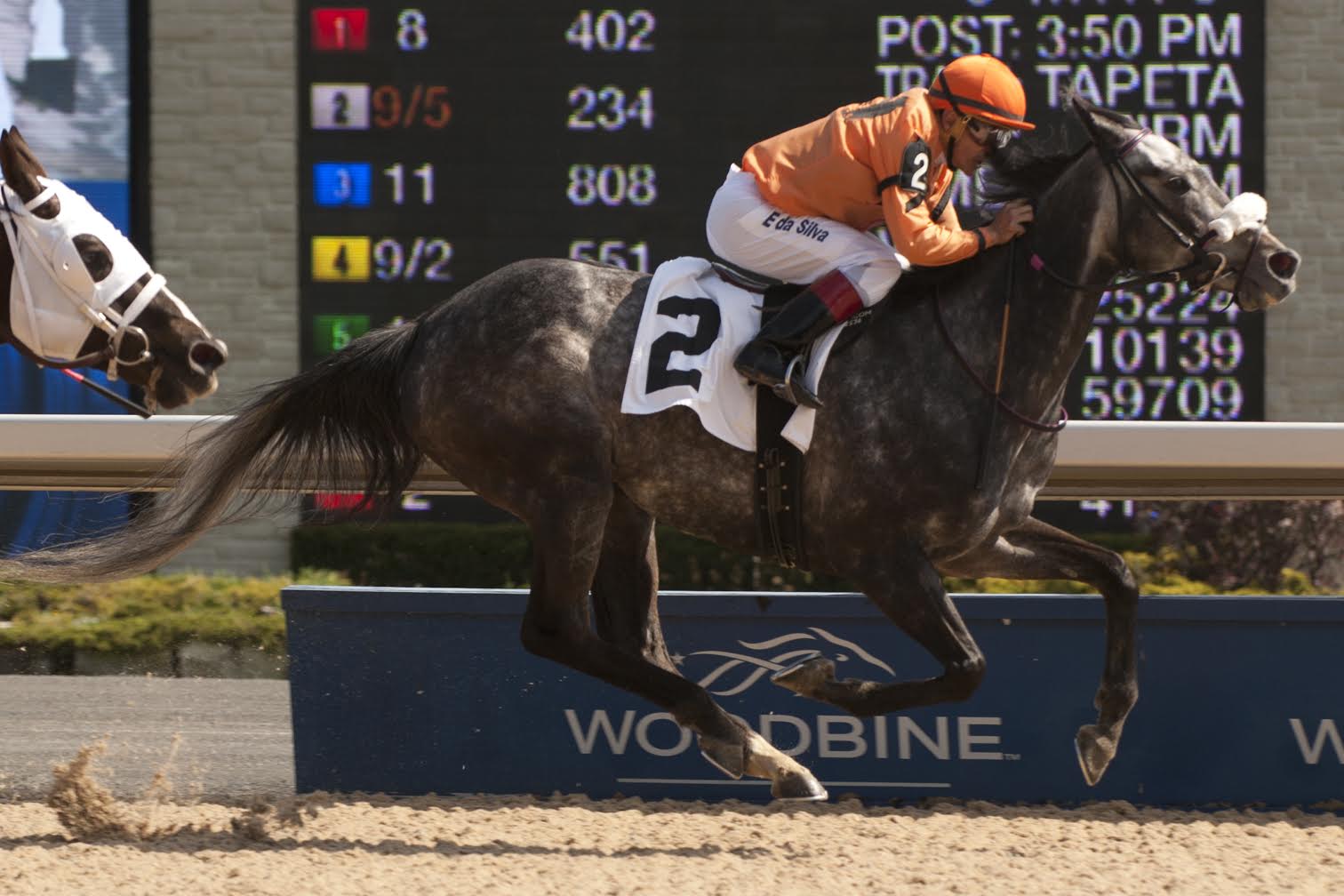 Under new rider Patrick Husbands, Bear's Pearl wheeled off four wins in a row, moving back up the proverbial ladder and into allowance company. It wasn't her size that the De Paulos struggled with, rather, Bear's Pearl suffered from muscle cramps.
"She was tough to train because she would tie up," Mike De Paulo explained. "That was our biggest obstacle with her. We had to change things to try to prevent her from trying up."
Their tactics worked, as Bear's Pearl won four of nine starts in 2014, and added another three wins from eight starts in 2015.
That season it was more than her resume growing, but also her fan base.
Asking for a kiss
Keith McCalmont, Woodbine's Communications Manager, said, "So many barns at Woodbine open their doors for us. I'm fortunate to have so many great trainers [here] willing to share their time and their horses. The Mike De Paulo barn became a very popular spot on my walking tours for a number of reasons, but first and foremost because of how kind Mike, Josie, Joseph and their staff are with their animals and the people that want to meet them.
"As for Bear's Pearl, visitors would crowd around her stall just to see the faces she'd pull trying so desperately to get just one more mint. It made for some great photos. Once you give her one mint, she can't help but want all the mints and, in order to achieve her goal, she would crane her neck, stick out her tongue, tap her toes. People talk about 'puppy dog' eyes, well, Pearl has that in spades."
Joseph taught Bear's Pearl a routine of asking for a kiss, and when she obliged, he would feed her a mint.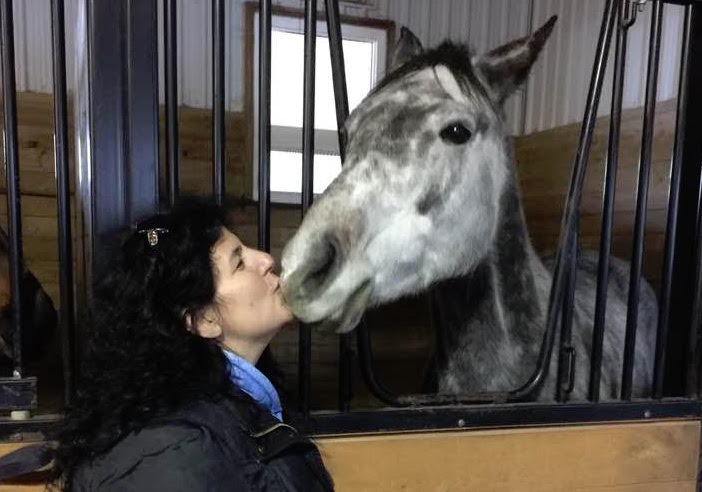 Joseph's mother and assistant trainer, Josie, also adopted this trick, saying, "A lot of horses like mints but she was addicted. If I walked by her and ignored her she would either punch me with her head or grab me and pull me in. But my favourite thing about her is how she gives me kisses for candies. I'd give her a couple mints and she'd kiss me again for more while she still wasn't finished the ones I had just given her. This would go on forever if I didn't walk away."
Meeting the fans
With Bear's Pearl in the twilight of her career in 2016, the De Paulo barn heated up, sending out major stakes winners such as Caren, Noholdingback Bear, and Passion For Action. The success led to Sovereign Award nominations (Canada's Eclipse Awards) not only for several of the horses, but also for Mike De Paulo himself. With so many stakes horses in the shedrow, there were lots of reasons for McCalmont to bring visitors to the barn.
"There are fan initiatives here as well, like our Queen's Plate Backstretch Tour led by Sandy Hawley," McCalmont said, "where we'll take fans to the backstretch and show them the facilities and give them a taste of racetrack life.
"This year, we stopped by the De Paulo barn and everyone had a chance to walk the shed row and meet Pearl. Throughout the year, I field a number of requests and, when time permits, have taken families, students or just interested fans on personal tours. Pearl and her people were always gracious hosts. There's something about meeting a horse for the first time that provides even the most serious adult with a sense of childlike wonder."
"Whenever Woodbine was doing something, they'd bring people through the barn," Mike said. "And, every time people came through, Pearl would have to have her mints."
Via his camera and social media, McCalmont was able to share the kindness of Bear's Pearl with a much wider audience.
"That bond between a horse and 'their human' is so endearing, and I truly believe when a newcomer has the chance to see that level of care it brings a deeper appreciation of what this sport is all about," McCalmont said.
Although Bear's Pearl was very sound throughout her career, her flat-shaped feet began to pose a problem for the De Paulo team. "She would get a puss pocket or a bruise, and we'd take care of it, but then she would go back to being unsound," Mike said.
"Her last year, her feet were a bit of a challenge," Joseph agreed.
Emotional reunion
Bear's Pearl made six starts in 2016, winning once. Her feet flared up during her final race on October 12, 2016. The significantly lighter-colored gray mare was eased in the stretch, pulling up before the wire in a quiet end to a lengthy career.
Bear's Pearl ran 36 times for 12 wins, five seconds and two thirds. "She was a trying son of a gun," Mike said. "She made her money the hard way."
Dion transferred ownership of the mare to John Brnjas, who owns the sprawling Colebrook Farms located just short of an hour from Woodbine.
"She's recovered well and is settling right in," Brnjas said. "She loves being on the farm, and has started putting on weight."
Later this month, Bear's Pearl will be bred to the graded stakes-winning Lemon Drop Kid son Bear's Kid, who stands at Colebrook. More recently, however, she enjoyed a day with her former connections: the De Paulos stopped by the farm for an emotional reunion.
"She is my favourite horse and she has a special place in my heart," Joseph said. "I owe her so much for all the happiness she gave me."