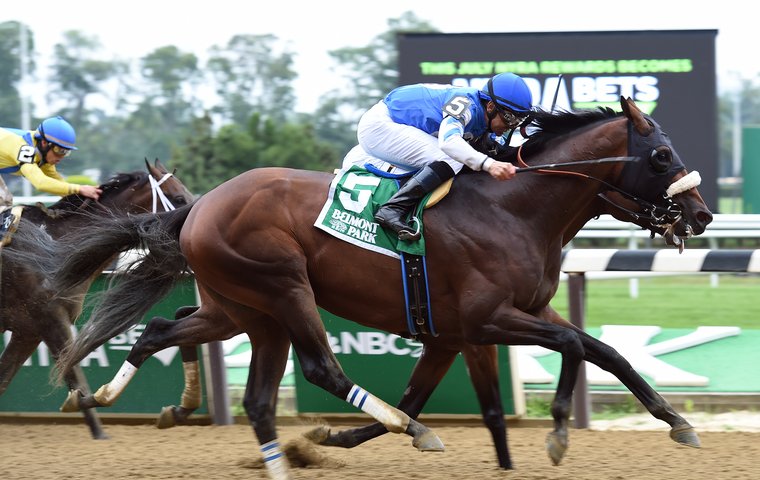 A longtime supporter of New York's breeding program, Barry Ostrager is hoping that the arrival of Grade 1 winner Effinex to the stallion roster in the Empire State is a game changer or, at the very least, begins the process of erasing a perception that irks him.

New York-bred Effinex, who will stand for $10,000 at Ostrager's Questroyal Stud North, is the most accomplished of the 11 first-year stallions entering the New York marketplace in 2017. His presence is a boon to the state's breeding program, which offers significant monetary perks for owners and breeders of New York-breds, as well as stallion owners.
It's not required for a New York-bred to be sired by a New York stallion to partake in the awards program — although the breeder and owner awards are of lesser value when the horse is sired by an out-of-state stallion. The rules of the program permit mares to journey out of state to be bred, and, as long as they meet certain residency requirements, their foals will qualify to be registered New York-breds. As a result, many New York breeders flock to Kentucky breeding sheds with their mares, even though there, they encounter a sales tax, plus the obvious shipping and boarding costs.
"The overarching reason that Questroyal was so anxious to stand Effinex is that New York, rightly or wrongly, has been perceived by Kentucky horsemen, Fasig-Tipton [when cataloging] its preferred sale of New York-breds, and even New York breeders, who shuttle mares to Kentucky annually, as not having a stallion of sufficient quality to justify breeding top-quality mares to New York stallions," Ostrager said in a recent interview.
Outgrew the competition
"It just seems to me to be a completely losing proposition for those breeders who go to Kentucky," he added. "I was determined to get a stallion in New York that nobody in their right mind would pass up to stay here and breed to. Effinex is certainly the equivalent or beyond the equivalent of any stallion standing for a comparable stud fee in Kentucky. Plus, you don't have to spend five or six thousand dollars in transactional fees to breed to him."
A son of 2003 Horse of the Year Mineshaft and the E Dubai mare What A Pear, Effinex was campaigned by Bernice Cohen's Tri-Bone Stables. Her son, Russell, a New York-based equine veterinarian, bred Effinex and managed his racing career.
Trained for the majority of his 28 lifetime starts by Jimmy Jerkens, Effinex began his career as a 3-year-old, competing against New York-breds. But by the time he was four, it was abundantly clear he had outgrown state-bred competition.
His last two years on the track were highlighted by a win in the Grade 1 Clark Handicap, victories in back-to-back runnings of the Grade 2 Suburban Handicap, and a win in the Grade 2 Oaklawn Handicap, races in which he defeated many of members of the upper echelon of the handicap division.
Immediate goal
In 2015, after finishing second to Triple Crown winner American Pharoah in the Breeders' Cup Classic, Effinex just missed being on the Eclipse Award ballot for champion older male. He retired a winner of $3.3 million and won or placed in nine graded races, including five Grade 1s.
"This isn't to knock anyone else's stallion in New York or to say that Effinex is the second coming," Ostrager said. "It's just to say that he is the best horse to stand as a freshman stallion in New York in the history of the New York breeding program."
A former attorney and now a judge in the Civil Branch of the Supreme Court of the State of New York, Ostrager has been instrumental in cultivating the careers of two very distinguished sires, Belong To Me and City Zip. Because of their fast starts as New York stallions, both drew the attention of Kentucky's Lane's End Farm and later were sold and relocated to Bluegrass country.
Ostrager said one of the immediate goals with Effinex was to procure him a large book in 2017. To that end, Ostrager settled on a stud fee that he believes will achieve the desired result. The only other stallion in New York with a fee as high as Effinex's is the well-established Freud, who has consistently ranked at the top of the New York sire lists over the last decade.
"Instead of standing Effinex for $15,000 or $17,500, we decided to stand him for $10,000 to make him so compelling that he would be certain of having a 150-mare book," Ostrager said. "We also have been syndicating Effinex and a significant number of people have acquired shares in him, and those shares carry with them a regular season and an extra season, so the shareholders will all be breeding at least two mares to him. We are well on the way to selling out the 50-share syndicate."
Change of heart
It was Ostrager's acumen in managing the careers of young sires that drew the Cohen family, who have retained ownership interest in Effinex, to Questroyal Stud North. But at one time, while Effinex was still competing, Russell Cohen said he was bullish on the horse landing in Kentucky for his second career.
"I've been breeding 30 years and I could never confidently breed a mare to a New York sire because rarely did they have those qualities that I felt would get the foals from my mares into open company and to become a Grade 1 winner," Russell Cohen said recently. "They throw fine horses in the restricted level, but rarely do they jump out.
"At the end of the day, I had some offers from Kentucky and offers out of the country, and I wanted Effinex near me," he added. "I had a little bit more control … I'm able to give the thumbs-up to some mares that he will cover. And he's close enough that I can get in the car and drive to see him. I think Effinex is the first one standing in New York that has license to be pretty exceptional right from the get-go. With his looks, race record, pedigree, soundness and durability, he owns it."
Cohen had been thinking about getting out of the breeding business after Effinex's retirement, but he had a change of heart and purchased a broodmare, Bourbon Rahfee, a daughter of Queen's Plate winner Not Bourbon, at the recent Keeneland sale for $40,000. The mare, currently in foal to 2014 Belmont Stakes winner Tonalist, will drop her baby in New York this year, and then will be bred back to Effinex.
"Effinex has taken us a great ride, and I owe him more than he owes me," Cohen said. "It will be a lot of fun to continue on with him in his second chapter."
New York stallion owner awards
These are paid to owners of registered New York-based (at the time of conception) covering stallions. Only New York-bred progeny of New York-based stallions are eligible to earn stallion owner awards, which have been increased to ten percent of purses earned from finishes in first through third place. All stallion owner awards are capped at $10,000 per horse, per race.