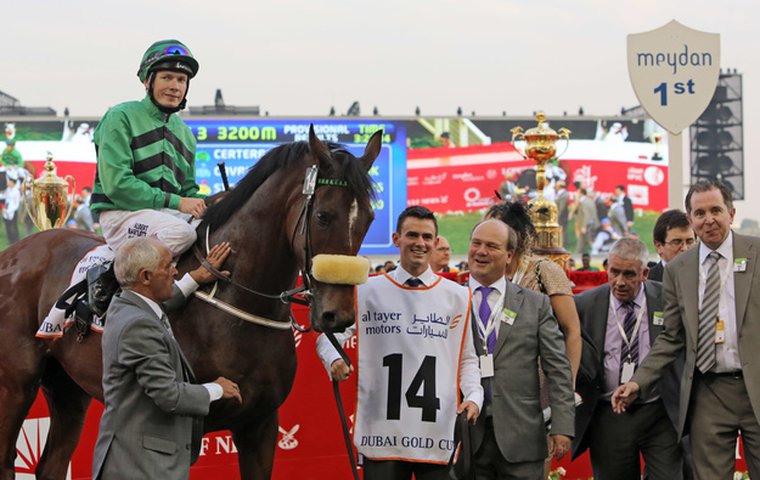 Michael Halford's horses ran 25 times collectively at the Dubai Racing Carnival last year. Between them they registered five wins.

The trainer talked through them, one by one. Russian Soul was very good, improved with racing once berthed in Dubai, won a G3, and was beaten just a total of 5 1/2 lengths by Sterling City in the G1 Golden Shaheen on Dubai World Cup night. Eastern Rules was a revelation. He also improved through the Carnival, won a handicap on Tapeta off 102, won another on turf off 105, and was beaten a total of just four lengths in the G2 Godolphin Mile on World Cup night.
And then there was Certerach.
Certerach was a plan that was 12 months in the hatching. Jamie Spencer had ridden Paul Rooney's horse in the G3 Nad Al Sheba Trophy at Meydan in 2013. He finished second then, beaten a neck by Ahzeemah. Spencer got off him that evening and said, give him another 12 months.
As it happened, a shoulder injury prevented him running that year in the G2 Dubai Gold Cup over two miles on turf on World Cup night.
"That could have been for the best," Halford said. "Jamie was right, he was a little immature, and it was probably the best thing that could have happened that we didn't run him in the Gold Cup. It meant that we could plan for the race the following year. We trained him with the 2014 race in mind for 12 months."
Certerach raced just three times in Europe in 2013, then returned to Dubai and won a handicap on his first run back there in January 2014. All the while the plan crystalised. He finished only third in the Nad Al Sheba Trophy in 2014, but that run was the final piece of his preparation for the Gold Cup.
"We had two runners in the race," Halford said. "Certerach and Dabadiyan, and they were both working really well. We fancied them both. It was a tough call for [retained jockey] Shane [Foley], but he chose to ride Dabadiyan, and that meant that Jamie got the ride on Certerach again."
Halford watched as Spencer allowed Certerach find his place towards the rear of the field in the early stages of the race. A little keen up the home straight first time from his wide draw, and three wide around the first bend, he settled into a nice rhythm down the back straight. He moved up around the outside as they rounded the home turn, and picked up impressively on the stands side to hit the front a furlong and a half out.
From there, it was a case of lasting home. Cavalryman checked and switched outside, got out after Certerach and started to close him down, but Halford's horse stretched his nosebanded head out willingly and broke the tape, a neck in front of the Godolphin horse. The runner-up's rider, Silvestre de Sousa, lodged an objection, but it was quickly withdrawn and the result was official.
"That was one of the highlights of my career so far," Halford said. "No question. We won a Racing Post Trophy with Casamento, but Certerach would be up there with that. Dubai World Cup day is the richest day's racing in the world. It is a privilege just to be involved so to win the Gold Cup, to realise a plan that had been so long in the making, it was unbelievable."
Unfortunately, Certerach hasn't made it to Dubai this year. The intention was to go, but a training setback has meant the Halling gelding has had to miss out. But Russian Soul is back for more, as is Eastern Rules, and they are joined on the Halford team by four freshers: Castle Guest, Kernoff, Slipper Orchid, and Wychwood Warrior.
"We are trying a couple of new things this year," Halford said. "Slipper Orchid is the first filly we have brought to Dubai. Wychwood Warrior is the first 3-year-old. Russian Soul was our first runner on dirt last Thursday. We're always trying to learn more."
He was delighted with how well Russian Soul ran in the Listed six-furlong race last Thursday. The Invincible Spirit gelding missed the break a little on the night, but he faced the kickback well. That keeps his options open. All going well, he will go back for the G3 Al Shindagha Sprint, the race he won last year when it was run on Tapeta. There is no reason why he can't go close again this year on dirt.
Russian Soul is a year older this year, a year wiser, and he may be minding himself a little more, so he may need more racing to bring him forward. But the plan again is the Golden Shaheen. Hopefully he will do enough to get invited to compete in the race again.
"A lot of it is down to how they improve in Dubai," Halford said. "We don't do a whole lot of work with them. The heat brings them forward and they race."
Slipper Orchid ran well in the one-mile handicap on turf last Thursday. She was well back early on, but she finished well. It was a really encouraging performance on her debut in Dubai, and it augurs well for the remainder of the Carnival.
"It is a magnificent place to bring horses," Halford said. "The facilities are top class and the welcome you get is second to none. They do everything they can to make things as easy as possible for you."
Of course, the prize money is a big attraction. When Casamento won the G1 Racing Post Trophy at Doncaster for Halford in 2010, he won almost £141,000 for his owner. When Certerach won the Dubai Gold Cup in 2014, a G2 contest, he won the equivalent of more than £361,000.
"It's great for our owners," Halford said. "We have six horses there this year, and they represent six different owners. And it's great for us. It's a shop window. I am sure we have got several new owners just because of how well we have done in Dubai."
Things have changed in Dubai since Halford brought his first horse there, Tipperary All Star, who finished unplaced in three attempts at the old Nad Al Sheba Racecourse in 2006. And Halford's method of attack has changed.
"It is a massive factor in our year," he said. "We are busy at home, we were busy at [Irish all-weather track] Dundalk at the end of last year and we are getting going at home now for this season. But we need to prepare the horses for Dubai, we need to send the horses out, we need to be there ourselves, and we need to have staff out there. We have three staff there now all the time. Although it isn't hard to get them to go. It was minus five [degrees Celsius] here this morning."
You need a certain type of horse for Dubai, he tells you - horse with a good constitution who will go on good ground and who doesn't need much work.
"And it can't be an after-thought. You have to train with Dubai in mind from early. You can have a European campaign all right, but it can't flatten them. You need a horse who is in good form going out there."
Signs are, Michael Halford has several of those.