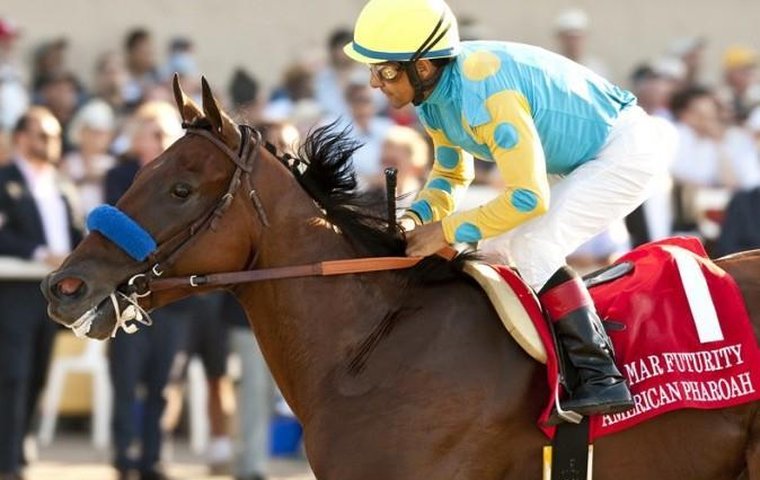 Whenever conversations turn to historic Saratoga Race Course, there are a few items that are almost always mentioned. Champions, upsets and, of course, 2-year-old racing. Yet, for the bevy of high-priced and regally bred juveniles who appear at the Spa on an annual basis, Saratoga's 2-year-old tests have struggled to produce a horse good enough to win a Triple Crown race.

Conversely, California has been the hot-bed for precocious 2-year-olds who have been the dominant players in the classics. The last three Kentucky Derby winners – Nyquist, American Pharoah and California Chrome – each ran in the G1 Del Mar Futurity, a race that has produced five horses with at least one Triple Crown win since 2000.
In the same span, Saratoga's G1 event for juveniles, the Hopeful, has produced three classic winners – I'll Have Another, Afleet Alex and Birdstone – though one of them, I'll Have Another, shipped in from his home base of California to run in the race for trainer Doug O'Neill and owner Paul Reddam after finishing second in the G2 Best Pal Stakes at Del Mar.
Though I'll Have Another finished a distant sixth on a sloppy track in the 2011 Hopeful, O'Neill and Reddam shipped in again and enjoyed much better success last year, when they won the G1 Hopeful with Ralis, a California-bred who prevailed by nearly six lengths against his New York foes.
Also last year, trainer Keith Desormeaux ran Exaggerator in California twice before heading east and winning the G2 Saratoga Special with a horse that went on to win the Preakness and Haskell.
A cycle that can change at any time?
So why have the results tilted so heavily in California's favor in recent years, especially since there are traditionally more 2-year-olds racing at Saratoga than Del Mar? Through Sept. 1, there have been 33 races for 2-year-old males at Saratoga with 291 starters, while Del Mar has carded 30 races for 244 youngsters.
It may not be a satisfying answer, but the heads of racing at both tracks simply believe what's happening now is reflective of a cycle that can change at any time.
"I think it's a cycle," said Martin Panza, the Senior Vice President of Racing Operations for the New York Racing Association. "I don't think a 2-year-old program impacts where the Kentucky Derby winner comes from. Each coast and the Midwest all have substantial 2-year-olds races and preps for the Derby. So you go through cycles and this has been one that favors the West Coast. It's just a matter of getting the right horses."
Tom Robbins, Del Mar's Executive Vice President of Racing, spoke in similar terms about what has happened in recent years.
"It can be cyclical and we're enjoying a good run right now," Robbins said. "I was concerned when Church Downs came out with its point system and said these were going to be the races that get you into the starting gate and the Del Mar Futurity wasn't included. I was afraid it would hurt our race, but it didn't."
Tell-tale Triple Crown stats
Yet, while California has enjoyed a tremendous run of Triple Crown success in recent years, a look back at the last 20 Triple Crown seasons does little to enhance Saratoga's numbers.
Of the 60 Triple Crown races since 1987, the winners of just nine of those races debuted at either Saratoga or the Belmont Park spring meet. Meanwhile, debuters at the California spring/summer meets have 18 wins to their credit, indicating the West Coast must have some sort of an edge.
"Overall, we have some very talented horsemen out here who have a good eye for a talented young horse or they have advisors with good eyes," Robbins said. "You think of trainers like Bob Baffert and Doug O'Neill and his team, and then Keith Desormeaux, who has succeeded without spending a lot of money."
Horsemen surely play the major role in the development of 2-year-old talent and California is home to the leader in that regard.
Baffert's magical touch
Baffert has enjoyed a magical touch with 2-year-olds and 3-year-olds throughout his Hall of Fame career. He has won the Del Mar Futurity a staggering 12 times, including seven straight times from 1996-2002, and parlayed that into 12 Triple Crown wins, highlighted by American Pharoah's sweep a year ago for Zayat Stables. His 3-year-olds have also won the $1 million Betfair.com Haskell eight times.
He'll send out Klimt, the probable second or third choice in the wagering, in tomorrow's 69th running of the $300,000 Del Mar Futurity, seeking his 13th triumph in the seven-furlong contest.
On the East Coast, Todd Pletcher ranks as New York's undisputed king of 2-year-old racing. The 12-time Saratoga training champ has won the Hopeful three times and the G1 Champagne at Belmont Park in the fall six times, but he owns just one Kentucky Derby victory and two Belmont Stakes wins, one of them by a filly (Rags To Riches in 2007).
In Baffert's mind, the key difference for his horses is that the California sunshine is ideal for training.
"A lot of it involves the weather," Baffert said. "We don't get the bad weather and off tracks. Back East, dealing with the elements can throw a horse off, but the weather is consistent here. You don't have to change plans much or catch wet tracks."
Pletcher: new races could help New York
Pletcher labeled California's recent dominance as cyclical and expressed hope that the addition of a few 2-year-old stakes at the Belmont Park spring meet would help New York's juvenile program.
"The 2-year-old program in New York has improved the last few years," the seven-time Eclipse Award-winner said. "Moving the Astoria and Tremont back on the stakes schedule brings the 2-year-olds along better. I'm in favor of it. We won the Astoria and the Tremont this year, so I'm happy to see them emphasize the 2-year-old stakes early in the year and think it will help the entire program."
O'Neill has also enjoyed great success in the classics with his West Coast-based stable in recent years, winning the Kentucky Derby for the second time since when 2012 when Reddam's Nyquist prevailed in this year's Run for the Roses.
He believes the ability to race at a number of tracks on the East Coast other than Saratoga works against the Spa.
"There no options in California during the summer. It's just Del Mar," O'Neill said. "Races are so deep in California because there's nowhere else to run. Like Saratoga, you win a Maiden Special Weight at Del Mar and you're knocking heads with some serious horses. You beat them and you have a nice future.
"It's probably a cyclical trend. One negative is that we're on an island, so to say, but it also gives you the continuity that helps."
But the East Coast numbers are great
For all of the success of California horses, it's interesting to note that the vast majority of owners are not packing their bags and sending their horses west.
"Our numbers this year for 2-year-olds are the best they've been in probably 15 years," Panza said. "We've had so many entries at times, we've had to split our 2-year-old maiden races into two 10-horse races. The numbers have not been this good in years."
Justin Zayat, Racing Manager for Zayat Stables, said the stable continues to weigh the same factors in deciding where to send their 2-year-olds.
"California tracks are quicker. If your horse can't keep up with 21 and 44 (seconds) fractions, they will not do well in California," Zayat said. "We know which type of horse to give Bob Baffert. You don't give him the horse who will be good going two turns on the grass at four. You need speed."
Is intense competiton a problem?
Terry Finley, the Founder and President of West Point Thoroughbreds, a leader in racing partnerships, said what's happened the last three years has not changed his philosophy of keeping the bulk of the group's horses on the East Coast. He continues to race a few 2-year-olds on the West Coast with trainer Jerry Hollendorfer, as he's done for about 15 years, but will not drastically revise where he places his juveniles.
"It hasn't changed my thinking," Finley said. "We know the California circuit on a whole is going through a tough time as the foal crop has dropped from 35,000 to 22,000, and maybe it's been a perfect storm for the people out there. The purses are so good in New York, why leave? They're good in California, but they are even better in New York."
Finley also said the quality of competition in Saratoga MSW races, which offered a $93,000 purse on the Travers undercard, creates the kind of intense competition for a maiden win that can stunt a horse's development.
"Those California guys might not like to hear it, but purely from an analytical standpoint, the racing is tougher here," he said. "The fact you run in a 10-horse field with five or six $500,000 horses, while you might see two in California, does that play a role in the development of the horse? It probably does. The harder you have to run earlier, the tougher it is to get the horse to develop. When the circuit isn't as tough, horses do not have to run as hard to get to the stakes races.
"It's part cyclical," he said, echoing the chorus, "but California racing isn't dead and in a lot of cases they're kicking our butt on the West Coast. Our business is changing, and California is a microcosm of the contraction in our business, but to think they're not going to have good horses coming out of there year after year, with all of the experienced trainers and owners out there, you have to get your head examined."
Doubters can just ask Bob Baffert.
"With California there's nowhere else to run so once the 2-year-olds sort themselves out, those are the good ones," he said. "Back east, they can skip and dodge and go all over.
"In California, when the cream comes to the top, they are pretty good ones."
And the ones, too, that will no doubt merit the closest attention when the 2017 Kentucky Derby rolls around.