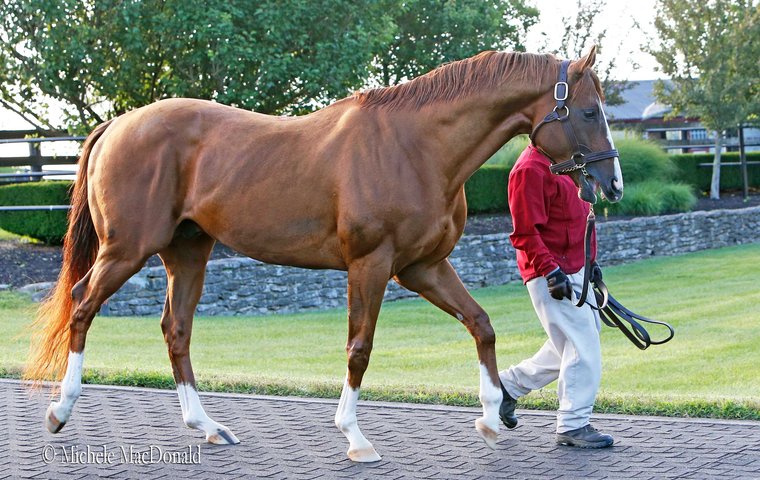 The soft sounds of song warm the chilly air of a late spring morning. Stallion groom Jose Cruz is singing along with a chorus of birds as the first rays of the sun reach over the horizon, and the blaze-faced chestnut waiting at the gate pricks his ears at the sounds.

As Cruz enters the paddock, he and the horse take measure of one another, with the stallion playfully backing away and shaking his head and the groom patiently waiting, his hand extended. Silhouetted in the faint light of dawn, they meet, and the horse nickers as Cruz attaches a shank to his halter.
Far away from the frenzy of racetrack crowds and a world distant from the Dubai desert and his greatest victory, two-time American Horse of the Year California Chrome begins his days at Taylor Made Farm in Nicholasville, Kentucky, amid the gentle swells of green hills and soothing melodies.
As he was completing his initial season at stud prior to shuttling to Haras Sumaya in Chile, California Chrome had settled happily into this bucolic lifestyle that is so very different from the electrically charged atmosphere of his days as a racing superstar.
New energy
Yet, in many ways, he was still doing exactly as he had on the racetrack: excelling at what was asked of him, from his work in the breeding shed to greeting the streams of visitors that continue to arrive almost daily to see him. And, while California Chrome was beginning to sire the next generation of racehorses, he also was igniting a new energy at the farm.
"We couldn't give him anything but an A plus plus. He's been a dream," declared Taylor Made President Duncan Taylor. "What he's done for our organization has been unbelievable."
Although California Chrome was given the very unusual assignment of beginning his stud career after an almost immediate transition, from racing in late January to breeding in early February, he has not taken an errant step. Since most everything involving Thoroughbreds can be calibrated by the clock, Taylor provided the time it took for California Chrome to cover his first mare, which was just as impressive in its own way as the Meydan track record 2:01.83 he recorded for the Dubai World Cup's 2000 meters as jockey Victor Espinoza balanced on a precariously slipped saddle.
"Fifty-one seconds," Taylor said of that first occasion in the breeding shed.
"We were a whole lot more shook up than he was," he added in describing how California Chrome adjusted to his new duty.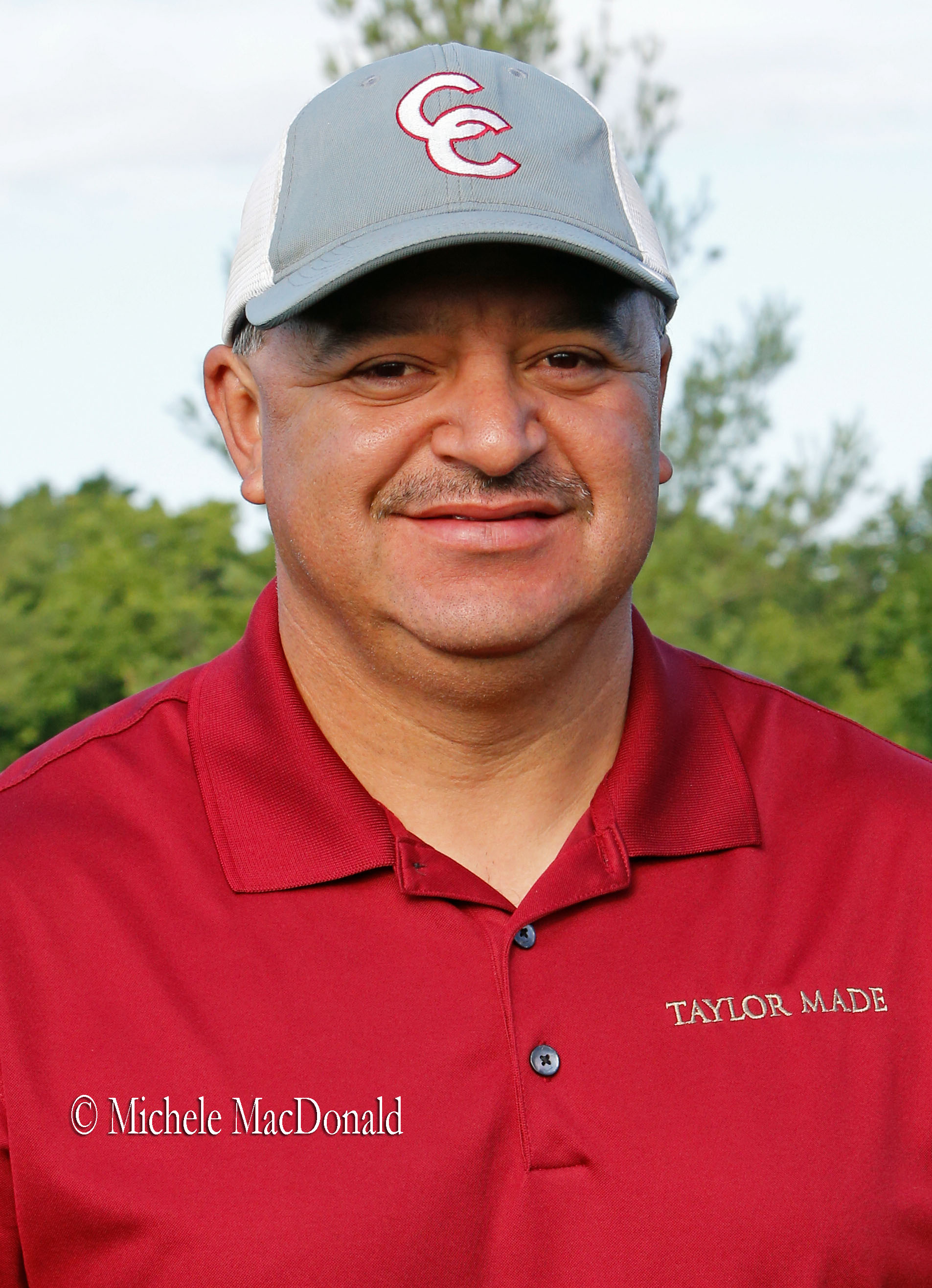 "I said, 'Oh my God.' You had to pinch me," recalled Taylor Made Stallion Manager Gilberto Terrazas (pictured), explaining that some stallions he has worked with during his 11 years at the farm have taken from several days to more than a week to learn how to successfully breed a mare. "He's a very good breeder. I couldn't ask for anything more."
Everybody's dream
While covering mares is more physically demanding work for stallions than some might imagine, California Chrome has held his weight well during the rigors of servicing a book that was expected to reach approximately 150 prior to the end of the season and the beginning of quarantine in late June for the trip to Chile in mid-July.
And, much like Triple Crown winner American Pharoah, who is completing his second season at Coolmore's Ashford Stud in Versailles, Kentucky, prior to an initial shuttle assignment to Australia, California Chrome has retained his easygoing, people-oriented nature.
"He is a dream for a stallion manager and a dream for his owners. He's everybody's dream," Terrazas said of the 6-year-old son of Lucky Pulpit, who has been very fertile and could complete the season with around 90 percent of his mares in foal.
A typical day for California Chrome at Taylor Made also is fairly dream-like for the horse.
After Cruz greets him following a night at leisure in his paddock (as long as it was not colder than 40 degrees, in which case he stayed in his stall), California Chrome saunters into the two-stall barn he shares with G1 winner Graydar, a statuesque 8-year-old gray son of the late Taylor Made stalwart Unbridled's Song.
First on his agenda is a bath, and California Chrome stands quietly even as the water splashes over his skin in the cool air. As Cruz sings another song, he drops the shank on the ground or drapes it over California Chrome's withers, and the horse obliges with a quiet willingness.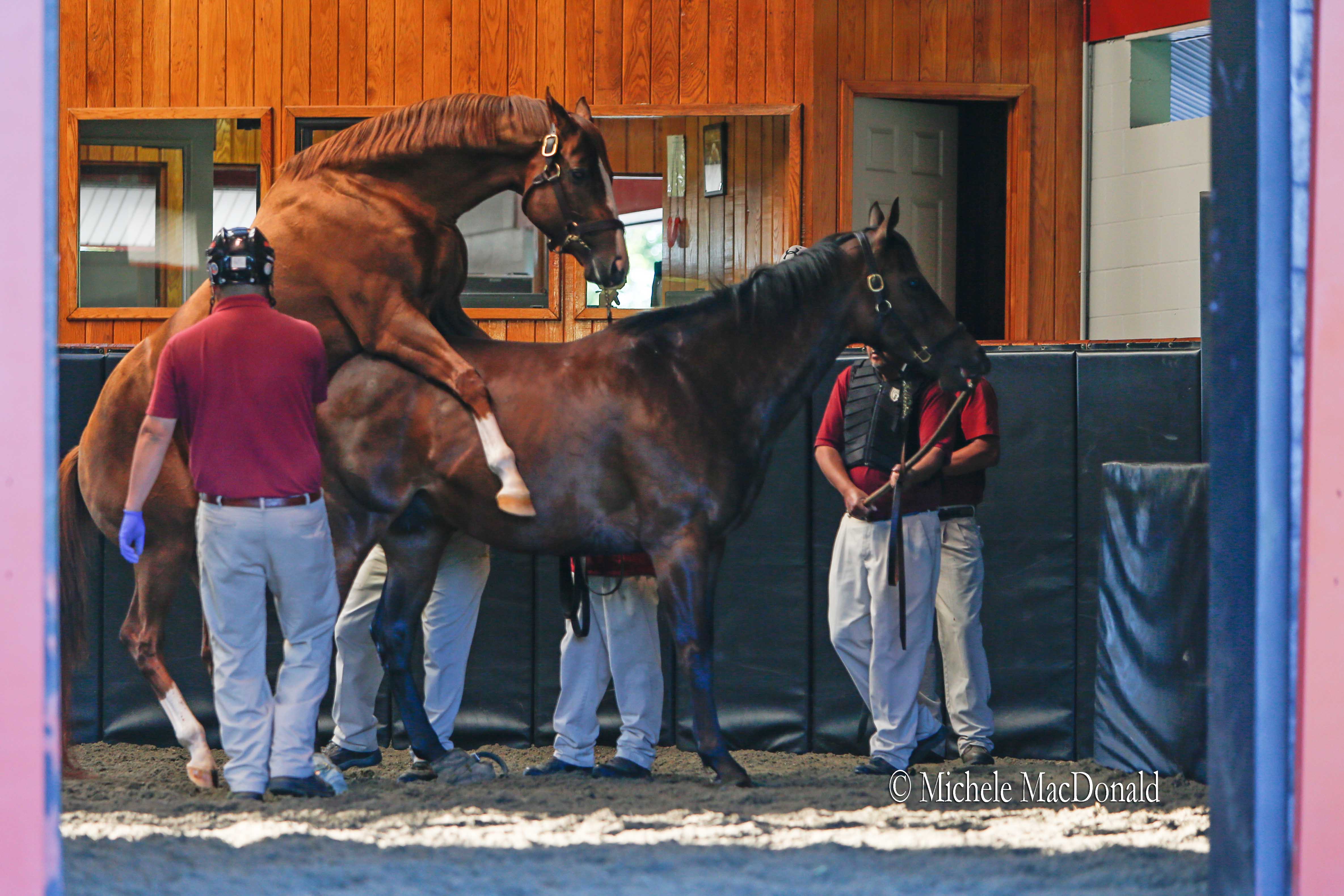 Once he is clean for his first date of the day, his cinnamon-colored coat and distinctive white markings gleaming, California Chrome walks into the deep straw of his stall, his long tail brushing the ground. When Cruz delivers grain, California Chrome thrusts his nose into his feed tub, but he deliberately grinds small mouthfuls at a time without undue haste. If he spills any on the floor, he methodically picks up the pieces, bit by bit.
When Graydar comes in from his paddock, the older horse pushes his muzzle partly through opening in the stall grating over California Chrome's feed bucket, but it's clear these two know each other well and have gone through this daily drill many times before. There is no aggressive response from California Chrome at this breakfast intrusion, and neither horse so much as pins his ears while Graydar receives his bath.
Even though he has only being doing this job for a few months, California Chrome is a model of nonchalant assuredness, not even so much as prancing as he strides to the breeding shed. His ears are alert as he keenly eyes the bay mare waiting for him, and seemingly within just a few moments, he has completed the task — at an advertised fee of $40,000 — and returns to his barn with exactly the same manner as when he left.
Soon, he is back out in his paddock, the sun on his back and grass, clover and dandelions under his unshod feet. On this particular morning, he rears and canters over to the fence where a visitor stands; Terrazas says this kind of activity is unusual now as California Chrome saves his energy for the shed and doesn't often run.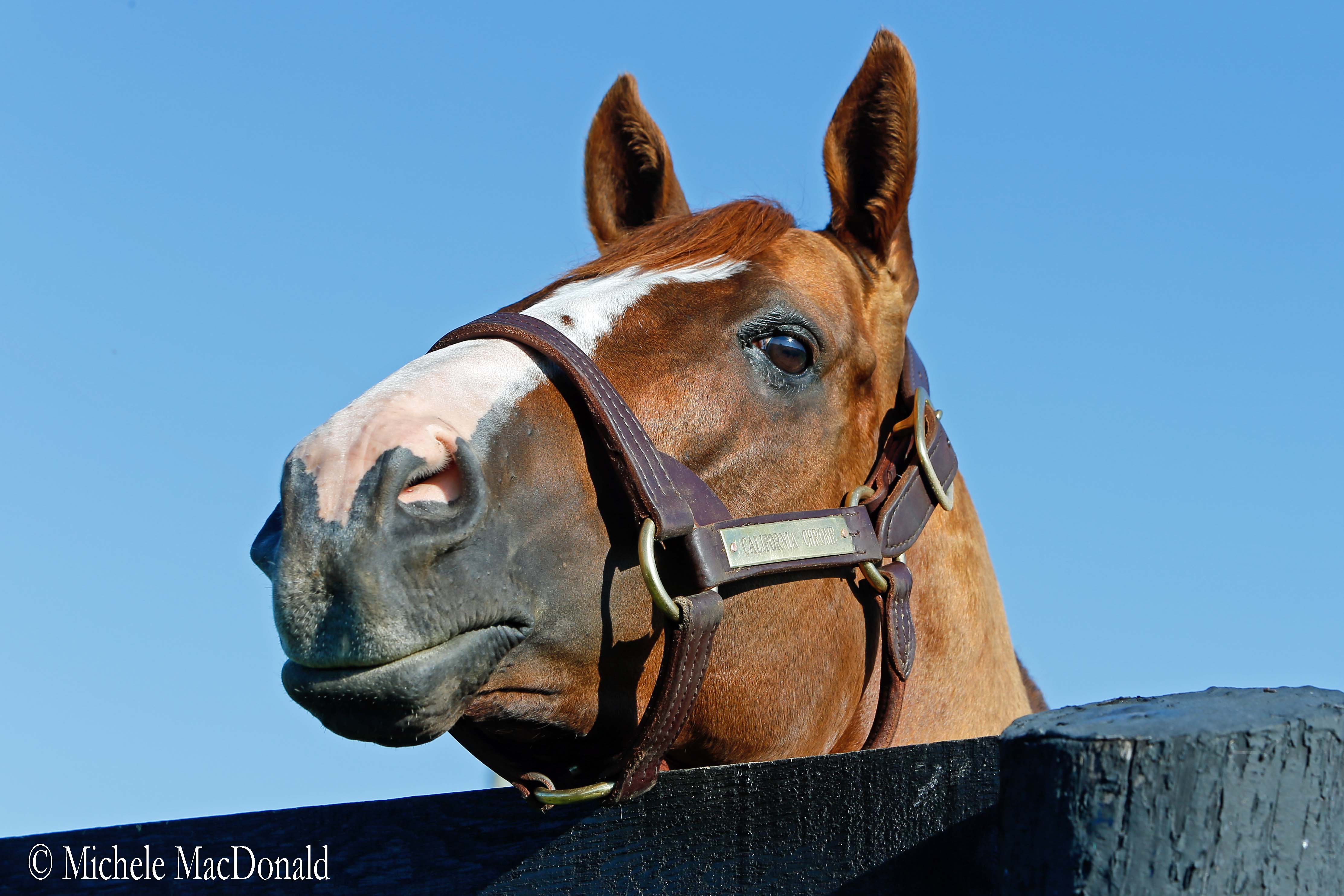 Poking his head over the fence's very tall top rail, which is high enough to inhibit any inclination to jump out of the paddock, California Chrome curiously returns the gaze of anyone watching him before he proceeds with what seems to be his personal routine.
Snatching a few bites of grass, he roams over to get a good look at Graydar, and he whinnies to inform that neighbor, as well as Northern Afleet, whose turnout range also lies nearby, that he is back in his territory.As the clock ticks toward 7 am, there is more activity in the stallion complex. Not This Time, who was retired to stud after incurring an injury in last year's Breeders' Cup Juvenile, is the first horse to go to the breeding shed, and the dark bay youngster leaps and whinnies and rears in excitement as he departs another two-stall barn.
Hearing the commotion, California Chrome curiously peers out the front of his stall, gazing down at the breeding shed with rapt attention. He listens as a van ramp is lowered and a mare walks toward the shed, but he soon returns to his hay.
Ready for duty
When Armando Reyes — a longtime stallion handler who previously worked with Terrazas at Overbrook Farm and handled the superstar sire Storm Cat — arrives at the barn, California Chrome issues a deep, throaty nicker. He knows that when Reyes appears, it means a trip to the breeding shed, but on this occasion, Reyes takes Graydar, and California Chrome reacts by gripping the grate of his stall door with his teeth.
He is ready, but not overly anxious, to get on with this day.
By this time, Cruz is spraying conditioner in California Chrome's tail and is brushing his feet with oil. As the groom bends over to apply the hoof dressing, California Chrome gently nuzzles his back, never trying even a playful nip of the man Terrazas calls the champion's "good friend".
After Reyes has returned with Graydar and dispatched him into his paddock, which sprawls next to California Chrome's, the handler is ready to take the chestnut champion to meet his first mare of the day.
Nonchalant assuredness
California Chrome quietly lowers his head so Reyes can adjust his halter and attach a shank, and they leave the barn, their footsteps echoing softly in unison as they walk the tree-lined rubber brick path that connects the stallion complex facilities.
Content that he has announced his presence, California Chrome paws at the sand pit in the middle of his paddock. He lies down and rolls with gusto, first on one side and then on the other, just as his fans will recall him doing when he was with trainer Art Sherman in the barn area at Los Alamitos Race Course.
Getting back up and shaking off the dirt he has rubbed into his coat, California Chrome rambles around for a while, nibbling grass and listening to the distant drone of lawnmowers. When he has picked at enough blades of greenery, he backs himself against the fence at a particular spot where he clearly has stood before, and he cocks a hind foot and begins dozing.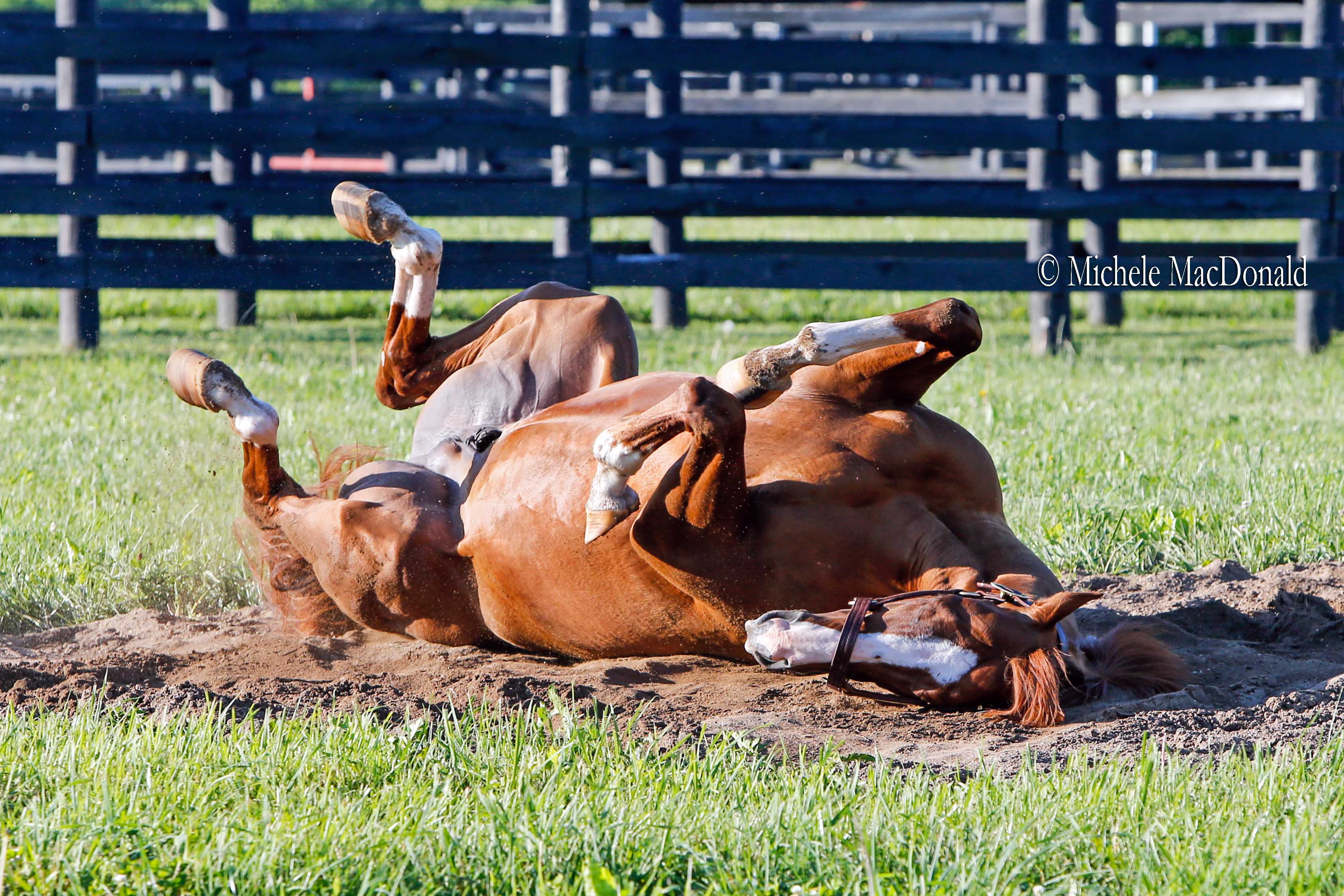 But there's no sleeping going on in the Taylor Made office just a short walk away. Duncan Taylor spreads out reams of papers showing the hidden jewels in California Chrome's pedigree, letters he has written to breeders encouraging them to send mares to the horse and other materials associated with the tours taking place at Taylor Made.
Nothing if not deeply passionate, Taylor is convinced that Central Kentucky and its horse farms can become the next Napa Valley for lifestyle and experience tourism. Not only is California Chrome the linchpin in Taylor Made's current appeal to the public, he also stands a strong chance to become a highly successful sire based on his genes and the mares he is receiving, Taylor said.
Million-dollar mares
"It's a good, solid book — way above average," he said of the mares visiting California Chrome, including half sisters to G1 winners such as Composure, Marylebone, Smuggler and Diplomat Lady; the dam of G1 winners Majestic Harbor and Danza, and several other mares that cost over $1 million each. "He's going to have every chance to prove himself as a stallion."
Breeders who are supporting the horse include a variety of big-name and international players, with Susan and Charles Chu, owners of 2016 sprint champion Drefong, the most recent to invest in California Chrome's stud career. They join a group that includes China Horse Club, Marie Jones, Japan's Dr. Masatake Iida of Chiyoda Farm, Town & Country Farms and Saudi Arabian polo player and businessman Amr Zedan.
Since California Chrome arrived at Taylor Made, including the times he visited for respites while still in training, Taylor and his brothers who own the 1,100-acre farm have hosted thousands of fans. There has been a new emphasis in their business approach to capitalize on the public interest; they recently acquired a golf course across the street from the stallion complex and opened Daddy Joe's Bar & Grill, named in honor of their father, the late Joe Taylor, who launched them into Thoroughbred breeding.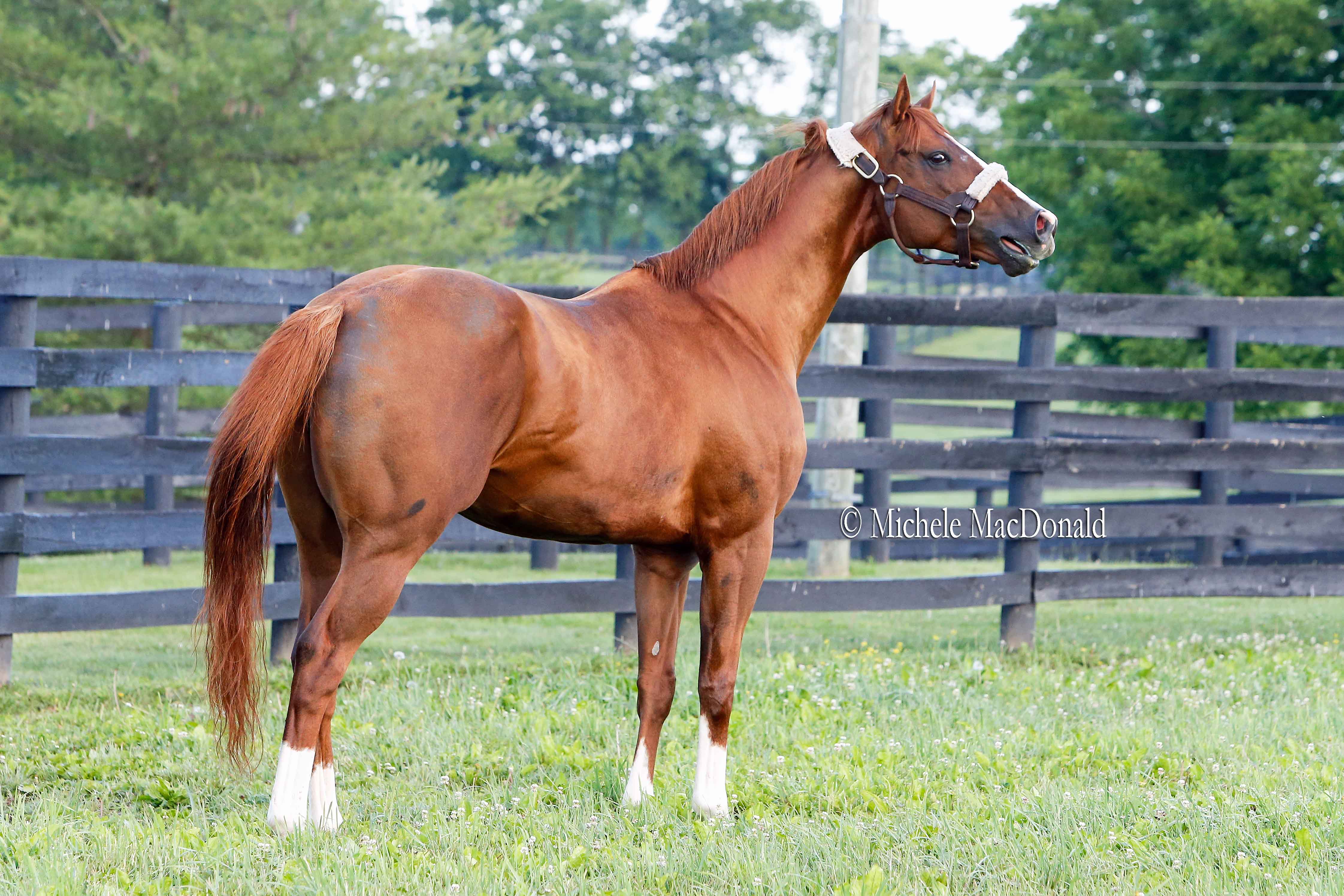 Included in the new facilities is a shopping area for memorabilia featuring California Chrome and other stallions on the revitalized Taylor Made roster, including Not This Time, by Giant's Causeway, and another first-year stallion, multiple G1 winner Mshawish, by Medgalia d'Oro.
Taylor Made even promotes the farm as an ideal location for special events, with a 'California Chrome Event Package' designed for fundraisers or dinners for up to 150 people at the stallion complex.
Perhaps none of this could have been imagined in years gone by, but in these times it seems almost expected when Taylor relates the story of how California Chrome was virtually part of the recent wedding of farm photographer Laura Donnell to Will Richard. The stallion watched the festivities that took place near his barn with great interest and was, as usual, unfazed by the activity.
"He's a smart horse, and his personality is such that he is not rattled. He's not a horse that gets stressed," Taylor said. "But he's very aware of what's going on around him. He's really the people's horse. People like him and he likes people."
During near daily tours of the farm that are offered in conjunction with Horse Country, fans line up outside California Chrome's paddock. He strolls over to observe them and most often has no problem with the cameras they poke through the fence boards to take his picture or the many hands that reach out to touch him.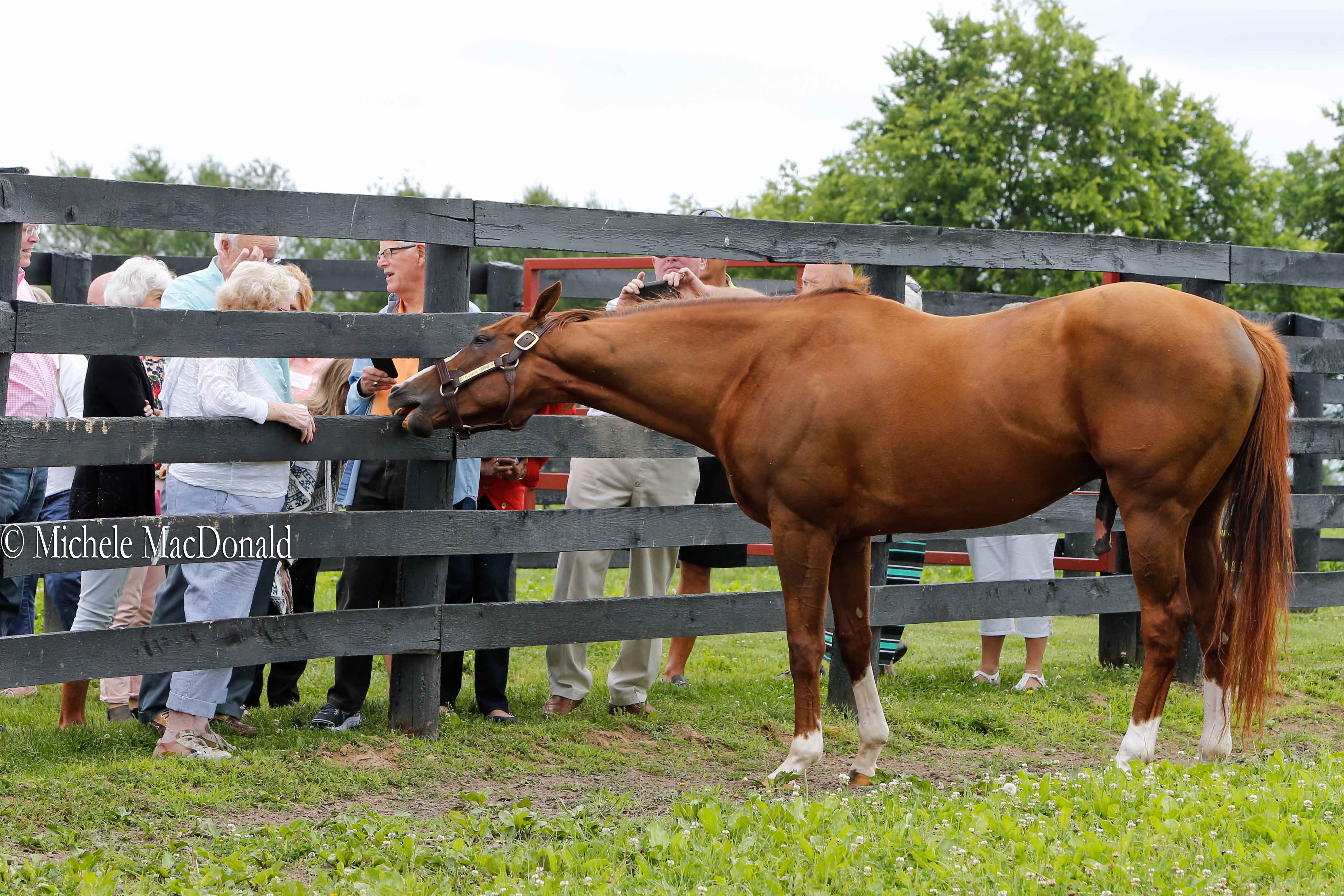 The more visitors learn about horses and savor the experience of being around a champion such as California Chrome, the more they are "just blown away", Taylor said.
"It's a whole new world and it's fascinating to them. Horses are beautiful, noble, and I think it's almost in humans' DNA to be linked to them and in the horses' DNA to be linked to us," he said while complaining ruefully that, at many racing locations, fans who want to be closer to the horses are pushed away. If the sport and its participants do not offer connections to the horses, particularly the famous ones, racing cannot thrive, he contended.
Yet, while the passion for horses in general and California Chrome in particular has created a strong wave of enthusiasm, it also has the potential for backlash, as Taylor discovered when the farm announced that the champion would be sent for shuttle duty to Chile.
Fans' protest
Some protested that a horse such as California Chrome — who earned $14,752,650 in 27 career starts — shouldn't have to do double duty and undergo the risks involved with shipping to another hemisphere.
"I understand every fan who's disappointed in us for sending the horse to Chile. I understand their emotions and respect their attachment," said Taylor before candidly adding: "Is it about the money? Yes. But it's not about the money without prudence."
Taylor has traveled to South America twice to be sure California Chrome will be handled properly, and Taylor Made will send its South American representative, Sebastian Angelillo, to stay with him for the season that begins on August 1.
"Any minute we think his health is in jeopardy, we could say stop," Taylor said. The agreement to send California Chrome to Haras Sumaya is on a year-by-year basis, and, in his initial Southern Hemisphere season, he is due to cover about 120 mares, although he could see as many as 150.
Just as Scat Daddy succeeded brilliantly in Chile during three shuttle seasons and expanded his global reputation as a sire prior to his untimely death at age 11, California Chrome and all the investors in the horse's stallion potential also could benefit, Taylor said.
"If we only zero in on one market, we limit our opportunities," he noted.
Innovative online program
To stimulate more public interest, even among those not financially equipped to buy their own mares and breed to California Chrome, Taylor Made has partnered with adventure magazine True.Ink to offer a chance to be part of an innovative new online program called The People's Horse. Members who join can vote on which of three mares provided by Taylor Made they prefer to produce a foal by California Chrome, and they can later invest in a resulting foal from the trio of matings.
As California Chrome grazes in his paddock while dappled by sun, Taylor looks to the future as he ponders California Chrome's pedigree and accomplishments. He particularly notes the horse's multiple lines of influential broodmare La Troienne and 4x4 inbreeding to champion Numbered Account, in addition to his soundness over more than four seasons of racing.
"My gut says he could be a hell of a sire," Taylor said, adding with a laugh, "But by no means am I prejudiced."
Months before California Chrome's first foals will be born, the horse continues to be a sensation. He has been the primary catalyst for much of the new impetus at Taylor Made; he has sparked a movement of fans, some of them new to racing, that label themselves 'Chromies', and he has the potential to influence the sport for years to come with his offspring.
"It's been crazy. I never imagined how big he could be. People come to the farm to see him and say, 'This is the best day of my life.' People just love him," Terrazas said.
California Chrome's kind attitude and relaxed demeanor at the farm make the once fiery runner seem almost like a pet, according to Terrazas, who maintained, "Anybody can handle him."
"There's almost something touching on the spiritual with the people that are Chromies. He's filling some sort of part of their life," Taylor observed.
"And he has certainly been God's blessing to us."