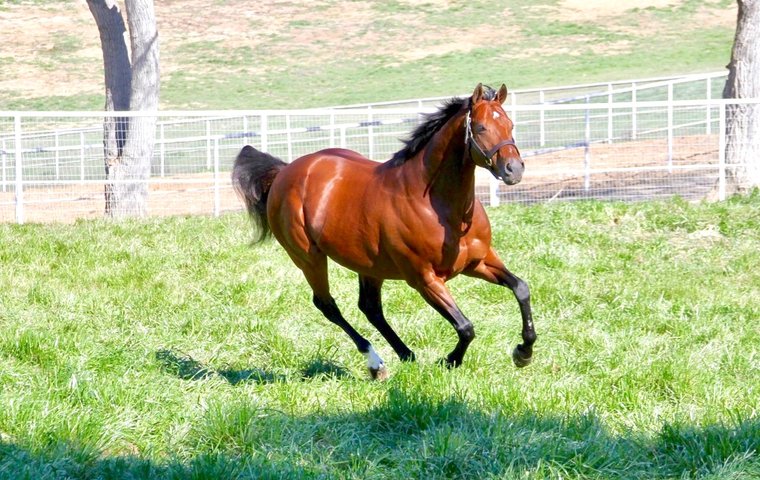 Horseracing has evolved into a truly worldwide game, with enormous purses and dual-hemisphere breeding seasons luring foreign horses by the plane load. Sir Prancealot can definitively add himself to the list of globetrotters; the extraordinary stallion was born in Ireland, raced in England and France, stood at stud in Australia, and is now standing in sunny California.

Bred by Dermot Cantillon and Forenaghts Stud, Sir Prancealot is a son of Tamayuz and the listed stakes winning mare Mona Em, by Catrail. The bay brought €52,000 as a weanling and €140,000 as a yearling, ultimately landing with Andrew Tinkler and trainer Richard Hannon Sr. He won on debut in May 2012 at Bath, and added the listed National Stakes at Sandown two weeks later.
After running fourth at Royal Ascot behind future 2000 Guineas winner Dawn Approach, Sir Prancealot was second in a French G2 before winning the G2 Flying Childers Stakes at Doncaster to conclude his career with three wins in six starts.
Clearly a class act on the racetrack, Sir Prancealot has proven himself invaluable at stud. While standing at Tally-Ho Stud in County Westmeath, Ireland, he became Europe's leading freshman sire by winners in 2016 with 32, doubling superhorse Frankel's tally of 16. His stud fee was a mere €6,000, offering tremendous value.
In retrospect, his success comes as no surprise. Sir Prancealot is out of a mare who produced seven winners from nine to run, and his sire, Tamayuz, also produced G1-winning miler Mustashry. He continued on the family tradition by throwing stakes winners Madam Dancealot and Sir Dancealot that first year; both went on to be Group horses.
In 2017, Sir Prancealot was relocated to Sam Hayes's Cornerstone Stud in Southern Australia. Around that time is when California bloodstock guru Adrian Gonzalez became hyper aware of him.
Gonzalez, who operates part of his Checkmate Racing out of Rancho San Miguel in San Miguel, California, received a pregnant broodmare from David Meah and Nick Cosato to foal out and breed back to his stallion Danzing Candy. The mare, Magic Garden, was a half-sister to Madam Dancealot and in foal to Sir Prancealot.
"The resulting foal ended up a three-quarter sibling to Madam Dancealot," Gonzalez said, "and throughout the time I had the baby on the farm it was looking like the fastest, dirt-sprinting type baby in the whole crop of foals. It's the only one with a complete European turf background and I was wishing all my other foals looked like it."
Huge risk
Gonzalez began obsessively following Sir Prancealot. "In my insomnia hours in the middle of the night, I was watching Australian racing trying to get familiar with what works in that market, and what type of mares he had been bred to over there. In the meantime, he was getting runner after runner here."
Sir Prancealot's first 13 runners in the United States yielded nine winners, four of them in stakes company.
By chance, Gonzalez's friend, Hannah Mathiesen, had recently moved to Australia and met Sir Prancealot at Cornerstone Stud. "In conversation with her, they mentioned wanting to get him to the Northern Hemisphere but didn't know where to send him. She said she knew someone involved with stallions in California. They replied, 'Great, all the good runners are in California.'"
A meeting was set between Sam Hayes and Gonzalez for June 2019. But, leading up to the event, Gonzalez was convinced he needed to cancel. Gonzalez said, "We'd been in negotiations with Cornerstone about what is this horse worth? What would the market be like here? What could we stand him for? Everything was a complete unknown. No one had heard of him, and it was a huge risk."
Add in that Santa Anita had been shut for weeks due to a rash of breakdowns, and the racing industry in California felt fragile at best. "For three weeks, I had this sick feeling in my stomach," Gonzalez said. "We were in complete disarray in California. I needed to tell these people that the deal was off because we might not be racing here let alone breeding horses. But they were so excited to come visit. I thought I might just go through the motions and then tell them it was off."
But, when Hayes arrived in California, sophomore filly Lady Prancealot won the G3 Honeymoon at Santa Anita. "It felt like a sign," Gonzalez said. "We couldn't let this go."
As he had done with Danzing Candy before, Gonzalez divided Sir Prancealot's value into 50 shares. "We weren't sure how many would buy in, plus he was a tough sell because of how much we had to pay for him. He was expensive. We set a goal of six months to sell the shares."
Sir Prancealot sold out in two days.
A certain aura
"The best example I can give is that I don't care who you are, a foreign accent is just plain attractive. You don't really know why, even if you've never heard it before, there's something about it. There's that aura with this horse. No one really knew the pedigree or knew about him, but they wanted in."
The results were compelling. First crop runner Beau Recall is a three-time G2 winner in California and Kentucky. Lady Prancealot became a G1 winner at Santa Anita days before her sire's arrival in America. Ginger Nut was a stakes winner at Keeneland, and Antilopa was Hungary's champion 2-year-old filly. "People couldn't believe we got this horse in California," Gonzalez said. "I had to keep apologizing that he was sold out."
Sir Prancealot arrived at Rancho San Miguel to much fanfare. Farm General Manager Dennis Yokum said, "He has settled in great. The shipping seemed to take little toll on him. He arrived in excellent condition."
Sir Prancealot was accompanied on his journey to the United States by Marty Roberts, the stud manager from Cornerstone. "Marty was very pleased that Sir Prancealot ate and drank like a champ," Yokum said. "His physical condition upon arrival was excellent."
Good fortune
Cornerstone Stud still owns Sir Prancealot's Southern Hemisphere breeding rights, and, "As long as he's healthy he will continue to go back and forth." But Gonzalez is using caution in allowing bookings to Sir Prancealot for 2020. He bred 172 mares over two seasons in Australia, "so we are starting out slow. The book is full at 125, but, if he seems like he's getting everything in foal, the first few weeks we could go to 150 at the max."
While Gonzalez researches possible crosses to California's new resident – he recommends Danzig-line mares such as those by War Front or Exchange Rate, or grassy mares like those by Unusual Heat – Yokum is in charge of the horse's daily wellbeing.
"Sir Prancealot has a very good mind," Yokum said. "He hasn't missed a beat since his arrival, falling into the same routine as the other stallions. He is turned out in his paddock early in the morning and brought in late afternoon. All of our stallions stay in the stallion barn at night. He's an excellent doer. It's been a pleasure working with him. He has a lot of genuine quality, and you get that sense when in his presence."
While California breeders celebrate their good fortune, no one is more delighted than Gonzalez. "It is strange that it took until Sir Prancealot was ten years old for him to catch on," he said. "But it's good for us!"