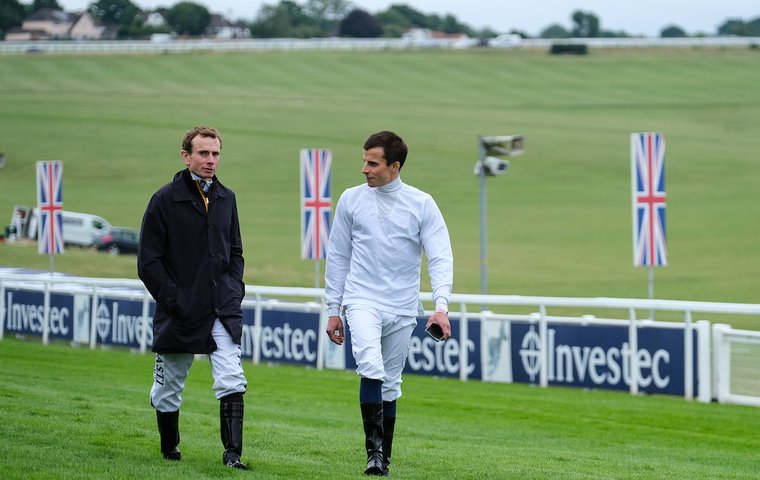 In the six years of the TRC Global Rankings, William Buick has never been ahead of Ryan Moore - until this week.

The two UK-based riders were tied for one week in March 2014 on a Performance Index of 1020 points, but that was before Moore became first jockey to Aidan O'Brien (at the end of 2015).
By the time the rankings were first published in October 2016, Moore was the dominant world #1 as he and the Ballydoyle maestro glided through an unprecedented period of global success. Through much of 2017-18, the Englishman was more than 100 points ahead of his Norway-born rival.
At one point, his Performance Index hit a barely credible 1134, which may never be challenged - current world leader Frankie Dettori, who has been enjoying a magnificent run for the last two years, is still nearly 50 points behind that total.
This week, though, Buick hit a career high of 1060, thanks in part to Barney Roy's G1 success in Munich at the weekend, and Moore's number dropped to 1058, his lowest since April 2016. Which means the Godolphin rider is now world #3, one place ahead of Moore, who is out of the top three for the first time.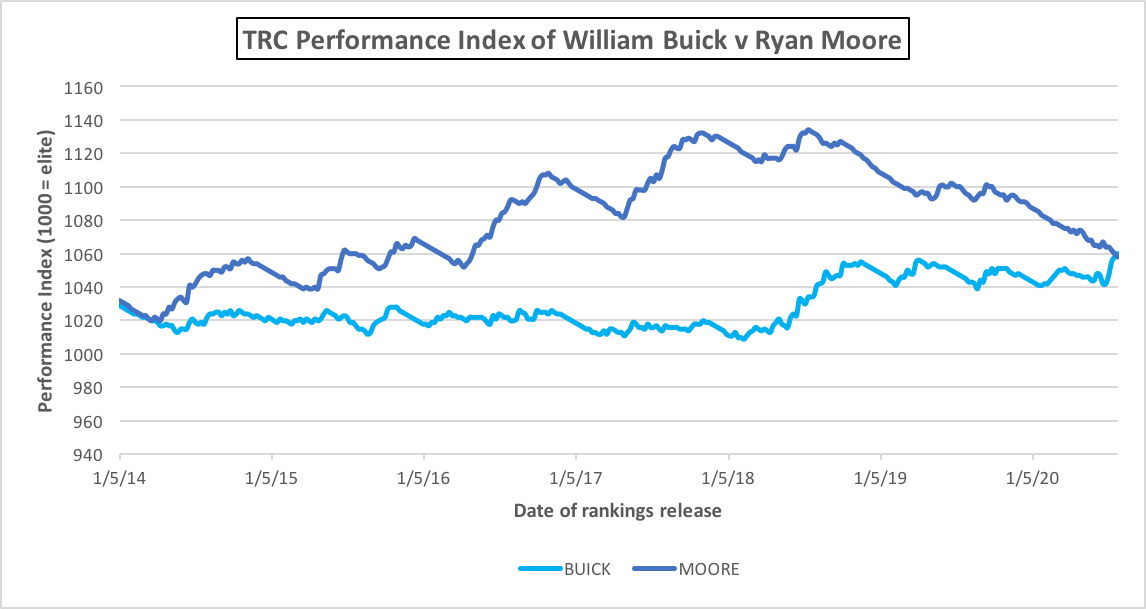 To some extent, this shift is a symptom of the coronavirus pandemic. So far in 2020, Aidan O'Brien has notched up no less than eight G1 victories - a fabulous tally by the end of July even in a normal year - but travel restrictions have meant Moore has not benefited as you might expect. Four of O'Brien's G1 wins have been in Ireland, with Ballydoyle's more-than-capable locally-based squad taking the reins as Moore opted to remain in England.
Of course, O'Brien has had four G1 triumphs in the UK as well, but Moore has been aboard just three of them - he picked the wrong one in the Derby at Epsom. Whereas Buick has ridden all five of Charlie Appleby's G1 winners in the same period - travelling overseas for the last two (Barney Roy in Germany and Pinatubo in France).
Indeed, Buick has had a far more productive 2020 so far in terms of Group-race success:

With numbers like that, it's no wonder Buick has moved ahead and is in fact just three points behind current #2, Japan-based Frenchman Christophe Lemaire. Whether he can stay head of Moore for long, though, is another matter.