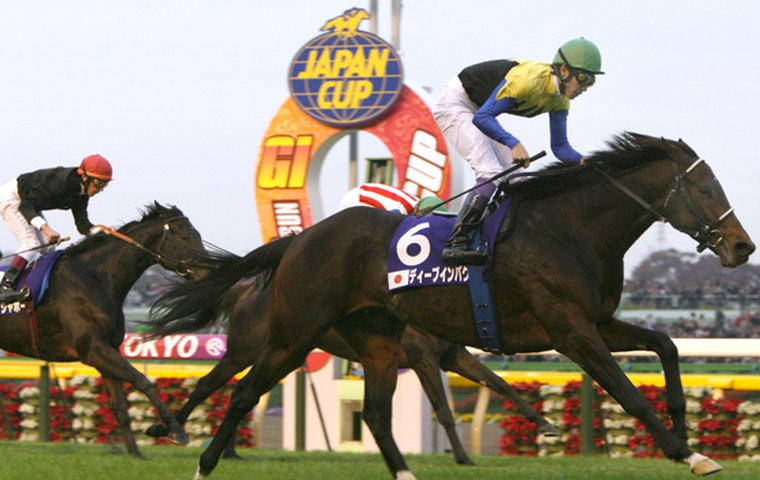 Years spent travelling the globe in search of top bloodstock has resulted in various Japanese breeders assembling some of the greatest collections of stallions and mares worldwide. On the track, their ambition has been rewarded. Today, Japan is one of the world's leading racing nations and rarely a year goes by when the country is not represented in a European showpiece, in particular the G1 Prix de l'Arc de Triomphe.

In turn, a greater understanding of the bloodstock that Japan has to offer has followed. It was Sunday Silence, the 1989 Kentucky Derby and Preakness Stakes winner deemed too unfashionable to stand in Kentucky, who opened the world's eyes to Japanese breeding. Japan's champion sire from 1995 to 2007, the son of Halo deservedly attracted international interest during his twilight years, including from Sheikh Mohammed, who bred G2 Cherry Hinton Stakes winner Silent Honor and G1 Prix Morny runner-up Layman by the stallion.
Another European Sunday Silence flag-bearer campaigned by Godolphin was Sundrop, a foal purchase who ran second in the 2004 1,000 Guineas at Newmarket.
Now, international interest in Japanese bloodstock is greater than it has ever been, something that was very evident at last week's Japan Racing Horse Association (JRHA) Select Sale at the Northern Horse Park, Hokkaido. Alongside the usual strong number of Japanese owners willing to pay big sums for potential stars of tomorrow, the sale also featured increased support from Sheikh Fahad al Thani. Recently granted a Japan Racing Association (JRA) owner's license, he led the buyers' table after paying ¥870 million ($8,529,411) for nine lots through advisor David Redvers.
Overall, the Northern Horse Park provided the backdrop to an impressive two days of trading. The first session, devoted to yearlings, saw 215 lots (84 percent) change hands for ¥6.028 billion ($59,369,276), an average of ¥25.038 million ($246,597). Figures ever even stronger on the second day's foal session, when 189 lots (86 percent) sold for ¥6.547 billion ($64,480,467), and an average of ¥34.64 million ($341,161). Record sales of ¥12.576 billion ($123,856,374) were realised over the two days.
Katsumi Yoshida's Northern Farm was the leading vendor, selling ¥3.045 billion ($29,985,809) worth of foals.
"It's an incredibly competitive market," Redvers said. "It's one of the strongest bloodstock markets I've seen worldwide but it's like anywhere - if you want the best, you have to pay for it.
"The JRHA do things extremely well," he continued. "For instance, the reserves are published and can be changed right up until the time of the sale. Therefore, it's a more transparent market and one that gives buyers confidence, which is borne out in the results."
The current catalyst for such market strength is Shadai Stallion Station's flagship stallion Deep Impact, a champion on the track who has filled the void left at stud by his sire, Sunday Silence.
Plenty of other sons of Sunday Silence have become successful stallions, notably Heart's Cry, Manhattan Café, and Stay Gold. But since Deep Impact's first crop hit the track in 2010, he has been in a league of his own.
From four crops aged three years and above, Deep Impact has sired the winners of four Japanese 1,000 Guineas (Ayusan, Gentildonna, Harp Star, and Marcellina), two Japanese Derbys (Deep Brillante and Kizuna), and one Japanese Oaks (Gentildonna).
He has also been quick to make his presence felt overseas as the sire of 2012 G1 Poule d'Essai des Pouliches heroine Beauty Parlour and French G3 winner Aquamarine. Both were bred by the Wildenstein family's Dayton Investments.
Deep Impact's progeny have been a major draw to the JRHA Sale ever since his first foals were sold in 2008 - that year they averaged ¥61.613 million ($606,806) and included a filly out of Lhiz bought by Blandford Bloodstock for ¥33 million ($308,411) on behalf of Betfair founder Andrew Black. Since then, demand for Deep Impact at the JRHA Sale has remained fierce and this year was no different, with his progeny realising a total of ¥3.017 billion ($29,715,728) over the two days - 24 percent of the entire sales aggregate.
The stallion accounted the top four yearlings, led by a colt out of G1 Fillies' Mile winner Listen who will carry the colours of Sheikh Fahad after selling to Redvers for ¥260 million ($2,549,020). And a day later, the stallion supplied the top three foals sold, headed by a Deep Impact colt out of Azeri sold by Northern Farm for ¥250 million ($2,450,981) to Riichi Kondo - his year older brother topped the 2013 sale when selling for ¥240 million ($2,352,942).
Kondo may have secured the top foal, but Redvers came away with six Deep Impact foals worth a total of ¥517 million ($5,091,152). They included a colt out of G2 Prix Dollar winner Musical Way that cost ¥180 million ($1,764,706) and a brother to Japanese Derby winner Deep Brillante that cost ¥78 million ($764,706).
"No decision has been made yet as to whether any of them will race in Europe," Redvers said, "but I suspect several might come over to England and France. Sheikh Fahad is always looking for a different angle and Deep Impact is one of the world's best stallions. It's extremely exciting."
Qatar Racing added further intrigue to the sale when selling the only Frankel foal catalogued, a half-sister to top Hong Kong performer Gold-Fun, through Mishima Farm. Sold for ¥96 million ($941,177) to Toshio Terada, she was the most expensive filly of the auction.
Aside from Deep Impact, a contributing factor to the sale's strength is the quality of broodmare that Japanese breeders, particularly the Yoshida brothers, have at their disposal.
Since January 2009, Japanese buyers have signed at $1 million (or the equivalent) or more for at least 32 mares or broodmare prospects. It is quite a list, one that comprises American G1 winners Ave (bought for $1.4 million), Gabby's Golden Gal ($1.25 million), In Lingerie ($2.4 million), and Zazu ($2.1 million). European G1 winners La Cucaracha ($530,000) and Serious Attitude ($1.85 million) also reside in Japan, as does Reve d'Iman (dam of Irish 1,000 Guineas winner Bethrah; bought for 1.7 million guineas).
Recent private acquisitions include Danedream, Elusive Kate, Lilacs And Lace, Listen, Sarafina, and Stacelita.
No fewer than 45 lots in the JRHA Sale were out of European or American Group/Graded stakes winners. In addition to the sale-topping Deep Impact yearling out of Listen, they included a Deep Impact yearling filly out of Lilacs And Lace that sold for the equivalent of $1,421,569 to Bando Bokujo, a Stay Gold colt foal out of Italian G1 winner Turfrose that sold for $1,372,550 to Danox Co., Ltd, a Deep Impact colt foal out of Weemissfrankie that sold for $1,372,550 to Ryouichi Ootuka, and a Deep Impact filly foal out of Australian champion Shamrocker that sold for $901,961 to David Redvers.
The likes of Listen, Shamrocker and Lilacs And Lace have not only provided Japanese breeders with some of the best fillies of their generation but also valuable outcrosses to Sunday Silence blood. The vast majority of recent imports were obviously bought with Deep Impact in mind and, unsurprisingly, his 2013 book of mares reads like a who's who; asides from Azeri and Lilacs And Lace, it comprised top American racemares such as Contested, Franny Freud, Gabby's Golden Gal, Ginger Punch, Laragh, Musical Romance and Zazu, as well as top European fillies/producers such as Lily Of The Valley, Lush Lashes, Sahpresa, Sarafina, and Taille De Guepe, the dam of Cirrus des Aigles.
Coolmore also entered the fray last year, sending their G1 winners Maybe and Peeping Fawn, as well as Cherokee, an Irish G3 winner. While Cherokee was barren, Maybe foaled a bay filly and Peeping Fawn foaled a bay colt by the stallion earlier this year. All three are back in foal to Deep Impact for 2014.
While Deep Impact continues to dominate Japanese racing, attention has already turned to his early sons at stud, which are led by Japanese Derby winner and Shadai stud-mate Deep Brillante. His first foals sold last week for an average of ¥21.333 million ($210,047).
Shadai also stands popular first-crop sire Rulership, whose JRHA sale draft averaged ¥34.885 million ($343,490).
Another stallion making his debut at the JRHA Sale was 2012 Kentucky Derby and Preakness Stakes winner I'll Have Another; two of his three representatives through the ring found new homes, namely colts that sold for ¥18 million ($176,471) and ¥9.7 million ($95,099).