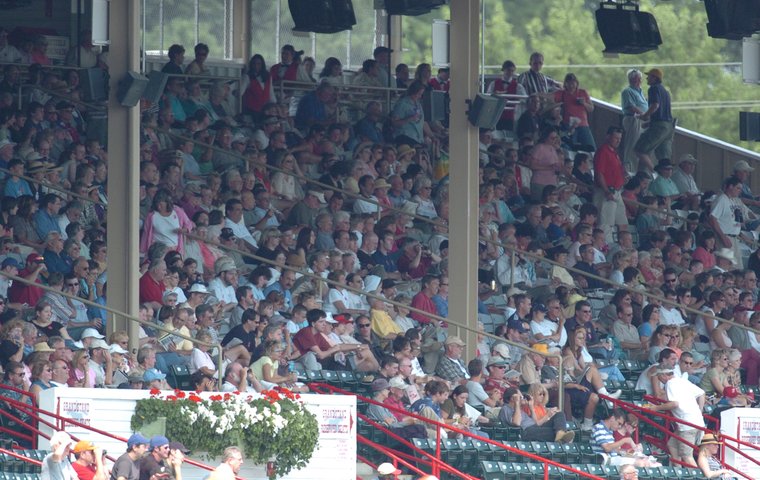 These are nervous times for the fixed-odds bookmakers who have dominated the betting landscape in Britain and Ireland for the past half-century. After decades of having things more or less their own way, they are increasingly under pressure on a number of fronts - from government, the racing industry, gambling authorities and horse players' organisations. The cloud of uncertainty hanging over them is darkening.

Government: those bookmakers with high-street betting shops are chiefly concerned with proposed British Government legislation that would limit the maximum stake allowed on casino-style terminals. The machines are a huge winner for the bookies, guaranteeing healthy profits at premises that may otherwise struggle, but opponents say they are addictive and increase problem gambling. The bookmakers, including high-street giants like William Hill and Ladbrokes Coral as well as smaller independent operators, are circling their wagons just now in a bid to head off the plans.
Racing industry: the bookmakers are under fire from the racecourses, most of whom will be competing with them when they launch their own on-course pool-betting service, Britbet, in July. That's when the exclusive tote licence currently held by bookmaker Betfred expires. The current racecourse pari-mutuel business is accused in some quarters of stagnating, of failing to move with the times, and the new operators are determined to put that right.
Gambling authorities: practically all bookmakers have developed a major online presence, but complaints have been growing about allegedly unfair practices, like limiting the amount account holders are allowed to withdraw, and offering misleading bonus promotions. Britain's Competitions and Markets Authority, backed by the Gambling Commission, has decided to act.
A report published by the Gambling Commission last month revealed that only 33 percent of those who took part in a survey felt that gambling was trustworthy and fair and as many as 41 percent thought it was associated with crime.
Bettors: the Horseracing Bettors Forum, formed with the help of the British Horseracing Authority in 2015, has not only voiced concerns about odds being manipulated by bookmakers but also recently revealed the results of a survey into the practice of bookmakers closing or restricting winning online accounts. The findings are likely to have made many bookmakers even more uncomfortable.
Few seasoned observers will have much sympathy, and calls for proper policing of bookmakers, particularly from the Gambling Commission, have been growing.
In this article, TRC correspondent Geir Stabell, founder of the Globeform handicapping service, adds his voice to that call, and asks why bookmakers are not being called to account for some of their practices. He says bookmakers in Britain and Ireland are failing in what should be a core aim - to support horse racing by encouraging people to bet on it. And he explains why they could learn a huge lesson from the betting operators in the United States.


A few years ago, I interviewed Switzerland-based owner-breeder Sven Hanson, who has enjoyed top-level winners like Fair Salinia and Pride. Hanson pointed out: "Horse racing is funded by two groups, racehorse owners and gamblers, and all others are simply takers."
Following that logic, people who bet on horse racing are both customers and supporters. They are important. They should be encouraged. They should be made to feel appreciated.
Well, are they? Do they get a fair deal? Here are some glaring examples where clearly they do not.
Each-way markets in Britain and Ireland
Take an eight-runner race, where you analyse the chances of all horses and come to the conclusion that two of the shortest-priced runners are unlikely winners. A 10/1 shot that ticks all your boxes looks an interesting each-way bet. The horse appears to have just one to beat and the chances of it finishing in the top three are very good.
Bookmakers offer a fifth of the odds for a place, meaning that your £10 each-way wager (costing £20) is a £10 win bet at 10/1 and a £10 'show bet' (to finish in the first three) at 2/1. Aiming for a 10/1 winner, you know that finishing third would still give you a 50 percent return on your investment.
Shortly after you have placed your bet, a late scratch is announced, reducing the field to seven. The scratched horse was 12/1 at the time you placed your bet, but a couple of minutes before the announcement the horse's odds dropped with all bookmakers, to 8/1 and 9/1. Somehow, the bookmakers got wind of the withdrawal before the public and cut his odds to below 10/1 to make sure that they could make a ten percent deduction to all winning bets in the race - according to the Tattersalls Committee Rules on Betting (Rule 4 deduction).
If the horse had been left at 12/1 the deduction would have been five percent. If it had been 14/1, there would have been no deduction.
Your bet is now nothing like the same value as it was when you placed it, and there's worse to come. Because the field has been reduced to seven, each-way bets are no longer settled on the first three but just on the first two. All is lost if the horse runs third. Your chances of making a profit from this bet have been greatly reduced.
There's no point asking the bookmaker to cancel the bet. The rules mean the bet has to stand. Without any say in the matter, you have to accept completely different terms. Not only will you have to accept a five percent odds reduction, you also have to accept two places instead of three.
It's as if you bought a loaf of bread, paid for it at the checkout, then watched as the assistant opened it up and removed a third of the slices. You wouldn't accept that, would you? But you have to accept it when you are betting in Britain and Ireland.
It's so much better in America
Now, what happens if a similar scenario plays out at a North American track?
Of course, if one horse drops out, the odds for the others will come down on the U.S. tote, but the odds reductions will be determined based on the exact amount that was bet on the non-starter, not a dubious price chalked up by bookmakers.
A show bet still pays out on three places – and if you don't like the bet anymore you can go back to the window, or log back onto your online account, and actually cancel the wager.
Offering customers the opportunity to cancel bets is the biggest difference, and player advantage, between betting in North America and Britain.
When former hockey star Eddie Olczyk won the Pegasus World Cup Day Handicapping Tournament at Gulfstream Park, he clinched it by hitting the exacta and the trifecta with some fairly aggressive and daring wagers on the big race.
There was a lot of thinking involved for the former NHL star turned NBC pundit, and just before the off he went back to the windows and reduced one of his bets in order to free up some money for a saver on West Coast; enough to offer him some insurance but not enough to hurt his chances of winning the tournament.
When a value wager becomes a mug bet
Similarly, many UK bookmakers have the rule that if you place a 'straight forecast' (same as an exacta but with a computerised return based on starting prices) and one of your two horses is scratched, the wager becomes a win bet on the other – and it cannot be cancelled. It's hard to see the logic.
Say you back an even-money favourite to beat a 10/1 shot because you believe they are favourably drawn together and can dominate from the start. This forecast bet offers value. You estimate that it will pay around 16/1.
The 10/1 horse is then scratched, while the favorite hardens to 4/5, and that's where your money goes. You are not even given the option to say no thanks to that bet, which is nothing like the wager you placed in the first place, the product you paid for at the point of sale.
When it's just tough luck for the unlucky customer
Here's another scenario. A player analyses a ten-runner race where he or she identifies two serious speed horses plus a couple of habitual pace pressers. Backing a strong closer makes a lot of sense, so that's what the player does, and the wager is placed early.
Unfortunately, both those speed horses are scratched, seriously altering the complexion of the race, and making it likely that one of the pressers will get away with a soft lead. Backing a closer is no longer such a good idea - it's a very bad idea - so the player wants to cancel the bet. If it was placed on the North American tote, that would not be a problem. In England, however, it's not even an option.
Tough luck: one of racing's main customers, and main supporters, is stuck with a really bad deal.
When the punter is shut out
Over the past few years, more and more bookmakers have begun placing restrictions on many of their customers' online accounts.
A punter who makes a profit from betting, or is suspected of arbitraging via a betting exchange (an accepted practice in international financial markets), is shut out very quickly. Bookmakers do not close winning accounts, probably because they see it as important to show their shareholders, and others, that they have a high number of clients - who can be bombarded with promotion mails, urging them to gamble on casino and poker games and other markets that are more profitable for the layer. Instead the bookmakers put restrictions on accounts they don't like.
Yet, as his input prior to a recent UK Parliament discussion on the issue of account restrictions by bookmakers, Skybet & Gaming CEO Richard Flint made the following statement:
"Sky Bet does not close customer accounts for anything other than responsible gambling or fraud purposes. We do not close accounts simply because a customer wins, or even if we expect them to win.
"However we do manage what we allow a very small percentage of customers to bet. Of our horse racing customer base, totalling well over one million people in the last 12 months, around 97 percent of these customers have no restrictions relating to their account. Around two percent are restricted to the extent that they can bet to win £1,000 for major races. And even the remaining one percent can bet to win £100 in major races.
"And when we do restrict customers, it isn't largely about whether they win or not. Around 25 percent of our customers win over the course of 12 months. So, although everyone here cares about this issue deeply, restrictions only affect a tiny proportion of our customer base, and a small proportion of winning accounts."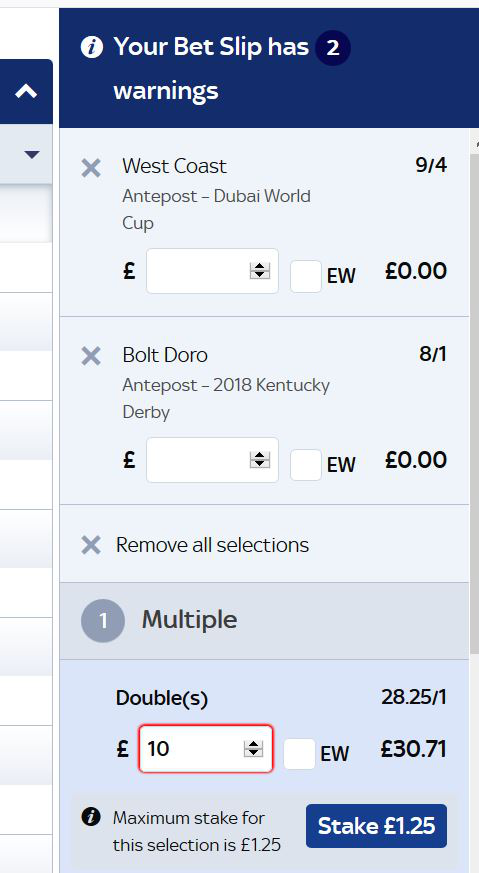 As it happens, I have been a Skybet customer myself. Not too long ago, I tried to place a £10 win double wager with Skybet (see the copy of the slip alongside). The double odds were 28/1 and the bet was refused, with the offer of a maximum stake of £1.25, meaning that I could bet to win £35, not £100.
This restriction was put in place after a successful £15 each-way double on the same account, also on racing, returned £3,529 two years ago. I'm not a big player so I have no doubt that this practice among bookmakers is hitting many, many more than "one per cent" of all customers.
It may have been merely 'a restriction', but it effectively closed my account.
How betting can be like a game of chess
Racing is increasingly in competition with other betting products, from high-stakes poker games to lotteries and scratch cards.
While many of these wagering products require no skill, betting on racing does. Racing promoters should hammer this message much louder than they do. By offering players flexibility, the options to change strategies as the day unfolds, to cancel and amend wagers, betting on racing becomes a thinking person's activity, a game of chess compared to the toss-a-coin level of the alternative betting products on offer.
While Tote/PMU operators offer various bonuses and other incentives, normally more beneficial to the more serious players, bookmakers punish such players, even blocking them altogether.
Companies like Xpressbet, NYRA Bets and Twin Spires all work hard to keep serious, loyal players interested in the sport. They do great work in forming long-lasting relationships with their customers.
Many bookmakers do the opposite. Surely they are doing more harm than good to the racing industry.