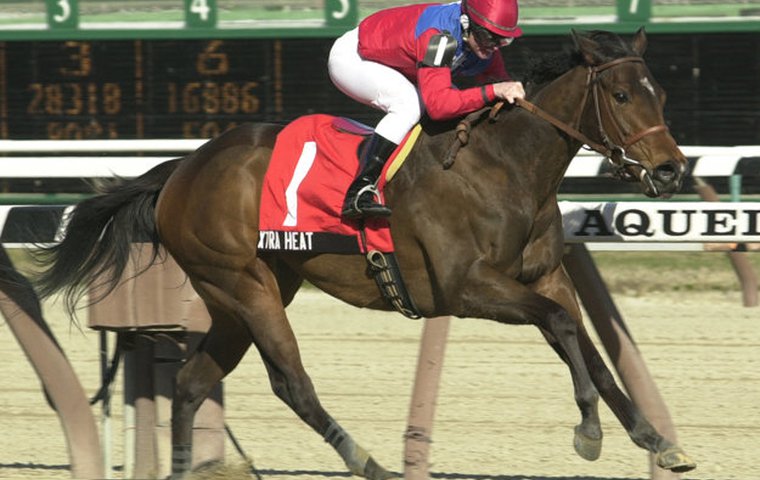 Just days before Xtra Heat was set to join racing's elite in Saratoga's Hall of Fame, the fleet-footed sprinter's co-owner, Ken Taylor, jumped at the opportunity to talk about the filly's improbable success story.



"Oh, she was a beast of all beasts. She was a monster," enthused Taylor, who owned Xtra Heat in partnership with Harry Deitchman and her trainer, John Salzman Sr. "There was nobody faster in the whole world. You had to run to catch her."
At today's ceremony at the Fasig-Tipton Humphrey S. Finney sales pavilion, Taylor, 63, and 91-year-old Deitchman, will accept Xtra Heat's Hall of Fame plaque.
Salzman, who operates a small stable at Laurel, won't attend the ceremony. "Duty calls," the trainer said. "I have horses to run." In his stead, will be his wife, Nancy.
The 70-year-old Salzman said when Xtra Heat landed on the Hall of Fame ballot last year for the first time, but failed to earn an induction, he knew it was only a matter of time.
"If you were around her, like I was, you would understand how special of a horse she was," Salzman said earlier this week. "She deserves this."
Salzman, who has a keen eye for precocious 2-year-olds, bought Xtra Heat at Fasig-Tipton's Midlantic 2-year-olds in training sale for $5,000. She was an itty-bitty bay filly, standing below 15-hands, with smudges of white stamped on her forehead and muzzle.
Taylor said Salzman made a spur-of-the-moment decision to buy Xtra Heat, and as a result, didn't have the filly vet-checked.
"We normally [vet] the horses we buy, but the day we bought Xtra Heat we didn't," Taylor recalled. "It turns out she had OCD lesions [in her stifles]. If we knew that in the beginning, we probably wouldn't have bought her. Well, so much for those OCD lesions."
After Xtra Heat began her career, by winning a maiden $25,000 claimer, which was followed by a romp in a stakes race, those OCD lesions scared away potential buyers, but Salzman said they never caused his filly any problems.
And, judging by the regularity of her races, and the number of times she won, Xtra Heat was both sound in mind and body.
A daughter of Dixieland Heat, Xtra Heat won 26 of 35 career starts. She was victorious in 25 stakes, a modern-day record for a female. She had no geographical boundaries — she won at Aqueduct, Belmont Park, Charles Town, Delaware Park, Keeneland, Laurel, Philadelphia Park, and Pimlico. She even traveled to Dubai to take on males in the G1 Golden Shaheen, finishing a respectable third in 2002.
Based in Maryland throughout her four years on the track, the filly, who was bred by Pope McLean Sr.'s Crestwood Farm in Kentucky, also drew admiration from legions of fans in New York.
Her sole G1 win came in Belmont Park's Prioress Stakes in 2001. Later that year, in the G1 Breeders' Cup Sprint at Belmont, she arguably ran the best race of her career. At odds of 17-1, Xtra Heat rocketed to the early lead — as was her wont — and just about ran each of her 13 male rivals off their feet, except for Squirtle Squirt, the half-length winner.
Xtra Heat was recognized as North America's champion 3-year-old filly of 2001, an honor typically reserved for fillies who cover a distance of ground, not sprinters.
Salzman said one of his favorite races came when Xtra Heat won the G2 Barbara Fritchie Handicap at Laurel Park for a second year in a row, in 2003. The diminutive filly toted 125 pounds that day; the year before she packed 128.
"Leading up to the race, in the newspapers, [Rick] Dutrow said he wasn't worried about Xtra Heat, and that the horse he trained [Carson Hollow] was going to kick our butt. So, the [reporters] kept coming to me saying, 'What do you have to say about that?' I said, 'I'll just let my horse do the talking.'"
Xtra Heat was heard loud and clear, if not fully seen, owing to the fact the Fritchie was run in heavy fog. She defeated Carson Hollow, the runner-up, by 1 3/4 lengths. It would turn out to be Xtra Heat's final career start. Cartilage damage discovered in her ankles, Salzman said, led to her retirement shortly thereafter.
At the time of her last race, Xtra Heat was owned by ClassicStar Stable, who privately purchased the filly following her 2002 campaign. She retired to the breeding shed with earnings of $2,389,635.
Xtra Heat now resides at Woodford Thoroughbreds in Versailles, Kentucky. She has foaled nine runners, five of whom are winners, including stakes winners Southwestern Heat and Elusive Heat.
--------