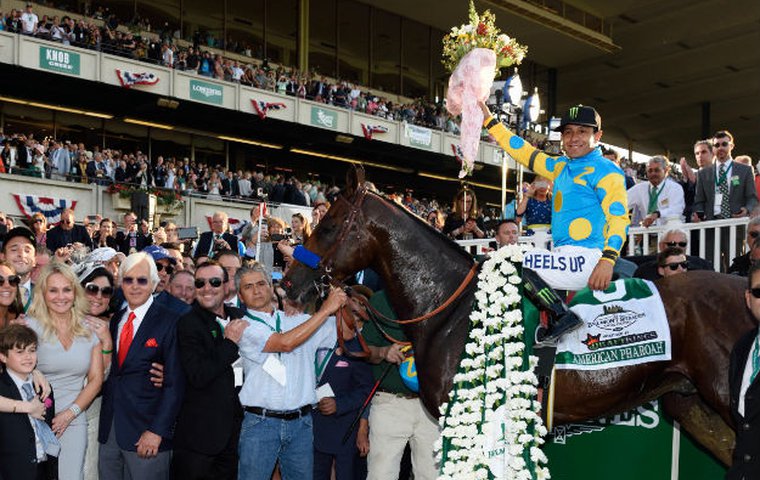 Despite his early waffling on whether to run Triple Crown winner American Pharoah in the GI Travers Stakes at Saratoga, trainer Bob Baffert had to be taken at his word that the reason for his uncertainty was concern for the horse's well-being.

After the horse worked seven furlongs in 1 minute 23.2 seconds on Sunday at Del Mar, Baffert and owner Ahmed Zayat committed to the "Mid-Summer Derby". If he starts, the race will be worth $1.6 million. If he does not, it's worth $1.25 million.
While the Hall of Fame trainer has called the historic track "funny" and "gimmicky" in the past, he also has shown no reluctance to run on the racetrack or in the race, which enters its 146th running on Saturday.
Most people are familiar with Baffert's 1-for-5 record in the Travers, but consider that Point Given's 2001 win came in Baffert's first time in the race with a horse that won the latter two legs of the Triple Crown. His four entrants since then haven't had such lofty credentials, but he's still entered them, suggesting a true appreciation for the history and prestige of the race.
The 2001 race left an imprint on Baffert, however. After Point Given won the mile-and-a-quarter race in 2:01 2/5 – the fastest time since Thunder Rumble's 2:00 4/5 in 1992. He developed a tendon strain in his left foreleg five days later, presumably from the race. He was retired, and at that time no stud arrangements had been made.
It was four years before Baffert returned with Roman Ruler, who had prepped with a win in the Haskell. Roman Ruler finished third.
It wasn't until 2011 that Baffert returned with Coil, who placed 10th. Liaison finished ninth in 2012 and Bayern finished last of 10 in 2014 but rebounded to win the Pennsylvania Derby and Breeders' Cup Classic.
Baffert more willing to go for the Travers than many other Californians
Baffert has also been more willing to enter the race than others based in California. For comparison with other Hall of Fame, California-based trainers, Richard Mandella has only run one horse in the Travers (Dixie Union, fourth in 2000), but has had six horses run in the Kentucky Derby. Charlie Whittingham ran only two (Kennedy Road, fifth in 1971 and Temperate Sil, eighth in 1987). Gary Jones only ran one in the Travers (Turkoman, second in 1985). Jerry Hollendorfer has run just one (Nonios, fifth in 2012). David Hofmans, nominated for the Hall of Fame in 2006, has run just one (Awesome Again, third in 1997).
Baffert has said that he feels horses who have a prep race over Saratoga have an advantage in the Travers. Despite that, only one of his five Travers entrants did that – Liaison, who finished third in the Jim Dandy, picked up seven pounds for the Travers and then finished ninth in that race.
The other four of his Travers horses prepped for the Travers in the GI Haskell Invitational, a race in which he is highly successful. Baffert has started 13 horses in the Haskell and owns a record eight wins, three seconds and one third.
Success begets success, but it seems that Baffert looks for a Haskell horse before he looks for a Travers horse. The Haskell is a furlong shorter, and Monmouth Park is known as a more speed-favoring track. Horses on the lead can and have won at Saratoga, but it's more likely that stalkers and closers will.
Baffert is also keenly aware of Saratoga's reputation for being the "Graveyard of Favorites." In fact, the day after American Pharoah won the Belmont Stakes to complete the Triple Crown, Baffert said "I don't want to find any Onions", in reference to Onion's upset of Triple Crown-winning Secretariat in the 1973 Whitney Handicap. Upset beat Man o'War at the Spa for the great horse's only loss and became what is today a well-known word. Jim Dandy, at 100-1, beat Triple Crown winner Gallant Fox in the 1930 Travers.
Triple Crown champions haven't run in the Travers much. Only Gallant Fox (1930), Whirlaway (1941) and Affirmed (1978) did so. Whirlaway won, while Gallant Fox and Affirmed finished second, though Affirmed was beaten because of disqualification.
Zayat has a good Saratoga record - and Baffert's isn't so bad either
Baffert has a decent record at Saratoga since 1999, according to Equibase. He has won with 21 of 97 starts (21.6 percent). His graded stakes record there, however, is only eight of 59 (13 percent). Still, Baffert has won such races as the Test, Adirondack, Alabama, King's Bishop and Prioress.
American Pharoah owner Ahmed Zayat was open about his desire for American Pharoah to run in the Travers, which is understandable given his record at Saratoga. Zayat was the leading owner at the 2007 meet and his silks are a common sight, but his only GI victories there are the Alfred G. Vanderbilt with Justin Phillip in 2013 and the Ballerina with Rightly So in 2010. In just 10 years since forming the stable, there is little his horses haven't done. But the Travers is one of the races he hasn't won.
Further, the Travers has the prestige that the alternative races don't. The $1 million Pennsylvania Derby, on Sept. 19, is a more convenient six weeks out from the Breeders' Cup Classic, but it's a G2 and only has existed since 1979. Its list of winners is nice, but far from the Hall of Fame-laden roster of Travers winners. Nineteen Travers winners have gone on to be named Champion 3-Year-Old and nine have gone on to be named Horse of the Year.
The Awesome Again (formerly the Goodwood) on Sept. 26 at Santa Anita helps with the Breeders' Cup timing, is a GI and has a better list of winners, but it offers only a $300,000 purse and, having started in 1982, doesn't carry the prestige of the Travers. It would require no ship for American Pharoah, but the horse wouldn't face as much of a challenge as he would in the Travers.
At the Saratoga Selected Yearlings Sale, Baffert said: "We're trying to make it, but he's going to have to really convince me."
The man who has watched the horse already win a Triple Crown is now convinced.