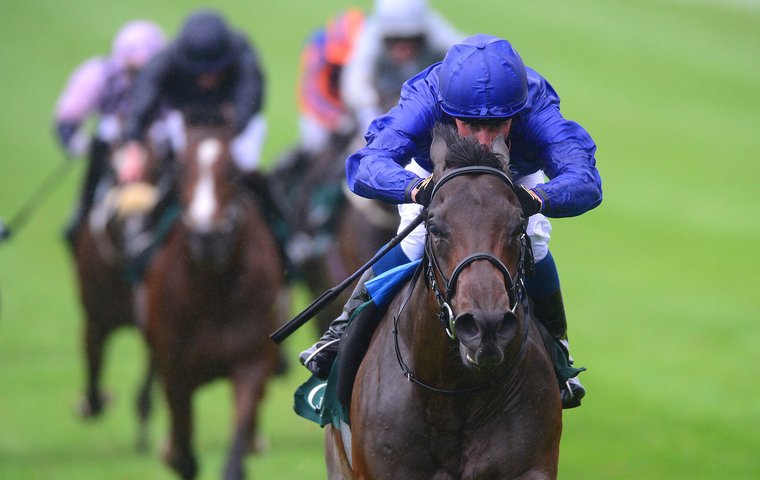 Racing fans around the globe tend to get rather worked up about who wins the Horse of the Year title in their countries. The choice of one horse or another can offend our sense of justice, in the same way that players added or excluded from a Hall of Fame tends to do in other sports.

In Britain, there is usually more of an ambivalence towards these things than in the U.S., for example. This is mainly because there is no official Horse of the Year award like the Eclipse Awards. The Cartier European Awards, which are being presented in London next Tuesday (November 12), often produce a worthy winner, however.
In the Cartiers, 30 percent of each horse's score is an arbitrary points system, which is aggregation and therefore does not discount opportunity, while the other 70 percent of the score is determined by a poll of racing journalists, plus readers of the Racing Post and Daily Telegraph. Full disclosure: I have never cast a vote myself because the system lacks objectivity.
Using google.co.uk, I could not find an official website by searching "Cartier Award Leaderboard 2019", which is surprising. Instead, I found the most recent reference via https://www.racingbetter.co.uk/news/cartier_awards.html
Cartier Horse Of The Year
(standings sourced November 6)
Magical 216
Enable 152
Stradivarius 136
Waldgeist 120
Crystal Ocean 112
Hermosa 112
Star Catcher 112
Too Darn Hot 112
Japan 108
Blue Point 106
Magical, the Aidan O'Brien-trained four-year-old, has won five Group races from nine tries this year, an excellent record. Her victories include two against males in G1s in the British and Irish Champion Stakes. In three of her four defeats, she went under to Enable twice and Crystal Ocean once. She finished behind Waldgeist, Enable, Sottsass and Japan when fifth in the Arc.
In short, Magical is a wonderful horse trained to perfection by Aidan O'Brien and ridden the same way by Ryan Moore and Donnacha O'Brien. The problem in making her Horse of the Year is obvious: her opportunities (including a victory in a four-runner G1 Tattersalls Gold Cup in May) are not being discounted before comparing her to other horses.
There is no way – other than via the Cartier points system – that she can be determined the best horse of the year by any objective criteria. In her own division, for instance, Enable is clearly better, while the horses in front of her in the Arc would all probably start a betting favourite over her. If this sounds like disrespecting Magical, it certainly isn't. She is a true Warrior Queen of the sport, tremendously genuine and highly gifted.
But 2019 wasn't the year of Magical. It wasn't the year of Enable, either. The best horse to look through a bridle, the standout runner by objective methods, was the brilliant, phenomenal 2-year-old Pinatubo.
There is an awful lot of snobbery about 2-year-old racing around. Yes, there are arguments to be made that it isn't in the best interests of horses to be racing at two. But it certainly isn't in the best interests of horses to be doing some of the other things we ask them to do.
The point is that we have collectively decided that 2-year-old racing is a division of the sport. Therefore, it is a worthy domain for a horse to earn a championship. That horse is Pinatubo.
Pinatubo is so good that his trainer Charlie Appleby thinks he could garner a following from outside the sport. Personally, I consider this highly fanciful, but Appleby knows his horse and something is provoking him to this kind of hyperbole.
But Pinatubo's claims to greatness do not depend for a second on what people think of him. He is the highest-rated juvenile racehorse for 25 years, according to the highly respected Timeform organisation. Pinatubo is rated 134 – nine pounds superior to Magical (or six superior if you factor in the latter's three-pound sex allowance).
Only the sprinter Battaash (136) is rated higher than Pinatubo, and he has had many more opportunities to earn a big figure and is inconsistent. He was brilliant in the G1 Nunthorpe Stakes at York, but, when rival Blue Point breathes on him, he tends to lie down meekly. Witness their clash in the G1 King's Stand at Royal Ascot. Battaash is extraordinarily fast, but he is no Horse of the Year.
The most compelling alternative to Pinatubo is, of course, Enable. She won the G1 Eclipse Stakes at Sandown (comfortably, by nearly a length from Magical), the G1 King George at Ascot and the G1 Yorkshire Oaks at York (readily, by nearly three lengths from Magical), before running second to Waldgeist in the G1 Arc.
But there are different levels of brilliance. Let's not forget that Enable is using a sex allowance of three pounds in those races. As a colt, Pinatubo has no such advantage, and while the opposition he is crushing is far less credentialed (and therefore less familiar) than Enable's, there is no doubt he is for real. We know that from the times he posts, which finally people have come to accept are an objective measure of talent often more important than the name of the race.
Pinatubo is unbeaten in six. He started low, taking until his third start to be raised to listed company. But at Royal Ascot, he exploded on the scene, winning the Chesham Stakes, after which it was clear he was a brilliant talent.
A romp in the G2 Vintage Stakes at Goodwood in July confirmed as much, but his signature performance was a nine-length win the G1 National Stakes at the Curragh, which earned him his lofty figure and confirmatory time of 1min 21.82sec for the stiff seven furlongs.
On his final start, Pinatubo won the G1 Dewhurst Stakes at Newmarket, in effect unifying the titles of British and Irish champion juvenile. But, to do it he had to overcome a track bias by winning on the slower ground in the centre of the Rowley Mile. That two-length victory over Arizona (unlucky fifth in the G1 Breeders' Cup Juvenile Turf) did not rate so highly as his Irish performance, but he again showed tremendous tactical weapons in moving up through the gears to win with great authority.
The figures never lie. In 2019, there were many high-class horses, but only one superhorse: Pinatubo – the Horse of the Year.