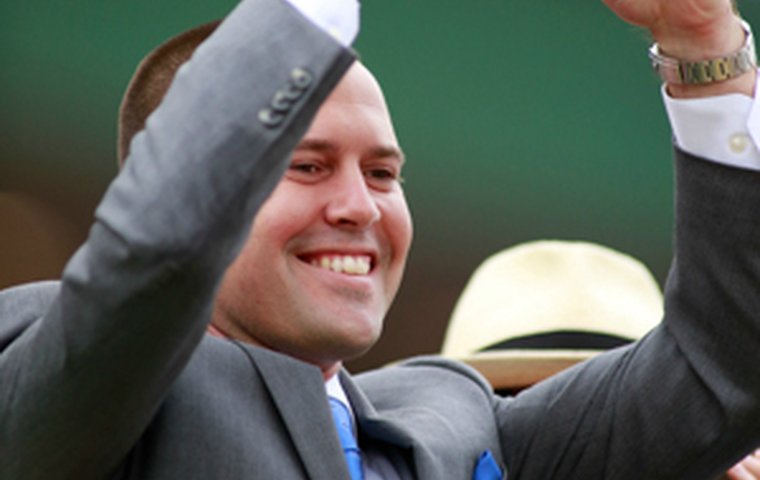 With racing in 2019 entering its final third, it is a good time to recap the leading performers by aggregate wins in each of the four TRC rankings categories of Jockey, Owner, Trainer and Sire.

These will be different from the order given by TRC Global Rankings because the latter is much more nuanced and takes into account a host of factors to make the most accurate predictions possible of who will beat whom in Group and Graded races in the next seven days.

In each category, the top 15 performers and ties by aggregate wins will be listed with the TRC Global Ranking preceding the competitor's name

JOCKEYS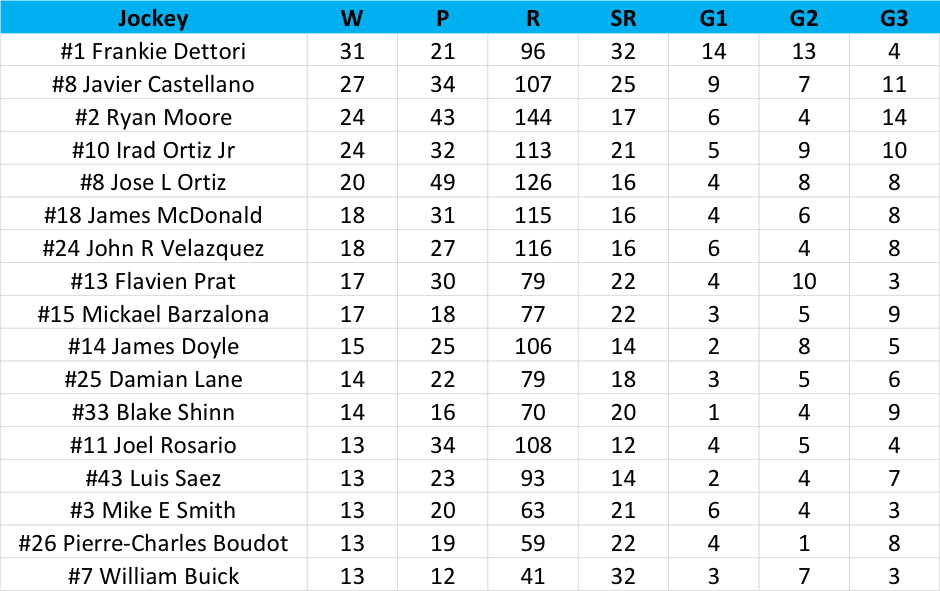 Few would argue that Frankie Dettori deserved to be ranked the world's top jockey on current form. Powered by the horses of #1 trainer John Gosden and his own trademark confidence in the saddle, the Italian has provided a frisson of excitement to European racing wherever he has gone in 2019.
For how long can it continue? Well, Coolmore pilot Ryan Moore has been hamstrung by his stable slipping below their long-term levels of elite performance this year, but trainer Aidan O'Brien has shown off some smart-looking juveniles of late and normal service could soon be resumed.
In the U.S., Javier Castellano has returned to form and is enjoying a fine campaign, while brothers Jose Ortiz and Irad Ortiz make racing in New York unmissable on a daily basis. The world is a rapidly changing place, but it's nice to know that John Velazquez and Joel Rosario stay the same.
Australian racing has welcomed the comeback of James McDonald (suspension) while another top-level Aussie, Blake Shinn, is back after injury and has made a promising start to his first season riding in Hong Kong.
Speaking of injury layoffs, William Buick recently made his own return from the sick bay, which coincided with a return to form for Godolphin trainer Charlie Appleby. While James Doyle did very well in Buick's stead, the Appleby team is now back to full strength in the riders' room.
OWNERS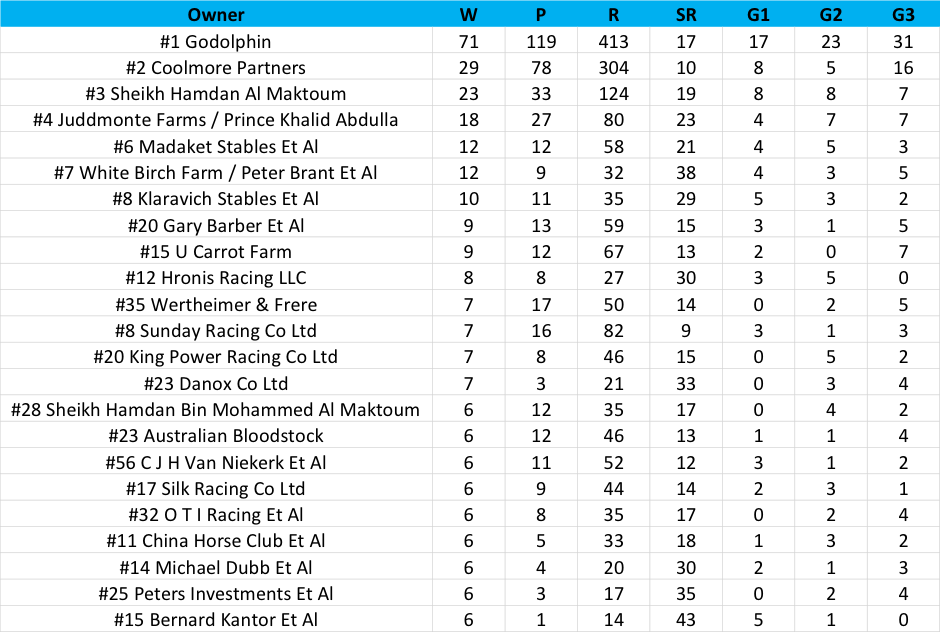 Sheikh Mohammed's Godolphin operation has been second to Coolmore Partners in terms of efficiency considering size for most of the lifespan of TRC Global Rankings. Not any more.
The 2019 campaign globally has been a roaring success for the boys in blue, with young trainers such as Charlie Appleby in the UK and James Cummings in Australia improving still further to join the elite of their profession. At the other end of the experience spectrum, key gains have been provided by French legend Andre Fabre.
Coolmore Partners have slipped back a bit from their previous hegemony, but it is unlikely to be troubling them much! Galileo is still producing, and potential super sires such as American Pharoah and Justify will only increase their influence in the next five years.
It's been a solid year for Sheikh Hamadan Al Maktoum and Saudi Prince Khalid Abdulla's JuddmonteFarms (what else is new), though the campaign will not be complete without a third Arc win for the brilliant Enable.
New forces in world bloodstock have emerged or re-emerged in the shape of Peter Brant's two-shades-of-green White Birch Farm and the blue-and-white of King Power Racing. Horses running in the later livery have garnered much emotional support in the wake of the tragic death of founder Vichai Srivaddhanaprabha last year.
Success in U.S. racing being more disparate among owners than in Europe, the leaderboard expresses the results of excellent campaigns so far for Sol Kumin's Madaket Stables and Seth Klarman's Klaravich Stables.
TRAINERS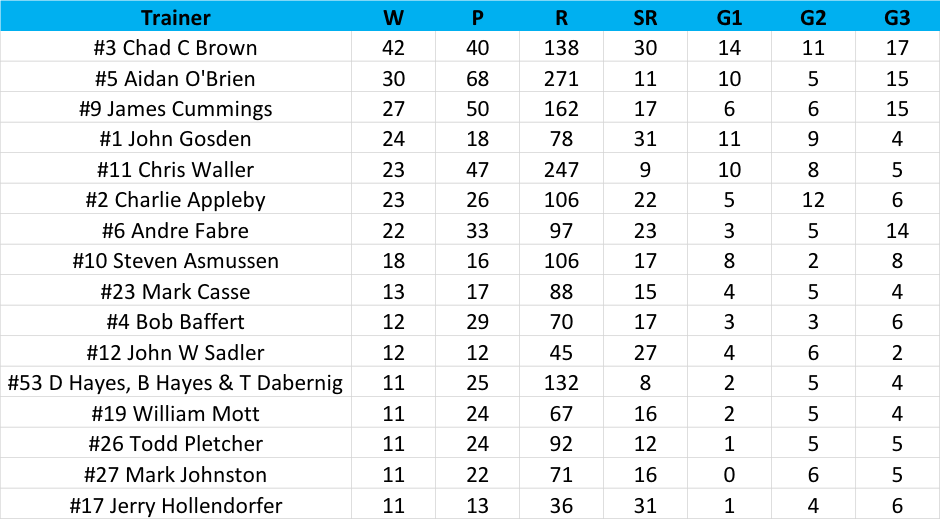 John Gosden, Charlie Appleby and Chad Brown have all occupied the #1 slot in 2019. As things stand, Gosden rules the roost, but a brilliant treble by Appleby last week shows just how much things are in flux on a week-by-week basis.
Remember the rankings are based on actual probabilities of a head-to-head win for the trainer's runners in the next seven days. This accounts for the relatively lowly placing of Aidan O'Brien (11% strike rate) and Chris Waller (9% SR), for instance, despite their success in the aggregate. These two superb trainers are 1-2 in the number of runners fielded, which reflects the underlying truth that they possess greater resources compared with some in the list.
It has been a down year in terms of Graded numbers for Bob Baffert, but he retains a high ranking for obvious reasons. British trainer Mark Johnston is having his best year in terms of Group-race success. He is also on target to break the record for number of domestic winners in Britain.
SIRES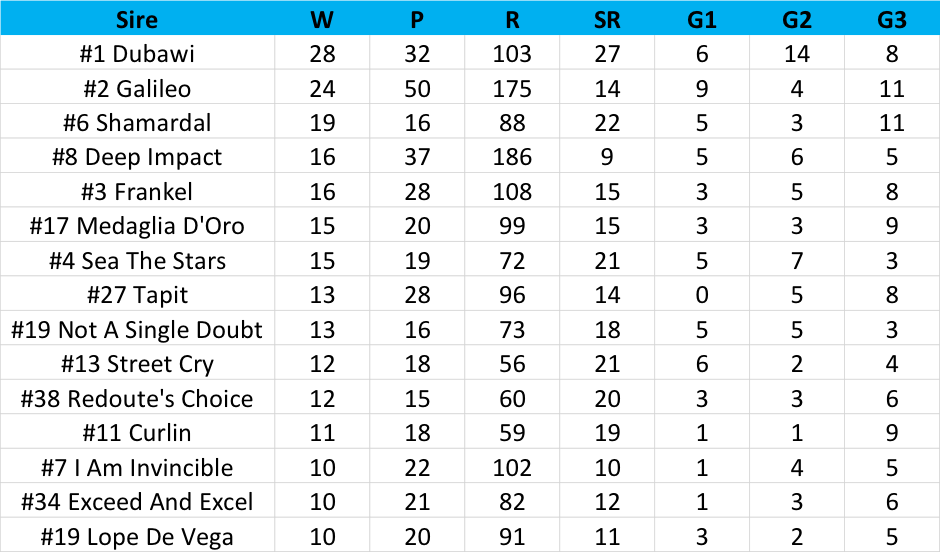 Four more winners at nearly twice the strike rate of Galileo entitles Dubawi to be regarded as the world's #1 sire on present form, as we have forecast now for some time. Since the start of 2018, our world #1 has gone a stunning 92-45 versus the stallion who deserves the #1 ranking on all-time data.
It has been a brilliant year for Shamardal, who we reckon is the fourth-best sire (the recently deceased Deep Impact is third) over the history of our classifications.
Most of the big names of bloodstock are in the table. Note that turf sires dominate the rankings because success is spread more evenly across dirt sires. There is no reason for a sire like Curlin not to rank #1 if his success-rate were to spike.