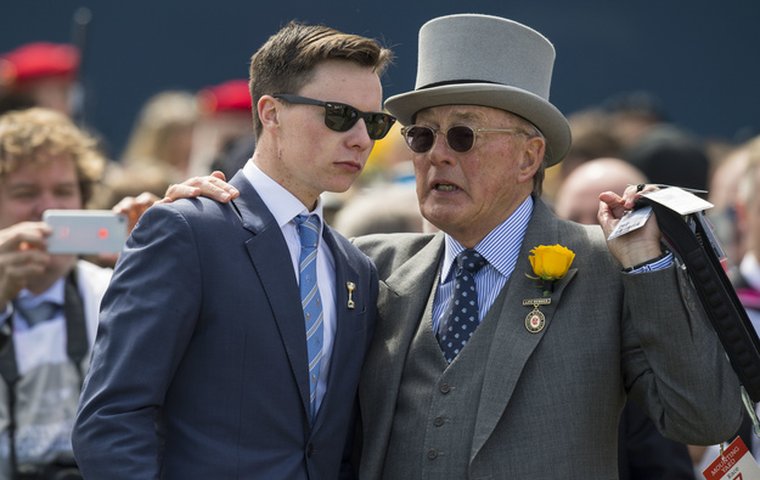 The irony is that last Tuesday's Melbourne Cup winner, Rekindling, is not a son of Galileo, but High Chaparral. Nor was last year's winner Almandin (Monsun), nor Green Moon (Montjeu) in 2012.

The thread that binds these imported winners of the Melbourne Cup is that they were owned by Melbourne businessman Lloyd Williams; an icon in his homeland yet almost unknown in the UK outside the well-heeled horsey circles that have pretty much fueled Williams' obsession to keep winning the Melbourne Cup.
Williams has imported dozens of sons of Galileo to Australia, believing the Coolmore stallion to be the greatest sire of stayers on the planet. Yet not one of these Galileos has provided Williams with any of his six Cup wins, the most of any owner in the history of a race that dates back to 1861.
The racing and breeding worlds have shrunk considerably yet Williams remains more famous on a racetrack than anyone in one corner of the planet, and barely recognised in another.
Mesmerised by the race's mystique
Melbourne-born Williams, who first made his money in real estate, then as a leviathan property developer – his company, Hudson Conway, built Melbourne's Crown casino for his deceased mate Kerry Packer – dreamt of winning Australia's greatest race as a child.
He revealed after Almandin's win in 2016 that he came from a catholic family of illegal bookmakers and alcoholics and remembered listening to Melbourne Cups as a young child on the wireless and being mesmerised by its mystique.
The timeline of Williams' victories in the Melbourne Cup reflects his own journey and in some ways the evolution of Australian racing.
Williams was a high-flying real estate mogul and fearless punter when Just A Dash won his first Cup, in 1981. Just A Dash was locally bred and trained. Williams would discover in later years that breeding Cup-class stayers either in Australia or New Zealand was almost impossible.
Just A Dash's trainer, Tommy Smith, would become a close friend and mentor of Williams, whose hands-on methods and plotting has him accepted (not by all) as both owner and (unofficial) trainer of his vast squad of horses at Macedon Lodge outside Melbourne.
But the legendary Smith guided Just A Dash, just as Williams' private trainer, John Meagher, guided ex-New Zealander What A Nuisance to Williams' second Cup win in 1985.
Failed exercise
It was at this time that Williams first dipped his toe in international waters, buying hordes of stout stayers from Europe, identifying a deficiency in the local staying ranks.
Horses such as Nayrizi proved competitive in Australia, but for the most part it was a failed exercise. Williams burnt millions of dollars and learned a lesson. Not all European stayers suit Australian conditions.
Williams won the Cup in 2007 with Efficient, whom he regards as his best ever horse and greatest Cup winner. Efficient was a son of legendary New Zealand sire Zabeel. Before Williams fully discovered John Magnier, Michael Tabor, Aidan O'Brien and Galileo, Zabeel kept the fires burning.
Williams would buy dozens of Zabeels at the Karaka yearling sale in New Zealand each year. His former unbeaten colt Reset, now a leading sire, was a son of Zabeel.
But Zabeel grew long in the tooth and Williams, who says he has owned thousands of horses, had already found Galileo. Williams would spend up to $30 million a year mostly on proven staying sons of the 2001 Epsom Derby winner.
Planeloads would arrive at Melbourne's Tullamarine Airport. Most were formerly trained by Aidan O'Brien. They would be trucked to the Williams training farm.
Williams would often joke about the financial folly of his obsession with winning the Melbourne Cup, saying his accountant had often questioned his sanity.
Relative anonymity
That said, Williams-owned horses have won many good races. Mahogany was a versatile champion of the mid-1990s, winning the Victoria Derby as well as feature sprints. Fawkner was a locally-bred Caulfield Cup winner (by Reset) and Zipping, also bred locally, by the globally-dominant Danehill, was a weight-for-age perennial.
While the scoreboard says Williams' greatest successes outside the Melbourne Cup have come from local stock, the owner has broadened his international reach.
He often said that Efficient could have won an Ascot Gold Cup, but the opportunity never arrived. Williams has become a more familiar name in the UK racebook, owning dual Irish St Leger and Ascot Gold Cup winner Order Of St George.
His Melbourne Cup winner Rekindling, trained by Joseph O'Brien, and the runner-up, Johannes Vermeer, trained by Joseph's father Aidan, both raced with success in Europe for Williams this season.
Williams' relative anonymity in British racing circles might soon change. He is keen to brush off his morning suit and have a crack at the Gold Cup in 2018 with Rekindling.
Come next June, you may not recognise Australia's most famous racing figure at Britain's most famous track.
He is almost 80, reasonably tall, balding and wears circular glasses, like John Lennon used to.
If you still can't identify him, ask an Australian - or google 'Melbourne Cup'.