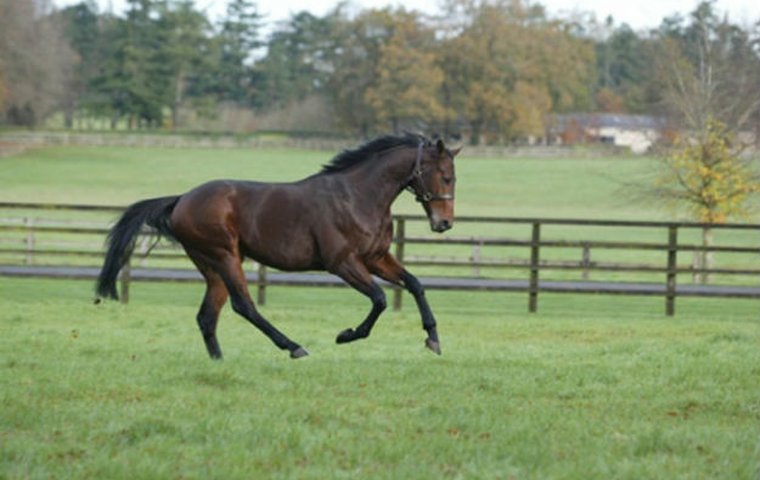 After a couple of decades with the concentration of sire power in Kentucky, the perception is that, beginning with the era of Sadler's Wells, the pendulum then swung back towards Europe. While the trend towards the best U.S. sires becoming more specialized as dirt sires has rendered such comparisons, if not odious, not particularly relevant, it's certainly true that the strength of the young stallion colony in Europe looks exceptional.

Indeed, of the horses we'll consider below, no less than eight have already sired classic winners. Unless otherwise mentioned, we're only considering Northern Hemisphere-sired crops.
SEA THE STARS
If we start with the group whose oldest foals are 5-year-olds in 2016, it has to be said that, if there was a blue-chip prospector in this group, it was surely Sea The Stars(Cape Cross – Urban Sea by Miswaki).
A runner, who if not for Frankel would probably be rated as the greatest colt seen in Europe in the last 20 years or so, Sea The Stars is out of Urban Sea, an Arc winner who is one of the most important producers of the modern era, and is half-brother to Galileo, who is generally considered to have assumed the mantle of his sire, Sadler's Wells, as the world's leading stallion.
It's to Sea The Stars' credit that he's gone a long way towards living up to expectations, with 25 stakes winners in his first two crops - 14 of them Group winners, including Epsom Oaks (G1) and King George VI & Queen Elizabeth Stakes (G1) scorer Taghrooda; runaway German Derby (G1) scorer Sea The Moon, and G1 Prix Saint-Alary winner Vazira.
He's also already been represented by Group winners Cloth Of Stars, Harzand and Mekhtaal from his third crop, 3-year-olds this season, all tallying in classic trials.
Taghrooda the product of the obvious mating for Sea The Stars as she's out of a daughter of Sadler's Wells, giving a reverse cross to Galileo, and he has four other stakes winners out of Sadler's Wells line mares.
Sea The Moon (who has a second dam by a son of Sadler's Wells), G3 winner Quasillo and stakes winner Astronereus all play into the German background of the dam of Urban Sea as they are out of mares by Monsun, Acatenango and Surako.
Vazira is from a daughter of Zafonic and Group winner Harzand from a daughter of Zafonic's son, Xaar, while, from another branch of the Mr. Prospector line, there are two Sea The Stars stakes winners, one a Group winner, out of daughters of Kingmambo.
LE HAVRE
Le Havre (Noverre – Marie Rheinberg by Surako) was a member of the same crop as Sea The Stars but, despite winning four of six starts, including the French Derby (G1) and finishing second in the French 2000 Guineas (G1) he wasn't regarded as being anywhere near the same league as that horse as a runner.
Le Havre's pedigree didn't inspire particular confidence either, as he's a son of Noverre (Rahy), who had been exported to India by the time Le Havre put in an appearance. Although Le Havre's dam was a half-sister to Pivotal's sire, Polar Falcon, she was by the minor German sire Surako.
None of this discouraged his connections, and with strong support from them Le Havre has rapidly risen to a position at the forefront of the French stallion ranks. He has 13 stakes winners in his first three crops, including a classic-winning duo, Avenir Certain – who captured both the French 1000 Guineas (G1) and French Oaks (G1) – and Le Cressonniere, who took this year's French 1000.
Avenir Certain is out of a mare by Mark of Esteem, whose dam is by Ajdal, a three-quarter brother to the dam of Noverre.
Similarly, Le Havre's G3 winner Queen Bee is out of a mare by Kyllachy (giving inbreeding to Le Havre's granddam), and G3 winner Suedois is from a mare by Singspiel (giving inbreeding to Rahy's dam, Glorious Song), with a second dam by Mark of Esteem. From the same Sadler's Wells line, G2 and G3 winner Auvray is out of daughter of Singspiel's sire, In the Wings, and Le Cressonniere from a mare by Galileo.
MASTERCRAFTSMAN
The third horse from this group to both win a classic and sire a classic winner is Mastercraftsman(Danehill Dancer – Starlight Dreams by Black Tie Affair).
European champion at two, Mastercraftsman added the St. James's Palace Stakes (G1) and Irish 2000 Guineas (G1) at three, and also gave Sea The Stars a genuine scare in the Juddmonte International (G1). He fired out 14 stakes winners in his first Northern Hemisphere crop, and now has a total of 20.
Twelve of his offspring have won Group or Graded stakes, headed by French Derby (G1) winner The Grey Gatsby, Kingston Hill, who took the Racing Post Trophy (G1) and St. Leger (G1), and Amazing Maria, successful last year in the Falmouth Stakes (G1) and Prix Rothschild (G1).
Amazing Maria is out of a mare by Tale of the Cat (Storm Cat), and Mastercraftsman has another stakes winner out of a mare by that horse, as well as one out of a mare by similarly-bred Storm Cat son Forest Wildcat.
The Grey Gatsby (dam by Entrepreneur) is one of six stakes winners by Mastercraftsman from Sadler's Wells line mares, with two from daughters of Montjeu, and Kingston Hill is one of two out of Rainbow Quest daughters (with another out of a mare by Rainbow Quest's son, Spectrum).
Mastercraftsman is out of a Mr. Prospector line mare, and we'll also note that he has seven stakes winners out of mares from that line, two from daughters of Kingmambo, and two from Gone West line mares.
CHAMPS ELYSEES
Unusually for a successful European sire these days, Champs Elysees (Danehill – Hasili by Kahyasi) did most of his best work as a runner in the U.S., where he raced at five and six, after winning a G3 over 12 furlongs in France at four.
On the other side of the pond, the brother to Dansili, Banks Hill, Intercontinental and Cacique, took four Graded stakes, three G1.
With less opportunity than some of the more fashionable retirees in his year, he's sired 10 stakes winners in his first two crops, including the Ascot Gold Cup (G1) winner Trip To Paris, and Group winners Jack Naylor and Xcellence.
Trip to Paris and Jack Naylor are out of mares by Fantastic Light and Nashwan (both from the Blushing Groom line), and Xcellence, whose dam is by Xaar, is one of four Champs Elysees stakes winners out of Mr. Prospector line mares.
DANDY MAN
One sire with first crop 5-year-olds who has exhibited a relatively unexpected upward mobility is Dandy Man.
He won four black-type events, from two to four, all at five furlongs, the most prestigious of which was the Palace House Stakes (G3). He's a son of the short-lived champion sprinter, Mozart (by Danehill), out of the fast Night Shift mare, Lady Alexandra.
From limited initially opportunities, Dandy Man has a trio of stakes winners: Peniaphobia, a G1-winning sprint star in Hong Kong (out of a mare by Nureyev line horse Great Commotion); the G3-winning and G1-placed Extortionist (out of mare by Oasis Dream, from Dandy Man's own Danzig line); and Turkish black-type scorer Orvar (out of a mare by another Danzig line horse, Grand Lodge).
Doubling Danzig seems to be a major positive here, as two of Dandy Man's stakes-placed horses are also out of Danzig line mares.
LOPE DE VEGA
Looking at horses whose oldest crop are 4-year-olds in 2016, as far as stakes winners are concerned the clear leader is Lope de Vega (Shamardal – Lady Vettori by Vettori), who already has 13 black-type scorers, 11 in his first crop.
Lope de Vega emulated his sire with wins in the French 2000 Guineas and French Derby, a race that has become a significant sire-producing event since being shortened to 10½ furlongs.
He has an unusual pedigree as he's inbred 3x3 to Machiavellian (who in turn is out of a mare inbred 3x3 to Almahmoud, the granddam of Northern Dancer). With that in mind, it's interesting to note that the cross with mares from the line of Danehill (inbred 3x3 to Almahmoud's daughter, Natalma, the dam of Northern Dancer) has provided four of Lope de Vega's stakes winners, including the champion 2-year-old and 2016 G1 winner Belardo, and the two-time G2 winner Very Special, out of mares by Danehill himself.
Lope de Vega also has two stakes winners out of Galileo mares, and current 3-year-old classic hopeful, Blue de Vega, out of a mare by another Sadler's Wells stallion, Montjeu.
His G3 winner Burnt Sugar is out of a mare by Titus Livius, a son of Machiavellian, which gives that horse 4x4x3, and by way of contrast, the 2016 Prix Saint-Alary scorer Jemayel is from a mare by the Alleged line sire Homme de Loi and is a complete outcross.
SIYOUNI
Like Le Havre, Siyouni (Pivotal - Sichilla by Danehill) is at the forefront of what has been something of a revival among French stallions.
Siyouni won four of six starts at two, including the Grand Criterium (G1). He failed to add to the win column the following year but proved he retain a considerable measure of talent with a second in the Prix Jean Prat (G1) and a third in the Prix du Moulin (G1).
As might be expected, they came running early, with four of his seven first-crop stakes winners gaining upper-case black-type at two, and he's already had two Group winners and a listed scorer in his second crop, currently 3-year-olds. In line with his pedigree and race-record, they also very much seem to be milers.
As far as crosses go, Siyouni appears to do very well with mares carrying his male-line ancestor, Nureyev, who appears in four of his stakes winners (from just over 20 starters with that pattern). These include his exceptional daughter Ervedya – a three-time G1 winner – who is out of a mare by King's Best, and this year's Group-winning 3-year-olds Trixia (dam by Woodman's son, Lahint) and Spectre (out of a mare by the Peintre Celebre horse, Dai Jin).
His other Group scorers are Souvenir Delondres (dam by the Machiavellian horse, Almutawkel, a reverse Mr. Prospector/Danzig cross to the dam of Siyouni), Bourree (dam by Lomitas, from the Nijinsky II line) and Finsbury Square (out of mare by the Night Shift horse Dyhim Diamond).
MAKFI
Although he has not been as prolific as Siyouni, Makfi (Dubawi – Dhelaal by Green Desert) – who now also stands in France – does similarly have a major European classic winner from his first crop.
Upset winner of the 2000 Guineas, Makfi proved that win to be no fluke when defeating Goldikova and Paco Boy for the Prix Jacques Le Marois (G1). He has four black-type scorers, three in his first crop, headed by Make Believe, successful in the French 2000 Guineas and Prix de la Foret (G1), and Maimara, who has annexed a pair of French G3s. This pair are both out of Nijinsky II line mares, albeit from different branches, their dams being by Suave Dancer and Hernando respectively.
Makfi is one whose shuttle crops also deserve a mention, as his Southern Hemisphere-sired starters include New Zealand G1-winning 2-year-old Marky Mark and Sofia Rosa, who took this year's Australian Oaks (G1).
Two that were generally less anticipated to emerge among the elite of the stallion intake of 2011 are Showcasing and Paco Boy.
SHOWCASING
An Oasis Dream half-brother to the useful sire Camacho, out of a stakes-winning daughter of Cheveley Park Stakes (G1) victress Prophecy, Showcasing was a smart, but not absolutely top-class juvenile – he was rated co-28th best 2-year-old of his crop on the European classification – winning the Gimcrack Stakes (G2) and taking third in the Middle Park Stakes (G1).
He ran only three times the following year, when his best effort was a second in the Duke of York Stakes (G2).
Showcasing has already sired four stakes winners, three Group/Graded, in each of his first two crops. They've tended towards being precocious and/or speedy, although his best, the filly Prize Exhibit, has taken three G2 events in the U.S. at up to a mile, and is G1-laced at 8½ furlongs, and his Conselice captured this year's Italian 1000 Guineas (G3) at a mile.
Showcasing's other Graded winners, all at sprint trips, are Toocoolforschool, Quiet Reflection, Tasleet and Cappella Sansevero.
PACO BOY
Paco Boy is something of the obverse to Showcasing. He was a top-notch miler, with eight Graded stakes wins, including the Prix de la Foret, Queen Anne Stakes (G1) and Lockinge Stakes (G1).
In his case, however, his pedigree was not exactly the stuff of which dreams are made. His sire is the Green Desert horse, Desert Style, who despite being a very useful stallion never carried much commercial heft, and his dam was by the very disappointing Sandhurst Prince.
Despite this, Paco Boy made a very promising start with six first-crop stakes winners, including Group scorers Beacon and Smaih, but then took a major step forward when Galileo Gold, from his second crop, emerged a decisive winner of this year's 2000 Guineas.
Interestingly, Galileo Gold is out of a mare by Galileo, and Smaih out of a mare by Galileo's brother, Black Sam Bellamy.
ZOFFANY
The standout among those with first 3-year-olds this year appears to be Zoffany (Dansili – Tyranny by Machiavellian). A six-furlong G1 winner at two, Zoffany's racing career is probably most remembered for his fast-closing second to an admittedly over-exuberantly ridden Frankel in the St. James's Palace Stakes (G1) at Royal Ascot.
Zoffany has already made his mark as a sire at the same venue with a trio of stakes-winning juveniles last year and now has a total of eight first-crop black-type scorers, five Group.
One unusual aspect of Zoffany's career to date is that, despite being a great-grandson of Danzig, he has enjoyed considerable success when crossed over mares from that line, with G2 winner Illuminate, out of a mare by Green Desert (and inbred 4x3 to Danzig, and 3x3 to Machiavellian), G2 winner Foundation, out of a mare by Polish Precident, G3 winner Dolce Strega out of a mare by Oratorio (a son of Zoffany's grandsire, Danehill) and stakes winner Washington DC, out of out mare by Shinko Forest. On a virtually complete outcross, he also has the German 2000 Guineas (G2) winner Knife Edge, out of a mare by Monsun.
Five showing promise
Zoffany aside, it's very early days for this group still, but Dream Ahead (Diktat – Land of Dreams by Cadeaux Genereux), Canford Cliffs (Tagula – Mrs Marsh by Marju), Roderic O'Connor (Galileo – Secret Garden by Danehill), Poet's Voice (Dubawi – Bright Tiara by Chief's Crown) and Wootton Bassett (Iffraaj – Balladonia by Primo Dominie) have shown some promise.
Dream Ahead – the hope for a European branch of the In Reality line – had G2 winner Donjuan Triumphant (dam by Tagula) and G3 scorer Final Frontier (dam by Pivotal), who is inbred to Young Generation, where Dream Ahead is inbred to that horse's sire, Balidar, and who also has the three-quarters brothers Sadler's Wells and Nureyev.
Canford Cliffs had a trio of juvenile stakes winners, including Group winners Painted Cliffs (out of a Kyllachy) mare, and Most Beautiful (one of two stakes horses for him out of Cape Cross mares).
Roderic O'Connor also has three stakes winners, and oddly enough his two Group winners Biz Heart (dam by Tobougg) and Great Page (dam by Refuse to Bend) are both out of mares from his own Sadler's Wells sire line.
Poet's Voice has three first-crop stakes winners, headed by the Italian 2000 Guineas (G3) scorer Poeta Diletto, who is out of a mare by Selkirk.
Wootton Bassett, the champion first-season sire in France last year, has a legitimate French Derby contender in the Prix de Guiche G3) winner Almanzor, who is out of a mare by Maria's Mon.