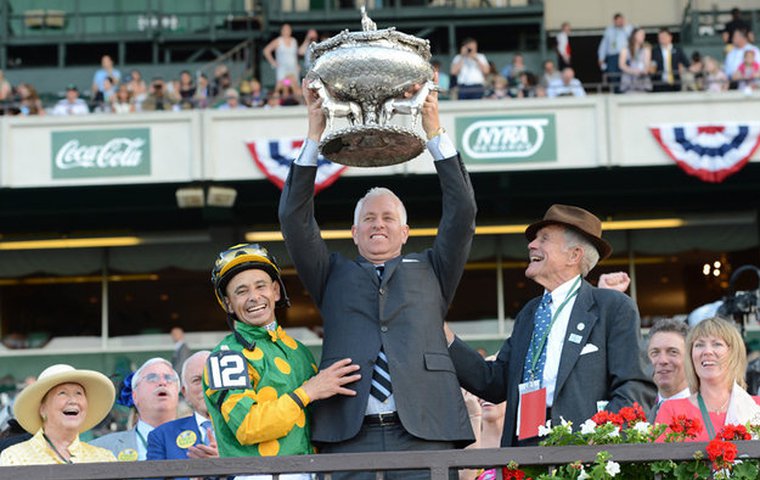 With several decades marked by outstanding achievements in Thoroughbred racing, it's difficult to image the best, perhaps, is yet to come for owner W. Cothran "Cot" Campbell of Dogwood Stable.

Campbell, 86, and five partners own the leading older horse in North America, Palace Malice, who enters Saturday's $1.5 million G1 Whitney at Saratoga Race Course as the horse to beat. The Whitney is designated as a Breeders' Cup "Win and You're In" event for the $5 million Classic at Santa Anita Park on Nov. 1.
Undefeated in four starts this year, and the winner of last year's G1 Belmont Stakes, the Todd Pletcher-trained Palace Malice is currently the front-runner for 2014 Horse of the Year honors.
Since Campbell first began syndicating horses 45 years ago, his Dogwood Stable has campaigned 77 stakes winners, including 1990 Preakness Stakes winner Summer Squall, and his daughter, Storm Song, the 1996 Breeders' Cup Juvenile Fillies winner and Eclipse Award champion of her division that same year.
But, until now, there has never been a Horse of the Year in the mix for Dogwood Stable, and Campbell, literally, is betting that Palace Malice will be the stable's first.
"I got hold of [William Hill US Race & Sports Book] in January in Las Vegas and said I wanted to bet $5,000 that Palace Malice would be Horse of the Year at the end of 2014," Campbell said on a recent afternoon at Saratoga Race Course.
Campbell was told at the time that Nevada racebooks were not permitted by law to accept wagers on outcomes that are decided by ballots. But a few months later, after Campbell's proposition was considered, the law was changed, and Horse of the Year betting became legal.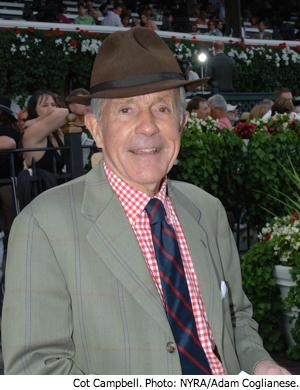 "So, I bet the $5,000 at 12-to-1," Campbell said. "And now Palace Malice is 5-to-2, so at this point it looks like a good bet . . . at this point."
The story of this wager reflects Campbell's approach to much of his life: Don't be afraid to go where no one else has gone before.
Campbell, whose varied professional background include the founding of a successful advertising agency in Atlanta in the 1960s, introduced a unique concept to horse racing in 1969 – group ownership of Thoroughbreds. Today, of course, racing syndicates are a familiar part of racing's landscape, but when Campbell took the concept and ran with it, it was a novelty, and as he noted in his 2007 autobiography, Memoirs of a Longshot . . . A Riproarious Life, one that initially was dismissed.
". . . it was tough sledding," the Louisiana native wrote in his book. "I had brochures extolling the virtues of Dogwood, and of course I was very proud of them and wanted everyone in Central Kentucky to read and relish every word. At the sale, I would make sure that an adequate supply was available in neat little stacks at strategic points throughout the Keeneland sales pavilion. Furthermore, leaving no stone unturned, I visited the leading hostelries of the city (the Campbell House, Springs Motel, and others) and asked permission to leave a supply on registration desks. I would revisit these sites periodically, optimistically counting the remaining ones to determine the demand for this literature. Occasionally, I would find that the brochures had been thoughtlessly swept off the counters and onto the floor. This hurt my feelings."
It wouldn't be long before Kentuckians would take notice of Campbell, whose enterprising idea took off like a well-meant 2-year-old who rockets out of the starting gate in its career debut.
In 1971, Dogwood won its first stakes race with Mrs. Cornwallis, a $5,000 purchase at auction. Described by Campbell as a "crooked-leg filly" with a "marvelous pedigree," Mrs. Cornwallis won Keeneland's prestigious G1 Alcibiades Stakes for Campbell and six partners.
First based in Greenville, Georgia, Dogwood's operation would relocate in 1986 to Aiken, South Carolina, where Campbell and his wife of 55 years, Anne, now reside.
Palace Malice was brought to Aiken after Campbell purchased the colt for $200,000 at the 2012 Keeneland Two-Year-Olds in Training Sale..
"He was a big, good-looking bay horse by Curlin, the first crop of Curlin, which interested me," Campbell said. "He worked fast for a horse that didn't figure to work fast. He wasn't a nifty little speedball. But he worked in 10 and 1, I think, at Keeneland. He had a flake in his hind ankle that was going to hold the price down. Otherwise, he would have brought a lot of serious money. I got him for $200,000, which was plenty, but for the horse, his pedigree, his looks, it was probably, and clearly now, a bargain.
"We gave him a couple months in Aiken, let him catch his breath, and settle in a little bit, and schooled him at the gate," he added. "And I sent him up to Todd in June at Saratoga. As soon as he got here, we started getting good reviews on him, and I think we got high on him quickly."
In his second career start, Palace Malice won his maiden in a romp at Saratoga. He subsequently bucked his shins, and did not race again until he was 3. He would become the seventh Dogwood runner to start in the Kentucky Derby. The addition of blinkers in the Derby sharpened Palace Malice to the point where he used himself up early in the race, and he faded to 12th at the finish.
Palace Malice ran next in the Belmont Stakes, sans blinkers. Dogwood celebrated its first victory in the third leg of the Triple Crown when the colt made quick work of 13 rivals, including Kentucky Derby winner Orb, Preakness winner Oxbow, and that year's eventual 3-year-old champion, Will Take Charge, to win by 3 ¼ lengths.
"The Belmont meant a whole lot to me because I am an old-time guy," Campbell said. "I am a traditionalist in racing. I love the older, wonderful races."
With a twinkle in his eyes – a Campbell trademark, along with the fedora hats he favors – he added, "I've been here since the Battle of Gettysburg or something like that. The Belmont was especially satisfying because we had run badly in the Derby. And to see the horse come back and win the Belmont . . . it was just . . .it's in the [twilight] of my career, so it was nice."
Another first is within Campbell's grasp on Saturday. Dogwood has never won the storied Whitney, and with wins this year in the G2 Gulfstream Park Handicap, G2 New Orleans Handicap, G3 Westchester, and G1 Metropolitan Mile Handicap, Palace Malice is the likely post-time favorite for the race's 87th running.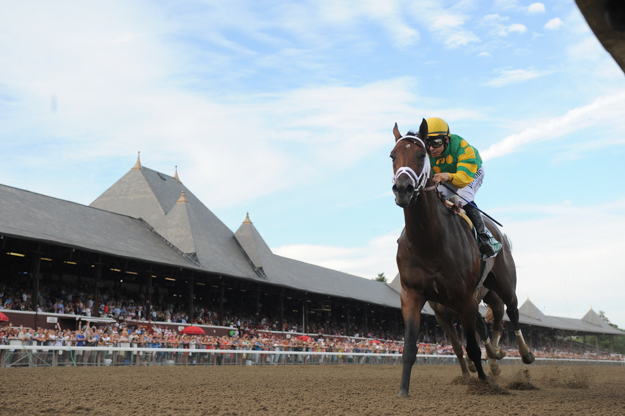 "It would mean a lot to win the Whitney . . . it would be like the Belmont," Campbell said. "It's in the same category; one of the famous, old races, at a famous, old racetrack. To think of the horses who have won it. It would just be wonderful to be in that group."
Charlie Pigg, who is nearing 20 years as a Dogwood syndicate member and a partner in Palace Malice, along with Carl Myers, Paul Orrefice, Mike and Kari Schneider, and Margaret Smith, said he is having the time of his life.
"Palace Malice is obviously the epitome of being part of a syndicate," Pigg said. "It's beyond imagine. It's something you always dream of . . . having a top-notch horse, but usually the odds are against having a big-time horse, but this horse is spectacular. I think everyone knew pretty quickly that he had some special characteristics. But even then, you couldn't believe he would be standing as the No. 1 horse in the country right now."
For Pletcher, who has trained 10 Eclipse Award winners but never a Horse of the Year, managing Palace Malice's career has held great meaning. When Pletcher, now 47, began training in December of 1995, Campbell was among the first to give him horses.
"It is very special to have a horse of Palace Malice's caliber for Dogwood Stable and Mr. Campbell, and the other investors involved," Pletcher said. "We've developed friendships over the years, not just with the Campbells, but the other investors as well. To have a horse like that, and to see him bring so much enjoyment to them, is very rewarding."
The fabric of Dogwood Stable changed on July 1, 2013, when it merged with Eclipse Thoroughbred Partners, a racing syndicate founded in 2011 by Lee Midkiff and Aron Wellman.
"With the Dogwood merger with Eclipse Thoroughbred Partners, they have taken over our client base," Campbell explained. "I manage all the Dogwood horses who were in existence when the merger took place. I don't do any new partnerships."
But Campbell scoffs at the notion this business arrangement means he is sitting idly at home in Aiken.
"I think [Palace Malice] is a big chapter in my life," he said. "In fact, I am thinking about doing a book on tape that would add the last seven years to my book, Memoirs of a Longshot. Might be a fresh angle on it. A lot has happened in the last seven years.
"I've never slowed down much," continued Campbell, who was recognized in 2012 with racing's version of a lifetime achievement award, the Eclipse Award of Merit. "That is one reason I think I am still kicking. I do enjoy what I am doing. I would be miserable sitting home, reading or playing Solitaire. That's kind of a pitiful thought. So, I am doing exactly what I want to do. And I am going to do it until I drop."
---