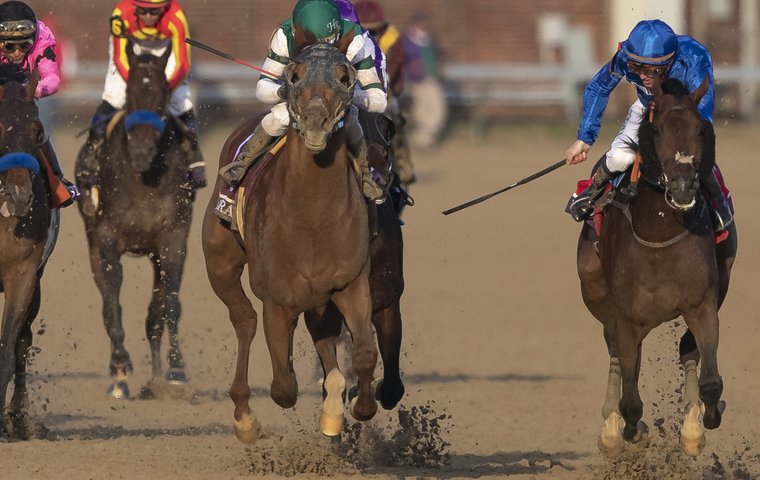 For all the glorious fireworks that lit the skies during this year's Breeders' Cup — Enable's remarkable Arc-Turf double, Monomoy Girl's worthy win in the Distaff, and on and on and on — one image resonated with spectators that was infinitely less awe-inspiring.

As Accelerate accelerated down the Churchill Downs straight, right behind him toiled the honorable Thunder Snow, who just held on for third-place under a ride by jockey Christoph Soumillon that saw him use the whip about 17 times.
Back in the UK, high-profile jockeys, trainers and racing commentators took turns to call the display "dispiriting", "absolutely brutal" and "unedifying." Nor has the criticism yet relented.
In comparison, the response to Soumillon's ride on this side of the pond has been noticeably muted — hardly surprising, given our altogether more permissive whip rules. Similar rides are seen week-in, week-out.
That these rides, however, don't generate more wholesale rigorous debate over here — on whichever side of the issue you lean — should give anyone who cares about the long-term future of the sport serious pause for thought.
That's because the winds of social change are blowing ever more vigorously, and racing better take heed. For there will surely come a time — possibly sooner than we care to consider — when negative public perception of the crop will reach critical mass, forcing a major reckoning within the sport.
The whole industry must be prepared for that moment. Right now, we're more ostrich than owl.
'Unintended consequences'
This isn't some distant, abstract threat. The court of public opinion is one already weighted against those using animals for entertainment, gambling or not.
Other countries can act as a bell-weather — like Australia, where the issue has played out very publicly, including on prime-time television (see video below). A recent poll there found three-quarters of the public against whip use during a race. South Africa just announced a series of whip-less races, authorities there describing them as a "statement that needs to be made".
What's more, it would be all too easy to dismiss the UK's reaction to Soumillon's ride as an opportunity for overseas critics to, once again, look down their noses at their U.S. counterparts. To do so would be wrong, however, for theirs is a Pavlovian response to an issue they've been grappling with for quite some time.
Major revisions to the whip rules were instituted in 2011. But, far from clearing the matter up, the debate has raged hotly ever since, in the press, on TV and in the House of Commons.
Racing Post journalist Tom Kerr, who believes the crop "will have to go", and At The Races' Kevin Blake, who believes that "taking away the whip as a means of encouragement would risk unintended consequences", have penned two of the most eloquent missives on the issue from opposing corners.
Some would say that airing racing's dirty laundry in such a public manner damages the sport. But really, spirited public debate achieves something altogether different. Something important.
It demonstrates to Jill and Joe Public that the industry takes the issue very seriously indeed — proving its willingness to wrestle with the hard questions openly and transparently in order to figure out the best way forward.
'Without extreme measure'
That's not to say the U.S. has neglected the issue. Far from it. The catastrophic injuries during the 2008 Kentucky Derby that ended Eight Belles' life prompted significant revisions of the crop. Some states, like California and Minnesota, have subsequently picked up the gauntlet and run with it.
Likewise, every so often the issue receives a helpful public airing — like a Jockey Club Round Table Conference, or this TDN feature feature from 2015, presenting a variety of views from heavy-hitting stakeholders — with arguments on all sides typically thoughtful and worthy of merit.
Indeed in that feature, jockey John Velazquez spoke for many when he said that "when you are one, two, three, four in the stretch and in contention and you are trying your best to get the best out of the horse, you should be able to use the whip as you see fit". And there are many sound, logical points that support this view.
But I'm not here to debate the nuances, the number of times a horse can be hit, and how and where. That's because framing the issue this way misses something fundamental as it relates to public perception:
It's not the number of times a jockey uses the crop that turns some away from the sport — no matter how padded the stick is — it's the act itself that does.
'A social license'
This is something that Jennifer Durenberger, who operates a consultancy firm called Racing Matters, has given much thought to. In a lecture given multiple times in recent years to industry audiences, she chronicles the evolution of our relationship with animals through an ethical and legal lens.
Durenberger notes, for example, that the average American is "four generations removed from an agricultural lifestyle," and that the emotional importance of the "human-animal" bond is only going to strengthen with each passing generation.
She also links broader cultural movements to public referendums and boycotts that have shaped animal husbandry practices in other livestock industries, like California's Proposition 2, which in 2008 revised confinement standards for farm animals.
Like Kerr, she sees it as "inevitable" that the crop as a motivational tool will one day be banned. Which is why she believes we ask "the wrong questions" about whip use when we approach it from a regulatory standpoint.
"The question that people who are not involved in the industry are asking is, 'you want us to trust you when you tell us that horses love to run, so why would you need to whip them at all?'" she said.
As to the responses her lecture garners, Durenberger said that, every so often, someone will approach her with a variation on the following: 'Those people [welfare activists] are a fringe group. I don't have to justify what I do for them.'
To which she responds, "'Well, yes you do, actually, if what you do requires a social license."
'Modern business must have its finger continuously on the public pulse'
Durenberger is far from the only figure in racing who views the issue through racing's "social license". Camie Heleski is an equine lecturer at the University of Kentucky who regularly engages her students on the issue. "Most of them have serious concerns about the whip," she admitted, "and that's the next generation of horse people."
If the science was in our corner, racing might have legs on which to couch its arguments, she said. But, for all the educated conjecture about adrenaline and cortisol levels masking the whip's impact, we're still unable to point to rock-hard empirical proof that the whip doesn't inflict pain.
And, even if we could, would that be enough to overcome the ugly visual optics? As is evident in so many corners of the modern world, the general public appears less swayed by facts and experts than it is by raw emotion and gut reaction.
That doesn't mean we should sit idly by, however, while others shape the narrative. We need to shape the narrative ourselves, be more willing to bring the topic to the fore, just as has happened in the UK.
Edward Bernays is largely considered the founding father of public relations. As he wrote in his seminal 1928 book, Propaganda, "Modern business must have its finger continuously on the public pulse. It must understand the changes in the public mind and be prepared to interpret itself fairly and eloquently to changing opinion."
As loathsome a human being as Bernays was, he's bang on the money. Thankfully, racing has all sorts of tools at its disposal.
Imagine NBC Sports hosting a racing official who explains how veterinarians and stewards police whip use, and a top jock who explains the evolution of the crop over the years, juxtaposing the harsher instruments of yore with the kinder foam-covered crops of today.
Imagine track spokespeople on prominent race days explaining to curious members of the public the whip rules. Imagine short educational videos played on racetrack monitors across the nation. Imagine an ongoing debate in the media, rather than the current episodic conversation.
When, not if
All of this, however, will be window-dressing until the day of reckoning comes, and public distaste at the sight of jockeys turning to their crops to propel tired horses forward proves overwhelming. A matter of when, not if. A broad poll on the U.S. public's attitude to the riding crop would give us a good indication where we stand currently.
That there isn't already such a poll is disappointing, to say the least.
Many reading this will make the valid point that an industry our size is immune from the sorts of pressures that have brought SeaWorld to its knees. Valid, yes, but complacent.
We're a sport that's struggling in many states and in many ways, and the leverage we enjoy now might be significantly diminished in years to come. What's more, experts have noted that it takes only a ten percent slice of the public with an unshakeable belief in something to sway the broader consensus. Those who truly dislike this sport are a mightily influential minority.
More must be done, certainly, to make sure the crop is uniformly used effectively and not abusively. And we must shout these efforts towards reform from the mountain tops when successful. But let's not disabuse ourselves of what appears inevitable:
The crop as anything other than a safety device will one day be a remnant of the past. Racing must decide how painful the journey to get there is going to be.