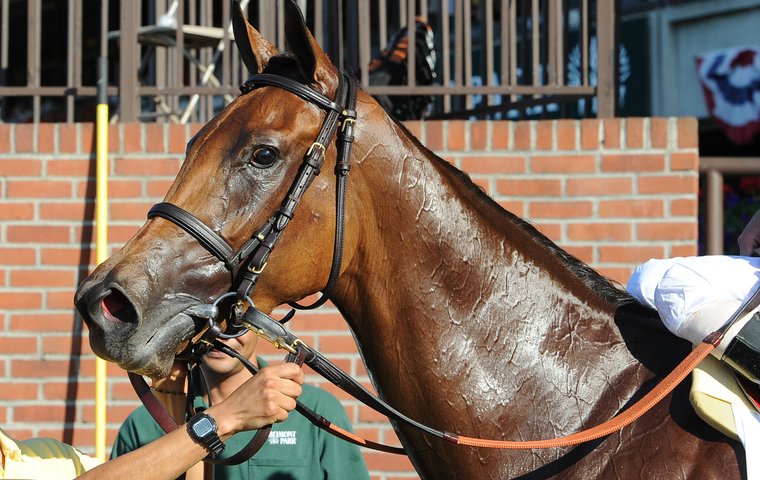 It may or may not take a special kind of skill to get the most out of female Thoroughbreds, but one thing's for sure - if it does, then Chad Brown has it in spades.

As the table below shows, the American is out on his own at the top, based on the number of Graded/Group wins in the world over the past eight seasons - the TRC Global Rankings database includes all results since the start of 2011.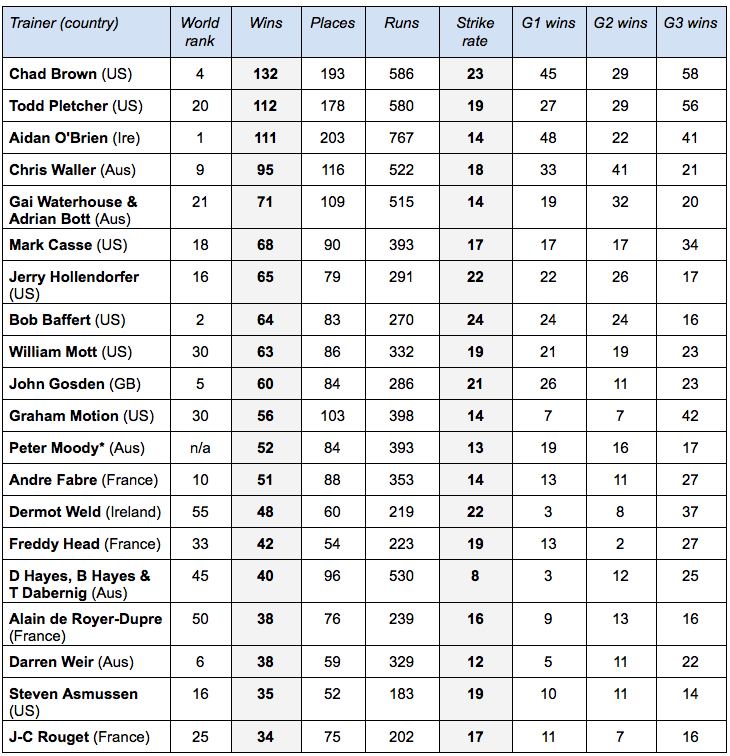 *Peter Moody (trainer of Black Caviar) is no longer operational
In that time, fillies or mares in the care of the current world #4 have triumphed in an incredible 132 Graded races at a strike rate of 23 percent. And they have made the first three in no less than 55 percent of those races.
None of Brown's rivals at the top of the world standings can get close to those numbers. Todd Pletcher has a respectable 19 percent strike rate, but he has trained 20 fewer winners than Brown. World #1 Aidan O'Brien has 111 wins, but he has had 767 runners to get to that figure - a relatively mundane 14 percent strike rate.
The man closest to O'Brien at the top of the standings, Bob Baffert, has an even better strike rate than Brown - 24 percent - but his total of winners, 64, can't compare.
Brown's total includes 45 Grade 1s, second only to O'Brien (48), with a yawning 12-winner gap back to the trainer with the third most G1s, Sydney-based Chris Waller, who of course owes two-thirds of his total of 33 to Winx.
Brown's chief contributor has been Lady Eli, who won eight Grades races before her retirement at the end of 2017. A number of outstanding fillies have contributed to O'Brien's total, including multi-G1 winners Found, Minding and Winter. Another conditioner to have excelled with fillies is Jerry Hollendorfer, whose finest achievement is probably managing the career of Songbird (12 Graded wins). Hollendorfer sits seventh in the table with 65 Graded wins, just behind Mark Casse, trainer of Tepin (11 Graded wins).
Outside the top 20, sitting 31st, is another fine North American trainer, Richard Mandella, who features here largely because of his handling of the outstanding three-time Breeders' Cup winner Beholder (who has contributed exactly half Mandella's total of 28 Graded victories).
John Gosden has also shown a not-inconsiderable talent for getting the best out of female racehorses. Gosden, who is tenth in the table with 60 victories, eight of them from dual Arc heroine Enable, is the only GB-based trainer in the top 20. Indeed you have to go to 45th place for the next one, Sir Michael Stoute with 22 wins. The U.S., meanwhile has seven trainers in the top 11, while Australia has five in the 20. The lack of British representatives is largely a symptom of the dearth of Group races in Europe generally compared to the large number, many of them relatively inferior, in both the U.S. and Australia.