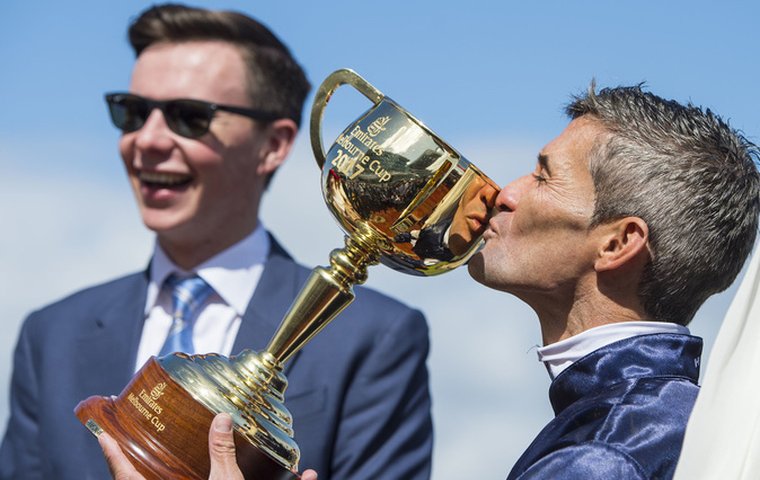 Three sons of two training greats, a 39-year-old former jump jockey, a trainer who was banned less than a decade ago and a jockey who had his first ride in 1991 have been the biggest climbers of 2017 in the TRC Global Rankings, as James Willoughby reports.

JOCKEYS

A second Melbourne Cup win for Australian Corey Brown has earned him the accolade of the most significant mover of the year.
The 41-year-old – who first won the great race aboard Shocking in 2009 – steered Rekindling to victory in the latest renewal for Irish trainer Joseph O'Brien. Since January 1, 2017, Brown has gained 60 TRC Global Rankings points and a stellar 311 places.
Brown has been brilliant. During the year, he won ten Group races from 105 mounts, including five at the highest level. His other top-flight wins were the Lightning Stakes (on Terravista) at Flemington in January, the Sydney Cup (for Godolphin and Charlie Appleby, on Polarisation) at Randwick in April and a pair of Doomben strikes (on Sense Of Occasion in the Doomben Cup and Impending in the Stradbroke Handicap) in May and June.
Brown, who began riding 26 years ago, stands at #67 in the latest classifications, his highest ranking since the rankings came into being.
Widespread appeal
In 2016, British rider Jim Crowley won his first domestic jockeys' title based on number of wins in all races. That led to his signing as first jockey to Sheikh Hamdan in Britain at the end of the campaign, and he has simply been outstanding in his first season in the role.
Crowley, 39, has gained 58 TRC Global Rankings points and 97 places over the year, peaking at #26 in the October 1 classifications. In total, he won 17 Group races from 131 rides – only 15 riders on the planet won more top races than him.
Popular with a wide spread of trainers, in addition to those with horses owned by his retainer, the former jump jockey partnered two horses who deserve to be regarded among the global elite. In midsummer, he won the G1 Eclipse Stakes at Sandown and the International Stakes at York on the Sir Michael Stoute-trained Ulysses – now a top-notch stallion prospect at Cheveley Park Stud in Newmarket – and in October he was gone in under 60 seconds on the speedball Battaash who, as a gelding, is certain to be back in 2018, all remaining well with him physically.
Highly talented
We are also keen to honour 19-year-old Donnacha O'Brien in this report. Son of Aidan and brother of Joseph (who is one of the top three rankings movers of the year among trainers – see below), he is a highly talented rider in his own right and is a good bet to one day emulate the #1 world ranking formerly attained by his brother.
O'Brien gained his first ever win only three seasons ago, and in 2017 he climbed 119 places and earned another 40 TRC Global Rankings points based on all Group races in which he rode.
The highlight of his campaign was victory on his father's filly Happily in the G1 Moyglare Stud Stakes at The Curragh in September.
TRAINERS

James Cummings is good at horse racing. Very good, in fact.
We don't play favourites here at TRC Global Rankings, but the 29-year-old Australian trainer will forever be significant to the development of our classifications because his rise to stardom has coincided with – and was quickly flagged up by – the commencement of the rankings in 2016.
Now, Cummings has achieved a notable distinction rankings-wise. Having made this equivalent list a year ago, he is again the most significant mover of 2017 among global trainers. This is an extraordinary accomplishment, and Bart's grandson is surely bound to make his own name in racing history before he retires.
Appointed as chief trainer to Godolphin in July, Cummings gained a further 52 places and 34 points to reach the fringe of the global top 30 in 2017. While a total of eight Group race wins (seven for Godolphin) was actually a shade disappointing by the standards of his own momentum, the rankings algorithm is not fooled by that: Cummings had no fewer than 29 other Group-race places, which is much more predictive of future success.
At Randwick in September, Cummings saddled Alizee to win the G1 Flight Stakes. The Sepoy filly was his only top-level strike, but, again, there were another nine G1 placings to go with it.
Cummings is going to be a huge star in the sport. From the moment he started saddling Group-race runners in partnership with his legendary grandfather, TRC Global Rankings has known it.
Unusual quality
Joseph O'Brien is a former #1 rider in TRC Global Rankings. Now he is a name to follow in the trainers' standings.
The 24-year-old managed to achieve what his world #1 father has not when saddling Rekindling to win the latest Melbourne Cup. That was the colt's third Group win of the campaign, following the G3 Ballysax Stakes at Leopardstown in April and the G2 Curragh Cup at the Curragh in July.
In all, O'Brien saddled 29 runners in Group races, of which 14 performed to a Racing Post Rating of 102 or more. His ascent up the TRC Global Rankings – 29 points and 274 places in 2017 to #112 – is a direct function of this unusual quality and the rate at which it has been achieved. The rankings algorithm knows nothing of O'Brien's identity, but it is correctly identifying that his sample of runners is propitious.
A match for anyone
British trainer Karl Burke is a vastly more experienced trainer and, in contrast, started his career in the late 1980s with nothing like the same backing. But he is a highly skilled operator for sure and, having put former controversy well behind him, is proving what has long been obvious – given the right horses, he is a match for anyone in the sport.
From only 24 runners in Group races in 2017, he sent out seven winners from his Yorkshire base, notably Unfortunately in the G1 Prix Morny at Deauville in July and Laurens in the G1 Fillies' Mile at Newmarket in October.
It is to be hoped that Burke gets further support as a result of his recent exploits, which have seen him gain 28 points and 60 slots to #65 in the latest classifications.