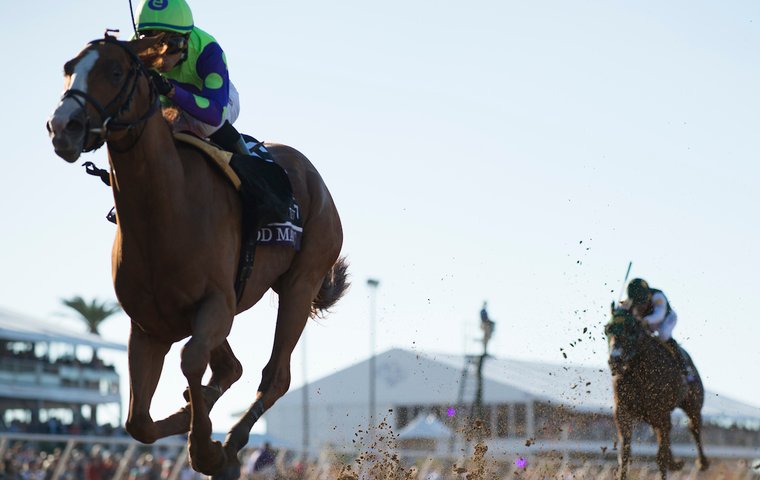 For the longest time, handicappers tackling the Kentucky Derby were like children in a candy shop.

Each year, the glorious Run for the Roses offered tremendous wagering value, thanks to a large field of evenly matched horses, all of whom were unknown commodities at the demanding ten-furlong distance.
Making the race an even more attractive wagering proposition was the unpredictable and madcap nature of the race that made favorites so vulnerable. During a 19-year period from 1980 until 1999, not a single favorite was able to win the race. Even after Fusaichi Pegasus finally sprinkled some chalk dust on the winner's blanket of roses in 2000, the ensuing 12 runnings featured only three winning favorites.
Then, in 2013, it all changed.
Perhaps it was the creation of a point system to determine the 20 starters, replacing the previous format that was based on earnings in Graded stakes. Maybe it was nothing more than a long overdue balancing of a scale that had tipped in favor of longshots for way too long.
Regardless of the reason, the last five years have seen nothing but an improbable parade of one favorite after another landing in the winner's circle, something that has never happened before in a race with roots dating back to 1875.
Reasons for concern
The law of averages says extending the streak will be a difficult task, but don't tell that to the connections of Justify, the 3/1 morning-line choice among a standing-room-only field of 20 in Saturday's $2 million opening leg of the Triple Crown.
Undefeated in three career starts, Justify may be short on experience but he's long on talent. A winner of his first two starts by a combined 16 lengths, his first appearance in a stakes resulted in a three-length victory in the G1 Santa Anita Derby that punched his ticket to the Twin Spires of Churchill Downs on the first Saturday in May.
Whether he can continue the favorites' run of success accounts for much of the intrigue surrounding the Run for the Roses.
There are, of course, some reasons for concern. As decisive as the margin of victory in the Santa Anita Derby might have been, he cruised along on a clear lead through moderate fractions against just six rivals and will face a much more demanding test on the front end in the Derby. Since his first race came on Feb. 18 at Santa Anita, he's also tackling the infamous 'Curse of Apollo', a jinx that dates back to 1882, when Apollo became the last Kentucky Derby winner who did not race at two.
Oh, and he has yet to race at a track other Santa Anita, and in his three starts, he's faced only a combined 14 rivals. He will tackle 19 of them on Saturday.
That would surely seem to stack the odds against Justify, but the son of Scat Daddy has an ace up his sleeve. He's trained by Bob Baffert, the Hall of Famer who has won the Derby four times, including his victory in 2015 that set in motion American Pharaoh's monumental Triple Crown sweep.
If anyone can bring out all of the potential in Justify and have him poised for a huge effort in just his fourth career start, it's none other than Baffert – with some help from 'Big Money Mike', Hall of Fame jockey Mike Smith.
But is the investment on him worth the risk at 3/1 odds? His brilliance coupled with post seven and Baffert and Smith pulling the strings says yes. Yet an unusually deep and classy array of 19 rivals says shopping for a much more attractive price on one of the numerous front-line challengers is the smart move.
Which way should you turn? Here's my advice in the form of my top five picks in reverse order.
5. Bolt d'Oro
Post 11, 8/1 morning line
Like a dozen other horses in the field, it wouldn't be a huge surprise if the Californian turns in the race of his life and runs off with the roses.
A two-time G1 winner at two, he was third behind Good Magic in the Breeders' Cup Juvenile, squandering his chance to become the 2-year-old champion. His 3-year-old debut was a draining duel in the San Felipe as he and McKinzie exchanged bumps while racing as a team in the final quarter of a mile. He was awarded the victory via disqualification after finishing a head behind the Baffert-trained McKinzie, but all the energy he put into the race raised the specter of it becoming a Pyrrhic victory.
In the Santa Anita Derby, Bolt d'Oro faced a tactical disadvantage against Justify, who ran free and easy on the lead, and he showed some spunk in taking a run at him in the upper stretch before Justify pulled away.
This time, with a better pace scenario and at odds much better than his about even-money price in the Santa Anita Derby, he could be poised to rebound and take a big step forward. We'll see.
4. Justify
Post 7, 3/1
Leaving him out of the superfecta is just too risky. He's probably 8/1 or more in most hands, but with the Baffert Factor it's impossible to relegate him to a toss-out. He's facing an extremely formidable challenge here and offers no wagering value at all in the win pool, but using him in the exotic wagers seems like a nice back-up plan.
3. Mendelssohn
Post 14, 5/1
Back in 1991, Arazi shipped in from Europe and was a dazzling winner of the Breeders' Cup Juvenile, but after some lackluster efforts the following spring, he was a dismal eighth in the Kentucky Derby as a huge 4/5 favorite.
Mendelssohn also traveled from Europe and won a Breeders' Cup race at two, though it was the BC Juvenile Turf. Yet, as a half-brother to four-time Eclipse Award winner Beholder, he seemed to have the pedigree to be a superb runner on dirt. The UAE Derby proved that point as he demolished an international field of rivals by 18 lengths in his final prep for the Run for the Roses.
A performance that awe-inspiring can certainly raise the possibility of a bounce, but with Aidan O'Brien as his trainer and Ryan Moore in the saddle, that's less of a reason for concern and more of a reason to believe he will have major say in the outcome and to rate him as a must-use in exotic wagers.
2. Audible
Post 5, 8/1
There's surely some traces of 2017 Derby winner Always Dreaming with this one. Both are trained by Todd Pletcher. Neither were on the Kentucky Derby radar at Breeders' Cup time. Both won the Florida Derby and were undefeated at three.
Coincidence? Maybe, yet this New York State-bred has taken some giant steps forward in his two starts in Graded stakes at three. One of the premier speed figure services lists his Florida Derby win and Mendelssohn's UAE Derby as the co-fastest performances by any of the 20 starters, adding glitter to his three-length win in the prep that has produced the most winners of the Run for the Roses.
He has a tractable running style, winning from eighth in the early stages of the Florida Derby and third at the same point in the Holy Bull Stakes, which will definitely come in handy during a race that can unfold in an unpredictable manner.
A major fear with Derby contenders is that they peaked in the prep season instead of using those races to be at their best when they take the track and 150,000 people sing My Old Kentucky Home. Audible's unusually sharp recent works indicate he's heading into Saturday's showdown the right way and sitting on a performance that can finally eliminate the diminishing notion that Pletcher can win preps by the truckload, but not the Derby.
1. Good Magic
Post 6, 12/1
It's not a mortal lock, but anytime a horse can win a championship at two and then remain sound enough and fast enough to stay among the division leaders at three, there's the potential for all of that cream rising to the top on the first Saturday in May.
Since 2007, the connections of Street Sense, American Pharoah and Nyquist have all advanced from the podium at the Eclipse Awards to the winner's circle at the Derby. Also, Lookin At Lucky won the Preakness and Classic Empire was second in last year's middle jewel in the Triple Crown.
Some might have jumped off the Good Magic bandwagon after he finished a surprising third in the Fountain of Youth, yet that race was nothing more than a glorified workout. Trainer Chad Brown, who is on an amazing roll right now, is no fan of the main track at Gulfstream Park and that race was intended merely for conditioning.
Brown's plan ever since Good Magic's 4¼-length triumph in the BC Juvenile was meticulously crafted to have the son of Curlin ready to run the race of life at Churchill Downs when it matters most. Judging by the way Good Magic rebounded from the Fountain of Youth to post a length-and-a-half win in the Blue Grass at Keeneland and his stellar works since then, it looks like mission accomplished for the two-time Eclipse Award winner.
Whether Good Magic is good enough to handle the likes of Justify, Audible, Mendelssohn or anyone else in an extremely deep and talented field is the missing piece of the puzzle.
Realistically, you can rely on the toteboard by wagering on the favorite and bank on a chalky streak stretching to an unprecedented six years in a row. Yet, with a seemingly high morning line price of 12/1, reading the tea leaves and expecting something 'Magic-al' to happen in the Kentucky Derby seems like the best way to watch America's most famous horse race.