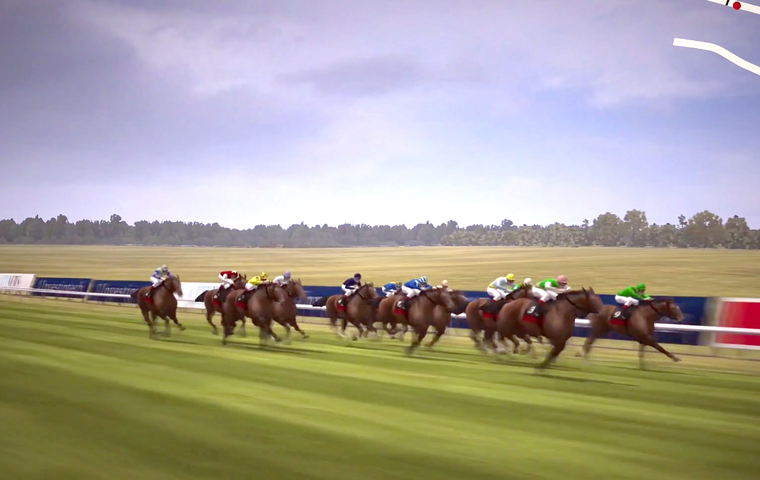 Frankel? Nijinsky? Shergar? Sea The Stars? Many misty-eyed parents – especially during the ennui of lockdown - will laud the merits of the magnificent horses of their generation, while their incredulous children will insist a more recent champion could be racing's GOAT (Greatest Of All Time), in Britain and Ireland at least.

Well these arguments can be fueled even more by Legends Racing.
When sport fell silent this spring as the world was collectively screened from the perils of coronavirus, racing looked at different ways to keep the show on the road.
Digital variants of the English Grand National and the Kentucky Derby replaced the real races in the dark, early days of the contagion, both to great success, remarkably garnering many more viewers than the previous year's live iterations.
Live sport will always be king and, of course, behind-closed-doors racing has been adopted in most jurisdictions. Punters are now au fait with virtual racing, and Ladbrokes and Coral are now running Legends Racing, a rather more sophisticated service.
Pub debates
It is the brainchild of Ian Heaney, founder of Quantum Leap, a tech company that creates visual analytical products for horseracing and the bookmaking industry. Heaney says that Legends Racing came about after a "bit of inquisitiveness to try to visualise what might happen had these great horses run against each other".
The races consist of runners drawn from a sample of 9,000 horses that have run in the top races (including big handicaps) in the UK since Sea-Bird won the Epsom Derby in 1965.
As well as the usual variables, it takes into account "adjustments for going and distance preferences, style of running, trainer and jockey, as well as horse actions, unique markings, make and shape, which feed into the horse models".
These races not only enliven age-old pub debates, but, says Heaney, bookmakers "like it a lot" and they are "attracting a number of bets". However he cautioned that "in terms of bookmaker development, football takes precedence over everything, and they have very little space to get any new racing products on".
Needless to say, coronavirus created an 'interlude' that enabled Legends Racing to go live on Ladbrokes and Coral, who had been developing it for 18 months.
"The real difference between this product and other virtual ones is that, because you know the horses, you are incited to back your opinion," says Heaney. "Rather than it being like a roulette wheel – which is turned into a horse race, like other virtual horse races – it has a degree of skill associated with it because you know the results of the races are determined from the merits of the horses."
Heaney respects his competitors, although he notes that the approach to virtual racing has been "pile it high and sell it cheap" – a virtual race lasting no-more than 30 seconds can be found on many bookmaker sites every three minutes. "It is no more than a visualised one-armed bandit [gambling machine] that gives people the chance to bet immediately," he says.
"We have modelled about 20 3D courses," says Heaney. "This is increasing every week, focusing mainly on topography. Each course has a unique set of camera angles, replicating as closely as practical the usual broadcast TV angles.
"We have a number of horse models to cater for different conformation. The animations have been modelled from super slow-motion footage of racing horses. We have a number of bespoke jockey animations, for Lester Piggott, Frankie Dettori or Richard Hughes; and many many more.
"I'm confident our horse and jockey animations are the most lifelike in any virtual racing product because they have been quality assured by people who know how racehorses move and jockeys ride, not just by animators. A lot of effort has also been invested in trying to replicate jockeys' decision-making processes when trying to weave a path through the field, which adds further to the realism."
Shrewd analysis
Live racing lends itself naturally to a crescendo in the final furlong, ably conducted by a commentator blending shrewd analysis with emotive calling. One criticism labelled at most virtual racing refers to cold and robotic commentary.
Legends Racing uses a wholly automated commentary and uses a complex algorithm, which selects the "phrases a commentator would use given the prevailing circumstances in a race".
"[UK race caller] Mike Cattermole has recorded thousands of audio files to allow us to build unique commentaries on the fly for an infinite number of races, which match the unfolding event, each of which is unique," says Heaney.
The product is, as yet, only available for UK black-type races, but a key question is whether Legends Racing will get involved in other parts of the world – such as the U.S., Hong Kong and Australia - where betting is intrinsic to the industry?
Heaney is confident there is a demand, that the "algorithms will work" and it is possible to "even adjust the pace of the racing [to replicate each country]".
He also argues that some other products don't draw you into the race enough; they are rather more "animations on a racecourse, and one of those animations happened to win".
"What is more important – the animation or the engine underneath the bonnet?" muses Heaney. "I would say, probably, that the engine is slightly more important, as well as being slightly more difficult and requires more horseracing expertise to produce something that is more credible. Animation is a completely different skill all together."
What sets this model apart is that the punter can see the outcome of Nijinsky versus Shergar versus Sea The Stars in the Epsom Derby, for example, and get a somewhat definitive answer to might have won – and, of course, put their money where their mouth is!
Many remain loyal to the celebrated horses, although Heaney tends not to run races with Frankel because "he is so superior and so consistent that there are only a handful of horses – even out of 9,000 – that you would dare put in a race with him".
"Probably the most popular horse to bet on is Sea The Stars," continues Heaney. "He is at a slightly lower level and you will see him in quite a few races [as opposed to such horses as Frankel and Brigadier Gerard, for example]. And, the most popular races will see him take on such modern greats as Golden Horn and Roaring Lion, who people remain familiar with.
"It is ultimately a thing about opinion and the nostalgic relationship that we have with horses from our respective eras."