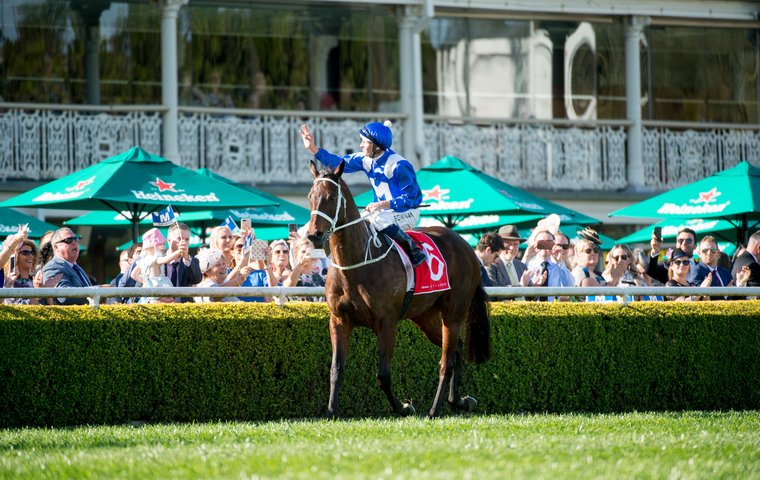 It was her 27th consecutive victory, her 20th G1, and her eighth G1 in succession. Yet the latest chapter in the astonishing Winx story meant nothing at all in the TRC Global Rankings - literally nothing. So accustomed to these victories has the algorithm become that none of her connections either gained or lost any points in their respective categories as a result.

Jockey Hugh Bowman is still world #4 after the mare took the one-mile Colgate Optic White Stakes at Randwick on Saturday, and trainer Chris Waller stays at #10. Owners Magic Bloodstock actually drop from #3 to #4 as Hamdan Al Maktoum surged seven points to leapfrog them after Group-race wins at Longchamp, Doncaster and Leopardstown. And Street Cry also slips - from #16 to #19.
It was comfortable enough in the end for the 7-year-old, although her supporters were given a few nervous moments as the race began in earnest (see video above), but one thing the result did achieve - apart from keeping her on target to attempt to win her fourth Cox Plate next month - was to put the daughter of Street Cry up to sixth place in the world all-time money earners' list.
World all-time money earners: the top 25
It should be noted that the standings most North Americans will be familiar with - the one compiled by Equibase - includes only horses that raced in North America even if it was only once, whereas the TRC list includes all horses worldwide (and is therefore - Arrogate and Gun Runner apart - dominated by Japanese).
As an example, Espoir City, who was winning valuable races on the dirt in Japan until he was eight, is third on the Equibase list by virtue of a single run down the field behind Blame in the 2010 Breeders' Cup Classic at Churchill Downs. He ranks 14th on our world list, but we would not include him in North American standings.
Of course, when analysing any list of global leading money-earners, it must be remembered that much depends on what currency is used. Our list was originally compiled by the International Racing Bureau, which is a British company, hence the use of sterling and the official overseas currency exchange rates issued by the British Horseracing Authority in the first week of every January.