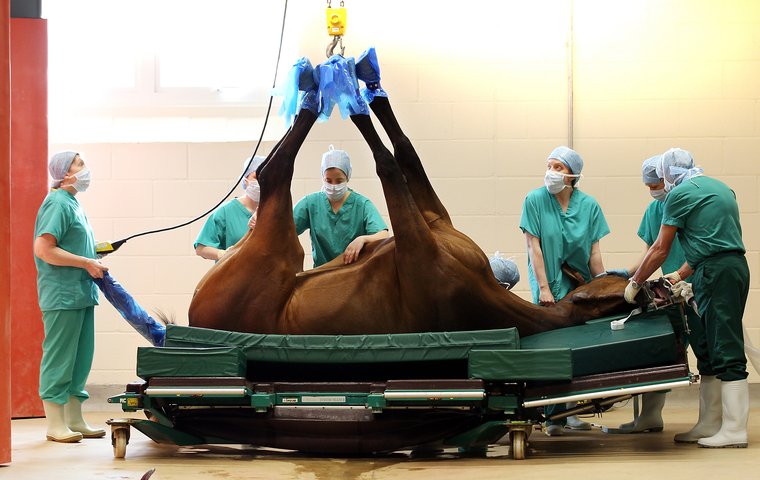 Outstanding steeplechaser Denman was at death's door until he went to Europe's biggest equine hospital. That he survived is testament to the remarkable skills and equipment at Newmarket Equine Hospital. Geir Stabell visited the stunning facility, which has been making a massive difference to equine health since it was founded ten years ago.

Denman, one of the world's best steeplechasers of the last half-century, was referred to Newmarket Equine Hospital in April 2013. His racing days were over, but he was still an active horse, under the care of leading amateur rider Charlotte Alexander, and was regularly seen on the hunting fields.
One day when he was out hunting, things went badly wrong. When he arrived at the hospital, it was touch and go whether the horse famously also known as 'The Tank' would live or die.
"Denman was suffering from an infection in his left hind fetlock," veterinarian Ian Wright explains. "It certainly was a life-threatening situation. He had undergone two operations already when he came to us, but they had not been successful. He was a very sick horse.
"The infection was caused by a dead piece of bone, which it was technically difficult to access. The dead bone was caused by the impact of the original injury, which had been sustained while he was out hunting. Getting rid of this dead piece was the key to getting rid of the infection.
"I operated on him, and we managed to take the piece out. His recuperation period was just as important, as he needed a long time on antibiotics. Bacteria can become resistant to antibiotics as it becomes established and can move into the tissue. Denman spent three months on antibiotics after his operation, an unusually long time, and the danger to his life was receding as the infection gradually came under control."
Denman's owner, Paul Barber, requested that the horse should be taken off antibiotics after the three months, but also that he should remain at the hospital for another month to ensure that the infection did not recur. During this period, the horse also underwent regular MRI scans.
Denman was well into his 'retirement career' (hunting) when he came to NEH, where his life was saved, and the operation and his full recovery were so successful that the gelding could continue competing as a hunter.
In his racing days, when he was trained by Paul Nicholls in Ditcheat in Somerset, Denman was an outstanding jumper. He won 15 of his 25 races, ten over fences, four over hurdles and one on the Point-to-Point circuit in Ireland.
His talent was a badly kept secret when he made his debut in a Point-to-Point for 5-year-old maidens at Liscarroll in County Cork, Ireland, in March 2005. Seventeen horses went to post and Denman, partnered by the highly successful amateur rider Colman Sweeney, was a popular 7/4 favourite. That was to be his only outing as a 'pointer' as he later joined Nicholls and was next seen winning a maiden hurdle race at Wincanton seven months later.
That was the start of an incredible career.
Nine wins in succession
His longest winning sequence, from October 2006 to March 2008, was nine races. During this period, the Irish-bred son of Presenting captured the Royal & Sun Alliance Chase at the Cheltenham Festival, the Hennessy Cognac Gold Cup at Newbury and the most prestigious jumps race of them all, the Cheltenham Gold Cup, which he won at age eight, beating legendary stable companion Kauto Star by seven lengths.
Kauto Star gained revenge when they filled first and second in the Gold Cup the following season.
Denman and Kauto Star were both born in 2000, and they stayed at the top level until the age of 11, when they filled second and third behind the 6-year-old Long Run in the 2011 Cheltenham Gold Cup. Denman had been second in the big race also at age ten, when he chased Imperial Commander home in 2010. He died when he was 18.
That he was known as 'The Tank' is easy to understand, not least for the first jockey to ride him competitively. After Denman passed away in June 2018, Colman Sweeney told the Racing Post: "I first sat on Denman at Adrian Maguire's place about a month before he ran at Liscarroll. Even at that stage, he was big and strong and I quickly realised he was something special. I remember schooling him over three fences in the space of two furlongs. He was going very fast heading for a post and rail and I had some job trying to stop him jumping it. I managed, but fell off in the process."
It all began 100 years ago
The Newmarket Equine Hospital, which celebrated ten years in May, evolved out of a practice in Newmarket, Reynolds & Partners. "That was the first veterinary practice in Newmarket," Ian Wright explains. "It was established some 100 years ago and was based at 166 Newmarket High Street – quite close to where we today find the Tattersalls and International Racing Bureau offices. I got involved in the project as early as in 1995, but it took us years and years to find the right location, where the council would grant us planning permission."
The hospital is situated a couple of miles outside the famous racing town, not far from the Newmarket July Course. It employs 15 vets, five of them interns, living at the establishment. Their homes are equipped with monitors from a CCTV system with cameras in the stalls. This way, the night yard staff can alert a vet, who can quickly get an idea of what the problem is before attending to the horse.
In addition, there is an ambulatory home-visit service, with about 20 vets who travel to see horses and ponies at their own stables.
All duty vets at Newmarket Racecourse also come from NEH.
Library atmosphere
What is striking at NEH is how quiet the place is. Compared with a bustling training yard, walking around is extremely tranquil. It's almost like being in a library, which is all the more remarkable as it is the biggest equine hospital in Europe.
Every care was taken – right from the early planning – to make it "a place for the horse". The partner vets worked closely with the architects to ensure every corner would be constructed in a way that would be best for the animals. As an example, there is a road running halfway around the buildings, used for deliveries. No vehicles enter the main area of the hospital. All deliveries are made via this road.
All the stalls are spacious, with seven metres up to the ceiling, and no shared air canals between the stalls.
Public relations officer Jan Wade says, "The hospital has over 100 full-time staff, and we can house 84 horses, in traditional stables and American-style barns. Four outside stalls are isolation boxes. This is a big, productive place. The hospital does around 3,000 treatments every year, and we cater for various types of horses, from all over Europe."
The hospital mainly works with the racing industry, though, as about 70 percent of all patients are Thoroughbreds. Forty percent of all horses visiting the hospital are from in and around Newmarket.
The hospital also offers diagnoses of poor performance in sport horses, has a dedicated unit for foals in need of intensive treatment, and performs equine dentistry. There is also an on-site laboratory.
When Denman, who came from Gloucestershire, was referred to NEH, it was quite a challenge. Modern technology played its part in saving the famous jumper with advanced imaging techniques and arthroscopic surgery used.
The main advantage of arthroscopy is the exquisite internal detail it provides. Also, the keyhole procedure is carried out through just two small incisions – one for the arthroscope and one for the surgical instruments – thus reducing tissue trauma and subsequent recovery time. "Denman's case was not unique, but it was a particularly difficult one," Ian Wright says.
Wright is the author or co-author of three books, with a fourth in progress. "My main expertise is orthopedics and arthroscopy," he says. "Cases like Denman's are not uncommon. I operate on joints every day, but his case was very complicated."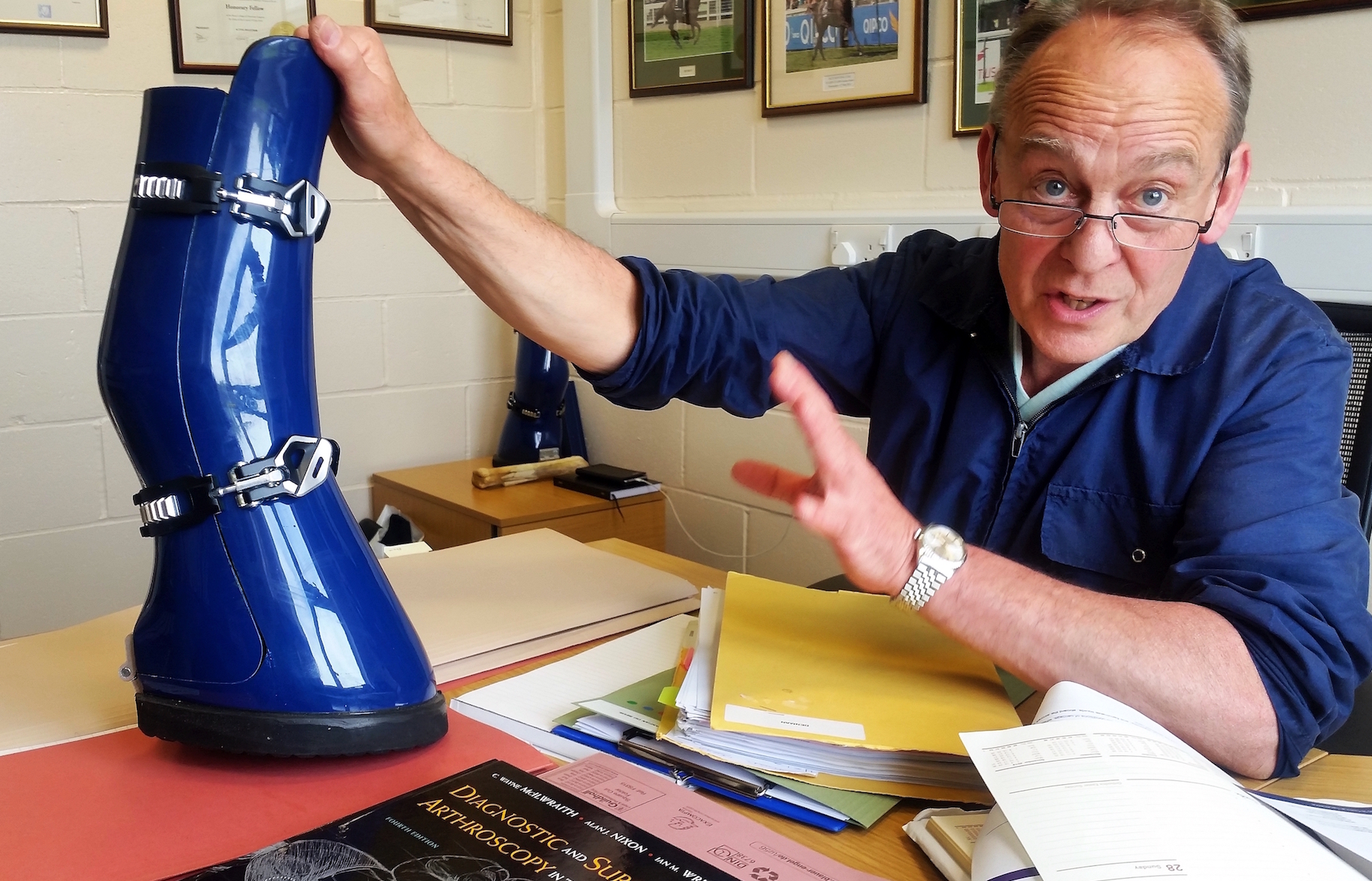 Wright, who previously worked as a lecturer at Cambridge University, has seen significant changes in the profession in recent years.
"MRI scanning of horses has come in over the past 15 years, and CT scans over the past five years, and they have become more common now. The chances of injured horses returning to racing have increased."
Comparing flat horses with jumpers, Wright points out that their injuries are "just different". "We see more bone and joint problems in flat horses and more tendon injuries in jumpers. I would rather have a horse with a fracture than one with a tendon problem."
Wright feels racing should be medication-free worldwide, but he has no problem with horses being treated with medication while training. "We should accept that," he says.
The benefit of innovation
Wright has invented an emergency boot for horses, produced by Newmarket Premixes. It is a compression boot, very much like alpine skiing boots, which can be fitted as soon as a horse has a leg injury. "We have called it the Newmarket Compression Boot," Wright says. "The thought that we should all be trying to provide the best for the horses is why I came up with this idea. It is a one-size-fits-all boot as it has insert soles that can be adjusted to fit each horse."
Fitted with this boot, an injured horse can be transported more safely, and in a way that minimizes further damage. The majority of injuries are to forelegs and, and such a boot would not be possible for hind legs, as they can't be immobilized.
"I hope all racecourses will buy them," Wright says. "At around £600, they are a cheap insurance for horseracing."

This article first appeared in Gallop magazine.