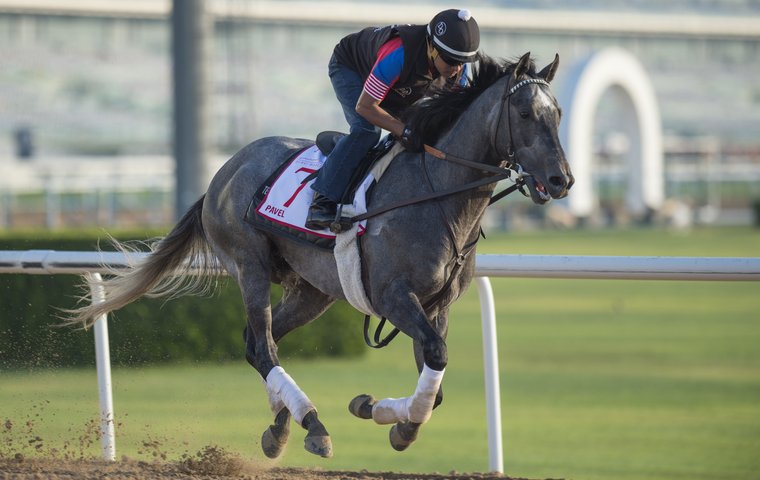 He's a long way from home but the lightly-raced Pavel has handled the 13,381 km journey from Santa Anita, California, to Meydan Racecourse in Dubai with great maturity.

Trainer Doug O'Neill has previous form travelling horses, having captured the 2007 edition of the G2 Godolphin Mile with Spring At Last. A 17-year partnership with top assistant Leandro Mora makes the task that much easier when trying to both assess if the horse has the temperament to travel, and ensuring it is in good hands upon arrival.
"The horse will tell you if he is a good traveller and Pavel is a good traveller," Mora said. "If you try it and they don't like it then you have to try and avoid races. This guy tried it and he loved it."
With just seven starts to his name, Pavel has already competed at five different tracks with a trip over the Meydan dirt track in Saturday night's $10 million Dubai World Cup Sponsored by Emirates Airline marking an impressive sixth pin on the map.
From a winning debut at Santa Anita last year, Pavel travelled across North America to New York to be a credible fourth in the G2 Jim Dandy Stakes at Saratoga. Pavel then returned home to California and trained at Del Mar before shipping back east to Philadelphia to win the G3 Smarty Jones.
Pavel made Parx a temporary home, breezing twice at the Philadelphia track, before hopping on the van to Belmont Park to run third, defeated less than two lengths, in the G1 Jockey Club Gold Cup.
It's no wonder the talented fellow may have been a little over the top for his Del Mar homecoming in the G1 Breeders' Cup Classic when beating just one runner home. But Mora points at the significant purse earnings, more than $300,000 from July 1 to October 7, as the sign of a well-balanced horse.
"When he ran at Del Mar, that was his fourth move. He was never in his own house," Mora said. "When they travel like that and get to the stable and act like they've been there their whole life, that's when you know they can travel."
Pavel's maturity made the decision to come to Dubai a simple one, a journey made easier with the help of officials at Meydan.
"To bring him over here is not easy. The horse plane takes almost 24 hours non-stop," Mora said. "But the crew here [at Meydan] are so willing to adapt to what you do back home. They send you a list to ask what you want. We get the shavings we want. I always want Canadian oats and Washington hay. They have it, we apply for it and when we get here there's no changes for the horse."
With food and lodging sorted, ensuring the young horse was in familiar hands was the next box to tick. Also making the journey with Mora and Pavel are exercise rider Amir Cedeno and groom Andres Martinez. The bond between Martinez and Pavel is key to ensuring a smooth transition from California to Dubai.
"We bring over the people the horse is comfortable with. A nice racehorse is used to the person who looks after him," Mora noted. "Andres is there every day rubbing his legs and cleaning him up. They get used to that so we try to bring the same team. Once they know the caretaker is there, it's more comfortable for them."
Regular checkups from the vet and keen observation from the entire team, led by Mora, is paramount as the horse copes with jet lag.
"They get used to it faster than we do," Mora said. "Once they land here, we do check their temperatures to make sure they don't have any fever. If they get too dry, we can give them fluids to get back to normal."
Buoyant most mornings on the track this past week, Mora smiles wide when asked when he knew that Pavel had travelled well. "When he starts savaging you," Mora laughed. "When he starts to bite and kick, okay, you're happy!"
Mora and O'Neill maintain regular contact throughout the experience. On Tuesday morning, Mora was trackside filming Pavel's easy canter over the Meydan dirt track, which was immediately sent to O'Neill for review.
"It lets Doug know how the horse is doing. Technology like that is great for us. We talk twice a day. Once in the morning and then in the afternoon. It's tough with the time zone," Mora said.
On Saturday, Pavel will face off against some of the best in the world. And at this stage of his young career, Pavel has already proven he can get the distance. Now, it's just a matter of class.
"I'm very happy with what he's done. The rest is up to him now and the luck of racing," Mora said