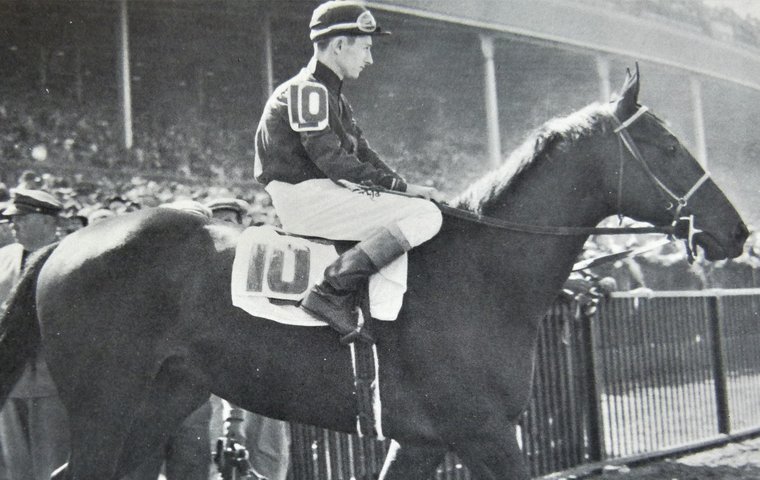 Seventy years ago, Bewitch was an integral part of the all-powerful Calumet stable, which dominated the upper echelon of American racing during the mid-20th century. You won't find her name in any modern pedigree, though. Twice a champion, she produced only two foals after being sent to the breeding shed, neither of which lived long enough to make it to the races.

That doesn't mean her name should be lost to time, as she holds the distinction of being one of the few fillies to have beaten a Triple Crown winner, a horse she grew up with on the same farm.
Bewitch emerged from the same Calumet crop as Citation, the 1948 Triple Crown winner and Horse of the Year, and Coaltown, champion sprinter the same year and Horse of the Year the following year.
All three were foals of 1945 and all were by five-time leading sire Bull Lea, who stood his first season at the Kentucky nursery in 1940. Between them, they won ten end of season championships.
A family of distinction
Her dam was Potheen, a foal of 1928 and the dam of three other stakes winners, Lot o' Luck, Pot o'Luck and Theen.
Potheen's dam, 1917 champion 2-year-old filly (before year-end championship polls were standardized) Rosie O'Grady, through another of her offspring, was the fourth dam of Ruffian.
Calumet's Warren Wright, Sr purchased Potheen from the H.P. Whitney Stud for $500 as a 3-year-old. She was named Broodmare of the Year for 1947.
Bewitch made her racetrack debut on April 10, 1947 in a four-furlong maiden for fillies at Keeneland. She led from the start and won by six lengths. A week later she took on the colts in the Thoroughbred Club Dinner Purse, also at Keeneland, getting up to win by a neck after enduring a tangled start and interference in the stretch.
Her first stakes win came on April 30 in the Debutante over five furlongs at Churchill Downs, scoring by eight lengths.
She went on to win six consecutive stakes: the Hyde Park at 5½ furlongs at Arlington over males, again by eight; the Pollyanna, also at Arlington, by five, setting a new track record of 1:04 for 5½ furlongs; the Arlington Lassie by three and the Princess Pat at the long-gone Washington Park by the same margin.
The day she beat Citation
On August 16, Bewitch handed the future Triple Crown champion Citation his only defeat as a 2-year-old in the Washington Park Futurity over six furlongs. It was a 1-2-3 for Calumet as, while giving weight to both of her entrymates, the filly led all the way and won by a length, with Citation, who had been unbeaten in five races, second, a head in front of Free America.
Trainer Jimmy Jones, who oversaw the Calumet string with his father, Ben, said later: "We kind of figured our horses could take the first three places, so we told the riders before the race we'd split the fees three ways between them and whoever was in front should be allowed to win it without anybody whipping anybody to death."
He continued: "Bewitch got out there – she could go five-eighths in :58 any time – and so Citation just sort of went along, but Bewitch kind of eased and Citation picked up five lengths on her in the stretch.
The riders come back to us and Doug Dodson says he could have gone on and pulled away any time he wanted with Bewitch, but Steve Brooks says, "Naw, Citation was just loafing, that he could have gone right on by." About this time Jackie Westrope gets back with Free America and he says, 'You guys are just kidding yourselves; I coulda taken both of you without even going to the whip'."
Citation wasn't the only Triple Crown victor to be beaten by a filly. The 1935 winner, Omaha, was narrowly defeated by Quashed in the 1936 Ascot Gold Cup.
It wasn't the only time Citation was beaten by a filly, either. He was fifth behind Special Touch, who was giving him two pounds, in the Hollywood Premiere as a 6-year-old.
2-year-old champion
Bewitch ran next in the Matron, which would have been her ninth consecutive win, but she was disqualified and placed last for leaning on third place finisher Ghost Run early in the race. The winner's share of the Matron prize would have taken Bewitch past Top Flight as the leading money-winning juvenile of either sex.
Citation went on to win the Belmont Futurity on October 4 by three over 13 others, one of those being Bewitch, who was a head behind runner-up Whirling Fox in third.
She had developed an osselet – inflammation of the fetlock joint - so she was put away for the year. Citation was named champion 2-year-old, while his conqueror was named champion 2-year-old filly.
She won on her return at three, the Ashland Stakes at Keeneland, exactly a year after her career debut, but then bucked shins kept her off the track until June. She had been the only filly nominated to the Kentucky Derby that year.
In her return, she faded to fifth after being up with the pace early in the Princess Doreen at Arlington on June 23, her worst placing thus far.
She won the Modesty at Arlington at six furlongs on July 3 against 16 older fillies and mares by a length and a quarter, carrying a featherweight 107 pounds. Eleven days later, she won the Cleopatra Handicap, also at Arlington, at a mile, the furthest she raced that season.
A week after that, she was third in the one-mile Dick Welles Stakes, her first and only start against males as a 3-year-old. In the last of her six starts at three, she won the Artful Handicap at Arlington over seven furlongs.
Older female honors
After a stellar 1948 campaign, including his Triple Crown sweep, Citation was off all of 1949 with an injured ankle. That year, Bewitch was named champion older female.
Her first start at four was a third in a Gulfstream Park allowance against males on March 19. On the same card, Coaltown equalled the world record for 1¼ miles in the Gulfstream Park Handicap.
She ran third at Keeneland before taking the Inaugural Handicap at Churchill Downs on April 30 by four and a half lengths, going six furlongs in a new track record of 1:10 2/5.
She was second in the one-mile Arlington Matron before capturing a pair of stakes at Washington Park carrying top weight, the seven-furlong Misty Isle Handicap with 121 by a half-length and the one-mile Beverly Handicap under 125 pounds by a neck in 1:34 2/5, the fastest mile ever run by a filly. Her time would have equalled the world record for the trip if her stablemate Coaltown hadn't lowered it eleven days earlier.
In the autumn she was fourth as the 126-pound highweight in both the 1 1/8 mile Beldame and the 1½ mile Ladies Handicap, but she came back to win the 1 1/16 mile Vineland Handicap at now defunct Garden State under top weight of 126.
Back again at five, she won twice in 11 starts, but only finished unplaced once. Starting her season in Florida, she won the 1 1/8 mile Black Helen Handicap and was second in the seven-furlong Columbiana, both at Hialeah, was second in the Vanity at 1 1/8 miles at Hollywood, and third in both the Hollywood Premiere and the Vineland.
Racing Citation again
Competing mainly in California, she ran 15 times at six, 12 of those against males, winning twice. By this time, Citation was back, and chasing the million-dollar earnings mark.
She won the Vanity and finished second in four stakes, including the Santa Margarita Handicap at Santa Anita.
She met Citation and Coaltown in the 1 1/16 mile Argonaut Handicap at Hollywood on May 30, 1951. Coaltown carried 125 to Citation's 121, with Bewitch getting in light at 109. Be Fleet, a multiple stakes-winning son of 1943 Triple Crown winner Count Fleet, carrying 118, beat them all, with Citation second, Bewitch fourth, and Coaltown fading after setting the pace in front of a crowd of 58,512.
In the American Handicap, also at Hollywood, on July 4, Citation carried 123 and Bewitch 106. Citation beat Bewitch by a half-length after duelling through the final furlong. Bewitch travelled easily on the lead and Citation was under pressure to beat her a half-length in a time of 1:48 2/5, only two-fifths off the nine-furlong track record. Be Fleet was unplaced.
Only ten days later, in the Hollywood Gold Cup, the three faced off again. Citation received two pounds from Be Fleet, 122 to 120, with Bewitch on 108. Citation took command early and won by four lengths over Bewitch in 2:01, only 3/5 off the track record for a mile and a quarter. Be Fleet was a nose behind Bewitch in third.
Bewitch's earnings record
The $100,000 winner's prize took Citation's career earnings to $1,085,760, the first horse to break $1 million in earnings.
His 32nd career win was also his last. At the request of Warren Wright's widow, Lucille, (Wright had died in December 1950) Citation was retired. At the conclusion of their careers, Bewitch, Citation and Coaltown all returned to Calumet on the same railroad car.
The $20,000 second money in the Gold Cup pushed Bewitch past Gallorette as the all-time money winning female with earnings of $462,605.
Bewitch retired with 20 wins, 15 of them in stakes, from 55 starts. She died in 1962 and was buried in Calumet's equine cemetery alongside her sire, dam and stablemates. Citation, Coaltown and Bewitch are all members of the American Racing Hall of Fame. Bewitch was enshrined in 1977.
Ben Jones once said of his charge's temperament: "She never worries about anything. Taking care of her is like taking care of a sheep."
First run in 1962, the Bewitch Stakes, a Grade 3 event for fillies and mares four and up, curiously run at a mile and half on the turf, will be run at Keeneland on April 28.
Sources
American Racing Manual, 1961
A Second Quarter-Century of American Racing and Breeding, 1941 through 1965, 1967, The Blood-Horse
Calumet Farm website
Daily Racing Form online archives
The History of Thoroughbred Racing in America, William H.P. Robertson, 1964
National Museum of Racing and Hall of Fame website
Race Horses of 1949, Joe H. Palmer, 1950, Sagamore Press
Thoroughbred Champions, Top 100 Racehorses of the 20th Century, 1999, The Blood-Horse, Inc. Article by Tom Hall