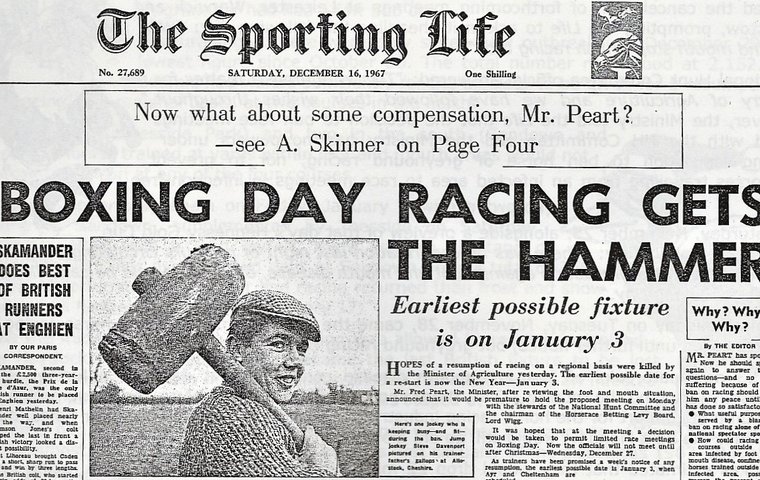 All British racing is off until the end of April. Announcement of a six-week shutdown came on St Patrick's Day, March 17. The suspension may well last for longer, much longer. No-one can say at the moment, as Covid-19 continues to wreak havoc on all parts of the planet.

There have been short-term interruptions in recent times, but it's been more than 50 years since racing ceased for such a long duration. That came in the winter of 1967-68, fuelled by a major foot-and-mouth epidemic.
The first inkling of trouble was a single sentence in the Sporting Life on Friday, October 27, 1967:
"Because of an outbreak of foot-and-mouth disease in the immediate vicinity, the stewards of the National Hunt Committee have ordered the abandonment of the one-day meeting at Bangor-on-Dee tomorrow."
Little thought was given to the issue for the next couple of weeks, until the Life reported on Tuesday, November 14, that precautions against the disease could affect plans for Irish runners at Ascot's jumping card at the weekend, with the Department of Agriculture in Dublin having issued an order prohibiting the entry into Ireland from Britain of all four-footed animals.
The potential seriousness was recognised the following day, when the Life warned on its front page: 'Foot and mouth outbreak could hit racing'. It reported that the situation was "beginning to cause anxiety among owners and trainers".
Horses not directly affected
However, Lord Leverhulme, a steward of the National Hunt Committee, declared that racing would be cancelled only on instructions from the Ministry of Agriculture. "The stewards are certainly not considering cancelling racing," he added. A spokesman for the Ministry said that racing would be hit only if the meeting was to take place in close proximity to an outbreak.
Saturday's Ascot fixture went ahead as planned, as did Catterick's, but Worcester was abandoned as it fell within an infected area. Wolverhampton's Monday card was also abandoned, along with Haydock's two-day midweek meeting, as further controls came into force as a precaution against the spread of the disease. But, as the restrictions on movement applied only to cloven-footed animals, horses were not directly affected.
On Thursday, November 23, Ireland announced that it had placed an immediate ban on all horse racing, greyhound racing and hare coursing in the republic for a month, even though not a single case of the disease had been reported there. This would mean the loss of seven race meetings, plus 60 greyhound and 20 coursing fixtures. The period would be extended if necessary.
That news came just minutes after the stewards of the National Hunt Committee had ordered the cancellation of forthcoming meetings at Leicester, Warwick and Chepstow, prompting the Sporting Life to ask in its headline the following day: 'Will foot and mouth stop British racing too?'
A National Hunt Committee official reiterated: "This is entirely a matter for the Ministry of Agriculture and we have followed their wishes throughout."
However, the Ministry told the Life that the decision to ban race meetings rested with the National Hunt Committee and the Ministry had no powers under existing legislation to ban horse or greyhound racing, nor to prevent racehorses travelling from an infected area to race meetings in infection-free places. The ball was firmly back in racing's court.
On Saturday, November 25, alongside a preview of that day's Hennessy Gold Cup, the Life reported ominously: "There was no confirmation last night of rumours circulating at Newbury yesterday that, as a precaution against foot-and-mouth disease, all racing would be cancelled after today until Boxing Day."
Those rumours were well founded. Just after midday on Tuesday, November 28, came the announcement that all horse racing had been cancelled until further notice, but greyhound racing could continue.
The recently re-christened Teesside Park, where racing was due to take place the next day, became the first casualty in a non-infected area. Formerly known as Stockton, the course had narrowly escaped the Levy Board's axe of 1963, being declared "economically unsound" when the death warrants were signed for half a dozen courses including Bogside, Lewes, Lincoln and Woore.
Sole crumb of comfort
Stockton, which then staged flat racing only, survived thanks primarily to the efforts of an enthusiastic band of supporters, subject to the successful introduction of National Hunt racing there. Its inaugural meeting over jumps had taken place just six weeks before the ban.
With the total number of confirmed cases having by now risen to 1,273, there appeared little prospect of an early resumption of racing. The sole crumb of comfort for the horse racing industry was that Newmarket's December Sales, due to commence the following week, would still go on, albeit it "in modified form".
The number one record in the pop charts that week was Long John Baldry's Let The Heartaches Begin. But they'd already begun for the bookmakers. Ladbrokes estimated that they would drop £2 million in turnover if there were no racing before Boxing Day. They planned to diversify by running books on overseas tennis and golf tournaments and the Inter-Varsity Rugby match.
A spokesman for Hills believed that the racing ban would cost them "about £50,000 a week", while Nicholas Coral, speaking for his company, said: 'This is not news we can face with equanimity, but we got by in 1963 [a 'big freeze'] when there were 11 weeks without racing … with an upward surge in greyhound betting, we hope to keep our business going."
The menu in the betting shops on the afternoon of Saturday, December 2, comprised French racing from Saint-Cloud and Birmingham's King's Heath greyhounds. In the absence of British horse racing, ITV were keen to televise King's Heath but were inexplicably refused permission by the National Greyhound Racing Society.
Monday's Sporting Life reported "a quiet start" in the betting shops. Ladbrokes reported little interest in French racing, and takings of less than £5,000 all afternoon, the sort of money they would normally take on just one race. To rub salt into the bookmakers' wounds, there were four winning favourites out of seven at Saint-Cloud that day, with the last race being won by the Bill Wightman-trained Spunyarn, the sole English-trained runner on the card and, consequently, well-backed in the shops.
There was a flicker of encouragement the following Saturday, when the BBC televised three races from Saint-Cloud as part of its Grandstand programme. William Hill enthused that interest shown by credit clients had been "most encouraging", but Ladbrokes sounded a dissenting note: "French racing is a flop, even with TV coverage."
The lack of interest in French racing wasn't the only negative effect France had on Britain as it struggled to cope with the escalation of the foot-and-mouth crisis. News came through that France had voted against negotiations for Britain's entry to the Common Market. Britain responded by stating that its application would not be withdrawn.
On Saturday, December 16, the Sporting Life reported that all Boxing Day's eight meetings had been abandoned and there would be no resumption of racing until January 3 at the earliest.
Primitive machine
Kempton Park's boss, Henry Hyde, was not a happy man when hearing of the loss of the course's flagship race, the King George VI Chase, particularly as that very afternoon the All Blacks and Barbarians were playing rugby union at nearby Twickenham. "Seventy thousand people will be coming to Twickenham," he fumed. "They will be coming from all parts of the country, many of them from farming areas. If this match and many similar fixtures can go on all over the country, why should racing be banned?"
A few days later, the BBC announced that it would show three jump races from Cagnes-sur-Mer on Boxing Day. In addition, with the King George lost, the BBC staged an early example of virtual racing by feeding all the King George form into a computer and getting Peter O'Sullevan to call the commentary as the ticker tape churned out of the primitive machine. It was won by the 100/1 outsider Master Mascus, thus casting doubt on the validity of the 'form' supplied.
Some of the jockeys who would normally have been riding in the race were invited into the studio to pass comment on the innovation. One of them was heard to complain during O'Sullevan's commentary, "I don't know who's riding my horse but it certainly isn't me!"
Encouragingly, there were only seven new outbreaks on December 29, the lowest figure since October 30. The total number now stood at 2,152. The epidemic had waned sufficiently for the all-clear to be given for a resumption of horse racing on a regional basis, at two courses in the north (Newcastle and Teesside Park) and two in the south (Sandown and Kempton). Horses trained at yards within foot-and-mouth areas would not be permitted to run at any of the four courses.
Full circle
Racing got underway again on Friday, January 5, with a two-day meeting at Sandown, supplemented by Teesside on Saturday. Predictably after such a long lay-off, there was no shortage of horses. The 13 races over the two days at Sandown drew a total of 269 runners.
The Beatles were by then heading the charts for the fourth consecutive week with Hello Goodbye. Unfortunately, that's pretty much how it was for racing. No sooner had racing returned than frost and snow wiped out all further meetings for the next 12 days.
It was the middle of February before racing was allowed to resume in Ireland, while Haydock Park on February 24 became the last British fixture to be lost because of foot-and-mouth disease. Bangor-on-Dee remained within an infected area, hence its meeting on Saturday, March 16, was staged at Haydock.
The wheel had finally turned full circle when Bangor was given clearance to race on April 6, almost six months after becoming racing's first casualty of the disastrous 1967-68 foot-and-mouth epidemic.
Sources
The Sporting Life, various issues
A Long Time Gone (Chris Pitt, 1996)