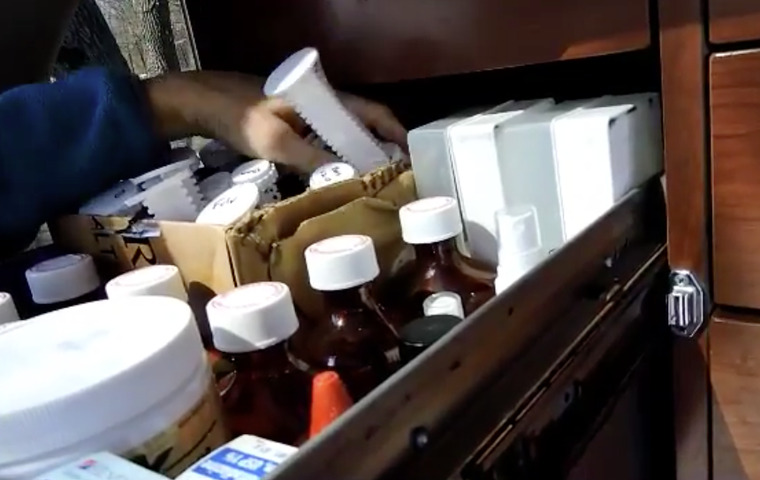 Back in July, I wrote about shockwave therapy – the controversial veterinary procedure used to treat any number of routine aches and pains in racehorses but one that is viewed with no small suspicion due to its analgesic effects, leading to fears of improper use close to breezing and to race-day.

The story's publication coincided with four trainers being found guilty in New York of shockwave violations, for allowing horses to work within ten days of treatment. The four rulings occurred within a six-week period between June and August.
To put that into perspective, there had been nationally in the U.S. ten rulings (two of which were subsequently dismissed) for shockwave violations since 2007, according to information provided by the ARCI (Association of Racing Commissioners International), including both Thoroughbred and harness racing.
According to experts familiar with the situation in New York, the violations came to light thanks to a more stringent detection protocol recently employed there. Regulatory veterinarians there now cross-check the InCompass work-tab with the shockwave vets' list, reporting any potential violations to the stewards.
That this regulatory practice isn't uniform across the nation taps into a much broader issue, the question of what security measures and safety nets — or what Steve Koch, National Thoroughbred Racing Association (NTRA) executive director of safety and integrity, calls racing's "complete deterrence infrastructure" — are in place to prevent and catch cheats.
Indeed, racetrack integrity was a major feature of the recent Global Symposium on Racing, with a variety of speakers taking turns to introduce a range of ideas and industry developments.
One included a "ratio" to objectively measure a trainer's relative standing among other trainers for things like medication violations and racing injuries, while at Ruidoso Downs, a patrol dog has been used to sniff out certain drugs, like clenbuterol.
'Intelligence and security resources'
Koch broke his "deterrence infrastructure" down into what he calls a "three-legged stool": intelligence and security resources, workforce development, and tech and science.
When it comes to intelligence and security resources, "our biggest integrity wins occur with the combined effect of intel feeding the investigative process and ultimately pointing the laboratories in the right new directions," wrote Koch, in an email. Though he warned that this is happening "at a time when our industry is trending to increasingly reduced security [and] integrity forces.".
To get a better idea of what Koch was talking about, I met one morning this fall at Santa Anita Mike Kilpack who, for 25-years, was an investigator for the California Horse Racing Board (CHRB).
"We're going from proactive to reactive," Kilpack warned, about an industry-wide dearth of investigators spending boots-on-the-ground hours combing racetrack backstretches for wrongdoing. "I'm seeing that at a lot of tracks where they used to have four or five investigators, now they're down to one."
Breeders' Cup: 'the ultimate security system'
Kilpack's own boots-on-the-ground bona fides are extensive. He has spent decades as a racetrack investigator. Before that, he was an officer with the California Department of Alcoholic Beverage Control. He's worn holes in countless soles over the years, and now walks with a limp.
These days, he's the NTRA's Security Integrity Consultant, and the Equine Security Supervising Investigator for the Breeders' Cup, and he described that competition's security system as the "ultimate".
His typical Breeders' Cup team consists of 14 people, including two supervisors, 12 boots on the ground, "and a light supplement [of investigators] from the racing commission".
Then there's a security detail posted at each horse. Last year at Del Mar, they brought in the military to fill that task. This year at Keeneland, the security detail was augmented by local law enforcement agencies.
What's more, "the Monday before the Friday, we have a huge training session," Kilpack explained. "We'll have 160 security personnel, my team, probably some police departments there, management. Basically, we talk about our entire operation. We have the state vet talk about what's permitted and what's not – the do's and don'ts."
'I have noticed that people do act differently'
While Kilpack believes the Breeders' Cup security detail to be the gold standard, some tracks outperform others when it comes to general policing of the backstretch, he added, and singled out Woodbine, Santa Anita, Laurel Park, Pimlico, the NYRA tracks and Indiana Grand for worthy mention.
Nevertheless, investigators are only one part of the puzzle. When it comes to catching cheats, stringent stable-gate security — to keep track of exactly who and what is coming in and out — is vital, especially when it comes to things like properly monitoring shockwave usage. So is comprehensive backstretch surveillance.
We also visited the control room for Santa Anita's surveillance system – a sterile, futuristic little cell with a whole wall of monitors on one side, blinking through the 1,164 cameras dotted around the backstretch, and on the other, a giant numbered map of the barns.
Corey Martinez is Santa Anita's Stable Surveillance and 3rd Party Lasix Coordinator. As the grooms, hotwalkers, exercise riders, trainers and assortment of other worker ants go about their daily duties at Santa Anita, Martinez is the man watching them.
Over time, Martinez has learned to identify suspicious behaviors - not just specific activities, like syringes being stashed in the lining of bandages hanging outside stable doors, but in the body language of the backstretch workers.
What's more, "I have noticed that people do act differently," said Martinez. "People have said that there's less feed being stolen, less shady behavior. The cameras being there acts as a deterrent. That, and the fact that they know people are there watching them."
The footage can be used for a variety of different purposes, including by racetrack security, the stable office, and in workers' compensation cases. "It's used a lot in stewards' hearings," Martinez added. During the latest winter/spring meet at Santa Anita, footage was requested on no less than 26 separate occasions.
The elaborate web of surveillance cameras at Santa Anita, however, is the exception rather than the rule at racetracks. And, even if it was the norm, video surveillance technologies are "not going to be a replacement for boots on the ground investigative and integrity resources", Steve Koch warned at this year's Jockey Club Welfare and Safety Summit.
'Workforce development'
What's more, the presence alone of boots on the ground is similarly "not enough", Koch explained. We need "very well trained" boots on the ground. "And the training that we need has not necessarily evolved to meet modern demands."
So, let's dig into what he means.
The backbone of any racetrack investigator, stressed Kilpack, is their knowledge of how the backstretch and the industry as a whole operates. That's why it's important for them to build relationships with everyone from the commissioners to the trainers and the grooms, he said.
"My first seven years, I was still learning constantly," said Kilpack, who painted a picture of his formative years as a racetrack investigator, turning to people like Charlie Whittingham for advice on what to look for, and where.
"The trainers really appreciated me wanting to know what they're doing, what goes on," he said. "It's very difficult to get accepted into this community, especially from my end, the regulatory side. The jocks' room? That took forever."
But as the "old guard" of investigators are leaving the sport, a new generation is being shepherded in, he said, and the wisdom and knowledge needed to figure out and identify warning-signs isn't necessarily being handed down.
"We're hiring younger people, which is fine. But the older, experienced folks aren't around long enough to coach them," he said.
A useful antidote, therefore, would be some kind of uniform training program for investigators nationally. Kilpack said the ideal place to start would be the Organization of Racing Investigators (ORI), comprising investigators from all around the country.
The ORI holds an annual conference with seminars and expert speakers on things like drug testing and wagering. Next year's conference will be at Gulfstream Park. But, as yet, there's no uniform training component to the organization. If there was, "then commissions and racetracks would have somewhere to send their investigators to receive formalized training," said Kilpack.
'Tech and science'
There's movement in this quarter, however. According to John Wayne, executive director of the Delaware Thoroughbred Racing Commission and former chair of the ORI, work is underway at the ORI to create an accreditation program, or what he described as a possible "two- or three-day class through the University of Arizona for racetrack investigators. A formal curriculum."
The program could be up and running as early as next year, said Wayne, who added that Tom Sage, of the Nebraska Racing Commission, has been a driving force behind the project.
In the meantime, the annual ORI conference still plays a valuable roll.
Some training modules are simulated scenarios, where attending investigators are tasked with finding illicit materials stashed along racetrack shedrows, in jocks' rooms — think hidden 'buzzers' — and in veterinary trucks. The two YouTube training videos below show an active stable inspection (top) and how to search a veterinary truck.
"Some of these trucks have those hidden floor panels. Some of them have those beds you can raise up and someone can hide something in there. Behind the mirror," said Wayne.
But a critical problem with the ORI annual conference, he said, is its voluntary nature, and varying support between different jurisdictions and racetracks, which hampers one of the strengths of investigative work — its collaborative nature. "We learn from these conferences," he said. "We all get to share information."
Which brings us to the last 'leg' of Koch's three-legged stool, concerning more well-worn territory – the medication side, encompassing things like improved laboratory science.
"Once we have rebalanced our intelligence and trained [our] boots on the ground resources, and recombined those with evolving technologies and targeted laboratory science, then we have a complete deterrence infrastructure," wrote Koch.
At the end of the day, however, it's the ever-ubiquitous financial constraints that hamper progress. "Some tracks are very strict anyway," said Wayne. "But some tracks, when presented with [security improvements], their first reaction is, "well how much is that going to cost us?' That's their bottom line."
Mike Kilpack agreed: "It's all about money."