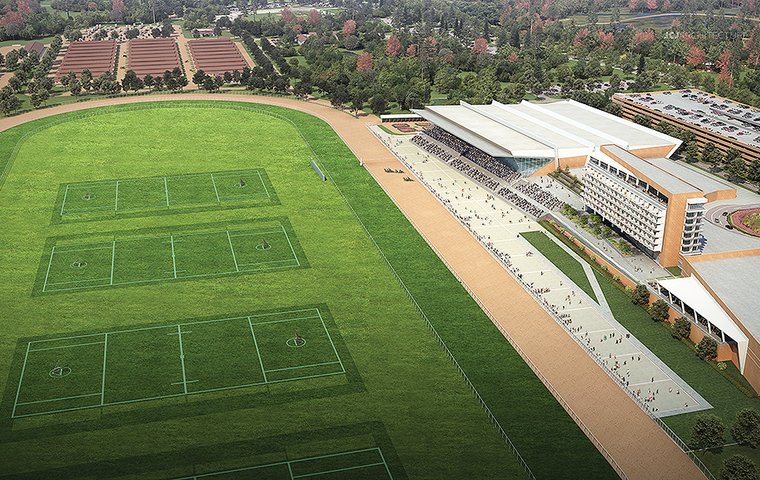 The weekly TRC industry digest - a round-up of international racing news from the past week.

New project could revive racing in Massachusetts
North America: Notos Group, a real-estate development, is pitching a $300 million mixed-use project in Wareham, Boston, to be developed on 275 acres that will include a casino, hotel and a Thoroughbred racing facility with a one-mile racetrack.
The project requires a license from the Massachusetts Gaming Commission for the Southeastern Massachusetts region, whose spokeswoman, Elaine Driscoll, said it "does not have a position on the project" currently.
Notos Group chief Tom O'Connell believes the scheme – called Wareham Park – will be a "sustainable, diversified economic development project" that will benefit "both local residents and tourists, and their families".
As well as financial boons to the area, the proposed facility would create more than 1,000 permanent jobs and over 1,000 construction jobs, plus a revival of Thoroughbred racing and breeding in Massachusetts.
Records tumble at Arqana's Deauville sale
Europe: Arqana has revealed that last week's three-day August Sale at Deauville garnered sizeable year-on-year increases across all key market metrics, with the aggregate, average and median all new records.
A total of 231 yearlings, from 304 offered lots, were sold at a clearance rate of 76 percent, up from 73 percent 12 months ago, when 230 lots changed hands. The aggregate of €43,069,000 was an increase of 17 percent, while an average of €186,445 was also up 17 percent, and a median of €125,000 posted a 16 percent rise.
Leading vendor once again was Ecurie des Monceaux, whose 29 sold yearlings brought turnover of €10.251 million, which accounted for 24 percent of the sale's aggregate. Its draft contained the two most expensive lots, a €1.625 million Dubawi filly and a €1.5 million Galileo colt.
Godolphin led the buyers' list with eight purchases bringing receipts totalling €4.945 million.
Australians may be ready for a cobalt rethink
Oceania: Racing Australia (RA) chairman Greg Nichols has revealed that the organisation may soon be in the position to "reappraise our position on cobalt" and the controversial mares' medication altrenogest.
The RA board holds its quarterly meeting next Thursday (August 29) and is expected to examine a detailed report on cobalt from the Veterinary Advisory Committee.
Nichols said a paper would be tabled at the International Federation of Horseracing Authorities meeting in Paris in October dealing with the potential future use of Regumate. Currently, racehorse trainers in New South Wales can use Regumate, an altrenogest, on mares to control their cycles, all though it is banned in all other Australian jurisdictions.

"The view for me is - and this is a personal perspective - society is moving to a drug-free regime and the tolerance of applying therapeutics to enhance performance is diminishing day by day and that's a guiding principal," Nichols said.
"I wouldn't want to see Thoroughbred racing go against the grain of contemporary thinking along those lines but, at the same time, if the French come down with a study that says it is performance-enhancing, then RA's position will be very assertive."
Arc hope Broome sold to Japanese owner
Europe: Epsom Derby fourth Broome has been bought by Japanese owner Masaaki Matsushima. The son of Australia stays in training with Aidan O'Brien and will be aimed at the Qatar Prix de l'Arc de Triomphe on October 6, when he will be ridden by Yutaka Take.
Before that, the dual G3 winner is likely to run in the St Leger at Doncaster, for which he is a general 10/1 chance. He is a general 25/1 for the Arc.
The Coolmore Partners-owned colt has not run since finishing down the field behind stablemate Sovereign in the Irish Derby at the end of June.
O'Brien said: "He's a lovely colt and it's great for his new Japanese owner. The aim is to go to the Arc but he'll possibly take in the Leger on the way. We'll make up our minds closer to the time."
Matsushima also owns Geniale, a son of Deep Impact, who won a G3 at Maisons-Laffitte last July.
Death of Jack Whitaker
North America: American racing is mourning the loss of former CBS sports broadcaster Jack Whitaker, whose coverage of Secretariat's 1973 Triple Crown earned him an Eclipse Award for National Television Achievement. He was 95 years old.
Whitaker was a CBS announcer for 22 years, starting in the late 1950s, offering his unique perspective on sports ranging from horse racing to golf to NFL (he even called Super Bowl I).
He was inducted into the National Sportscasters and Sportswriters Hall of Fame in 2001. Other accolades bestowed upon the Philadelphia-native were the 1983 Maryland Jockey Club's Old Hilltop Award and the 2013 Jim McKay Award for excellence in broadcasting by the National Turf Writers and Broadcasters.
"There will never be another Jack Whitaker in sports broadcasting," CBSSports chairman Sean McManus said in a statement. "His amazing writing ability, on-air presence and humanity are unmatched. He was extraordinary."
Elsewhere in global racing…
North America: The Jockey Club has announced the election of six new members: Shannon Bishop Arvin, Gary Barber, Terry Finley, Pope McLean Jr, Jaime Roth and Chuck Winner. More here
North America: Fasig-Tipton has cataloged 285 yearlings for its California Fall Yearlings Sale, which takes place on September 26 at Fairplex in Pomona, California. More here
Europe: Discover Newmarket has appointed a new manager to head up its tourism service. Tracey Harding has more than 20 years' experience of working in the tourism industry, having held the position of manager at neighbouring Visit Ely.
North America: Ahead of its 2019 Fall Meet, Keeneland will hold a Hiring Center and Job Fair in September to recruit more than 2,000 seasonal workers. More here
Oceania: Britain's 2011 champion apprentice, Martin Harley, has decided to set up base in Victoria henceforth. The 30-year-old Irishman has five G1 victories on his resume, including Royal Ascot success aboard Goldream in the King's Stand Stakes. More here
North America: Veteran Louisiana trainer Troy James Young, 58, died at his home in Opelousas on August 16. More here
Oceania: Retired Australian rules football player and G1-winning owner Kevin Sheedy has been named the face of the Melbourne Racing Club Everest series. More here
Europe: Unfortunately, the G1-winning juvenile sprinter, is set to stand at Springfield House Stud in County Tipperary for the 2020 breeding season. He is a son of Society Rock.
North America: Colonial Downs, which opened on August 8 for its first live race meet since 2013, is broadcasting races this year in high definition. The signal upgrade was assisted through the Jockey Club High Definition (HD) Grant Fund. More here