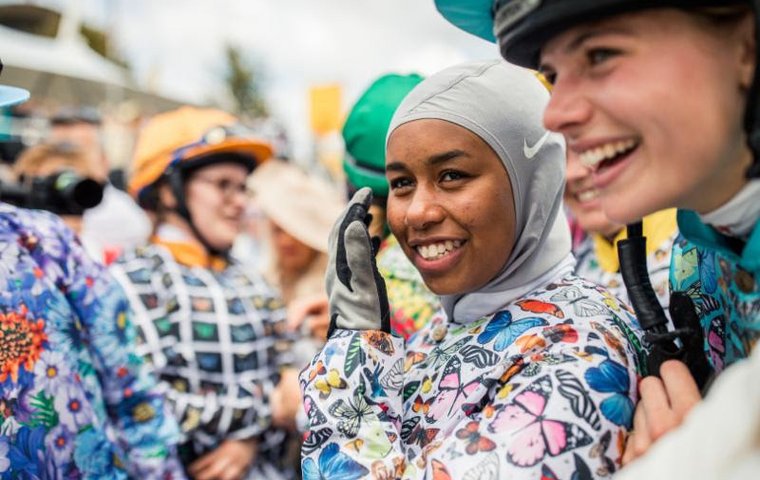 The weekly TRC industry digest - a round-up of international racing news from the past week.

Khadijah - hero in a hijab
Khadijah Mellah, 18, became a sporting hero for Muslim women in sport when generating an unlikely fairytale at the Qatar Goodwood Festival on Thursday (August 1).
The A-level student from Peckham in South London, with no family background in horses, let alone racing, won the Magnolia Cup, Goodwood's charity race for women riders, becoming the first jockey to ride competitively on a British racecourse wearing the hijab.
It might not be her last, for she subsequently revealed she wants to gain an amateur riders' licence.
Riding quietly in mid-division among the 12 runners, and coping with the speed generated down Goodwood's five-furlong downhill straight, Mellah produced the Charlie Fellowes-trained Haverland with a well-timed run to score narrowly from Land Filly, ridden by Alexis Green.
Mellah, whose introduction to the Brixton charity Ebony Horse Club in South London enabled her to begin riding lessons, started riding out with Newmarket-based Fellowes six weeks ago.
She said, "There are no words to describe this - I'm lost for words. I'm still trying to figure out how it all happened, and I'm so grateful to everyone who has come along to support. I'm so happy that Haverland is well. I've been riding him a lot at Charlie's and I love him so much.
She added, "Horses bring me immeasurable amounts of happiness. I've always loved them and always will and I hope to carry on and keep riding."
Fellowes said: "Khadijah was so cool. She followed the right horse through and she did absolutely brilliantly. I'm speechless, shaking, I can't believe that. She is the most incredible young lady you will ever come across. How she has done that is beyond remarkable.
"Every single time we have asked Khadijah to come forward she has done so, emphatically. She is the most wonderful young lady I have ever had anything to do with - she has a smile that lights up our yard."
'Critical 48 hours' for Roaring Lion
Oceania: Concern has mounted for 2018 Cartier European Horse of the Year Roaring Lion after he had to undergo an emergency second surgery for colic in New Zealand on Thursday (August 1).
The son of Kitten's Joy, who covered his first mares at Tweenhills Stud in England this year, had been making positive progress after his initial surgery last Saturday, but he began to show symptoms of discomfort on Wednesday night, according to the Tweenhills Stud website.
The symptoms were evaluated by the Cambridge Equine Hospital team near Cambridge Stud, where Roaring Lion had been due to start start Southern Hemisphere stallion duties. After some international consultation, the decision was made to return to the operating table.
Tweenhills Stud owner and manager David Redvers, who jumped on the first flight to New Zealand on Saturday, said, "The worst-case scenario has occurred where we've had to re-operate, though he came out of his operation as well as anybody could have expected; in fact, slightly better than his previous one.
"The surgeons have had to take 25 percent of his small intestine out and we now have a critical 48 hours. But we are dealing with a special horse and can only hope that he makes a full recovery. If any horse is going to recover from something like this, then it's him."
A statement on the Cambridge Stud website today (Friday) read, "It is a testament to the horse's courage and character that he is making steady progress from that second operation and, although he has a mountain to climb, we are cautiously happy with his progress. He is bright, alert and interested in everything that is going on around him. He has been out for two short walks, had a very small pick of grass and appears relaxed, showing good clinical signs."
New Saudi Cup to be world's richest race
Middle East: The Jockey Club of Saudi Arabia is to launch the new world's richest race at a press conference in Saratoga next Friday (August 7).
Invitations were sent by Harry Herbert on behalf of Prince Bandar bin Khalid Al Faisal, chairman of the Jockey Club of Saudi Arabia. Herbert wrote that the Saudi Cup "will be the world's most valuable" horse race and will run at the King Abdulaziz Racecourse in Riyadh on February 29 next year.
"Since it will be a dirt race, His Royal Highness thought it most appropriate to announce the details in Saratoga," Herbert wrote. "The aim is to outline the plans for the race and to talk a little about the history and potential of racing in Saudi Arabia."
Coolmore snap up Calyx
Europe: 2018 Coventry Stakes winner Calyx has been retired from racing and acquired by Coolmore, although his owner-breeders, Juddmonte Farms, retain an interest in the colt.
He was the first winner for his sire, Kingman, and he followed up his Royal Ascot success as 3-year old when landing the G3 Commonwealth Cup Trial Stakes at the same venue.
Frankie Dettori, who rode him to his Group-race successes, said that he's "blessed with so much speed" and trainer John Gosden stated, "Calyx always had that rare brilliance you only see in champions."
David O'Loughlin, Coolmore's director of sales, enthused that the Fethard operation was thrilled to get Calyx. He cited the "explosive turn of foot", describing him as "a quality individual too, so he has the complete package".
Baffert's tribute to 'The King'
North America: Former jockey and trainer Richard Hazelton – know affectionatey on the backstretch as 'The King' - passed away on Tuesday at age 88.
From 25,479 starts, he totalled 4,745 victories, 3,867 second-place finishes and 3,504 thirds. He remains the all-time leading trainer at Turf Paradise with 16 titles. He won 18 at Sportsman's Park.
"He was Turf Paradise. He was Sportsman's Park. He was Arlington Park. I mean, that was him," said Hall of Fame trainer Bob Baffert. "I remember going up to Turf Paradise once, and I saw him in the paddock, but I was too scared to go up and introduce myself,"
"He's a better horseman than I'll ever be," mused the world #5.
Git up for the Pennsylvania two-step
Pennsylvania's horse racing community might span six tracks spread throughout all corners of the state, but that didn't stop a team of jockeys, drivers, trainers, announcers, groomers and front office staff from teaming up to create this two-stepping video of this summer's U.S. viral dance craze:
The video, featuring a hip hop-meets-country rendition of Blanco Brown's The Git Up, showcases more than 40 representatives from Pennsylvania tracks, the Pennsylvania Horse Breeders Associations and the Pennsylvania Horse Racing Association (PHRA).
Tracks represented include The Downs at Mohegan Sun Pocono, The Meadows Racetrack & Casino, Parx Racing at Parx Casino, Harrah's Philadelphia Casino & Racetrack, Penn National Race Course and Presque Isle Downs & Casino.
"As an industry, and at every track in Pennsylvania, we work hard and we play hard, and this video brings that attitude to life in a fun way," said PHRA marketing director Ashley Eisenbeil, who appears in the video alongside her two sons. "This video also highlights the many different jobs and people who work behind the scenes to make it happen every day for horse racing fans throughout the state."
New chief executive for Jockey Club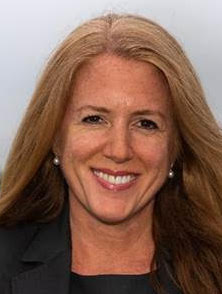 Europe: The Jockey Club has named Delia Bushell (pictured) as its new group chief executive, succeeding outgoing group CEO Simon Bazalgette, who steps down in October after a decade in the role.
The former TV executive will join the organisation – headquartered in central London – in early September before formally taking on the position. Bushell's career has so far been largely based in television, with a three-year spell as BT Sport's Managing Director following 14 years at Sky
"I'm excited and honoured to lead this iconic institution," said Bushell. She said she was "looking forward to immersing myself fully into the world of racing".
She added that she will utilise her "wider experience in sport and media" to attract "more diverse audiences, broadening revenue streams, and driving inward investment".
Elsewhere in global news …
North America: U.S. racing is mourning veteran Thoroughbred owner-breeder John Ray James, who raced and stood G2 winner Dramedy, at the age of 75. More here
North America: San Diego Superior Court Judge Ronald Frazier ruled in favour of trainer Jerry Hollendorfer and California Thoroughbred Trainers, granting a preliminary injunction and overturning the ban by the Del Mar Thoroughbred Club. More here
Oceania: Due to an ongoing foot issue, the Britain's National Stud's Aclaim will be unable to shuttle to Aquis Farms' Canungra property in Queensland for the upcoming Southern Hemisphere breeding season. More here
Europe: Highclere Stud has successfully obtained an injunction from the British High Court preventing Cable Bay from shuttling to Australia this year, citing an injury concern while in quarantine. High-profile Southern Hemisphere shareholders will fight a court order, however. More here
Europe: Al Shaqab has extended its sponsorship of the G1 Lockinge Stakes , run in mid-May at Newbury, after agreeing a new five-year deal. More here
Oceania: Racing Victoria stewards are investigating a positive swab taken from the Kylie Vella-trained racehorse Admiral's Joker. More here