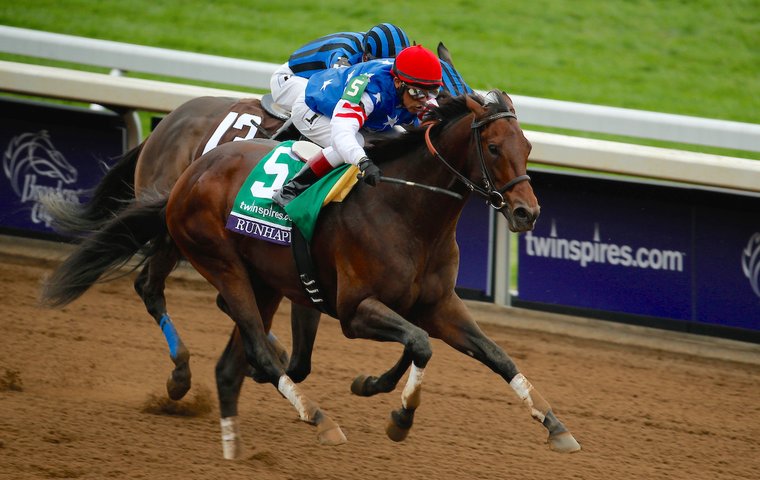 The weekly TRC industry digest - a round-up of international racing news from the past week.

Sticking with current whip rules not an option, says Rust
Europe: British racing cannot stick with the status quo on the whip, BHA chief executive Nick Rust told the National Association of Racing Staff's annual meeting at Lambourn in Southern England.
"I don't know if the whip will be banned, but I think we can't stick with the status quo," said Rust. 'Hayley Turner made a comment after she won at Royal Ascot that the fine wouldn't have made any difference to her.'"
Turner said the fine of £1,600 and nine-day suspension she incurred would likely have no impact on her riding style going forward.
"Riders in big races are effectively riding at all costs [and that] is where the issue is very public because those are the big races. We have to do something about that and I'm pretty certain as a minimum we will be taking much stronger action there."
One option was to ban use of the whip for encouragement. "I can't see it being removed completely as you need it for safety," Rust said.
Hollendorfer to race at Saratoga
North America: Hall of Fame trainer Jerry Hollendorfer will be allowed to have runners at New York Racing Association (NYRA) tracks, and he plans to send a horse to next weekend's G1 H. Allen Jerkens at Saratoga.
After Hollendorfer was no longer welcome to stable or enter at Stronach Group properties, NYRA said it had decided not to allow him entries at its tracks. However, his license in New York and in California has remained in good standing.
Hollendorfer was recently granted a preliminary injunction by a San Diego Superior Court judge allowing him to race and train at Del Mar after the Del Mar Thoroughbred Club carried over Santa Anita's ban.
Britain urged to act over 'Wild West' sales environment
Europe: A leading British trainer has called for people using malpractice to profit dishonestly at bloodstock sales to be called to account to improve transparency and protect the sport's ownership base. "For the sake of ongoing transparency, the bad apples need to be brought to account," said George Baker.
Baker's gave his views after news of a BHA bloodstock report was leaked to the Racing Post lifting the lid on improper practices deployed by a minority of bloodstock agents and the impact that has on the reputation of the industry as a whole.
The report claims the bloodstock industry is "barely regulated, tarnished by unscrupulous individuals and populated by some players who are engaged in improper practices that are potentially criminal".
Baker said, "Owners are the lifeblood of the sport, and in recent times I've had some of them questioning the integrity of the bloodstock world.
"If they feel they're not being treated in a way that would be the norm in any other industry, that is where people get concerned. We live in a world of regulation and yet this seems to be an unregulated Wild West environment."
Stars colts to miss the Travers
North America: Gary and Mary West have revealed that neither of their leading prospects for the G1 150th Runhappy Travers Stakes - Game Winner and Maximum Security – will be running in tomorrow's 'Midsummer Derby' at Saratoga.

Trainer Bob Baffert confirmed that 2-year-old champion Game Winner has been hit by a virus. "We're still absorbing the disappointment. He's going to be fine, but it's the timing. It's too bad because he couldn't be doing better right now. I haven't thought about anything now," said Baffert.

Jason Servis, who trains Maximum Security, announced that the disqualified Kentucky Derby winner will not run because he "still is not 100 percent". His target will be the $1 million G1 Pennsylvania Derby on September 21 at Parx Racing.

"I don't like where he's at. He's not eating the way I want him to eat, and he's not carrying the weight I'd like to see him carry," Servis said. "I just want to make sure he's 100 percent for his next race, and he's not there right now."
Runhappy honored at Kentucky Downs
North America: The upcoming five-day meet at Kentucky Downs has been renamed the Runhappy Meet at Kentucky Downs, thanks to a sponsorship agreement with Houston furniture magnate Jim McIngvale, owner of the former sprint champion and current stallion Runhappy, who stands at Claiborne Farm in Kentucky.
"I think it's a perfect fit. Kentucky Downs is America's most unique race meet, and Runhappy the most unique American racehorse we've seen in recent years, with his speed, quality and competing without any medication," McIngvale said. "One of Kentucky Downs' meet mottos is 'It's gonna be quick'. What better horse to sponsor that than our brilliantly quick Runhappy?"
The meet begins on August 31.
Elsewhere in global racing…
North America: Vinnie Viola has been elected to the Jockey Club's board of stewards, filling the expired position of William S. Farish Jr. More here
Oceania: Trainer Mitch Freedman is the latest Victorian horseman to have a horse return an elevated reading to the prohibited substance cobalt. More here
North America: Keeneland is encouraging consignors and veterinarians who are taking part in its September Yearling Sale (Sept. 9-22) to upload and view endoscopic videos of horses scheduled to sell. More here
Europe: Online bookmaker Unibet has made significant financial investment in new initiative #GoRacingGreen, which aims to make the sport accessible for racegoers who suffer from mental health issues. More here
North America: The Thoroughbred Owners and Breeders Association (TOBA) has announced the election of Brant Laue as chairman of its board of trustees. Also joining Laue on the board to serve three-year terms as new members are Marshall Gramm, Stephanie Hronis, and Jason Loutsch. More here