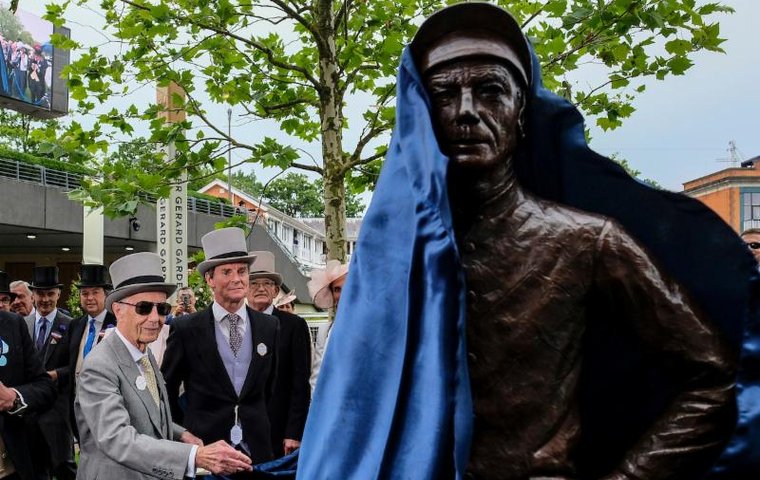 The weekly TRC industry digest - a round-up of international racing news from the past week.

We'll not see Country House until next year
North America: 2019 Kentucky Derby winner Country House will not race again this season. Trainer Bill Mott was unhappy with the colt's progress since being moved up via the disqualification of Maximum Security on the first Saturday in May.
After being ruled out of the Preakness and the Belmont Stakes, the 3-year-old son of Lookin At Lucky resumed training at Churchill Downs several weeks ago, then was shipped to Saratoga.
"We're just going to give him a little extra time," said Mott, adding that the owners intend to race Country House as a 4-year-old. "We brought him back, and he was happy. When we began seriously training, he wasn't as eager to begin his work. I think we just need to give him a rest."
Piggott statue unveiled at Ascot
Europe: A statue of legendary jockey Lester Piggott was unveiled at Royal Ascot on Tuesday, the opening day. It is the second of nine life-size statues by portrait sculptor William Newton of Piggott, who recorded a record 116 victories at Royal Ascot.
The number of statues represent the Englishman's astonishing nine Epsom Derby wins. It is 65 years since his first, on Never Say Die in 1954. And, the first was revealed by The Queen at the Epsom Derby earlier this month.
"It is a fantastic statue and it has a great likeness to me," said 83-year-old Piggott, known affectionately as 'The Longfellow'. "William has done a very good job with it. I have enjoyed some great days at Royal Ascot."
Piggott's first win at the meeting was in the 1952 Wokingham Handicap aboard the Walter Nightingall-trained Malka's Boy. He won the Gold Cup a record 11 times, which included three successive victories aboard Sagaro (1975, 1976, 1977).
"I rode some brilliant horses in the race, including Sagaro, but probably the best was a filly called Gladness," said Piggott. "It has been a very lucky course for me."
Death of Canadian Hall of Famer Schickedanz
North America: Canadian racing is mourning the loss of Gustav Schickedanz, who passed away on Monday. The development entrepreneur was inducted into the Canadian Racing Hall of Fame in 2009 and received the E P Taylor Award of Merit, which recognises life-long dedication and commitment to Thoroughbred racing in 2018.
His most successful horses include Queen's Plate winner Woodcarver, along with fellow Sovereign Award winners Mobil, Glanmire, Kimchi and the last Canadian Triple Crown winner, 2003's Canadian Horse of the Year, Wando.
"Gus was a dedicated, passionate horse owner and breeder who, through the level of excellence his team achieved, helped to promote and elevate Canadian Thoroughbred horse racing," said Jim Lawson, CEO of Woodbine Entertainment.
Reverse-angle photo-finish camera gets the go-ahead
Europe
: Following extensive trials earlier this year, RaceTech has announced its reverse angle photo-finish camera, in use at Royal Ascot, has been given official authorisation by the British Horseracing Authority (BHA).
Working with the BHA and its Racecourse Association stakeholders, RaceTech has been developing the technology to supplement the existing photo-finish cameras. The new reverse angle pictures capture a clearer image of the horses from the nearside and will be used in conjunction with the mirror image.
Chris Stickels, head of racing and clerk of the course at Ascot, said, "We have been keen to use this technology at Ascot and have assisted RaceTech in developing it over the past few months. We are delighted it has been fully approved and officially launched during Royal Ascot this week. It is particularly useful on a wider track, with bigger fields and when the horses come up the stands side."
Winning Line Technology has been trialled across several tracks, including at the Cheltenham Festival and at earlier Ascot fixtures. Nick Bostock, judging team principal at the BHA commented, "It really does make a difference on the wider tracks when the horses come up the nearside giving a far clearer image. I have used it on numerous occasions in trials and found it very helpful."
The reverse angle images are posted on the BHA website following each race as part of the official photo-finish along with the standard mirror image.
The BHA are continuing to collaborate with the RCA on how a phased introduction of this technology can progress across Britain's racecourse network.
Elsewhere in global racing…
Europe: The sixth renewal of the Goffs London Sale took place at Kensington Palace Gardens on the eve of Royal Ascot on Monday. Top lot was the Fozzy Stack-trained Mohican Heights, who will now join trainer David Simcock, who signed for the winning 2-year-old son of Australia at £520,000. More here
Africa: Crusade, winner of the Middle Park Stakes in 2011 for Aidan O'Brien and Coolmore partners, has died at stud in South Africa. She was sold to the KZN Breeders Club and originally stood at Highdown Stud but, when that operation wound down, he went to Clifton Stud. More here
North America: An Into Mischief filly consigned by Top Line Sales LLC, Agent, went to OXO Equine LLC for a sale record $900,000 to top the third and final session of the Ocala Breeders' Sales Company's 2019 June Sale of Two-Year-Olds and Horses of Racing Age. More here
North America: The Thoroughbred Owners and Breeders Association (TOBA) announced that the 34th annual TOBA National Awards Dinner will be held on September 7 at Fasig-Tipton in Lexington. More here