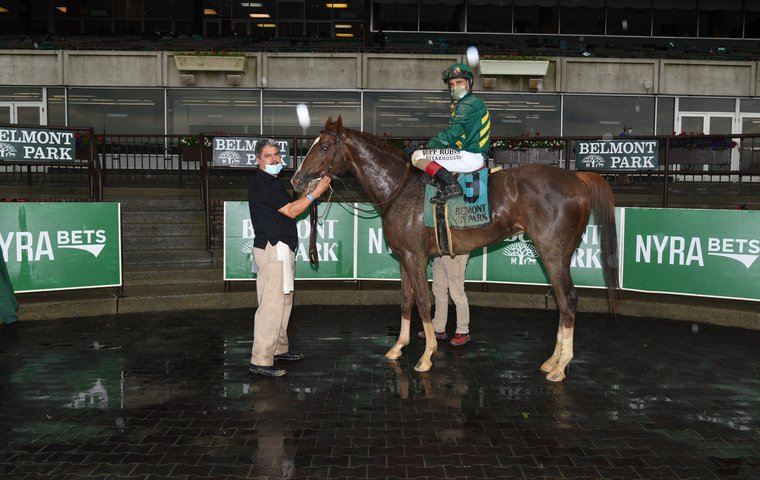 The weekly TRC industry digest - a round-up of the international racing news from the past week.

No top hats and tails at Royal Ascot next week
Europe: The organisers of Royal Ascot have confirmed that next week's meet will not only take place behind closed doors but also with a more relaxed dress code, with the customary top hat and tails being conspicuous by their absence.
With only participants and a handful of media onsite, Nick Smith, Ascot's director of racing, has asked "people to dress smartly and respect the occasion" but, due to the non-existence of enclosures "there's definitely no need for morning dress".
"It's nobody's fault that people aren't able to attend and it would look strange to have morning dress onsite out of the context of the usual pomp and ceremony of the event, but it's still Royal Ascot and you would not expect people to turn up in jeans and a T-shirt," he said.
The meeting will also see Ascot become the first racecourse in the UK to publish live weather data via an innovative new App developed by Cambridgeshire-based tech company TurfTrax.
For the first time, information including rainfall, wind speed and direction, soil moisture, and daily evapotranspiration (moisture loss), will be available to view in real-time alongside GoingStick readings, going maps, rails positions and irrigation in the build-up to and during Royal Ascot.
Handle record at Belmont
North America: The New York Racing Association (NYRA) announced that Opening Week of the 2020 Belmont Park spring/summer meet generated all-sources handle of $76,264,891 for 51 races, which is an 84 per cent increase compared to the first five full days of last year's meet.
Tony Allevato, president of NYRA Bets, said the meet had to "rely completely on our digital resources and television to reach our fanbase" and thanked its broadcast partner, Fox Sports, for sharing the NYRA-produced national telecast America's Day at the Races with viewers nationwide".
A record-breaking Opening Week was capped by Sunday's ten-race card, which boasted all-sources handle of $15,224,584.
Shuttle switch for Treasure Beach
South America: Haras Abolengo has confirmed that 2011 Irish Derby winner Treasure Beach will shuttle to the Argentinian farm for the 2020 Southern Hemisphere breeding season. The 12-year-old son of Galileo stands the Northern Hemisphere season at Pleasant Acres Farm in Florida for an advertised for a fee of $7,500.
Treasure Beach had previously stood four Southern Hemisphere seasons at Abolengo earlier in his stud career before spending the previous Southern Hemisphere season at Haras Cardenal. He has sired five G1 winners in Argentina.
Ground set to make HK title run-in 'even harder'
Asia: With just ten meetings to go in the Hong Kong season, Zac Purton and Joao Moreira are playing out another tight and thrilling title race, which sees reigning champion Purton lead the 'Magic Man' by just three wins (129-126) after over 700 races.
In the 2015-16 season, Moreira claimed 20 winners in the final ten meets to secure his second HK Jockeys' Championship. However, the Brazilian believes that winners will be even harder to come by this time because it's the wet season so the "surface can become a lottery" and "you might have decent rides, but at least half of them won't handle the surface so it becomes difficult".
"It's going to be even harder now to see someone riding four or five winners in a day," Moreira acknowledged.
Hensey takes the reins at Al Shaqab
Europe: Paul Hensey has been appointed chief operating officer of Al Shaqab Racing, Breeding and Arabian Worldwide as part of the Qatari operation's restructure.
Hensey worked for Rifa Mustang Europe as CEO for the last three years and ran the Curragh racecourse and training grounds for 15 years prior to that.
He said, "Al Shaqab Racing is one of the foremost racing and breeding operations in the world, and I am delighted to be joining the company at this exciting time in its development. I look forward to meeting the extended Al Shaqab team and to working with them to achieve further success for Al Shaqab Racing."
Elsewhere in racing ...
North America: Jason Beem has been named track announcer at Grants Pass Downs. More here
Oceania: The Victoria Racing Club says its members are at the front and centre of their plans as racing prepares for a gradual return to crowds. More here
North America: Churchill Downs Inc. purchased 1,250 historical racing machines from International Game Technology. More here
Europe: The Curragh and Paddy Power are renewing their commercial partnership, which starts with the Paddy Power Irish Lincolnshire tomorrow (June 12) at Irish Guineas Weekend. More here