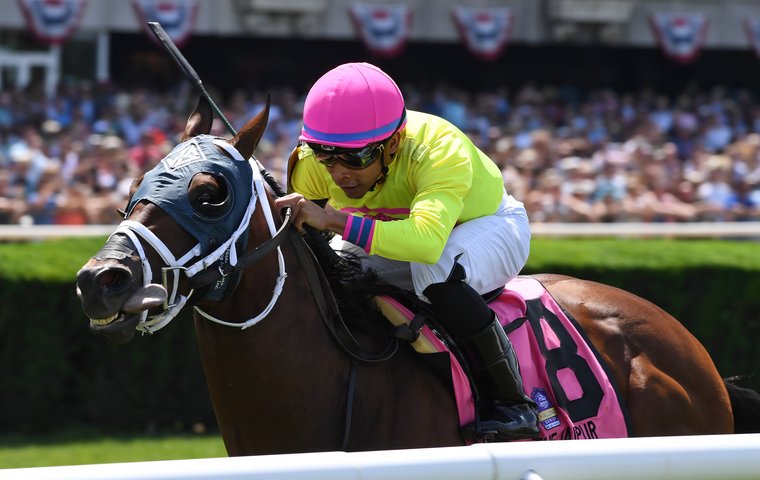 The weekly TRC industry digest - a round-up of international racing news from the past week.

North America: Following two more equine fatalities at Santa Anita Park, the California Horse Racing Board (CHRB) has asked the Stronach Group (TSG) to shut the track and forgo the remaining days of its meeting, which ends on June 23.
The regulatory agency does not have the power to suspend racing without approval of the designated track but will be able to take such action if it goes through a ten-day notification period.
The deaths of Formal Dude and Truffalino mean that, since the winter/spring fixture opened, 29 horses have lost their lives at the California course. TSG declined to comment on the board's recommendation or what its plans were for the remaining days of racing at Santa Anita.
The CHRB and TSG will, however, implement enhanced safety measures and reviews to further protect horses, such as examining individual entrants' medical and performance histories.
It is believed that organisers of the Breeders' Cup will discuss a possible switch of the 2019 fixture from Santa Anita after the catalogue of fatal injuries.
Racing at Santa Anita is due to take a four-month break before resuming in the autumn before the Breeders Cup' on November 2-3. It is understood a move to Churchill Downs, which hosted last year's iteration of the international championships, is being considered as the only venue with sufficient permanent infrastructure to host the event at short notice.
Rail strike set to hit Royal Ascot
Europe: A five-day strike on South Western Railway (SWR) is expected to cause severe disruptions for thousands of racegoers heading to Royal Ascot next week, especially those coming from London.
An industrial dispute between SWR and the National Union of Rail, Maritime and Transport Workers has resulted in SWR being able to offer only "a skeleton rail service, supported by a rail-replacement bus service" for all five days of the Royal meeting.
Nick Smith, Ascot's director of racing and communications, urged customers to forsake the train and "consider driving to the meeting" for all five days. While an increase in cars will add queues on roads approaching the venue, Smith confirmed that the racecourse has "a number of pay-on-the-day car parks which we can open up if necessary".
Omaha Beach: we'll have to wait a little longer
North America: Fox Hill's Rick Porter has revealed that ante-post favourite for this year's Kentucky Derby, Omaha Beach, "scoped A-okay" before returning to trainer Richard Mandella's stable at Santa Anita earlier this week.
The G1 Arkansas Derby winner was withdrawn just three days before they went to post at Churchill Downs because of an entrapped epiglottis. He had throat surgery on May 3 at Rood & Riddle Equine Hospital in Lexington and was sent to WinStar Farm to convalesce.
A May 18 departure date was put back to this week as the War Front colt's throat "was a little slow in healing".
Mandella will wait until Omaha Beach's throat is completely healed before he begins training again. "We don't want to get him breathing hard and irritate the throat any further," he said. The Hall of Famer conceded that his "throat is much better, but not perfect yet", adding that "when it's perfect, we'll begin to go the racetrack".
War of words as Melbourne Cup gets prize fund boost
Oceania: The Victoria Racing Club (VRC) has increased its prize money for the 2019 Lexus Melbourne Cup. The world's richest handicap and staying race will now be worth A$8 million (US$5.53m), up from A$7.3 million.

The winner will now receive A$4.4 million plus A$250,000 in trophies, the second A$1.1 million and the third A$550,000. Prize money will continue to be paid down to 12th place, with 6th to 12th to receive A$160,000, up from A$150,000.
"It is the race every Australian owner, trainer and jockey wants to win, and internationally, has become one of the most sought-after prizes in world racing. Connections cannot buy a place in the Lexus Melbourne Cup, it has to be earned," said VRC chair Amanda Elliott in an apparent barb at Racing NSW's A$14 million The Everest.
Elliott also provided her thoughts on Racing NSW's new Spring Carnival schedule, which she believes is "counterproductive for the sport" and likely to spread the talent pool of horses and riders across two states.
"I think it's just a silly little man making silly decisions," Elliot remarked about her NSW counterpart, Peter V'landys, who retorted that "personal abuse and cheap shots are very disappointing".
World Of Trouble's stud future
North America: World Of Trouble, winner of last Saturday's G1 Jaipur Invitational on turf at Belmont Park, will stand at Hill 'n' Dale Farm in Kentucky alongside his sire, Kantharos, at the end of his racing career.
The 4-year-old, now a G1 winner on both dirt and turf, has won seven of his last eight races – he is undefeated in 2019 – and his current owners, Michael Dubb, Madaket Stables and Bethlehem Stables, will race the colt through 2020. They will retain an interest in his stud career, and Dubb "will start to assemble mares for the 2021 breeding season".
Hill 'n' Dale president John Sikura expects World Of Trouble to be "compatible with every type of mare", adding: "Brilliant, consistent and versatile are great requisites for a new sire."
Elsewhere in global news …
North America: The Belmont Stakes generated an all-sources handle of $102,163,280, which is a NYRA record for a non-Triple Crown year. The figure is an increase of 9.1 per cent over 2017, the most recent year without a Triple Crown on the line, and an increase of 2.8 per cent over the previous record for a non-Triple Crown year, set in 2016. More here
Europe: The Jockey Club has released its latest annual review and outlook on a digital-only basis, as part of its green targets. The 'Supporting British Racing' document is a snapshot of the last year and highlights the commercial arm of British racing's opportunities and challenges ahead. More here
North America: The Coalition for Horse Racing Integrity (CHRI) announced its strong support for the Horseracing Integrity Act of 2019, introduced in the U.S. Senate by Senators Kirsten Gillibrand and Martha McSally, which proposes the creation of an independent anti-doping authority, the Horseracing Anti-Doping and Medication Control Authority (HADA). Read a copy of the proposed legislation
Europe: A total of 904 lots have been catalogued for Tattersalls July Sale, to be held July 10-12, comprising 814 horses and fillies in and out of training and 90 broodmares, seven of which have foals at foot. View the full catalogue here
North America: Arthur Serres has been appointed Arqana's new technical director. He will join the company on July 1 for the summer sale before taking over the technical management of Arqana from August 1, succeeding Alexis Renault, who has held the position since 2016. Serres previously ran racecourses Toulouse and La Teste, both in South West France.
North America: CHRB (California Horse Racing Board) stewards have suspended trainer Michael Pender for 30 days for violations of animal welfare and trainer insurer rules. The American, ordered by Santa Anita management to vacate his stalls last month, was charged with "knowingly" working New Karma at Santa Anita on March 24 after a veterinary examination disclosed an injury. More here
North America: Fasig-Tipton has catalogued 364 selected yearlings for its July sale, to be held Tuesday, July 9, at its Newtown Paddocks in Lexington. This is a marginal increase on 2018's 349 entries. View the full catalogue here
North America: To celebrate the ten-year anniversary of Rachel Alexandra's undefeated 3-year-old campaign, Stonestreet Farms will be gifting $25,000 to Grayson-Jockey Club Research Foundation in the 2009 U.S. Horse of the Year's name, through its sponsorship of the Stonestreet Giving Challenge. More here
Europe: Darley sire Brazen Beau has produced a first European stakes winner and second overall as his daughter, Avengers Queen, claimed the listed Premio Mario E Vittorio Crespi at San Siro in Italy. The grandson of Invincible Spirit shuttles between Darley's Northwood Park in Victoria and Dalham Hall at Newmarket, where he has been standing for £7,000 ($8,911). More here
Europe: Arena Racing Company and Newcastle Racecourse have agreed a new multi-year partnership with Betfair for both the Northumberland Plate Festival and Fighting Fifth Hurdle. More here