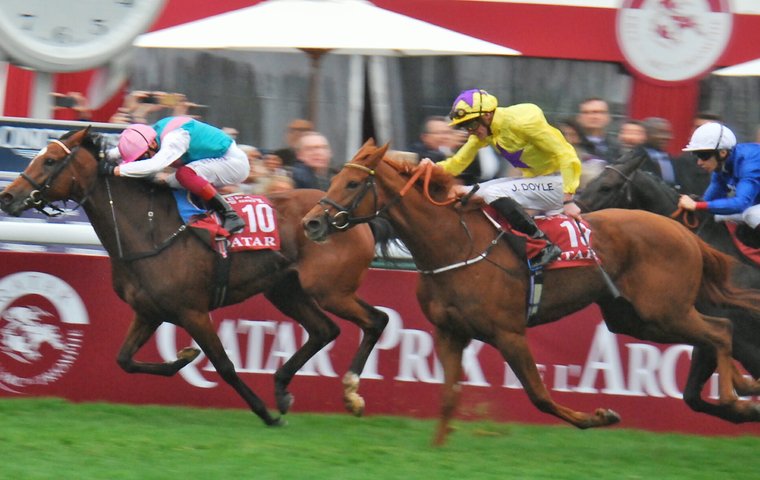 The weekly TRC industry digest - a round-up of international racing news from the past week.

Haggas 'praying' for Arc runner-up Sea Of Class
Europe: A devastating attack of colic has brought to an end the racing career of 2018 Irish Oaks winner Sea Of Class, who remains in intensive veterinary care as she fights for her life.
The dual G1 winner underwent an operation on Wednesday and trainer William Haggas – who is "praying for the filly" – said, "There is no news at the moment. In some ways I suppose that's good news." He added that, if the daughter of Sea The Stars was a person, she would be classed as "critical, but stable".
After finishing strongly to be beaten a short neck by Enable in last year's Prix de l'Arc de Triomphe, Haggas had hoped the 4-year old could go one better and emulate her father at ParisLongchamp on October 6.
Alert for powerful new performance-enhancer
Oceania: A deadly venom found in sea snails - which can paralyse fish within a second - has emerged as the latest performance-enhancing drug to have infiltrated Australian horse racing.
Racing NSW and Racing Victoria integrity officials confirmed they had started screening for the powerful painkiller, which is believed to have subtypes much stronger than morphine and can exit a horse's system very quickly, numbing any discomfort prior to racing.
The painkiller is suspected to have been administered in both the Thoroughbred and harness codes.
Tributes pour in for flamboyant McCririck
Europe: Veteran journalist and TV presenter John McCririck has passed away at the age of 79 following a secret battle with lung cancer.
Although 'Big Mac' – as he was known - lost his job with Channel 4 Racing in 2012, he remained a contributor to British racing for the remainder his life after a career that began at Harrow School, where he ran the school book.
He was not only a recognisable face in the UK, annual trips to the Breeders' Cup brought the Englishman celebrity Stateside, including an appearance on the Jay Leno show.
Despite his often-divisive onscreen persona, tributes poured in for the two-time winner at the British Press Awards for investigative journalism.
The Racing Post's Alastair Down called him "flamboyant and fearless, but above all a passionate defender of the punter"; world #2 jockey Frankie Dettori lamented the passing of a "great guy who was always good to me"; Ray Paulick remembered the "wild outfits, hats, cigars and unforgettable personality"; and TRC contributor Nick Luck said that "life without John McCririck will be far less interesting", adding that he was "so often very kind to me and many, many others".
McCririck is survived by his wife of 48 years, Jenny, who said that McCririck's ashes will be spread at the furlong pole of the now-defunct Alexandra Park Racecourse in London.
Now Bahrain has a big new international race
Middle East: The Bahrain Horse Racing Authority (BHRA) has announced that the Rashid Equestrian and Horseracing Club will host the inaugural £200,000 Bahrain International Trophy on November 22.
Shipment of invited horses will be arranged and paid for by the BHRA, as will the upkeep costs of the horses while they are stabled in Bahrain. The mile-and-a-quarter event will be free to enter and carry a first prize of £100,000 and have a maximum field size of 14, who will have to be rated 95 or over by their domestic authorities.
Next target for Catholic Boy
North America: Trainer Jonathan Thomas said that his dual-surface star Catholic Boy was in "good order" after finishing runner-up to Preservationist in the G2 Suburban at Belmont Park, and confirmed that his "headstrong" charge is likely to stay on dirt for his next outing.
The 2018 Travers Stakes and Belmont Derby winner – who posted a 102 Beyer rating and was giving the winner six pounds – will head to Saratoga for a reduced nine furlongs in the G1 Woodward, "our major target".
British racing feeling the pinch
Europe: Britain's Horserace Betting Levy Board (HBLB) has announced a reduction of £5 million to £94m for its expenditure for the full calendar year 2019, ending prize-money boosts as well as a reduction in the planned increase in the race-day services budget for this year.
It does, however, predict prize money and race-day services will be higher than in 2018.
It has also offered up £900,000 as a means of incentivising media rights holders to get their tracks producing live sectional timing and tracking data at every British fixture by the end of 2021.
The HBLB believes that "accurate and fast data for all races" will be instrumental in "engaging new audiences" and will aid bookmakers to "develop more compelling betting products", as well as providing "key data-based evidence" to improve equine welfare, integrity and regulation.
Elsewhere in global news …
North America: Dr Jennifer Durenberger has been named as Jim Edwards' successor as the Jockey Club steward at New York Racing Association (NYRA) tracks, where she is currently the chief examining veterinarian. More here
Asia: China has confirmed its first equine case of mosquito-borne virus Getah in a 17-year-old Warmblood, who developed a sudden fever. Researchers believe an outbreak poses a potential threat to China's racing industry and are encouraging the development of a vaccine. More here
North America: As a result of a fall on Metallic at Monmouth Park, jockey Jose Ferrer will be out of action for about four weeks. His agent, Steve Worsley, said Ferrer is being treated at the Monmouth Medical Center for a cervical spinous process fracture to his upper spine and neck area. More here
North America: The 11-race Stars & Stripes Racing Festival card at Belmont generated an all-sources handle of $25,766,176, the highest handle figure since the NYRA launched the festival in 2014. More here
North America: World #2 trainer Chad Brown registered his fourth consecutive Belmont Park spring/summer individual meet title with 38 wins across the 48 days, while Jose Lezcano captured his first New York riding title with 44 victories and Klaravich Stables (12 wins/$1.5 million) topped the owners' classifications. More here
North America: The California Horse Racing Board (CHRB) will implement the same five-member review panels established during the last two weekends at Santa Anita for the Los Alamitos Summer Thoroughbred Meet (June 29-July 14) and the Del Mar Summer Meet (July 17-September 2). More here
Asia: A colt by Deep Impact out of Titan Queen was the sale topper at the foal session of JRHA Select Sale on July 9 at Northern Horse Park. The colt from Northern Racing was bought by Riichi Kondo, who also bought the sale-topper at the yearling session on Monday - for ¥470 million ($4.2 million). More here
Europe: The Tattersalls July Sale opening day saw a record price for a filly of 420,000 guineas for At Last and the third highest-priced colt/gelding to be sold at the sale with Admiral Rous realising 325,000 guineas. More here