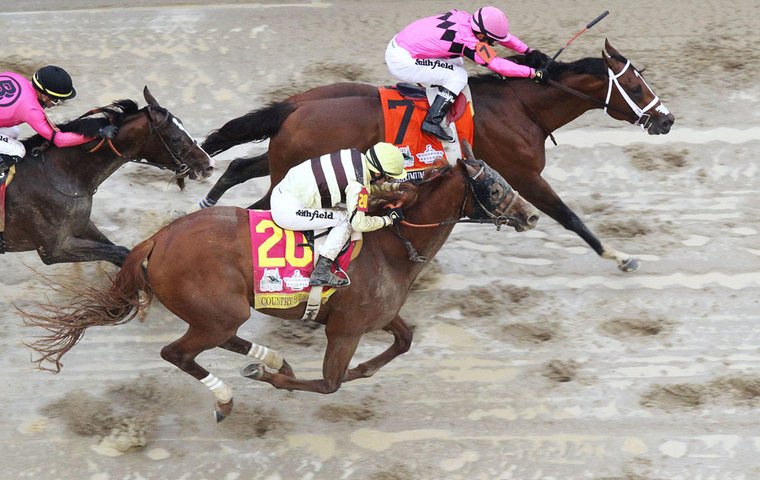 The weekly TRC industry digest - a round-up of international racing news from the past week.

A second Aussie trainer is banned on 'jigger' charges
Australian trainer Ben Currie has received a four-year ban after being found guilty by stewards in Queensland of two charges involving the intention to use an electronic apparatus (jigger) on horses.
This is the same length of disqualification as the one given Melbourne trainer Darren Weir earlier this year after Weir was found guilty of four charges, three of them relating to the possession of a jigger.
Currie, who is expected to appeal, still faces 35 other racing charges plus hearings into five swab irregularities, according to Racenet.com.au.
Smullen's new role with Dermot Weld
Europe: Nine-time Irish champion jockey Pat Smullen has announced his retirement from racing on medical advice, with immediate effect.
The 12-time European classic winner had recently completed treatment for pancreatic cancer that saw him miss most of the 2018 season. Smullen had hoped to resume his riding career but was almost 14 pounds heavier than his riding weight. Doctors "strongly advised it would not be wise to go down that road [of extreme dieting]" as it could compromise his immune system.
"My decision is a sad one, but it is the right thing to do and it's a case of putting my body, my health and my family first," said the 41-year old Irishman.
Tributes for came in from former weighing room colleagues and trainers. Frankie Dettori said that "you won't meet a finer man" and called Smullen "an amazing rider too". Aidan O'Brien said, "Pat was second to none both as a jockey and a horseman." He complimented Smullen on the "way he has dealt with and spoken about his illness", which "inspired people all over the world".
Johnny Murtagh called Smullen "one of the toughest competitors I had to ride against", highlighting his consistency and strength in the finish.
Smullen has long been associated with trainer Dermot Weld, and Derby glory came their way in 2016 with Harzand. "Pat was a world-class jockey … highly intelligent, and as a jockey he was always in the right position in a race," said Weld.
Smullen is planning to ride out for Weld at his Rosewell House operation in Ireland, where he has played such a pivotal role in for the past 20 years and maintains a close relationship with the veteran trainer.
It's Winx once more
Oceania: Winx has once again been named champion racehorse at the Hunter Thoroughbred Breeders' Association annual awards in Scone, New South Wales, which recognise the best performances from Hunter Valley-bred horses.
The recently retired daughter of Street Cry receives the honour for the fourth consecutive year. Trainer Chris Waller retired the 7-year old to great acclaim after a third success in the Queen Elizabeth Stakes at Randwick last month.
The coveted champion 3-year-old colt was awarded to the unbeaten The Autumn Sun, also trained by Waller. He had been touted as a possible for Royal Ascot this, but the sudden death of his sire, Redoute's Choice, made him the obvious choice to replace him at Arrowfield, where he will stand his first season this year.
Furore over Kentucky Derby DQ
North America: An appeal by the owners of the disqualified Kentucky Derby winner Maximum Security was denied by the Kentucky Horse Racing Commission on Monday, just hours after it had been filed.
A letter from the organisation's general counsel, John L. Forgy, said the disqualification was not subject to appeal. It was not immediately clear whether Gary West, who owns original winner Maximum Security with his wife, Mary, planned to take the next step and file a lawsuit over the ruling.
In aftermath of the race, West was scathing of Churchill Downs Racetrack, calling it a "greedy organisation" for allowing a 20-horse field. Most prestigious races in the United States cap fields at 14.
"Just because they can make more money, they're willing to risk horses' lives and people's lives to do that," said West.
The result – correct to the letter of the law – has understandably provoked much debate in the industry and wider circles, even causing President Trump to divulge his opinion of the DQ to his 25.8 million Twitter followers.
"The Kentuky [sic] Derby decision was not a good one. It was a rough & tumble race on a wet and sloppy track, actually, a beautiful thing to watch. Only in these days of political correctness could such an overturn occur. The best horse did NOT win the Kentucky Derby - not even close!?," wrote the President, who later corrected his original tweet -- spelling 'Kentucky' properly.
Legal battle over fate of the Preakness
North America: The Maryland Jockey Club (MJC) announced that it filed a motion to dismiss Baltimore City's lawsuit to condemn and confiscate Pimlico Race Course and the Preakness Stakes.
Alan Rifkin, attorney for the MJC, said that "under State law, the city has no right to confiscate the privately held assets of the Maryland Jockey Club", emphasising that the state law is "very clear that the city is pre-empted and precluded" from taking the G1 feature race and the historic Maryland track.
According to The Baltimore Sun a Maryland law passed in 1987 says that the Preakness can be moved from Pimlico "only as a result of a disaster or emergency".
The city's lawsuit asserts that the track-owner, the Stronach Group (TSG), is "openly planning to violate Maryland law by moving the Preakness to a different racetrack [Laurel Park] despite the absence of any disaster or emergency, except for the disaster that they are in the process of creating".
MJC president Tim Ritvo called the provocative lawsuit "disconcerting", adding that TSG had "raised legitimate questions" as to whether the Maryland racing industry was able to "sustain two sprawling and capital-intensive racetracks less than 20 miles apart from one another".
Royal Ascot the target for Masar
Europe: World #1 trainer Charlie Appleby has revealed that Epsom Derby winner Masar could make his long-awaited return to action at Royal Ascot next month, ahead of "ultimate aim", a crack at the Prix de l'Arc de Triomphe.
A leg injury in routine training on the eve of the Eclipse Stakes at Sandown Park last year meant the now 4-year-old has not run since his famous victory last year, which provided Appleby and Godolphin with a first victory in the great classic.
He has entries for G1 Prince Of Wales's Stakes and the G2 Hardwicke Stakes, with the Moulton Paddocks conditioner feeling that a "mile and a quarter will be the right starting point for him".
"I wouldn't want to bring him back there only 75 per cent fit," said Appleby. "It is a day-by-day situation with him, and he is doing everything we have asked of him. The only thing I would emphasise is that he is a horse who helps himself potentially getting to Ascot because he is an athlete and a very good horse.
"He is a very clean-winded horse and if he comes in time for Ascot, then great, we will be there."
Cashless card introduced at ParisLongchamp
Europe: Following a successful trial at Auteuil last year, France Galop will implement a free cashless card at ParisLongchamp's 32 days of racing this year. It will be in place for the Emirates Poules d'Essai des Poulains and the Poules d'Essai des Pouliches (French 2000 and 1000 Guineas) on Sunday (May 12).
Racegoers will still need cash for betting, but the cards will be the only means of making a purchase in the garden area known as the Petit Pre. Visitors to the recently renovated course will be able to use debit and credit cards in the main grandstand alongside the new system, although cash is no longer accepted.
The cashless card is designed to cut down waiting times at food and drink outlets, a problem that emerged on Arc day last October. France Galop hopes to expand the system in the future to include betting with the PMU.
Data rights victory for Arena
Europe: The British High Court has found in favour of Arena Racing Company (ARC) and The Racing Partnership (TRP) in their dispute with Sports Information Services (SIS), who it deemed to have acted unlawfully by breaching the confidentiality in ARC's Raceday Data.
The Hon Mr Justice Zacaroli, in a 96-page judgment, in essence found that SIS knew that Arena imposed restrictions on the use of Raceday Data upon all attendees; that Arena had granted exclusive rights to exploit Raceday Data for fixed-odds betting purposes to TRP; that the Tote had no contractual arrangement with Arena regulating its entitlement to collect, or sub-licence to others, Raceday Data.
While the judge found ARC/TRP had not made good their other claims of conspiracy through unlawful means, he did conclude that SIS is liable to the claimants under a separate direct claim for breach of confidence.
Martin Cruddace, chief executive of ARC, said, "We are pleased that the High Court has unequivocally recognised the validity and enforceability of our exclusive rights in the Raceday Data created and collected on racecourses and therefore owned by them.
"We welcome the fact that the judgment gives a ruling on the rights in and protection of Raceday Data, which is important to all of British Horse Racing.
"We will now expeditiously commence the proceedings to determine the quantum of damages and will continue to monitor any infringements of our rights and take appropriate action wherever such infringements are found."
Breaking Lucky off to stud
North America: Canadian classic winner Breaking Lucky, a half-brother to the dam of Kentucky Derby winner Country House, has been retired, and he will begin his stallion career in the 2020 breeding season at Blue Star Racing.
The 7-year-old son of world #21 sire Lookin At Lucky finished his track career with four wins in 27 starts for earnings of $1,196,376. He won the 2015 Prince of Wales Stakes, the second leg of Canada's Triple Crown.
Keeneland strengthens leadership team
North America: Keeneland officials have announced two additions to the executive leadership team: Christa Marrillia is vice president and chief marketing officer, and Marc Therrien is managing director of Keeneland Hospitality.
"Our world-class marketing efforts and the hospitality we extend to our guests are critical to the success of our core business," said Keeneland president Bill Thomason. "These programs have thrived under Christa and Marc's leadership, and we are delighted to welcome their fresh perspective and insight to the executive leadership team.
"Since joining Keeneland Hospitality as executive chef in 2016, Therrien has significantly enhanced the Keeneland culinary experience during racing and sales, and at hundreds of private and corporate events here. Marrillia joined Keeneland in 2003 and has been instrumental in elevating the Keeneland brand through digital channels, strategic partnerships and grassroots efforts."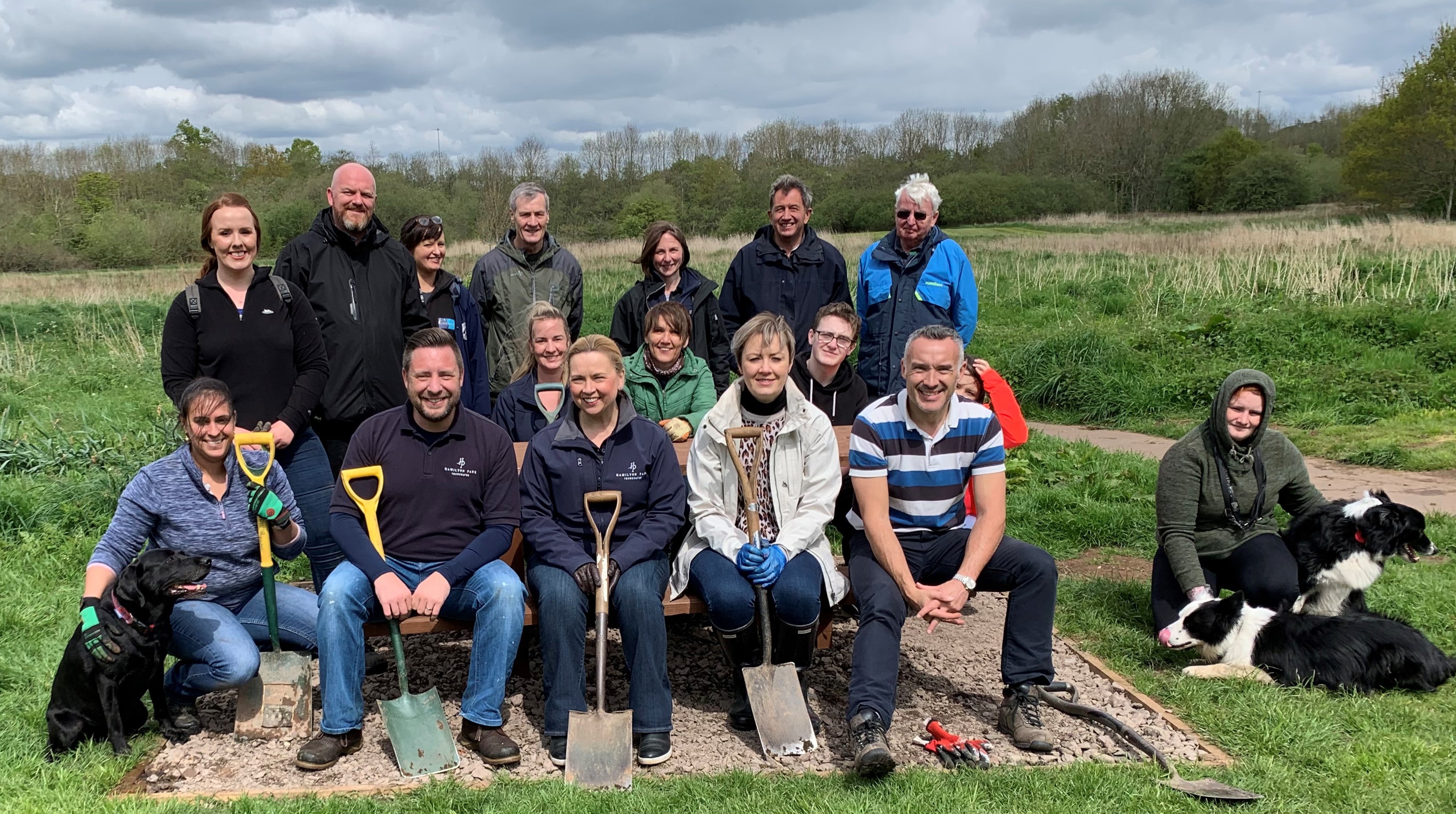 Lending a helping hand
Europe: Following a successful start to the racing season at Hamilton Park, near Glasgow, last Sunday, the racecourse team turned their attentions elsewhere on Thursday to focus on helping in their local community.
The racecourse staff joined the South Lanarkshire Countryside Rangers team at South Haugh, near Hamilton, where they helped with clearing footpaths, creating picnic areas and clearing litter.
The voluntary work is part of the Racing Together Community Day, British racing's national day of employee volunteering. In 2018, over 300 hours were volunteered by organisations within British racing to help others across the country.
Racing Manager Sulekha Varma, who also leads Hamilton Park Racecourse's Community Engagement Programme, said, "Hamilton Park is dedicated to continually working to help our local community in as many ways as we can. Being a part of Racing Together's Community Day is an opportunity for us to come together with other racing-related businesses and charities to demonstrate that commitment.
"In addition to today's conservation work with the South Lanarkshire Countryside Rangers, we have recently been working alongside the Bothwell Road Action Group to assist them in improving the Bothwell Road Park. We have also built ties with local schools who will be attending educational Racing to School days later in the summer, and one school will be completing a lunch-club project around the history of the racecourse.
"Like many businesses, we are conscious of our environmental impact and this conservation work represents a push to assist and protect local wildlife. We have recently installed bird and bug nesting boxes across the site and the groundstaff have built a 'bug hotel' from deadwood felled from trees on the parkland."
Racing Together's Chief Executive, John Blake, said: "We are thrilled to have Hamilton Park Racecourse take part in Racing Together's Community Day this year.The simple purpose of Racing Together is to pool the imagination and effort of organisations across the sport with the common aim to help others, whether on their immediate doorstep or through initiatives that support people nationally. Community Day is Racing Together in a nutshell. This is the annual opportunity for racing to join forces and make an impact through volunteering."
He added, "May 9 is a day to celebrate racing's growing commitment to do its bit, which is as rewarding for those involved as for those who benefit. We know that this will be the biggest, most far-reaching Community Day yet, and we want as many racing people as possible to show how the sport values its neighbours."
Hamilton Park's next racemeeting takes place on Friday, May 17.
Trinniberg moving to South America
North America: A Uruguayan partnership of Haras La Concordia, Haras San Miguel Queguay and BGC Thoroughbred Stud has acquired champion sprinter Trinniberg from Rockridge Stud, where he retired in 2014.
The 10-year-old son of Teuflesberg, who won the 2012 Breeders' Cup Sprint at Santa Anita, has sired five winners from three crops of racing age. His runners of note include stakes winner Aqua Bel Sar and stakes-placed Belleville Spring.
Looking at the bigger picture …
Europe: Ripon racecourse has taken the novel approach of inviting fellow Yorkshire tracks Beverley, Catterick, Pontefract and Wetherby sponsor four of the six races at its 5iver Friday meeting on May 10.
"There is a bigger picture," explained Jonathan Mullin, Ripon's marketing manager. "By getting other racecourses involved and having them promote themselves during the evening we're trying to create racing fans. We're happy if they want to try other racecourses, and if people are going racing that can only be a good thing."
Party time for the TCA
North America: The Thoroughbred Charities of America (TCA) will host its second annual Founders Celebration and Cocktail Party on May 19 at the Grandstand Grille in the Timonium OTB in Timonium in Maryland, adjacent to the Fasig-Tipton sales grounds.
The event celebrates TCA's Mid-Atlantic area roots and offers guests the opportunity to come as they are from the sales to support TCA. Tickets are available for $50 and include live music, appetizers, wine, and beer. Tickets can be purchased at tca.org. All net proceeds will benefit TCA's 2019 grant recipients.
Death of auctioneer Philip Purcell
Europe: Former Tattersalls Ireland auctioneer Philip Purcell died after a long illness on Tuesday evening at the age of 73.
The Tipperary native owned Farran House Stud in Emly, County Tipperary, which he passed on to his eldest son, Kenneth, in 2012. He also worked as a livestock and property auctioneer for Golden Vale Marts in Kilmallock, as well as being the manager of Limerick Junction racecourse.
Pullman retired in 2011 following 35 years with Tattersalls, where he was one of the three original auctioneers for the auction house's Irish division, which started selling in Ballsbridge in 1975.
"He represented the company for 35 years in Limerick and Tipperary," said Edmond Mahony, chairman of Tattersalls. "He was a great ambassador for the company and a great horseman and his work with Golden Vale Marts complemented his work with Tattersalls."
Purcell is survived by wife Maura and their three children.