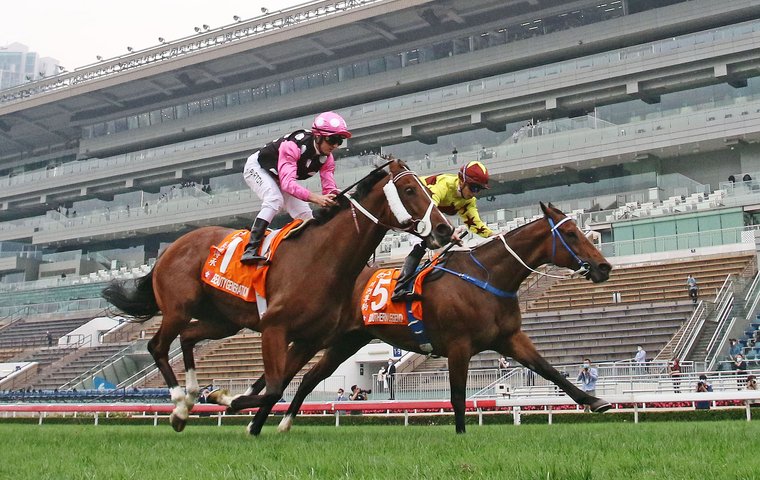 The weekly TRC industry digest - a round-up of international racing news from the past week.

Baffert and O'Neill join 'let them race' rally
North America: Kentucky Derby-winning trainers Bob Baffert and Doug O'Neill joined racing advocates rallying outside a Los Angeles County Board of Supervisors meeting on Tuesday hoping to convince government officials to allow the resumption of live racing at Santa Anita.
The Californian track's stable area has about 1,700 horses and 750 workers who live and work onsite. Morning training has continued during the pandemic.
Baffert wore a protective mask, but his trademark shock of white hair made him stand out from the crowd as he carried a sign stating, "We support horse racing". O'Neill has previously joined rallies for backstretch workers outside Santa Anita to counter animal rights activists.
Oscar De La Torre, an advocate for backstretch workers, who organised the rally, said it was "very nice to see them there" and that the presence of Baffert and O'Neill "sends a very powerful message".
John Moore set to join the Sydney training ranks
Oceania: John Moore is looking forward to the challenge of setting up a stable with his brother Gary in Sydney after reaching a compulsory retirement age in Hong Kong.
Moore, 70, is a seven-time leading trainer in Hong Kong and has applied for boxes at Rosehill and is set to join his brother who is already an established trainer at the racetrack.
The Moore brothers are sons of inaugural Australian Racing Hall Of Fame inductee George Moore, one of Australia's greatest jockeys, who had victories in the Prix de l'Arc de Triomphe and the Epsom Derby on his riding resume before going on to become a leading trainer in Hong Kong himself.
The Hong Kong racing season ends in July and Moore hopes he can return to Australia soon after. It is believed he is keen to find a race down under for Beauty Generation before the gelding's formal retirement.
Moore said, "I'm waiting to see what happens in the next three months with respect to getting myself and my wife into the country and then some of my team from up there as well. It is a new chapter and it is going to be hard, but I have Gary already in place back there and I can slowly blend into the racing scene. I can start to set things up the way I am hoping they can be.
"All of sudden being back in Sydney and no doubt having horses all over Australia to race it will be a different ball-game, but I have done what I needed to do up here and I look forward to the challenge."
Moore left Australia soon after finishing school in the 1970s and is Hong Kong's longest-serving trainer after he was licensed in 1985.
Ribchester replacing Iffraaj in New Zealand
Oceania: Haunui Farm in New Zealand has announced it has been decided to call time on the shuttling career of G1-producing stallion Iffraaj, currently world-ranked 73, and replace him with another Darley Europe resident, Ribchester.
The farm's MD, Mark Chitty, said that, at "19 years of age, the decision was made solely in Iffraaj's best interests", adding that his "legacy is certainly set to continue in Australasia".
Four-time G1 winner Ribchester will relocate from Darley Australia to Haunui for the 2020 breeding season, where he will stand for AU$15,000+GST.
"Who better to replace Iffraaj on the Haunui stallion roster than his best son," said an excited Chitty.
France still set for May 11 resumption
Europe: Racing remains on course to return in France on May 11 despite an announcement by prime minister Edouard Philippe that professional sport would not restart before September.
However, France Galop chief executive Olivier Delloye told Sky Sports Racing that "France Galop is not considered as a sports federation" in France. It is, in fact, run from the country's agricultural ministry, rather than being overseen by the sports minister.
Strict hygiene measures will have to be enforced and meetings will be held behind closed doors, with no foreign horses or participants allowed until at least the end of May.
Delloye said France Gallop is "definitely backed at a national level by our ministers", but he conceded that each racetrack could come up against some local pushbacks. He aims to "keep very flexible" and "race as of mid-May on the Paris racetracks" – although should that not be possible because of Covid-19 "fixtures might be relocated to Deauville or Chantilly, so we have B plans, C plans and D plans".
Ireland 'ready to race at short notice'
Europe: Horse Racing Ireland (HRI) chief executive Brian Kavanagh says Ireland will be ready to "resume racing at short notice when it's deemed safe and appropriate" by the government. But he denied he plans to return as soon as restrictions are lifted on May 5.
The Irish 2000 and 1000 Guineas at the Curragh are still slated to take place on May 23 and 24. "There'd be no need to change the dates of the Classics. That decision hasn't been taken yet," said Kavanagh.
He also clarified that it would be possible to race "over a six-hour period [if] you have less than 200 people on a site" in a "very sterilised environment", which would be without spectators but require two doctors and two ambulances
"I think like every other industry racing is under a lot of pressure," added Kavanagh. "Racing is a big employer. From the moment of the lockdown, like a lot of other businesses, the earning potential within the industry just stopped."
Meanwhile, HRI has admitted there will be job losses "across the board" at Tote Ireland on the back of a 7-year deal with the UK Tote Group. The new agreement is for an alliance with Tote Ireland remaining a wholly-owned subsidiary of HRI, which is a semi-state body.
Three big Fasig-Tipton sales to be grouped into one
North America: Fasig-Tipton has decided to consolidate its July, Saratoga and New York-bred Select sales into one selected yearling auction, which will be called the 2020 Selected Yearlings Showcase
The one-off auction will be held on September 9 and 10 at the company's Lexington facility, with a return to the traditional calendar hoped for 2021.
"We're excited to offer our buyers and sellers a selected yearling venue in Kentucky," said Fasig-Tipton president Boyd Browning. "We envision this catalogue will include yearlings that would traditionally fit our Saratoga Sale, as well as those that would fall in the upper echelons of our July and New York-bred yearling sales."
Fasig-Tipton has launched a dedicated website for its 2020 Selected Yearlings Showcase sale. Click here to visit it.
Elsewhere in racing …
North America: Jockey Luca Panici was diagnosed with a pair of broken ribs after falling at Gulfstream Park. More here
Oceania: Australian jockey Chris McIver has been disqualified for seven months after admitting he hit his horse on the head in a race in Mackay, Queensland. More here
Oceania: Australian jockey Ben Melham has been hit with seven charges by Racing Victoria stewards after allegedly placing a number of big bets during a seven-month period, including on his own rides. More here
Europe: GambleAware has received a £9 million boost in bid to protect problem gamblers during crisis. More here