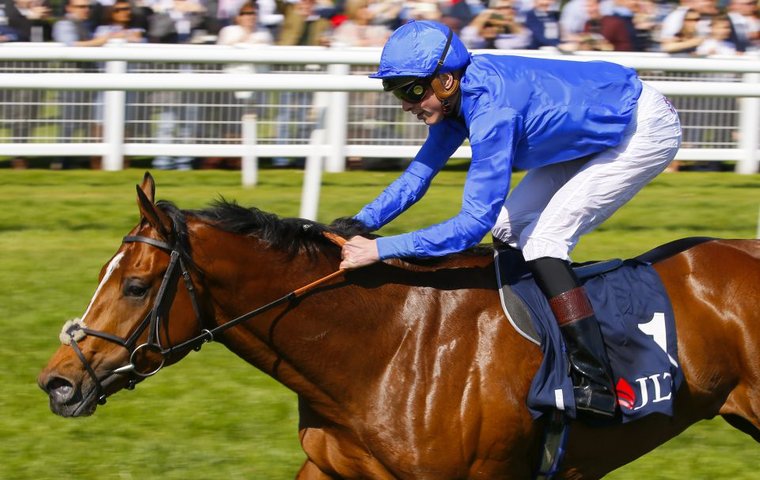 The weekly TRC industry digest - a round-up of international racing news from the past week.

Stud flop Barney Roy is back in training
Europe: Godolphin has confirmed that a return to the track for failed stallion Barney Roy is imminent and could be as soon as next Wednesday for his new trainer, world #1 Charlie Appleby.
The 5-year-old son of Excelebration has been given an entry in the listed Paradise Stakes at Ascot. Previously trained by Richard Hannon, Barney Roy carried the Godolphin blue to notable victories in the G3 Greenham Stakes and the G1 St James's Palace Stakes at Royal Ascot.
A soft tissue injury at the end of his 3-year-old career meant he was tried at Sheikh Mohammed's Dalham Hall stud in Newmarket in 2018 but he proved infertile. He was gelded and sent to Appleby's Moulton Paddocks operation in the new year.
"He doesn't seem to have lost his enthusiasm for it," said Appleby. "He's a very talented horse and time will tell if he's still in love with the game."
Stronach unveils racetracks trust idea
North America: Frank Stronach took out an advertisement earlier in the week – 'An open letter from Frank Stronach to all horse lovers in the state of California' - in the Los Angeles Times announcing that he would speak on the future of horse racing in Southern California, inviting the public to the Embassy Suites Arcadia Hotel.
Many trainers, owners, and others who work in the California racing industry were among more than 200 people in attendance for the Stronach Group (TSG) founder's speech, which lasted over half an hour and outlined his idea of putting racetracks that he had purchased into a trust for the racing industry run by its stakeholders.
"What does that mean? It would mean that they could never be developed," Stronach said. "Yes, we can build some hotels, we can build some condos, but not so it impedes the racing. It should complement the racing."
Stronach estimates that TSG has invested $1.5 billion into upgrading his facilities at tracks such as Santa Anita Park, Gulfstream Park and Laurel Park. The corporation hit the headlines last year when Stronach filed a lawsuit in Canada accusing his daughter of mismanagement of TSG since she took the helm more than two years ago.
William DeBurgh, a bloodstock agent and owner, sat next to Stronach and talked of his "huge respect" for Stronach. However, he cautioned that "one of the greatest problems we have in horse racing is no certainty for the future", which has led to racing's inability to make changes.
A bullish Stronach left the meeting, following a further hour of questions from the floor, by telling the audience, "I'm behind you, and I think we'll get it done."
Laurel whip ruling
North America: Jockeys at Laurel Park will have to use cushioned the same riding crop in all races - the 360GT (gentle touch) crop, designed by Hall of Fame jockey Ramon Dominguez.
The larger padded whip is designed to have less impact on horses and was tested out during the special April 22 program at the TSG-owned Maryland track. Riders have also been testing the crop during the current spring meet at Keeneland.
Trevor McCarthy, Maryland's winningest rider in 2014 and 2016, joked that "it looks almost like a big cat tail" but added that the crop is "very important for our game, for the protection of our horses and the jockeys, so I'm pretty excited to start using it".
Ladbrokes Coral in call for broadcast advertising ban
Europe: GVC Holdings, which owns the Ladbrokes Coral betting shop chain, has proposed an end to all broadcast advertising by sports betting companies.
However, Britain's biggest bookmaker said that, under its proposals to tackle the issue of problem gambling, horse racing should be the only sport exempt from a ban on TV advertising.
The group, which has also announced further initiatives as part of its Changing for the Bettor safer gambling campaign, said that advertising specifically promoting responsible gambling and safer gambling campaigns should also be permitted, albeit strictly limited to one advertisement per commercial break.
The proposal goes further than the forthcoming pre-watershed, 'whistle-to-whistle' advertising ban, which is set to be introduced at the start of the next football season in August. It adds that a complete ban on sports betting broadcast advertising at any time of the day would be the ultimate outcome.
Call for industry debate on Lasix
North America: The Thoroughbred Idea Foundation think tank, which aims to improve the industry for all stakeholders in U.S. racing, has called on the industry to come together on 'Lasix debate', which it called a 'debilitating one' that is 'inhibiting our collective ability to move ahead'.
The statement read: "The time has come for the industry to compromise – working together with all major constituencies to establish a mutually-agreed, new way forward.
"The recent announcement from a coalition of racetracks to introduce changes to their house Lasix policies was met with a series of statements from certain stakeholder groups restating their long-held positions. Compromise is essential. Absent a compromise, binding mediation should be considered."
The organisation, which was launched last summer, reminded all stakeholders, "Nothing is set in stone. Let's embrace that freedom to redefine the future."
It has enlisted five industry leaders to present their take on improving different segments of racing through new approaches to "long-stagnant offices".
Wagering and innovation: Marshall Gramm (chair of Rhodes College economics department, co-founder of Ten Strike Racing)
Racing Administration and Planning: Rick Hammerle (long-time racing official, including 20 years at Santa Anita as racing secretary and vice president of racing).
Integrity and Welfare: Maggi Moss (attorney, major horse owner, leading aftercare advocate)
Communications and Marketing: John Sikura (president of Hill 'n' Dale Farm)
Owners' Services and Recruitment: Brad Weisbord (founder of BSW Bloodstock, ELiTE Sales)
New sprint track 'different class', says O'Brien
Europe: Trialling of a new 'Matchbook Straight Seven' section of track took place at Cork Racecourse ahead of the opening on Friday May 10 as part of the racecourse's two-day 'Race and Taste' Festival.
The €500,000 development was funded through the Horse Racing Ireland racetrack improvement scheme as part of the overall Capital Development Scheme. The extension of the existing six-furlong sprint track began in 2017, making it one of only two straight seven-furlong facilities in Ireland.
Champion trainer Aidan O'Brien, who sent a string of his horses out for a gallop, described it as a "different class", complementing the track's speed and ability to dry out efficiently.
"It's something really exciting," said the world #4 trainer. "We never had a seven-furlong track like this in Ireland before. It's a flat, fast seven furlongs, horses don't miss a beat down there, the ground was beautiful. I think it's really exciting. It's great for us to have it in this part of the country really."
National Defense shuttle deal
Oceania: National Defense, a G1-winning son of Invincible Spirit, will shuttle to Victoria's Sun Stud for the forthcoming Southern Hemisphere breeding season for which he will stand for a fee of A$11,000.
Based at the Irish National Stud, the winner of the 2016 Prix Jean-Luc Lagardere on Arc day at Chantilly was due to stand his first season at the Victorian operation last year but was forced to miss the trip after picking up a minor injury.
"We've been looking for a champion 2-year-old by Invincible Spirit and believe National Defense is definitely the chosen son," Irish National stud chief executive Cathal Beale said. "National Defense was a brilliant juvenile who absolutely streeted his rivals and not only is he an outstanding type, he's by one of the most influential sires in the world."
National Defense will be one of ten stallions standing at Sun Stud this year, including Melbourne Cup winner Fiorente, whose fee rises from A$17,600 to A$27,500. Palentino, the G1-winning son of Teofilo, will remain at A$17,500.
Huge uplift on Ocala day two
North America: Following a solid opening day of the Ocala Breeders' Sales (OBS) Spring Sale of Two-Year-Olds in Training, Wednesday's second session saw 12 horses sold for more money than Tuesday's high price of $430,000, led by a $1-million Quality Road filly purchased by Emmanuel de Seroux of Narvick International.
OBS reported 171 horses sold for a total of $22,360,500 compared to 191 bringing $19,478,500 at the corresponding session a year ago. The average was $130,763, up 28.2 per cent compared with $101,982 in 2018, while the median price was $80,000, up 45 per cent compared to $55,000 a year ago. The buyback percentage was 216 per cent; it was 17.7 per cent in 2018.
From 608 catalogued for the first two sessions, OBS has sold 331 horses for gross receipts of $37,416,500, an average price of $113,041, and a $70,000 median price. At the same juncture a year ago, 359 head averaged $98,558 on gross receipts of $35,382,500, with a $55,000 median.
OBS director of sales Tod Wojciechowski wondered whether the huge discrepancy between Tuesday and Wednesday was due to the proximity to the Easter holidays or the catalogue, which orders the sales alphabetically by the dam's name. Nevertheless, Wojciechowski was pleased with the "good energy and strong activity all day" that resulted in "bidding [that] was very active".
The session-topper was consigned by De Meric Sales and is out of Paris Rose, the dam of G3 winner Decelerator. Nick de Meric said Wednesday's results represented "a very healthy market, top to bottom".
Eight foals under the spotlight
Europe: Ascot and Qipco have announced a three-year digital content series following eight foals born at Tweenhills Farm to showcase the journey from birth to becoming a racehorse and the people behind the scenes who make it happen.
The series will feature exclusive access and interviews with the team at Tweenhills in Gloucestershire, captured by Equine Productions, specialists in equine video marketing. The footage will be edited by Ascot's Digital, Broadcast and Content team and will be released across Ascot's channels with a quarterly update on the foals' progress.
"There is no guaranteed formula in horse racing," said David Redvers, stud manager at Tweenhills Farm. "I cannot say for sure that all these foals will race in the claret Qatar Racing silks in the future; some may go to the sales and some may not make the racecourse at all. They are living creatures, not machines, and that is what makes this sport so unique."
The eight foals are:
Bay colt, Frankel ex Simple Verse
Bay filly, Dark Angel ex La Rioja
Bay filly, Havana Gold ex Stroll Patrol
Bay filly, Churchill ex Wind Fire
Chestnut colt, Dubawi ex Wekeela
Brown filly, Deep Impact ex Lightening Pearl
Bay filly, Galileo ex Just The Judge
Chestnut colt, Frankel ex Heartless
Replacement stallion
North America: Multiple stakes winner Aaron's Way has been relocated to Bybee Road Farm near Charles Town, West Virginia.
Aaron's Way will now pick up 17 mares the farm had booked to promising Officer Rocket, who died last week ago due to a massive heart attack, according to farm owner Dennis Bybee.
Bybee remarked that the "good-looking horse" still looks race-fit. "He is really muscled up and powerful," he said. He takes over a "nice book of some really nice mares, including some nice stakes winners'.
The 11-year-old son of Yes It's True is standing his second year at stud, having been initially retired to Harley Farm in Maryland. His 2019 fee is $2,500 to approved mares.
Siyouni filly a stunning sale-topper
Europe: A daughter of leading sire Siyouni smashed the GoffsUK Breeze-Up Sale record when selling for £450,000 out of the Longways Stables draft to Anthony Stroud, on behalf of Sheikh Nasser bin Hamad al Khalifa on Thursday.
The daughter of the Aga Khan sire is the second foal out of the 2013 Empress Stakes winner Fig Roll, a half-sister to the listed-placed Tomily. In turn, they are out of the St Hugh's Stakes scorer Cake, who was Acclamation's first ever winner. The filly was knocked down to Mick Murphy's Longways Stables for £95,000 at last year's Goffs UK Premier Sale.
"She's for a client of mine and will be trained by Simon Crisford," said Stroud. "He had a nice winner not long ago with Simon at Kempton called El Gumryah. This filly has got a good pedigree and looks ready to roll."
Despite the filly's obvious popularity in the market, a "shell-shocked" Murphy didn't expect a record-breaking sale. "All the right people have been on her for the last two days, but I didn't see that coming," he said.
"We bought her here as a yearling. We're massive fans of the sire. We've had Siyounis every year since his first crop and they have been very lucky for us. She looked very racy as a yearling, albeit she was small, but then she's from a small family; Fig Roll was small and so was the granddam, Cake."
Charities to benefit from handicapping event
North America: The Thoroughbred Charities of America (TCA), the Permanently Disabled Jockeys Fund (PDJF), and New Vocations have been named the co-beneficiaries of the Charitable Impact Group's fifth annual Kentucky Oaks and Derby Handicapping Benefit Dinner.
NBC racing analyst Donna Brothers will host a panel of handicappers at the event, which will be held at Fasig-Tipton in Lexington on Monday (April 29).
"Through our Derby, Belmont and Breeders' Cup handicapping events, in partnership with DRF and the NBC racing team, we have been able to raise and donate over $300,000 to the jockeys and horses that make this beautiful and demanding sport so special," said Dr Pete Hester, president of the Charitable Impact Group.
Limited tickets are available and can be purchased at cigevents.org.
BHA earmarks cash for gene study
Europe: The British Horseracing Association (BHA) will spend an initial £1 million to investigate ways in which racing can protect itself from gene manipulation.
A study will be conducted by the LGC laboratory in Newmarket, with scientists looking at a range of potential applications, including attempts to improve performance, change breeding outcomes and speed recovery from race-day effort and even injury.