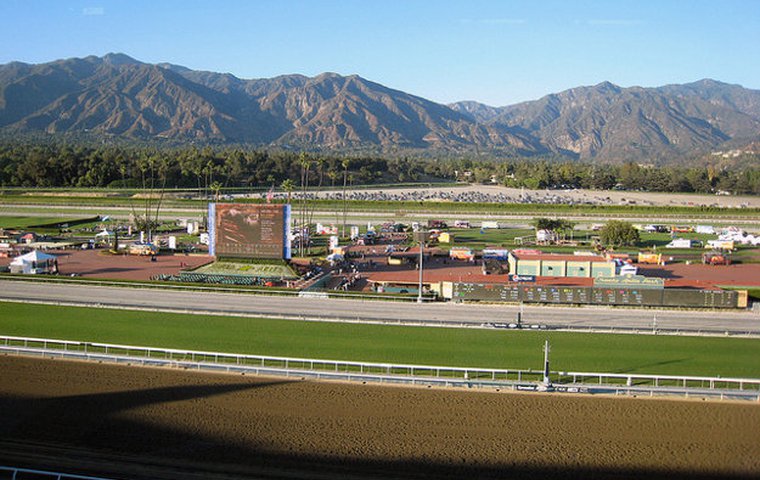 The weekly TRC industry digest - a round-up of international racing news from the past week.

Shutdown at Santa Anita
North America: Racing and training at Santa Anita has been suspended indefinitely following a large number of equine fatalities at the venue.
Since the start of the winter season on December 26, 21 horses have died as a result of injuries suffered at the California property. The most recent death came on Tuesday, when a 4-year-old filly was euthanized following a catastrophic injury suffered during training.
The Stronach Group, which owns the California track, is planning "additional extensive testing" of the one-mile main track following another assessment of the surface in recent days.
Former Santa Anita track superintendent Dennis Moore will lead the testing with measures including the use of an Orono Biomechanical Surface Tester - a device that mimics the impacts of a horse running at full gallop allowing engineers to see how the track holds up.
However, many, such as Hall of Fame trainer Ron McAnally, believe the large amount of rain in Southern California this winter to be the root of the problems.
"Santa Anita has been a wonderful track, and they've done all kinds of tests," said McAnally. "I don't know what else they could do. It's a fluky thing."
'Not long to go now' for Winx
Oceania: The great mare Winx won her fourth Chipping Norton Stakes at Randwick last Saturday, her 31st consecutive race, and a new world-record 23rd G1.
A trademark late surge put paid to a field headed by an audacious front-running effort from Happy Clapper, but, in the aftermath of the record-breaking win, Waller admitted to the media that "it's not long to go now" until the vaunted 7-year old's retirement – "we haven't really known where the end is, but it's looking logical now that it's not far away."
"We'll try and make the most of the next few weeks and hopefully she can continue on her winning ways and keep that fairytale going for the massive following she has now attracted," reflected the #10 trainer in the world.
Waller indicated that Winx's final races would be the G1 George Ryder Stakes over 1500 metres on March 23, followed by a finale in the A$4 million G1 Queen Elizabeth Stakes over 2,000 metres at Randwick on April 13.
Royal Ascot Trials Day set for May
Europe: Ascot Racecourse's first meeting of the flat season, formerly Sagaro Stakes day, will be renamed Royal Ascot Trials Day. Held on Wednesday May 1, the seven-race card will have an increased focus ahead of Royal Ascot with four specific trials on the card.
The opening race of the revamped card will be a designated Royal Ascot 2-year-old trial and will be free to enter for connections, with the winner eligible for one of the 2-year-old races at the Royal meeting.
The G3 Merriebelle Stable Pavilion Stakes becomes the Merriebelle Stable Commonwealth Cup Trial, while the G3 Longines Sagaro Stakes will remain under the same name but will be a designated Gold Cup trial, as well as continuing to be part of the Weatherbys Hamilton Stayers' Million. The listed Paradise Stakes becomes a Queen Anne Stakes trial.
Nick Smith, director of racing and communications at Ascot, said: "We're really excited about developing our first flat meeting of the season into a Royal Ascot Trials Day.
"It is a high-quality day of racing which regularly attracts some of the current and future stars of the flat season and framing it as a genuine trials day will help to promote and enhance the day for horsemen, racegoers, sponsors and partners.
Aussie runners may be back in Hong Kong soon
Oceania: Australian horses could be back competing at major meetings in Hong Kong with the two governments coming to an interim agreement on quarantine restrictions. Horses have been banned from travelling directly between Hong Kong and Australia since October 2017.
They have had to spend six months in a third country amid biosecurity concerns from the Australian Department of Agriculture and Water Resources over the Hong Kong Jockey Club's new training facility at Conghua on mainland China.
"The implementation of the interim arrangement will allow Australian racehorses to compete in the Champions Day races at Sha Tin in April 2019," the Australian Consulate-General in Hong Kong said in a statement.
Royal Ascot relaxed over transgender dress code
Europe: Royal Ascot has released its 2019 dress code, which allows racegoers to choose a gender dress code they 'feel most comfortable' with.
The policy is part of a diversity drive to be more inclusive for transgender race fans that was praised by respected transgender figures such as Britain's first transgender jockey, Victoria Smith, who said it was "really positive" that racing was "starting to become more accepting of difference".
Although men and women will be asked to 'comply with the dress code in which they feel most comfortable', no major changes have been made to this to this year's dress code.
TVG deal with Ortiz brothers
North America: US-based jockeys Irad and Jose Ortiz have signed personal endorsement deals with American horse racing network TVG.
Under the agreement, TVG's logo will adorn the racing britches of the red-hot Puerto Rican brothers, and other training apparel. They will lend their images TVG advertisements and promotions, as well as making special appearances on-air, on TVG.com and on social media.
Jose, 25 – who currently sits in ninth place in the TRC Global Rankings – said that they will use TVG to "give back to the racing community" through the Permanently Disabled Jockeys Fund and the Puerto Rico Vocational Jockey School, while world #12 Irad, 26, hopes they can connect with their fans in "new ways" and "give them a chance to see behind the scenes into the day to day life of a jockey".
Award for Oxley
North America: Thoroughbred owner and breeder John C. Oxley will be the third recipient of the Dinny Phipps Award, which recognises individuals who have demonstrated dedication to equine health.
He will receive his statue at a celebration of the Jockey Club's 125th anniversary in New York City on June 6. Previous winners are the Phipps family and Frank Stronach.
Oxley – known colloquially as 'Jack' – has long been a longstanding supporter of the Grayson-Jockey Club both through generous pledges to his participation on the board of directors. "He is an inspiration to all of us who are committed to horses," said Dell Hancock, chairman of Grayson.
"I'm very flattered and humbled to receive this award," said Oxley. "I'm extremely honored because Dinny Phipps was a great friend, and I think he did more for racing and Grayson than any other man in the sport."
Grayson-Jockey Club Research Foundation is America's leading source of private funding for equine medical research that benefits all breeds of horses. The foundation has provided $26 million to fund 358 projects at 43 universities since 1983.
Drones banned for Cheltenham
Europe: Gloucestershire police have announced that a restricted air space will be in operation above Cheltenham Racecourse during its four-day festival next week, after rogue drones had been spotted at recent meetings at Haydock, Leicester and Newbury.
A statement confirmed that the use of drones would be prohibited throughout British jump racing's blue riband event and "anyone flying an aircraft without the necessary permission will be committing an offence". The restrictions include small balloons, kites and anyone parachuting or parascending.
The Civil Aviation Authority confirmed there is an exclusion zone in place for all four days of the festival between the hours of 10am and 8pm. However, a drone will still be sighted at the festival as host broadcaster ITV Racing has permission to fly one as part of its aerial coverage of the action.
Spendthrift boost for fourth-year sires
North America: Spendthrift Farm has introduced a new breeding program for 2019 called the Safe Bet programme, which incentivizes breeders to support the farm's fourth-year stallions.
Ned Toffey, general manager at Spendthrift, disclosed that the inspiration behind the programme "largely came from the success of our leading first-crop sires last year" and farm owner B.Wayne Hughes, who is "constantly thinking of ways we can offer breeder-friendly programs for our stallions".
Last year, Spendthrift was represented on the leading North American freshman sires list by top-ranked Cross Traffic and by second-placed Goldencents. Under the Safe Bet program, if a Spendthrift freshman sire does not have at least one Graded/Group winner this year, the breeder won't owe a stud fee.
Pertemps backing to continue
Europe: Cheltenham Racecourse has announced that Pertemps Network is to renew sponsorship of the Pertemps Network Handicap Hurdle series for another three years.
The Pertemps Network Final Handicap Hurdle takes place on March 14 at The Festival and is the culmination each season of a 22-race series sponsored in its entirety by Pertemps Network.
The announcement means that Pertemps Network, which has over 200 branches and offices throughout the UK, has agreed to extend sponsorship up until at least 2022, which would mark 21 years of continuous support.