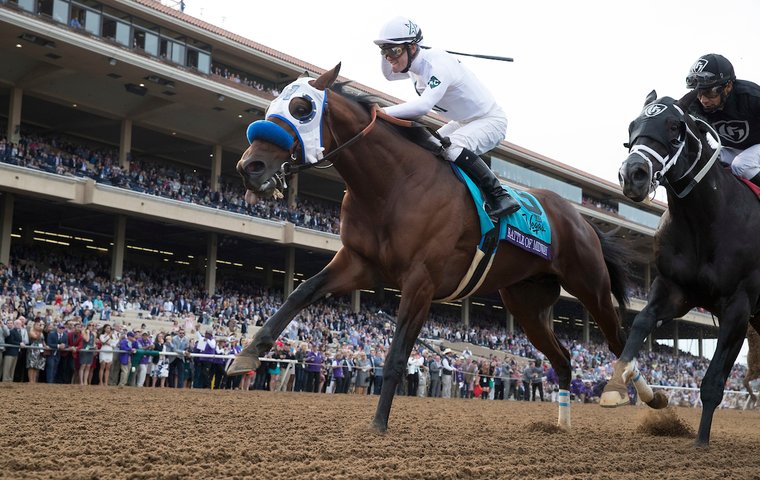 The weekly TRC industry digest - a round-up of international racing news from the past week.

Santa Anita back in action after horse deaths
North America: The main track at Santa Anita was reopened yesterday (Thursday) having being closed for two days because of concerns related to the number of equine deaths in the last two months.
Nineteen horses have died either while racing or training in that time, including the 2017 Breeders' Cup Dirt Mile winner Battle Of Midway, who sustained such severe injuries during a workout that it was decided he would have to be euthanized.
After analysis of the racing surface, Mick Peterson, of the University of Kentucky, who evaluates the track's soil on a monthly basis, said the track is "100 percent ready" for racing to resume.
The Los Angeles Times reported that during the same two-month period last year, ten horses died at Santa Anita. There were eight the year before and 14 the year before that.
Many believe the large amount of rain in Southern California this winter (11½ inches fell in February alone) may have helped cause problems with the surface.
The animal welfare group Peta had planned a protest about the situation but cancelled it after meeting track representatives, who said they would introduce certain measures, including extending the review of medication records of horses in training.
More boycotts may be on the way
Europe: British racing faces another boycott next week as the row over prize-money in lower-class competition shows no sign of abating.
Arena Racing Company (Arc), the racecourse group at the centre of the row, announced yesterday it had agreed with trainers' representatives on an increase for one month while all parties continued to look for a longer-term solution.
But it later became clear that many owners and trainers were not happy with the agreement as four races on the card at Lingfield Park next Wednesday received very few entries (3, 3, 4 and 7).
They were backed by the jockeys, with Paul Struthers, chief executive of the Professional Jockeys Association, saying, "... the PJA wishes to make clear it supports those individual owners and trainers who ahve decided, and may continue to decide, not to enter or declare horses in races that have been the subject of significant prize money cuts, despite the obvious loss of income this causes for jockeys."
Owners and trainers are unhappy with Arc's decision to cut prize money by £3 million because of the likelihood of betting-shop closures caused by the cutting of maximum stakes on Fixed Odds Betting Terminals to £2 from £100, which would reduce the racecourses' media rights income from betting shops.
Foley takes over as Harrington's #1
Europe: Shane Foley has taken over from Colm O'Donoghue as stable jockey for leading Irish trainer Jessica Harrington.
Harrington was a big climber in the TRC Global Trainers' Rankings in 2018, thanks in no small part to the exploits of four-time G1 winner Alpha Centauri, who was ridden by current #58-ranked O'Donoghue throughout the season. She is currently ranked #66, making her third among Ireland-based trainers (Aidan O'Brien is #3 and Dermot Weld is at #56) and third highest female in the world.
Foley, who has an Irish 1000 Guineas and Irish 2000 Guineas to his name in recent seasons, is currently world-ranked 102. He has been riding in California this winter, and won the G2 San Marcos Stakes on Platinum Warrior for John Sadler last month.
Harrington told told the Racing Post. "Shane is able to give us the commitment we and our owners require and I am delighted to have him. Our numbers have grown on the back of such a fantastic season last year and, while it's going to be even more competitive, we hope to build on that again."
Getting tougher over the whip
Europe: Jockeys in France will be able to use just five strokes of the whip in a race from March 1, down from six.
The move by France Galop is the latest step in its push to combat public opposition to the whip. The maximum number of strokes allowed was eight two years ago.
France Galop also pointed out that a jockey cannot lift the elbow above the shoulders while administering a whip stroke.
World Approval has run his last race
North America: World Approval, Eclipse Champion Turf Horse of 2017 and winner of that year's Breeders' Cup Mile at Del Mar, has been retired from racing.
The gelded 7-year-old son of Northern Afleet is the last foal produced from the blue hen mare Win Approval. He is a half-brother to Champion Turf Male and Breeders' Cup Mile winner Miesque's Approval and he will take up residence at Live Oak Stud in Ocala, Florida. World Approval will reside in an adjoining paddock to his dam and his multiple Graded stakes-winning siblings Revved Up and Za Approval.
"How lucky we have been at Live Oak Stud/Plantation to have championed such a winning family," said Charlotte Weber. "I am proud and privileged to have experienced this Sport of Kings with such outstanding racehorses and shall protect them as we grow older together."
All told, World Approval won ten stakes, eight of them Graded, and earned $3,062,363.
Equine flu outbreak
Europe: The equine flu virus, which caused a temporary shutdown of racing in Britain last month, has been confirmed at two stables at Lamorlaye, part of the huge Chantilly training centre in France.
France Galop said five horses have been identified as suffering from the virus. A spokesman said he was hopeful the disease would be "manageable".
We'll have to wait for a £1m Cesarewitch
Europe: Plans to give Newmarket's historic two-mile handicap, the Dubai Cesarewitch, a £1 million prize fund have been put on hold.
The purse for the race was doubled to £500,000 last year, but it has been pulled back to £350,000 in plans just announced by Newmarket Racecourses, which is nevertheless offering a total £10.8 million in prize money for 2019.
The change of plan has come about because of uncertainty about future income levels arising from the sale of racecourse media rights to betting shops, in light of the impending law change regarding FOBTs (Fixed Odds Betting Terminals).
Amy Starkey, Regional Director for Jockey Club Racecourses, East Region, said: "Last year we embarked on the ambitious plan to make the Cesarewitch worth £1m, but unfortunately circumstances have changed since we made the announcement in April 2018 and, with both the short and longer-term outlook being uncertain, it was deemed neither sensible nor sustainable to stick blindly to the proposed year-on-year increases.
"Consequently, the ambition to make the race worth £1 million is on hold for the time being. However, at £350,000, the 2019 running of the Cesarewitch will be worth £100,000 more than it was in 2017."
Other plans feature £20,000 increases for two ten-furlong races at Dubai Future Champions Festival, the Zetland Stakes and the Pride Stakes, which have both been upgraded from listed to G3 level by the European Pattern Committee.
Newmarket Racecourses is also increasing the value of the G3 Bahrain Trophy, run on the opening day of the Moet & Chandon July Festival, from £150,000 to £175,000 in a move that represents a further positive for the programme for nurturing high-class staying horses.
Carma's new president
North America: Candace Coder-Chew is the new president of the California Retirement Management Account (Carma), a non-profit that provides funding for the retirement of California-raced Thoroughbreds.
Coder-Chew, whose husband is Santa Anita trainer Matthew Chew, steps up from vice president to succeed Howard Zucker, whose term expired in January.
She said, "Carma, and its critical mission of supporting Thoroughbred aftercare and aftercare awareness, has been near and dear to my heart since its inception. To begin this month, we have designed a new campaign titled Own, Race, Retire. This will be the common thread through our existing programs designed to increase awareness and promote inclusiveness with both the horse racing industry and the general public."
Pakistan Star switches stables
Far East: Hong Kong favourite and dual G1 winner Pakistan Star has joined expat New Zealand trainer Paul O'Sullivan's Hong Kong stable.
The erratic galloper has been transferred from world #14 trainer Tony Cruz, along with Pakistan Friend, following a decision made by their owner, Kerm Din.
O'Sullivan told the South China Morning Post, "It's nice to have runners in the big races and he's only six, so there is plenty to go with him. He has been well followed, when he's good he's great but when he's bad, he is disappointing. He is hard to get a line on.
"I've got no plans for him at all, it's only just happened, so I will have to look at what is coming up. He is a little bit hit and miss, so we will see how we go with him."
Prestigious award for ITV Racing duo
Europe: Francesca Cumani and Ed Chamberlin were named Broadcast Sports Presenters of the Year at the British Sports Journalism Awards on Monday.
The pair have been fronting ITV Racing for two years since the station took over coverage of British racing from Channel 4. The other nominees in the category included BBC football presenter and former international player Gary Lineker.
Cumani, daughter of retired trainer Luca Cumani, has been splitting her years between presenting racing on British and Australian TV. Chamberlin moved over to racing from football to take the ITV role.