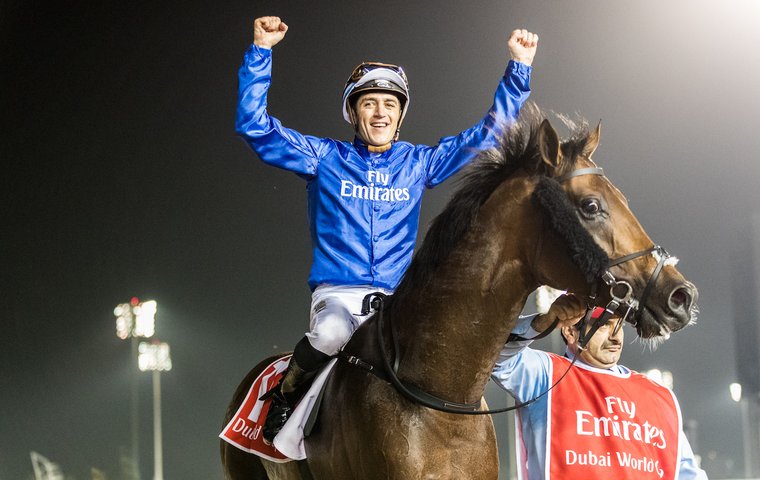 TRC's weekly industry digest - a round-up of international racing news from the past week.

We've seen the last of Justify
North America: Justify, the undefeated winner of the 2018 Triple Crown, has been retired from racing with immediate effect.
Following his three classic wins, the imposing son of Scat Daddy was put on a course of light training by trainer Bob Baffert to give him adequate time to recover from a gruelling campaign before the 2018 Breeders' Cup Classic in November. However, in early July, Baffert noticed a slight filling in the ankle of the colt's left front leg.
"He is just not responding [to treatment] quick enough for a fall campaign," said Baffert. "We all wanted to see Justify run again, but ultimately it is my responsibility to make sure he is perfect. Without 60-90 days, I can't be definite."
Justify is co-owned by WinStar Farm and China Horse Club (CHC) – wearing the American outfit's silks at the Derby and Preakness before reverting to CHC's red and yellow colours in what would be his final race, the Belmont Stakes.
"He is an incredible horse and we are very disappointed he can't run again," said WinStar Farm's Kenny Troutt.

Justify will return to the Kentucky farm early next month but future plans have not been confirmed due to the abrupt nature of his retirement. WinStar Farm's Elliott Walden did, nevertheless, appear to endorse rumours of a "possible sale to Coolmore [being] in place, but that won't be finalised until a later date".
Huge Dubai World Cup night cash injection
Middle East: Prize money for the 2019 Dubai World Cup Festival has been increased from this year's $30 million to $35 million.

The Dubai World Cup receives a $2 million boost to $12 million, with the $7.2 million on offer to winning connections becoming once again the highest first-place prize in global Thoroughbred racing, surpassing the Pegasus World Cup.
The Dubai Golden Shaheen's prize pot rises by $500,000 to $2.5 million, the Al Quoz Sprint purse will double to $2 million and the G2 UAE Derby becomes the richest dirt Derby in the world with a purse of $2.5 million
The $6 million Longines Dubai Sheema Classic, the $6 million Dubai Turf, and the $1 million Dubai Kahayla Classic (for Arabians) all maintain their credentials, while the remaining three races, all G2s, will each receive $500,000 boosts.
Award for Magniers and O'Brien
Europe: The Magnier family and world #1 trainer Aidan O'Brien have been selected as the recipients of the 2018 Longines and IFHA International Award of Merit, which recognises distinguished horsepeople for their lifelong contributions to Thoroughbred racing.
The driving forces behind Coolmore and Ballydoyle will be honoured on August 14 in Dublin at an event to coincide with the launch of the 2018 Longines Irish Champions Weekend.
MV Magnier, son of Coolmore founder John Magnier, expressed his family's pride at the honour but was quick to pay deference to the operation's "much larger family, which includes our partners, the Smiths and the Tabors, along with all the O'Briens at Ballydoyle".
O'Brien himself added that he felt "privileged to be associated with such wonderful people, who leave no stone unturned as we try to get the best out of every horse".
Previous winners of the award include Japanese jockey Yutaka Take, leading Irish trainer Jim Bolger, Seth Hancock of Claiborne Farm, French champion trainer Alec Head and the late Marcel Zarour Atanacio, former chairman of OSAF (South American Organization for the Promotion of Thoroughbreds).
Louisiana sale being brought forward
North America: Equine Sales Company (ESC) has announced that its 2-year-olds in Training Sale, traditionally held in early May, will take place earlier in 2019. The dates have now been set for April 2, with the breeze show set for March 31, in Opelousas, Louisiana.
"Our board of directors and sales committee responded to feedback received from our dedicated buyers and consignors and think this will be good fit for everyone," said Foster Bridewell, sales director of ESC.
"Many 2-year-olds in this region have traditionally been prepared to race opening weekends at Evangeline Downs, Louisiana Downs and Lone Star Park. This shift in date will allow buyers and their trainers to purchase horses that will hopefully be ready to run in the early summer races."
Triple Crown coup for Sky Sports Racing
Europe: Following the signing of a new, long-term deal with NBCUniversal, dedicated racing channel Sky Sports Racing has announced it will hold the exclusive UK and Ireland broadcast rights to the Kentucky Derby.
In addition, the UK pay-TV channel, which currently broadcasts under the banner of At The Races, has extended its current multi-year agreement for network coverage of the other two legs of the U.S. Triple Crown.
Matthew Imi, chief executive of At The Races, said the partnership with NBCUniversal would provide both parties with "excellent opportunities" to "promote racing on both sides of the Atlantic".
Seventh title for Williams
Oceania: Craig Williams has secured the Victorian Metropolitan Jockeys' Premiership for the seventh time.
The 41-year-old, who is currently holidaying in Europe, claimed his third consecutive Roy Higgins Medal when nearest rival Damian Lane failed to win the opening race on Wednesday's Sandown card, handing Williams an unassailable lead of 63 to 57.
Williams, currently 35th in the TRC Global Jockeys' Rankings, joins Jack Purtell as a seven-time winner of the championship. The pair are four behind joint record-holders Roy Higgins and Bill Duncan, with Damien Oliver second in the all-time standings with ten wins.
Saratoga's opening day bonanza
North America: The New York Racing Association has revealed that the opening day of the 2018 season at Saratoga generated an all-sources handle of $20.2 million, the second consecutive season that wagering exceeded this milestone figure.
The paid attendance for the opening day was 33,714, and the on-track handle was $5.4 million, an increase of nearly eight per cent over 2017.
Frankel son to stand in Chile
South America: Cunco, the first Frankel foal to win a race with a successful debut at Newbury in May 2016, will take up stud duties at Haras Santa Monica in Chile in the forthcoming Southern Hemisphere breeding season.
The Don Alberto Corporation-owned colt enjoyed a solid career in the UK under world #5 trainer John Gosden, landing the G3 bet365 Classic Trial at Sandown before going Stateside to be trained first by Chad Brown and later Bill Mott.
Despite beginning his second career at Haras Santa Monica (where he is on loan) Cunco will remain under the ownership of Don Alberto, where the likes of Midshipman, Tourist and Lookin At Lucky will stand in 2018.
Boost for Jamaica St Leger
Caribbean: Sagicor Bank Jamaica has entered into a commercial partnership with Supreme Ventures Racing and Entertainment Limited (SVREL), the sole promoter of horse racing in Jamaica, to stage the 92nd running of the Jamaica St Leger.
The Sagicor Jamaica St Leger is the final leg in the Jamaican Triple Crown series. The ten-furlong race will be run at Caymanas Park on July 28 and carries a purse of J$4 million (US$30,000), which is inclusive of J$1 million from the new sponsor