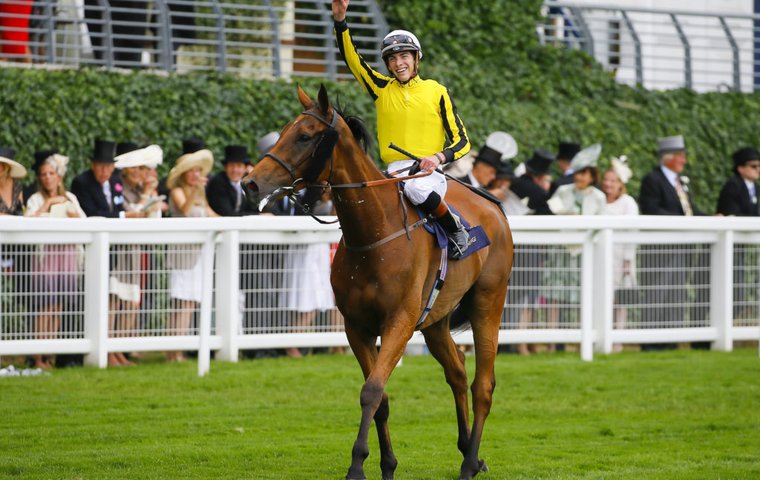 The weekly TRC industry digest - a round-up of international racing news from the past week.

Royal Ascot question mark remains over The Autumn Sun
Oceania: The Autumn Sun, the 'freakish' Australian colt who returns to action at Rosehill tomorrow (Saturday), has been inoculated for a possible trip to Royal Ascot in June.
Trainer Chris Waller has already indicated he would be keen to take the son of Redoute's Choice to England and this week Arrowfield Stud boss John Messara – who has a half share in the ludicrously impressive Caulfield Guineas winner – said the colt has received the necessary inoculation
Messara himself, however, has still to be convinced an overseas venture is the right move. "I'm not certain this is the horse we can do it with because he is potentially so valuable," he said on Australian television.
"We have had to pay a huge amount to buy into him, I'd be worried about the dangers, not of getting beaten so much, but of sickness, travel sickness that sort of thing happening.
"He is our replacement for the great Redoute's Choice, who is a rising 22-year-old this year. I've got to protect him [The Autumn Sun] in any way that I can.
"I went into him with a view that he would be a stallion for Arrowfield in the next short while. Having said that, if he goes through and is very dominant it is attractive to carry on a bit."
The Autumn Sun returns in the G2 Hobartville Stakes (1400m), for which he is odds-on despite failing to impress in recent trials.
Messara said, "You can only be nonplussed by them [the trials], but he doesn't cut loose unless he is asked to do so."
Two races, one runner as British prize money row grows
Europe: Trainers have boycotted two races at Britain's Lingfield Park racecourse tomorrow (Saturday) in an escalating row over prize money paid by the track's owners, Arena Racing Company (Arc).
No runners were declared yesterday for a five-furlong novice stakes from an entry of nine, and only one was declared from 18 for a mile novice stakes. The races were worth £4,500 each - £1,300 less than last year.
Owners and trainers are protesting at Arc's decision to cut prize money by £3 million because of the likelihood of betting shop closures caused by the cutting of maximum stakes on Fixed Odds Betting Terminals to £2 from £100, which would reduce the racecourses' media rights income from betting shops.
Ralph Beckett, trainer of Lope Scholar, who was entered to run in the mile race, said, "The fact there were 18 entries in the mile novice might indicate to Arc that this may not be the last time."
Arc said in a statement, "It is disappointing that this situation has occurred in the middle of constructive talks between horsemen, BHA and racecourses, but we very much hope that they can progress and that this funding situation can be sorted as soon as possible."
Nick Littmoden, the sole trainer to enter a horse in the two races, said he will donate his winning trainer's prize-money to the Injured Jockeys Fund. He told the Racing Post, "The prize money is appalling. The money with Arc is shocking but some of the Jockey Club racecourses is not good enough either."
Go ahead for new Kentucky Downs owners
North America: The Kentucky Horse Racing Commission has approved noted horseman and entrepreneur Ron Winchell and prominent gaming executive Marc Falcone as majority owners of Kentucky Downs.
It was announced in mid-November that Kentucky Racing Acquisition LLC, a new company co-founded by Winchell and Falcone, had agreed to purchase all the assets of Kentucky Downs from parent company Kentucky Downs Partners LLC, the investment group that has owned the racetrack since 2007.
The sale of the track and year-round entertainment center to Winchell and Falcone is expected to close around March 1. Ted Nicholson will continue as Kentucky Downs senior vice president and general manager, a post he has held the past three years during which time both the Historical Horse Racing gaming operation and live race meet have experienced record-shattering growth.
While awaiting approval, the new owners have been working on plans for a major facility expansion. "I don't know when we can actually announce something, but we're working pretty fast on stuff," Winchell said.
Retired Big Orange to be 'spoiled for the rest of his life'
Europe: Big Orange, the hugely popular stayer who won the 2017 Gold Cup after an epic duel with Order Of St George at Royal Ascot, has been retired.
The 8-year-old, trained by Michael Bell for Bill and Tim Gredley, who owned and bred him, won nine of 27 races, including two Goodwood Cups, and won prize money over £1.25 million. He also finished fifth in the 2015 Melbourne Cup from a bad draw and was just touched off in the Dubai Gold Cup at Meydan the following year.
His last race was in the Dubai Gold Cup last year, when he was well beaten.
Tim Gredley told the Racing Post, "It's a sad day but one when we should celebrate everything he's done for us over the past few years." He said the gelding was being retired because of a "minor injury". "As he owes us nothing and he's been such a great servant, we just thought that to retire him was the right thing to do."
Gredley said Big Orange would spend his retirement at their farm in Stetchworth, near Newmarket. "He'll come be spoilt for the rest of his life now. He'll spend the next couple of months being pampered in the spa, then he'll be given plenty of time out in the field to enjoy himself."
Keeneland looking for 2,000 seasonal recruits
North America: Keeneland is preparing for its 2019 Spring Meet with two employment events aimed at filling more than 2,000 seasonal positions: a Hiring Center that opens on Monday and a Job Fair on March 9.
Staffing covers Food and Beverage Service, Parking and Security, the Keeneland Shop, Admissions, Programs, Track Maintenance and Guest Services for the Spring Meet, which covers 17 days of racing from April 4-26, and Keeneland's annual Kentucky Oaks and Kentucky Derby celebrations on May 3-4.
"Keeneland offers seasonal staff the opportunity to work with a talented group of professionals, hone your own individual skill set and be part of a uniquely Kentucky tradition," Keeneland President and Chief Executive Officer Bill Thomason said. "Our seasonal workforce is such an important part of the Keeneland team, and the personal stories they often share with us reflect how special Keeneland is to them, from the woman who used her seasonal earnings to pay her granddaughter's college tuition to the gentleman from Guest Services who was buried in the Green Coat he wore for that position. These folks become family that we welcome back year after year."
Keeneland attracts seasonal employees from across the U.S. and throughout Kentucky. Last spring, Keeneland staff represented 22 states as far away as Arizona. Those from Kentucky resided in 95 cities in 55 counties.
Reprieve for trainer in new 'jigger' case
Oceania: Queensland trainer Ben Currie has been given a short-term reprieve after being suspended following the issuing of seven charges, including two related to the alleged use of a jigger.
Queensland Racing Integrity Commission stewards ruled Currie was not a fit person to continue training pending the outcome of an inquiry into animal cruelty charges against him. But he successfully sought a stay from the Queensland Civil and Administrative Tribunal (QCAT) yesterday (Thursday) and that order is now in place until five business days after an internal review.
QRIC has 20 business days from the date of the original decision to provide the findings of an internal review.
Jim Murdoch QC said Currie would be pleading not guilty and denied ever using a jigger or instructing anyone to use a jigger on a horse.
Brisbane Racing Club has banned Currie from attending Doomben and Eagle Farm race meetings until charges against him are resolved.
Woodbine unveils stakes schedule
North America: Woodbine Entertainment has unveiled its stakes schedule for the 2019 Thoroughbred season, highlighted by the prestigious $1 million Queen's Plate and the $1 million Ricoh Woodbine Mile, which will kick off Woodbine's championship fall turf season. Woodbine says the grand opening of its new inner turf course this spring will add a new level of excitement and competition to the mix.
Strengthened by the previously announced purse increases for 2019, the $16 million-plus stakes schedule consists of 95 stakes to be contested over the course of the 133-day meet, running from April 20 to December 15.
The $500,000 Woodbine Oaks presented by Budweiser will headline the track's first signature race day of the meet on Saturday, June 8.
To view the complete stakes line-up click here.