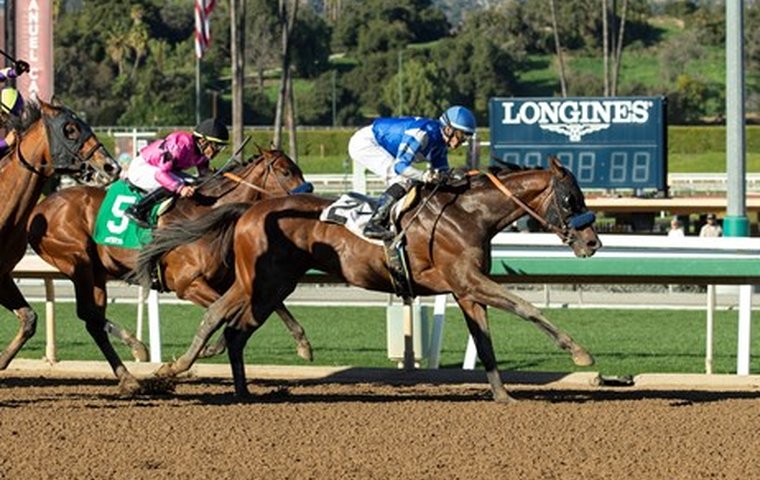 The weekly TRC industry digest - a round-up of international racing news from the past week.

Major landmark for Baffert
North America: Hall of Fame trainer Bob Baffert notched his 3,000th career victory when Thousand Words won Saturday's $100,000 Robert B Lewis Stakes at Santa Anita, a G3 named for the late owner who, along with wife Beverly, campaigned Baffert's 1997 Kentucky Derby and Preakness Stakes winner Silver Charm.
"I had a feeling it was going to happen in this race," Baffert. "The first 50 wins were probably the hardest, 100 were life-changers. I feel very blessed and fortunate that I've been able to last in this business and do so well after coming from the Quarter Horse business."
The Robert B Lewis is one of the key early trials in California on the Road to the Kentucky Derby.
World #4 Baffert, who trained 2015 and 2018 Triple Crown winners American Pharoah and Justify, remains a long way behind American Dale Baird, who holds the record for career wins with 9,445.
Hills end St Leger deal
Europe: William Hill has confirmed the end of its three-year commercial agreement deal of the St Leger, Britain's oldest Classic, which has been contested since 1776.
The bookmaker has been the title sponsor of Doncaster's annual September staying highlight since 2017, signing a contract that concluded in 2019, when the G1 was won impressively by John Gosden's powerful grey Logician.
Arena Racing Company (Arc), which owns Doncaster, will now start the process of finding another sponsor for the 1m6½f race. A Hills spokesman said that the organisation has "thoroughly enjoyed the sponsorship" and had a "wonderful few years", but added that "sadly, all good things come to an end".
William Hill will close 700 betting shops due to the government's decision to reduce the maximum stake on fixed odds betting terminals, and, as a result, it has decided to cut back all sponsorship. That said, it did agree a streaming and data rights deal with Arc last month that is set to boost racecourse revenues.
Support for Irish Derby continues
Europe: Dubai Duty Free has extended its sponsorship of the Irish Derby for a further two years, as well as agreeing to sponsor five additional races, all of which will benefit from increased in prize pots.
The airport retailer has been the title sponsor of Ireland's premier Classic and three-day Irish Derby Festival since 2008. Total prize money on Dubai Duty Free Irish Derby Day on Saturday June 27 is increased from €2m in 2019 to €2.25m for 2020. In 2021, all races will increase to a minimum value of €100,000.
CEO Colm McLoughlin said the title sponsorship is "in line with our global strategy of promoting both our own duty-free brand and the city of Dubai itself." Curragh chief executive Pat Keogh acknowledged the "outstanding partner's" significant contribution to the race and its extension "will ensure we can maximise the quality and competitiveness across all races".
Boost for banned trainers
Oceania: Two South Australian trainers, Craig Curtis and Len Jarvis, will be allowed to continue to train after being granted a stay of proceedings as they appeal against lengthy bans.
Curtis was given two concurrent nine-month disqualifications after being found guilty of two charges that relate to failing to give proper care to an unnamed filly. Jarvis was handed a 12-month disqualification after traces of cobalt were found in his horse Beautiful Flyer after her win at Morphettville on June 22.
Threat to Pennsylvania funding
North America: Around $200 million of slots revenue could be cut from the Pennsylvania Race Horse Development Fund as part of Governor Tom Wolf's proposed a $36 billion budget. His proposal would see the money used to create a scholarship fund so Pennsylvania students can attend state universities.
The planned reduction of financial support represents more than 80 per cent of the organisation's funding, which Pennsylvania Horse Breeders Association executive director Brian Sanfratello revealed would cost the state thousands of jobs and more than $1.6 billion in economic impact.
Democrat Wolf made the proposal in his budget address to a joint session of the House and Senate in the state capitol in Harrisburg. However, both chambers are controlled by the Republican Party and it would require legislative approval for the next fiscal year, which begins on July 1.
Hayley Turner hails all-female race card
Europe: A unique all-female race meeting for flat and jump jockeys will be staged at Southwell on International Women's Day, which world #387 rider Hayley Turner says is a "fantastic opportunity to showcase women in racing".
The eight-race fixture, split equally between the two racing codes, is to be held at the Nottinghamshire track on March 8. It is understood to be the first course in Britain to host a mixed card restricted solely to female riders.
"We ride against and at the same level as men so don't think of ourselves as female jockeys, but this is a great way to celebrate the talented women in our sport," said Turner.
Just for the Derby …
North America: Churchill Downs has entered into an agreement with Australian-based Steriline Racing to design and construct a new custom-made, 20-stall starting gate that will be used for the 146th running of the Kentucky Derby on May 2.
Mike Ziegler, Executive Director of Racing for Churchill Downs Incorporated, believes that the new contiguous 20-stall starting gate will "deliver a clean start for all horses and enhance safety" for all competitors.
Elsewhere in racing ...
North America: Indiana Governor Eric Holcomb has reappointed Susie Lightle and George Pillow to the Indiana Horse Racing Commission. More here
Europe: Italian racing is mourning the death of Thoroughbred owner Luciano Gaucci at the age of 81. His most notable achievement was winning the 1988 Prix de l'Arc de Triomphe with Tony Bin, a horse he acquired for just 3,000gns. More here
North America: The catalogue for the Ocala Breeders' Sales Company's 2020 March Sale of Two-Year-Olds in Training is now available via the OBS website at obssales.com.
North America: The New York Thoroughbred Horsemen's Association has announced that Will Alempijevic will join the organization effective February 12, as the new executive director.