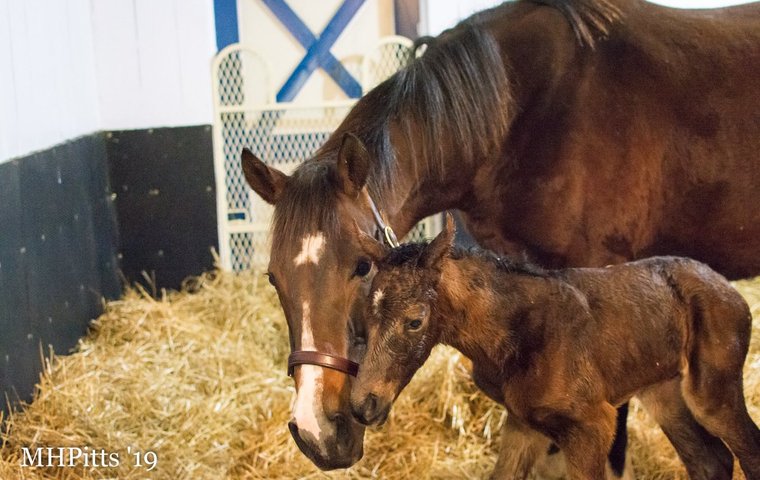 The weekly TRC industry digest - a round-up of international racing news from the past week.

What illustrious parents!
North America: Two-time Eclipse Award-winner Songbird has delivered her first foal, an Arrogate filly, at Wayne and Cathy Sweezey's Timber Town Farm near Lexington.
Songbird, a 6-year-old daughter of Medaglia d'Oro, was bought for $9.5 million by Mandy Pope, on behalf of her Whisper Hill Farm, at the 2017 Fasig-Tipton Kentucky Fall Selected Mixed Sale, the second-highest price ever commanded at North American auction for a broodmare prospect.
Pope boards a number of her mares at the Sweezey's operation and Wayne Sweezey said it was "very special to have her on the farm". Despite foaling "thousands of mares", he marked out Songbird as "one of the best I've ever been around", complementing her professionalism.
The new-born filly is part of the first crop for champion Arrogate, who will stand the 2019 breeding season at Juddmonte U.S. for an advertised fee of $75,000.
Oisin's just on fire
Asia: World #15 jockey Oisin Murphy ended his one-month licence to ride in Japan with a five-timer at Tokyo on Saturday, which left him on top of the Japan Racing Association standings for 2019.
The 23-year old UK-based Irishman claimed 25 wins in his stint in Japan, which began on December 15, going out with a bang by winning the G3 Negishi Stakes on Copano Kicking.
"I have been very lucky [in Japan]. I want to say thanks to the JRA and everybody who has made this possible. Japan is the pinnacle of horseracing in the world, so to be a part of it is fantastic," said Britain's 2018 Stobart Flat Jockey of the Year.
Murphy was also on the mark at Meydan in the UAE yesterday, en route back to the UK to get ready for the start of the season there. He partnered the Pia Brandt-trained Kodiac filly Silva, a 33/1 shot, who won the listed UAE 1000 Guineas - by 9¾ lengths - on dirt.
Death of Peter Magnier
Europe: Peter Magnier, who ran Brittas House Stud in County Tipperary and enjoyed success as a breeder under both codes, died on Monday.
Magnier was a member of one of the world's most prominent racing families. He was the son of Grange Stud's Tom and Evie Stockwell, and brother to Coolmore's John Magnier, as well as David, manager of Castlehyde and Grange studs, and Anne O'Callaghan, co-owner of Tally-Ho Stud.
Beeches Stud manager Robert McCarthy paid tribute to Magnier: "[Peter was] a great family friend. He was great company, a great character and a people person with a great sense of fun."
Magnier is survived by his mother and siblings, partner Annabel, family Trini, Scobie, Tash, Ed and Coco and grandchildren.
Racetrack deaths rise in Britain
Europe: The British Horseracing Authority has revealed there were 201 equine deaths from 93,004 runners, at a rate of 0.22 per cent last year, which is its highest level since 2014.
Although the five-year average remains at 0.20 per cent, the lowest on record but less likely to change, the figure is a marked increase on 2017's 167 deaths, with a fatality rate of 0.18 per cent. Sixty four of the fatalities came on the flat, up from 47 the previous year, while there was a total of 137 in jump racing last year, compared to 2017's 120.
"It is not good practice to read too much into one year, and the overall trends still point towards an ongoing improvement in our safety rate," said Brant Dunshea, the BHA's chief regulatory officer.
The BHA's director of equine health and welfare, David Sykes, is "looking to see what factors might have contributed to the safety record in 2018" - such as the uncharacteristically hot British summer, which resulted in harder, faster ground
Mexican star Kukulkan staying at Gulfstream
North America: Kukulkan, Mexico's Triple Crown winner, who reeled off 14 consecutive victories before finishing 11th Saturday in the $9 million Pegasus World Cup Invitational, will remain at Gulfstream Park, says trainer Fausto Gutierrez.
Gutierrez said 2018 Clasico del Caribe winner Kukulkan will be joined by stablemate and 2017 Clasico del Caribe winner Jala Jala, who will also run at Gulfstream.
"We don't know right now when they'll run or where," Gutierrez said. "Kukulkan returned to the track this morning. We will look at all our options. Maybe we'll run in an allowance race. We need to try again. Whether it's the same level of competition … this we will see. We know it's a challenge, but we need to know the true potential of our horses."
Gutierrez said Frankie Dettori, who rode Kukulkan in the Pegasus, told him the 4-year-old colt did not like the off track. Jala Jala is a possibility for the G3 Royal Delta Feb. 16, but "we need to check on the group [entered] and maybe take a look at another [race]," Gutierrez said.
TAA's new president
North America: The Thoroughbred Aftercare Alliance (TAA) board of directors has named Mike Meuser as its new president and has elected nine new board members.
Meuser, who previously served as the TAA vice president and secretary, is a managing director of Miller, Griffin & Marks, P.S.C. in Lexington, where he has practiced law for more than 35 years. He also chairs the National Equine Law Conference.
The TAA rotates its board of directors to have each member serve a total of three years. It also rotates its executive officers.
Trainer Lines to retire after 70 years
Europe: Newmarket trainer Cliff Lines has announced his retirement after nearly 70 years in the racing industry
The 83-year old Exning-based trainer confirmed his exit from the sport before he saddled his final runner at Lingfield on Wednesday. Catapult, aged four, claimed a three-quarter length win in the maiden handicap under a front-running ride from jockey Hollie Doyle to give Lines the perfect send off.
Lines is perhaps best known as the work-rider of the 1981 Epsom Derby champion Shergar – "the best I've ever ridden" – during his time with Sir Michael Stoute, when he was also associated with other G1 winners, such as Sonic Lady and Shareef Dancer.
"I've had a wonderful career and enjoyed every minute of it. If someone said I could do it all again, I would be a happy man," said Lines.
In memory of Denman
Europe: English dual-purpose racecourse Newbury has commissioned a set of memorial gates for celebrated chaser Denman to be situated at the North Entrance.
The Denman Gates, designed by equine sculptor Charlie Langton, will be officially unveiled at the Berkshire track's meeting a week on Saturday, when the feature races include the Denman Chase.
Trainer Paul Nicholls said: "Denman was an awesome horse who the public came to love because of his wholehearted approach to racing. He was a formidable competitor, particularly at Newbury, where he won five times. He had an iron will and it feels appropriate that he is to be remembered with this magnificent set of gates."