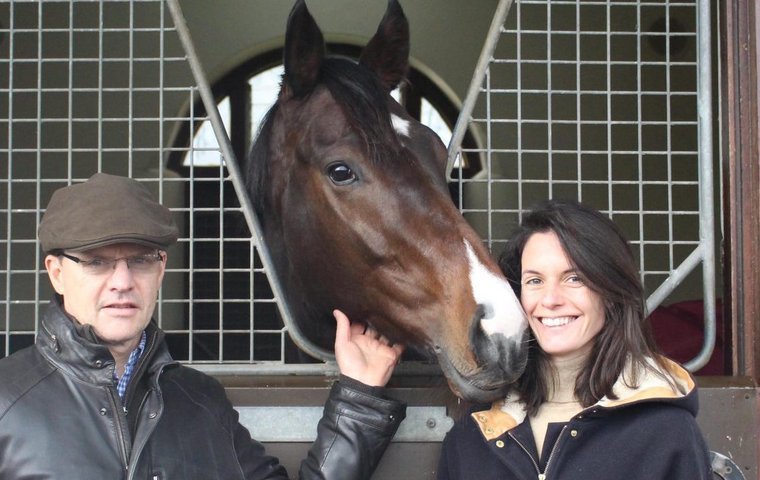 The weekly TRC industry digest - a round-up of international racing news from the past week.

A match made in Heaven
Europe: The Niarchos family's racing manager, Alan Cooper, has confirmed that Galileo has been selected as the first mate for Alpha Centauri.
The daughter of Mastercraftsman, victorious in four G1s last term before a career-ending injury, is according to Cooper "absolutely sound now" and "enjoying" her new life in the paddocks.
Cooper believes that the dual Derby winner of 2001 and pre-eminent sire of his generation "fits the bill" for the brilliant grey. "And of course, it's also the Galileo - Danehill cross," he said.
At the 2018 Cartier Awards, Alpha Centauri was named Champion Three-year-old Filly. In December she was voted Horse of the Year at the Horse Racing Ireland awards.
Machowsky's Fasig-Tipton role
North America: Fasig-Tipton has named West Coast trainer Mike Machowsky to be its full-time California representative, effective mid-February.
Machowsky will no longer operate his public stable as he begins his new role, which will principally consist of promoting Fasig-Tipton's inaugural auctions at Santa Anita, the first of which will be a Two-Year-Olds in Training Sale on June 5.
"As we organize our California division, we are pleased to have an individual of Mike's experience and expertise to represent us year-round on the West Coast," said Fasig-Tipton president Boyd Browning.
Kavanagh's Brexit worry
Europe: With the Great Britain government still offering no clarity on its proposed departure from the European Union, HRI chief executive Brian Kavanagh has expressed his apprehension over the free movement of horses in Britain, Ireland and France and the retention of foreign members of stable staff.
While Kavanagh accepts the result of the 2016 referendum, he remains frustrated by the delay in getting the "actual terms of the exit tied down" and was concerned on how it will affect the breeding and racing industry, especially should there be a no-deal Brexit.
Kavanagh saod: "We'd see significant changes in terms of the movement of horses, and it would be a real backwards step. If there was a managed or agreed exit, the pathway to future arrangements would be a lot clearer as there would be a transition period up until 2020.
"People have made mating and running plans for their horses – March 29 is right in the middle of the breeding season and it's a week before Aintree [Grand National], so this is a real issue."
Changes at Arqana
Europe: Mathieu Legars and Marta Kubicka have joined the bloodstock and marketing arms of Arqana.
Legars, 34, joins the bloodstock team led by Ludovic Cornuel after an eight-year spell as Coolmore's representative in France. He will assume his new role on February 1.
Kubicka, 32, becomes marketing and communications director at Arqana, replacing Alix Choppin, who is moving into a role in which she will be responsible for seeking new owners and investors, as well as overseeing new innovations at the French auction house.
Coolmore France appointment
Europe: Coolmore have appointed Hermine Bastide as their new representative in France, replacing Mathieu Legars. Bastide has worked for world #2 trainer Aidan O'Brien for the past nine years, both as a rider and latterly in the stable office at Ballydoyle.
"It's a wonderful opportunity," she said. "I am very excited about my new role and meeting the French breeders over the weeks and months ahead."
Death of Union Rags breeder
North America: Prominent Thoroughbred owner-breeder Phyllis Mills Wyeth – wife of contemporary American realist painter Jamie Wyeth – passed on Monday at her Pennsylvania home. She was 78.
The daughter of the late James Mills and Alice du Pont, who owned and bred the 1966 English 1000 Guineas winner Glad Rags, Mills Wyeth followed in her parents' classic-winning steps when Union Rags, whom she bred, claimed the 2012 Belmont Stakes.
Quantity and quality at Tattersalls February Sale
Europe: 464 lots have been catalogued for the two-day Tattersalls February Sale, which takes place January 31 through February 1.
Comprising of 176 fillies in/out of training, 41 broodmares, 174 colts/geldings in/out of training, 53 yearlings and 20 2-year-olds, the catalogue features high-class consignments from many of the world's leading owner-breeders.
The largest consignment is the team of 43 is from Godolphin, with ten fillies in/out of training catalogued on the first day followed by 33 colts and geldings on the second and final day. Eyecatchers among the draft include 2017 Royal Ascot winner Atty Persse and Irish listed winner Ambassadorial.
The catalogue for the Tattersalls February Sale can be viewed online at tattersalls.com.
Breeders' Cup ticket announcement
North America: The Breeders' Cup has announced that tickets for the this year's event will go on sale to the public on March 4.
It will be held at Santa Anita for tenth time on November 1 and 2. The 2016 Breeders' Cup World Championships at Santa Anita achieved a record-setting two-day attendance of 118,484.
To receive additional information as it is released in the coming weeks, including detailed pricing and seating options, sign up for ticketing info here.