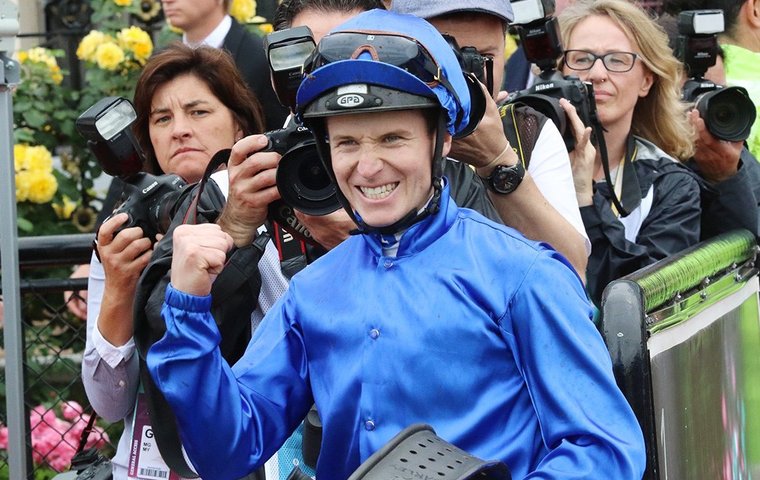 The weekly TRC industry digest - a round-up of international racing news from the past week.

Runhappy sponsorship 'fitting partnership' for the Pegasus
North America: The Stronach Group has secured Runhappy as the presenting sponsor for the 2020 Pegasus World Cup Championship Invitational Series at Gulfstream Park in Miami on January 25.
The two big G1s, the Pegasus World Cup Invitational and the Pegasus World Cup Turf Invitational, will be run medication-free, making Runhappy a particularly apt sponsor.
Runhappy won six consecutive races in 2015, including the Breeders' Cup Sprint, without Lasix. He was named as American Champion Sprinter and retired with seven wins in ten lifetime starts, earning close to $1.5 million having never raced on medication. He has been retired to stud at Claiborne Farm in Paris, Kentucky, and occupies the same stall as Secretariat. Runhappy's first foals will be 2-year-olds of 2020.
"We are thrilled to have Runhappy as the presenting sponsor for this year's Pegasus World Cup Championship Invitational Series," said Craig Fravel, Chief Executive Officer, Racing, The Stronach Group. "The legacy of Runhappy coupled with this year's medication-free platform is a fitting partnership as we set a new competitive standard while featuring the finest Thoroughbreds in our game."
The medication-free format is consistent with International Federation of Horse Racing Authorities standards and will go one step further by giving back two percent of the purse winnings to Thoroughbred aftercare.
"I know we're facing competitive challenges from the Dubai World Cup and the Saudi Cup, but I am grateful that The Stronach Group has found a way to keep innovating the Pegasus World Cup Championship Invitational Series. It gives all of us a chance to keep our older, champion horses in training and competition here in the United States, which is great for the sport and for the fans," said Bob Baffert, who trained Arrogate to win the inaugural Pegasus World Cup Invitational in 2017.
"I find it an interesting concept, the Pegasus World Cup Championship Invitational Series with no medication and I'm excited to be part of it," said Hall of Famer Richard Mandella. Mandella trains Omaha Beach, owned by Fox Hill Farm. It was announced in November that Omaha Beach will retire after the 2020 Pegasus World Cup Invitational.
James McDonald set to make Hall of Fame history
Oceania: Just 12 years after riding his first winner, James McDonald is about to become the youngest person to be inducted into the New Zealand Racing Hall of Fame.
When his induction takes place at the Hall of Fame gala dinner in Hamilton on May 3, the Sydney-based champion will join 16 other jockeys to have claimed their place in more than a century of New Zealand racing history.
"I couldn't believe it when I got the call, it's a huge honour and I still get goose-bumps just talking about it," the current world #13 said. "To think I'm joining great jockeys like Lance O'Sullivan, Jim Cassidy, Noel Harris and Shane Dye – these are the guys whose photos I had on the wall when I was a boy."
McDonald was riding in New Zealand on Boxing Day, when he landed the G1 Cambridge Stud Zabeel Classic at Ellerslie on True Enough.
Four G1s downgraded after U.S. review
Four American races have been downgraded from Grade 1 to Grade 2 for 2020 after review by the American Graded Stakes Committee of the Thoroughbred Owners and Breeders Association - the Vosburgh Stakes. at Belmont Park, and the Chandelier Stakes, Santa Anita Oaks and Santa Anita Sprint Championship, all at Santa Anita.
In all, the committee reviewed 844 U.S. stakes races with a purse of at least $75,000, and assigned Graded status to 448 of them, two fewer than were graded in 2019, and listed status to 196. Seven Graded races were upgraded; six new Grade 3 races were named; 32 new listed races were upgraded from non-listed black type status. More here
Alysha Collett thriving once again
Oceania: Things are going well at last for Alysha Collett, the top New Zealand jockey who spent months recovering from injuries she received in a fall at Kranji racecourse in Singapore in October last year.
Collett, who was on the injury list for nine months, finally resumed race-riding in July, in New Zealand first and then back in Singapore. She will return to Singapore at the weekend for a 12-month stint after a brief return home for a Christmas holiday in which she has mixed time with her family in Pukekohe with riding at a handful of race meetings.
The former TRC Global Rankings top 500 rider reminded New Zealand racing fans of her talent when successful at Te Rapa on Saturday aboard the Ralph Manning-trained Cutting Up Rough.
Collett, who rode 11 winners during her latest Singapore stint, said, "I've spent most of my time catching up with family and friends and I had a week and a half in Australia. It's been great and it's been good to ride a winner while I've been back."
In the fall, she suffered serious damage to her L1 lumbar vertebra and a fractured right heel and underwent surgery in Singapore to have metal rods and screws inserted to stabilise her lumbar region. She said she has no after effects from the injuries.
"It took a while to adjust to the pressure over there with the workload, but there have been no problems. It's good to get a 12-month contract this time."
Elsewhere in racing …
Far East: Bricks And Mortar, favorite to be crowned 2019 U.S. Horse of the Year next month, has arrived safely in Japan to take up stud duty at Shadai Stallion Station. More here
Europe: Belgian Ingmar De Vos, President of the International Equestrian Federation (FEI), has been elected president of the International Horse Sports Confederation (IHSC) for a two-year term. He had previously served as the IHSC's Vice-President. Louis Romanet, past President of IHSC and Chairman of IFHA, was elected as Vice-President of IHSC for a two-year term. More here