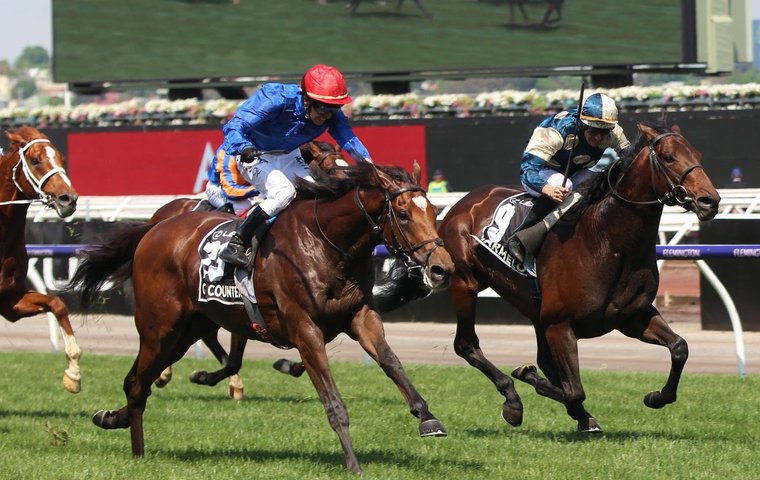 The weekly TRC industry digest - a round-up of international racing news from the past week.

Whip ban for Hugh Bowman
Oceania: World #5 jockey Hugh Bowman has been handed a 35-meeting suspension following his ride on Lexus Melbourne Cup runner-up Marmelo.
Bowman was cited on three separate charges: an incident of careless riding at just over two furlongs from home, excessive whip use prior to the final furlong and the fact that he weighed in more than half a kilogram over his prescribed weight of 55kg.
The cumulative bans for Winx's jockey totalled 41 meetings, but stewards reduced the ban by six days at their discretion. Bowman will miss Flemington G1s the Manikato Stakes and the Darley Classic, as well as G1 meetings in Hong Kong and Japan, which will rule out a defence of the Japan Cup.
Who will Lady Aurelia visit?
North America: Dual Royal Ascot winner Lady Aurelia has been acquired for session-topping $7.5 million by Stonestreet Farm's Barbara Banke at Fasig-Tipton's November sale on Sunday.
Banke bred the daughter of Coolmore's late world #3 sire Scat Daddy and raced her along with partners George Bolton – whose interest Banke had previously purchased – and Peter Leidel. Part of the reason why the filly had been entered in the sale was so that Leidel's value could be maximised.
Banke is yet to decide whether Lady Aurelia will visit Stonestreet's world #13 Curlin or his son Good Magic, who will stand his first season in 2019 after being bred and co-owned by Stonestreet.
She did not, however, rule out the possibility of taking "American speed and breed it to something that's going to stay the distance" from Europe. That said, Banke is yet to breed horses on the continent in her distinguished career – "this would be a first if I do". A successful pairing with Lady Aurelia, the first American-trained horse honoured as a Cartier champion in Europe, could see the start of new trend for the Kentucky breeder.
Cracksman to Dalham Hall
Europe: Dalham Hall Stud has announced that Europe's highest-rated horse, the and dual G1 Champion Stakes winner Cracksman, will join its stallion roster for 2019.
The most successful son of Frankel, Cracksman earned a Longines World's Best Racehorse rating of 130 (joint best in the world this year, alongside Winx) for his win in last month's Champion Stakes at Ascot. He becomes the highest-rated horse to retire to stud in Europe since his sire.
Cracksman will stand at a fee of £25,000 at the Newmarket farm.
Australians must miss Hong Kong's big day
Asia: Horses from Australia will be unable to compete at the Longines Hong Kong International Races next month.
The Hong Kong Jockey Club (HKJC) and officials from the Australian Department of Agriculture and Water Resources (DAWR) had been trying to broker a deal that would allow Australia-based horses back into the country after stopping by a third country for 20 days instead of the designated 180 days.
The conservative approach stems from a widespread concern that horses could potentially pick up diseases from mainland China, with many officials remaining cautious of the effects of equine influenza, which severely hit the Australian racing industry in 2007.
Following the construction of the HK$3.7 billion Conghua training centre in mainland China, the government banned the direct import of horses from Hong Kong.
Work to establish a one-off set of arrangements to allow Australia-based runners to participate in this year's meetings was, according to HKJC's executive director of racing Andrew Harding, approached with a "great amount of goodwill and effort" from all parties. Harding had been optimistic that a "mutually satisfactory outcome could have been achieved".
Despite a resolution looking possible only a month ago, Harding felt that negotiations had not progressed enough to give trainers a definitive answer to whether "whether their horses could return directly to Australia".
Tragic death of breeder Nolan
Oceania: Australian racing is in mourning after the death on Tuesday of Basil Nolan Jr, of Raheen Stud in Queensland. Nolan, 45, died after becoming trapped in farm equipment.
Tom Reilly, chief executive of the Thoroughbred Breeders of Australia, said, "Basil was one of the industry's true gentleman. Not only was he a great horseman but, more importantly, he was a warm and generous man who always seemed to have a smile on his face.
"He was also a devoted father of four and it was always a highlight to have a chat to Basil and his children when Raheen had a draft to sell.
"I'm sure anyone who had dealings with Basil will be grieving his loss and that the whole breeding and racing community will be thinking of the Nolan family at this difficult time."
Alysha Collett could face further surgery
Asia: A decision on whether leading jockey Alysha Collett undergoes further surgery is impending as she makes her recovery from a horrific fall in Singapore last month.
New Zealander Collett has already had surgery to insert two rods and four screws in her lower back to mend a fractured lower vertabra suffered in the fall at Kranji on October 14.
Specialists in Singapore opted to put her fractured heel in a cast but medical opinion in New Zealand could yet suggest Collett has surgery to have screws inserted in her heel bone to aid her recovery, her father Richard said this week.
"She's hobbling around here at home and she's happy to be home but her heel is probably going to take the most time of her recovery," he said. She had initially needed a wheelchair to help her get around after her operation but was now back on her feet.
Collett had ridden 11 winners during a planned six-month stint in Singapore, which began in May.
Arrest drama at the Breeders' Cup
North America: A Kentucky man was arrested Saturday at the Breeder's Cup after he allegedly tried to ride a horse onto the track at Churchill Downs.
Kentucky State Police said in an arrest citation that Michael Wells-Rody "was manifestly under the influence of alcoholic beverages" when he "snuck into a restricted area he was not authorized to be in" and took off on a horse.
He is reported to have made it out of the tunnel area and into the track entrance.
"When asked to leave the horse and the area, the subject became loud and disorderly by causing an alarm to Churchill staff members," states the citation. The 24-year old was taken to the Jefferson County Detention Center and charged with public intoxication and disorderly conduct.
Irad takes the Shoemaker award
North America: World #11 Irad Ortiz Jr. has been named as the 16th recipient of the Bill Shoemaker Award, which is awarded to the outstanding jockey at the Breeders' Cup.
Using a scoring system on first through fourth finishes (10-4-2-1) in each of the 14 championship races, Ortiz's score of 35 from two victories - Newspaperofrecord in Friday's Juvenile Fillies Turf and Shamrock Rose in Saturday's Filly & Mare Sprint, and five top-four finishes - put him three points ahead of four-time winner Joel Rosario.
Royal Ascot on TV: good news for U.S. fans
North America: NBC Sports Group and Ascot Racecourse have reached a six-year agreement to extend NBC Sports Group's exclusive U.S. media rights to Royal Ascot until 2025. Royal Ascot made its U.S. television debut on NBCSN in 2017.
NBC Sports Group will continue to present live coverage of the event for four consecutive days (Tuesday-Friday) with at least four and a half hours each day (8:30 a.m. - 1 p.m. ET) on NBCSN, and four hours of coverage during the final day of the event (Saturday, 9 a.m. - 1 p.m. ET) on NBC.
In addition, NBC Sports will feature onsite hosts during its coverage, and offer an increased onsite presence. All coverage will be streamed on NBCSports.com and the NBC Sports app, NBC Sports Group's live streaming product for mobile devices, tablets, and connected TVs.
Winning essay
North America: Kaelyn Penick, 18, of Appomattox, Virginia, has been named as the winner of the Thoroughbred Charities of America's (TCA) sixth annual Youth Essay Contest.
To participate, contestants submitted an essay containing a minimum of 300 words and a maximum of 600 words, describing how a TCA grant recipient has affected his or her life. Read Penick's essay here.