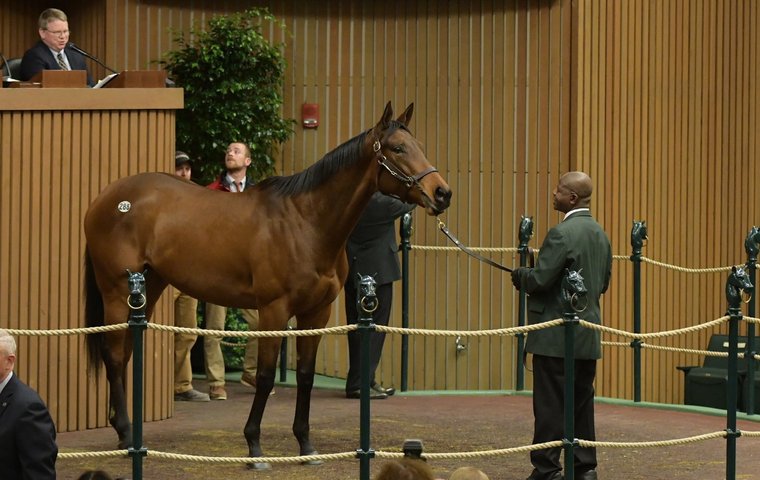 The weekly TRC industry digest - a round-up of international racing news from the past week.

China Horse Club involved in Tote venture
Europe: China Horse Club has been revealed as a major investor in the company that is bidding to take control of the British Tote, according to the Racing Post.
The powerful ownership group, currently #8 in the world owners' rankings, is one of the shareholders in Alizeti, 25 percent stakeholders in the Tote, according to documents lodged with Companies House. The other 75 percent is currently owned by Betfred.
China Horse Club, a noted big spender at sales around the world in the past two years, has been involved in the ownership of a number of top-class Thoroughbreds, including Triple Crown hero Justify, Epsom and Irish Derby winner Australia, Preakness scorer Exaggerator and Kentucky Oaks winner Abel Tasman,.
It is represented by Champion Horse Assets Corporation, which is the largest of the Alizeti shareholders, with a holding of one million shares (19 percent), according to the Alizeti's confirmation statement of December
Susannah Gill, Alizeti's director of communications and corporate affairs, quoted by Bill Barber in the Racing Post, said: "Our plans to ensure the Tote remains at the heart of British racing has attracted support from a diverse range of global racing supporters.
"It's our intention that in the long term no individual will hold more than ten per cent, and we expect to have over 100 shareholders who are all united in wanting to see the Tote grow, collaborate and thrive for years to come.
"We're delighted to have the likes of China Horse Club as one of our shareholders given they're such a significant participant in horseracing around the world."
Alizeti has the option of purchasing the remainder of the Tote in a deal worth up to £150 million. The group has indicated it plans to do that this year.
Alizeti and Betfred have agreed to work with the pool betting group Britbet, which most of Britain's racecourses had been setting up as a rival to the Tote.
$5m Abel Tasman highlight of Keeneland sale
North America: 2017 Kentucky Oaks winner Abel Tasman sold for $5 million to Coolmore to lead a "robust" opening session of the 2019 Keeneland January Horses of All Ages Sale.
Taylor Made Sales, agent for owners China Horse Club International and Clearsky Farms, consigned the 5-year-old daughter of world #9 sire Quality Road. The agency was Monday's leading consignor, selling 50 horses for $9,433,000, which included four of the session's ten highest-priced sellers.
Geoffrey Russell, Keeneland director of sales operations, was "proud to offer Abel Tasman" and to get the "highest price for a broodmare prospect ever sold in January", which equals the amount spent in 2000 for Mackie.
"It was great to see a large crowd here to watch her sell. She deserved the adoration she got and deserved the price, too," added Russell.
Dermot Ryan, manager of Coolmore's Ashford Stud, told reporters that "she's a queen" and "she'd be anybody's dream filly to own". Ryan believed that it was "very possible" that Abel Tasman will stay in America and will definitely "go to one of the Coolmore sires".
"It was a very solid sale across the board, even with taking Abel Tasman's sale price out of the numbers," said Russel, with Keeneland selling 223 horses for $21,052,200 on Monday for an average of $94,404 and a median of $39,000. During last year's first session, 186 horses grossed $13,265,100, for an average of $71,318 and a median of $45,000.
Justify and Mendelssohn fully booked
North America: Coolmore has announced that its two exceptional sons of the late Scat Daddy, Triple Crown winner Justify and reigning UAE Derby champion Mendelssohn, who are set to begin their first seasons at Ashford Stud, are fully booked.
The world's leading breeding operation does not reveal exact numbers in stallions' books, but, if past trends are anything to go by, the pair would be expected to cover over 200 mares each in 2019.
"They filled up very quickly and we're extremely happy with the numbers and quality of the mares received," said Charlie O'Connor, Ashford's director of sales. "It's exciting and important for us to continue to stand sons of Scat Daddy here."
Scat Daddy died in 2015 after an apparent heart attack at the age of 11, but with his final crop only taking to the track in 2018 he still remains joint #3 in the TRC Global Rankings.
Almond Eye first, the rest nowhere
Asia: Almond Eye was announced as a double winner for the Japan Racing Association (JRA) Awards for 2018, winning both the Horse of the Year for 2018 and the Best 3-Year-Old Filly award.
Sakae Kunieda's Japan Cup winner received all 276 votes from the Horse of the Year Selection Committee. The JRA Awards ceremony will be held on January 28.
Jockey Christophe Lemaire said that the "very special" Triple Crown winner was "outstanding last year" and confirmed that her "biggest goal [will] be the Prix de l'Arc de Triomphe" in 2019.
Eclipse Award finalists
North America: The National Thoroughbred Racing Association, Daily Racing Form and the National Turf Writers and Broadcasters have announced the finalists for the 2018 Eclipse Awards.
The winners in 17 horse and human categories will be announced at the 48th annual Eclipse Awards ceremony on January 24, at Gulfstream Park Racing & Casino in Hallandale Beach, Florida.
The contenders:
Horse of the Year: Accelerate, Justify, Monomoy Girl
Two-Year-Old Male: Game Winner, Improbable, Knicks Go
Two-Year-Old Filly: Bellafina, Jaywalk, Newspaperofrecord
Three-Year-Old Male: Catholic Boy, Justify, McKinzie
Three-Year-Old Filly: Midnight Bisou, Monomoy Girl, Rushing Fall
Older Dirt Male: Accelerate, City Of Light, Gun Runner
Older Dirt Female: Abel Tasman, Marley's Freedom, Unique Bella
Male Sprinter: Imperial Hint, Roy H, Stormy Liberal
Female Sprinter: Finley'sluckycharm, Marley's Freedom, Shamrock Rose
Male Turf Horse: Expert Eye; Glorious Empire, Stormy Liberal
Female Turf Horse: A Raving Beauty , Enable , Sistercharlie
Steeplechase Horse: Jury Duty, Optimus Prime, Zanjabeel
Owner: Peter Brant; Hronis Racing LLC; WinStar Farm, China Horse Club, Starlight Racing and Head of Plains Partners
Breeder: Mike Abraham, John D. Gunther, WinStar Farm, LLC
Trainer: Steve Asmussen, Bob Baffert, Chad Brown
Jockey: Irad Ortiz, Jr., Jose Ortiz, Mike Smith
Apprentice Jockey: Reylu Gutierrez, Weston Hamilton, Edgar Morales
Fasig-Tipton backing Gulfstream races
North America: Fasig-Tipton will be the title sponsor for upcoming Gulfstream Park races the $350,000 G2 Holy Bull and the $150,000 G3 Hurricane Bertie.
The 8½-furlong Fasig-Tipton Holy Bull is a major prep for 3-year-old classic contenders. The Fasig-Tipton Hurricane Bertie, for 4-year-old fillies and mares at 7 furlongs, is part of the Pegasus World Cup Championship Invitational Series.
"Fasig-Tipton is pleased to sponsor these two prestigious races at Gulfstream Park," said Boyd Browning, president of Fasig-Tipton. "The world class racing, hospitality and facilities at Gulfstream Park greatly enhance the experience for both buyers and sellers at our Two -Year-Olds-in-Training Sale, which takes place on March 27."
Castanon hits 2,500
North America: Mexican jockey Jesus Castanon claimed the 2,500th win of his career on Derek Ryan's Tearless at Tampa Bay Downs in the second leg of the Fillies and Mares Division of the Tampa Turf Test starter handicap series.
Castanon, who won back-to-back Tampa Bay Downs riding titles in 2003-2004 and 2004-2005 before winning the 2011 Preakness on Shackleford, admitted that, although he had read much anticipation for his record on social media platforms, he "never let it get into my head" and "just wanted to get out on the track and enjoy the day". He said he was "excited" to reach the landmark.
Pegasus media deal extended
Europe: HBA Media and the Stronach Group have agreed a two-year extension to their production and distribution agreement for the Pegasus World Cup, which takes place on January 26 at Gulfstream Park.
HBA Media manages the international media-rights distribution for North America's two richest horse races – the $9 million Dirt race and the inaugural $7 million Pegasus Turf.
Henry Birtles, chief executive of HBA Media, said, "The Pegasus World Cup is a truly innovative horseracing concept; sport at the highest level blended with unrivalled entertainment, added to which there is a staggering $16 million at stake."
Bank offering owners prize money bonuses
Europe: Weatherbys Racing Bank is offering 19 owner's prize money bonuses in Britain in 2019. This initiative gives owners the opportunity to win an additional £500 from seven flat races and 12 jump races, at 18 different racecourses from January to December.
To be eligible for the bonuses, owners must simply hold a Weatherbys Racing Plus account, a new type of account launched in 2018.
Designed specifically to provide a bespoke and personal service, Racing Plus builds on the standard Weatherbys Racing Bank account, offering additional benefits and discounts. These include the option to have a debit card (commission-free overseas) and a 20 percent discount off the Weatherbys owner's VAT return service.
Louise Norman, Senior Manager, explains: "Through speaking with our clients, there is clearly a demand for a more comprehensive banking service for their racing and bloodstock activities. It's great that we can now offer this with the Racing Plus account, and equally exciting that we are offering the additional prize money incentives across a broad spectrum of race types."
Owners wishing to discuss opening or upgrading their existing Weatherbys Racing Bank account can call +44(0)1933 304777 or email newaccounts@weatherbys.co.uk.
Racing Plus owners' prize money bonus races:
Market Rasen (17 Jan), Leicester (14 Feb), Aintree (5 Apr), Windsor (13 May), Thirsk (11 Jun), Bath (21 Aug), Goodwood (25 Aug), Ffos Las (29 Aug), Doncaster (12 Sep), Redcar (17 Sep), Warwick (24 Sep), Uttoxeter (18 Oct), Newton Abbot (31 Oct), Hexham (8 Nov), Fakenham (19 Nov), Newcastle (30 Nov) & Wincanton (5 Dec).
New manager at Ocala farm
North America: Don and Irene Dizney's Double Diamond Farm in Ocala has named former Taylor Made man Bob White as its new farm manager.
He replaces long-time farm manager Jimmy Alexander, who will remain with the farm in an advisory role. White had held various positions at Taylor Made Sales since 2006, most recently as a division manager responsible for mares, foals, weanlings and yearlings.
Roger Brand, vice president and general manager of Double Diamond Farm, which stands First Dude and Bahamian Squall, was "excited" to add the American to the team at the Florida farm and hopes to "utilize his experience and energy as we continue our high standard of equine care".
Taylor takes over at Huntingdon
Europe: The Jockey Club has named Julian Taylor as the new chairman of Huntingdon Racecourse. He succeeds Paul Taiano, who stepped down at the end of 2018 after nine years in the role.
Taylor, who recently retired from the City, has been a member of the committee at the racecourse since last January, as well as being a non-executive director of Weatherbys Hamilton for the past 12 months.